The most dramatic week in technology and banking ended with crypto markets up on Monday. The wider industry is suffering from a serious case of whiplash.
There's whiplash, and then there's whiplash. The industry is holding its head, understandably wondering what has just happened. Only a few days ago, the sentiment across the industry was panicky. Caused by the news that Silvergate, then Silicon Valley Bank, and finally Signature Bank were in crisis. Things feel a little quieter now.
At the time of writing, the Bitcoin price has pumped by 10% on Monday alone, with an 18% surge to over $24,200 over a 24-hour period. Ether and ADA also saw double-digit increases.
Contagion Avoided, for Now
On Sunday, the U.S. government announced a limited package of support. "Depositors will have access to all of their money starting Monday, March 13. "No losses associated with the resolution of Silicon Valley Bank will be borne by the taxpayer," they said in a statement.
On Monday, Biden said, "Investors in the banks will not be protected. They knowingly took a risk, and when the risk didn't pay off, the investors lost their money. That's how capitalism works."
The sentiment across the industry has been widely positive since the announcement. The comments from the US Government have had a calming effect.
"Actions taken by US authorities this weekend seem to be well received by the market as we are seeing a strong momentum in crypto today, says François Cluzeau, Head of Trading and co-founder of Flowdesk, a Paris-based market-maker and technology provider. "For now, we seem to avoid strong contagion — it looks that the right measures were taken at the right time."
"Already in the past weeks, liquidity has been impacted, uncertainty has caused a significant drop. Today's sizable gains on crypto markets have actually benefited from this. In a low-liquidity environment, price swings can be much bigger than in high liquidity periods."
Cluzeau says that many players in the industry were over-reliant on Silvergate and Signature to move their money around. This dependence will make things even more unpredictable. So, in the next few days, we might see more big differences in prices between different exchanges.
"On the USDC side, news seems to be positive this morning. Currently, it is trading quite close to parity with USD." USDC suffered a depegging in recent days as the $3.3 billion of the stablecoin's reserves remained locked in Silicon Valley Bank.
Last Week Saw Record Outflows From Exchanges
The turmoil caused by the collapse of the tech-facing banks spooked crypto traders last week.
According to CoinShares' latest report, released Monday, investors withdrew a record $255 million from exchange-traded crypto funds. This marks the biggest weekly outflow the company has ever recorded, undoing the progress made in crypto-based funds since the beginning of the year.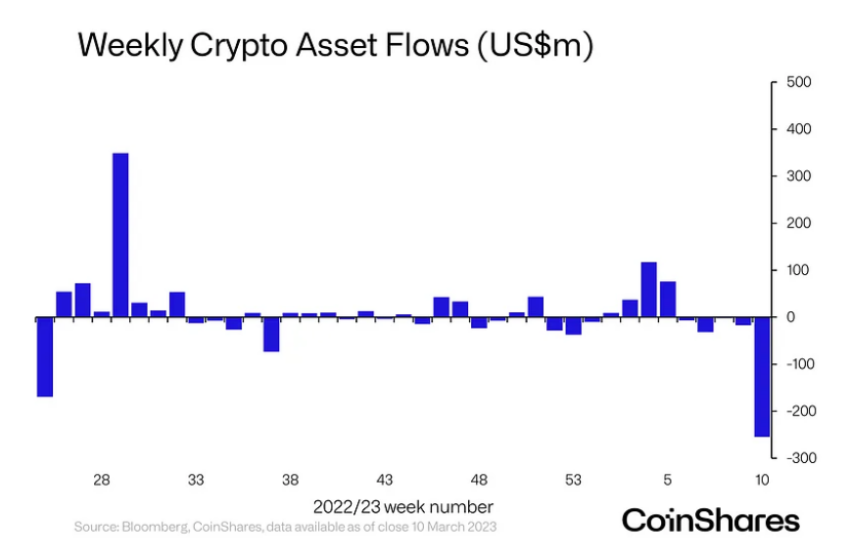 The drop in assets under management (AUM) represents a 10% decline in just one week, bringing the total AUM to $26 billion. CoinShares tracks the flow of money in and out of various products that follow cryptocurrencies. Bitcoin funds were hit the hardest, accounting for $244 million of the money that left crypto funds.
Other funds, such as Ethereum, and altcoins like Litecoin and Tron, also experienced outflows but to a lesser extent.
In contrast, Solana, XRP, Polygon, and multi-asset funds had a weekly inflow of only $3 million.
CoinShares head of research, James Butterfill, noted that while the total weekly outflow was record-breaking, it was not the highest percentage-wise. In May 2019, a $51 million weekly outflow accounted for about 2% of all assets invested in crypto funds at the time. Butterfill pointed out that this highlights how much the total AUM has risen by a whopping 816% since then.
Underlying Trust in Crypto Markets Remain Strong
Despite spooked traders, and attitudes souring on Capitol Hill, a recent survey published by Paxos indicates that underlying confidence in the industry is strong.
According to their survey, 75% of consumers remain confident in cryptocurrencies. The survey also found that 72% of respondents were not worried about the market's volatility in 2022. Additionally, 89% of consumers still trust intermediaries such as crypto exchanges, mobile payment apps, and banks to hold their cryptocurrencies.
The survey was conducted prior to the recent market turbulence. But the findings indicate that the public's perception of the cryptocurrency industry is more resilient than expected. While the recent market shock affected the banking sector, the impact on cryptocurrencies was not the primary focus for most people. The cryptocurrency aspect was more of a secondary plot.
In contrast to the global coverage of FTX's collapse last November, this current story is not expected to generate the same level of attention. However, Silvergate's links to FTX show that the shadow cast by the exchange's implosion is long.
Crypto Remains Bankless for the Time Being
While the crypto markets hold their neck, suffering a severe case of whiplash, the problems are far from over. The three banks that suffered in the crisis— particularly Silvergate and Signature—played a vital role in the US crypto industry. They offered important payment systems that digital asset companies widely used.
However, these systems may be difficult to replicate now as federal authorities advise banks against working with crypto clients. This means that crypto firms will have to find new banks to work with, but few willing partners are available. This mirrors the situation with auditors, many of whom now refuse to work with the industry.
Disclaimer
Following the Trust Project guidelines, this feature article presents opinions and perspectives from industry experts or individuals. BeInCrypto is dedicated to transparent reporting, but the views expressed in this article do not necessarily reflect those of BeInCrypto or its staff. Readers should verify information independently and consult with a professional before making decisions based on this content.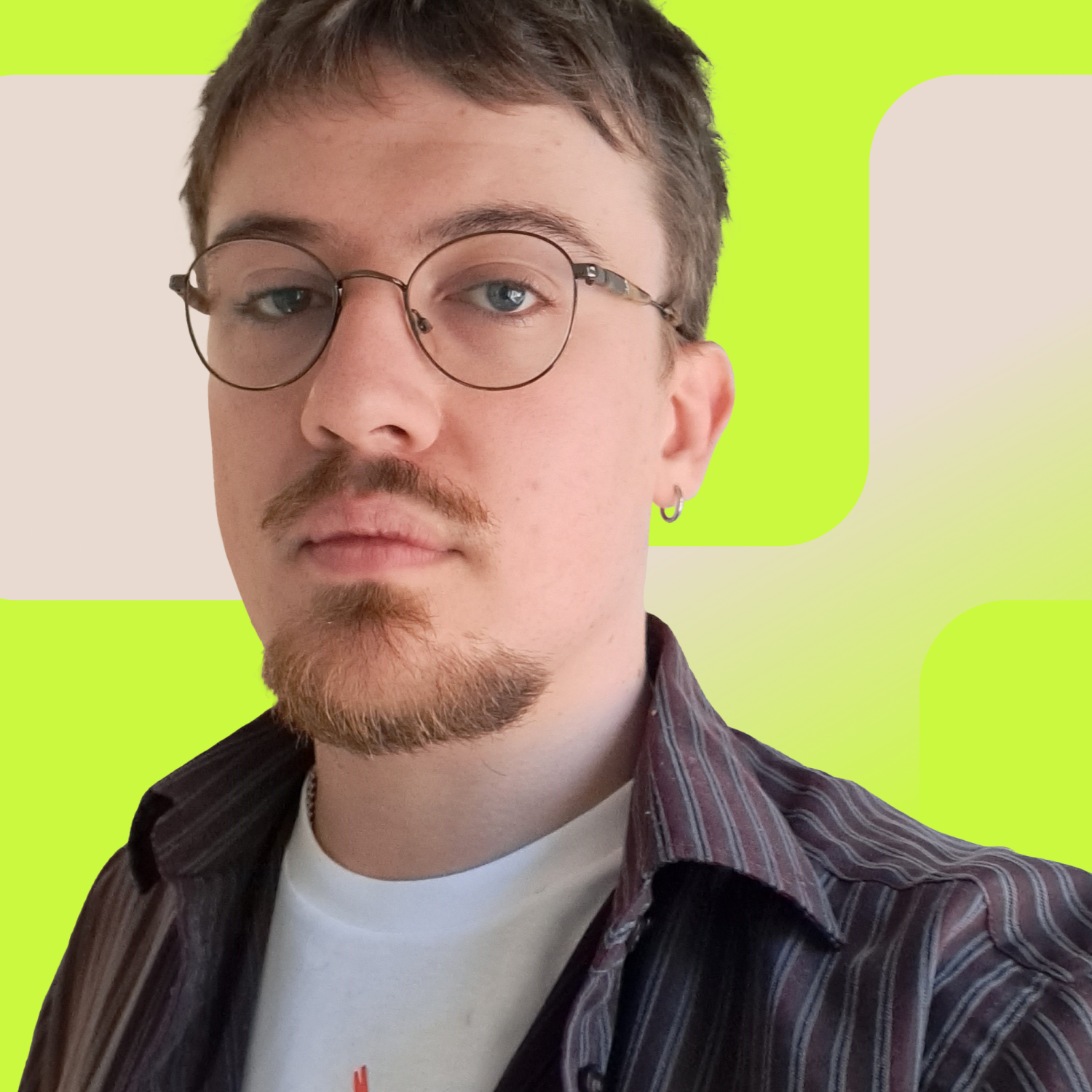 Josh is a reporter at BeInCrypto. He first worked as a journalist over a decade ago, initially covering music before moving into politics and current affairs. Josh first owned...
Josh is a reporter at BeInCrypto. He first worked as a journalist over a decade ago, initially covering music before moving into politics and current affairs. Josh first owned...
READ FULL BIO
Sponsored Sponsored