Coinbase concluded its first day of trading with a share price of $328. This equates to a 31% gain from the $250 reference price set by Nasdaq.
Coinbase has finally seen its listing on Nasdaq happen, and the stock experienced a heady first day on the market.
The COIN stock is currently priced at $328 after being set a reference price of $250 from Nasdaq the day before.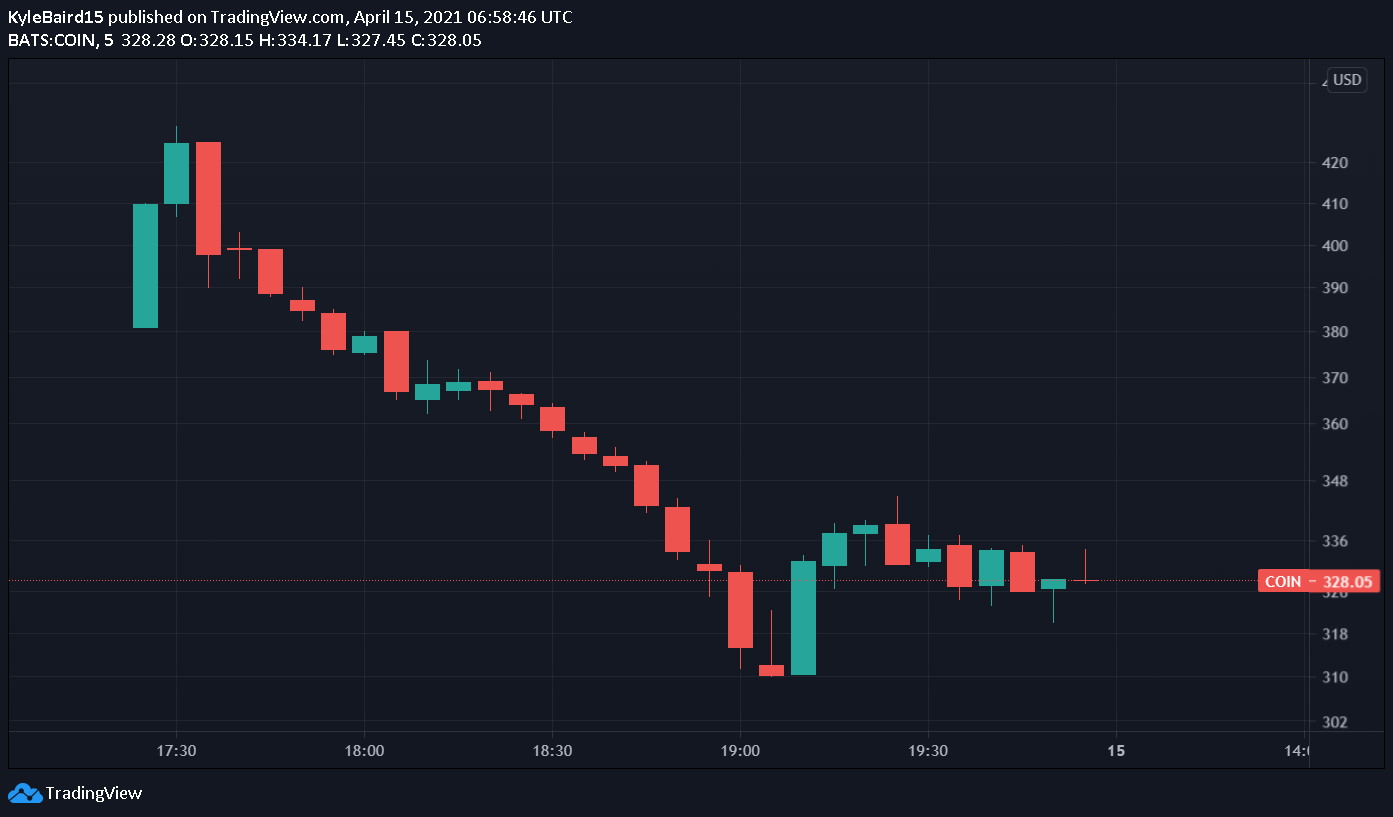 The stock went as high as $429, with investors flocking to the first Bitcoin trading company to go public. The listing has been the talk of the town, with both traditional and crypto investors paying close attention to it.
Bitcoin's price also rose to new all-time highs around this time.
The current price puts Coinbase's valuation at $85 billion, near the $90 billion valuation calculated from private sales. The price is reflective of buoyant investor sentiment.
CNBC's Squawk Box, speaking to Coinbase CEO Brian Armstrong, referenced the fact that 96% of Coinbase's revenue in 2020 was generated from transaction fees. It also remarked on whether margin compression would be an issue, given increasing competition.
Armstrong responded, saying that Coinbase had begun monetizing various products and services to generate more predictable revenue channels. This, along with the rapid developmental pace of the crypto market, would negate potential margin compression in the short to mid-term.
Armstrong stated,
"We haven't seen any margin compression yet, and I actually wouldn't expect to see it in the short and the mid term. Longer term, yes I do think there could be fee compression just like in every other asset class out there."
Armstrong went on to say that he expects the various monetized services to eventually account for over 50% of Coinbase's revenue. That is an ambitious target, but the exchange has the market's eye, and could indeed achieve it.
Analysts believe Coinbase could go high
Coinbase has been tantalizing investors ever since news of its direct listing broke out. Some have noted that the COIN stock could be closely tied to Bitcoin's price, which is volatile. But most have been optimistic about the company, which is one of the largest crypto exchanges in the world.
Ben Slavin, Global Head of ETFs at BNY Mellon, said the listing could have an enormous impact on Bitcoin ETFs. He believes that a Bitcoin ETF could break the record set by Gold ETFs in 2004. Bitcoin has already been entrenched in millennial minds as "digital gold."
The proof is also in the pudding. Ark Investment Management bought $246 million worth of shares through the ARK Innovation ETF.
Disclaimer
In adherence to the Trust Project guidelines, BeInCrypto is committed to unbiased, transparent reporting. This news article aims to provide accurate, timely information. However, readers are advised to verify facts independently and consult with a professional before making any decisions based on this content.