Cathie Wood's ARK Investment Management LLC bought an additional 237,675 Coinbase shares on Nov. 10, 2022, as Coinbase's share price rose 12%.
ARK's funds had bought 421,000 shares on Nov. 10, 2022, even as the price of Coinbase shares fell 10.8% on Nov. 9, 2022, and 2.5% in pre-market trading on Nov. 10, 2022. Still, the fund's investment is in the green since the purchase.
Wood's mostly unsuccessful crypto investments
Wood's ARK Innovation Exchange-Traded Fund (ARKK), Ark Fintech Innovation ETF (ARKF), and ARK Next Generation Internet ETF (ARKW) altogether added $33 million in Coinbase shares in the last week. An exchange-traded fund is an investment fund listed on a stock exchange and offers exposure to multiple indices, stocks, currencies, or commodities.
Wood has been a long-time Bitcoin advocate and purchased $100,000 worth of BTC when the price was $250 million.
At the time, her ARK investment funds couldn't invest in Bitcoin because laws only allow the funds to invest in securities. ARK eventually gained exposure to Bitcoin through purchases of shares in Grayscale's Bitcoin Trust.
Its Next Generation Internet ETF has invested over $50 million in GBTC shares and almost $60 million in Coinbase Class A Stock. Additionally, ARK's Fintech Innovation ETF holds $44 million of the same stock in the crypto exchange.
Coinbase's stock came under pressure recently as investors feared the company would go down the same route as rival FTX. Coinbase CEO Brian Armstrong has come out strongly, saying that the exchange allows customers to redeem their assets anytime and does not lend them to other companies for risky activities.
ARK's ETFs down 70% from ATH
ARK's Next Generation and its Fintech Innovation ETFs have fallen roughly 70% since their all-time highs on Mar. 31, 2021, in line with tech stocks facing macroeconomic headwinds from inflation and supply-chain snarls.
The ARKF ETF assigned weights of roughly 10% each to fintech stocks Shopify and Block Inc., while the ARKK ETF leans heavily on big tech stocks like Zoom Video Communications, Tesla, and Roku Inc.
Technical analyst Sven Henrich pointed out on Twitter that anyone that purchased shares of ARK's Innovation Fund during the pandemic and held them would not have earned a return.
Wood had previously dumped Coinbase shares in July 2022 after the Securities and Exchange Commission announced launching a probe into the exchange. ARK's Fintech Innovation Fund then bought 10,800 shares on Oct. 24, 2022, when the stock was trading at above $75 a share.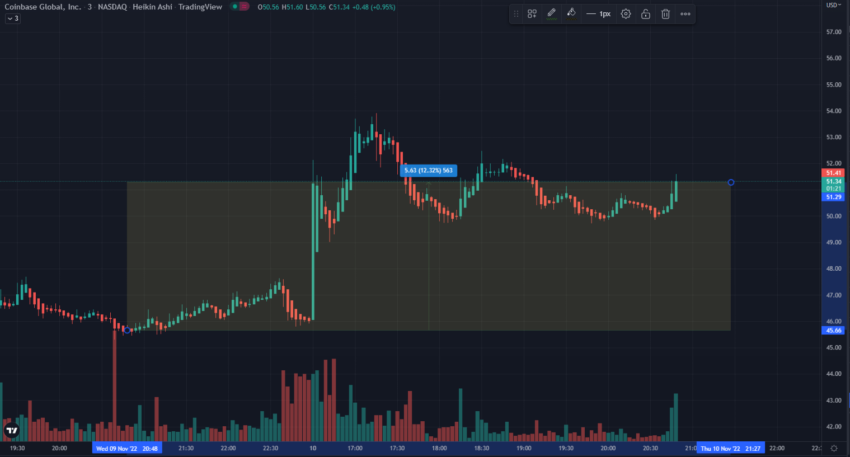 Fortunately for ARK, Coinbase's stock has risen 12% since yesterday's purchase. It previously topped out at 17%.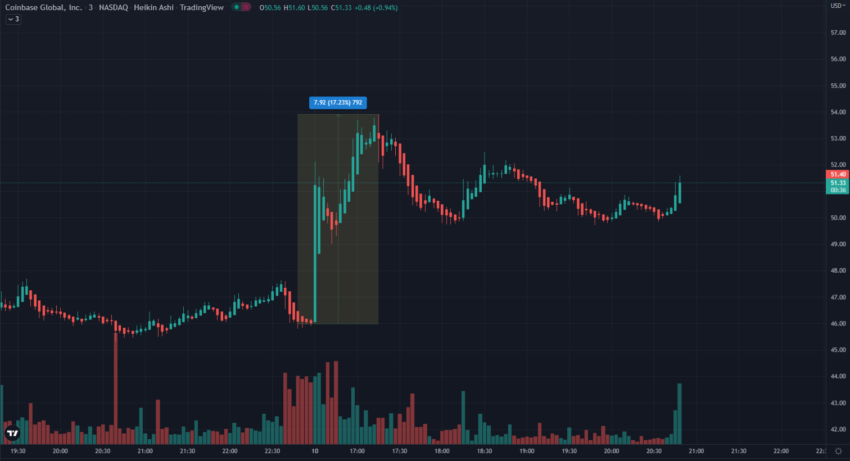 For Be[In]Crypto's latest Bitcoin (BTC) analysis, click here.
Disclaimer
BeInCrypto has reached out to company or individual involved in the story to get an official statement about the recent developments, but it has yet to hear back.