A number of nonfungible tokens (NFTs) from the Bored Ape Yacht Club and related collections have been stolen in a hack of the project's Discord channel.
It sounds like an April Fool joke but is far from it. According to blockchain security firm PeckShield, the Bored Ape Yacht Club Discord channel was compromised on April 1.
The attacker managed to make off with at least one of the highly sought-after apes as Mutant Ape Yacht Club #8662 was stolen.
In addition to the pilfered primate, 1 BAYC #3738, 1 MAYC, and two NFTs from the Doodles collection held by well-known singer Jay Chou were also stolen.
Captcha bot compromised
Affording to Discord security programmer "Serpent," the official captcha bot was compromised leading to the lost NFTs. They added:
"This is not 100% confirmed to be the root cause of these hacks but remove it from your servers to stay safe and use a different verification bot. I was told that the owner of Captcha Bot (ImDarkDiamond) was compromised and the source code was stolen (This part is 100% confirmed)."
Users are being advised to disable the captcha bot urgently.
BAYC posted a notice on its own Twitter account warning users against minting anything on Discord at the moment. It added that it was not doing any April Fools or stealth mints right now.
The attacker managed to post a malicious link on the official Discord channel to lure users into a fake minting website. It is also being reported that the Doodles, Nyoki, and Squiggles Discord servers have been hacked in a similar fashion.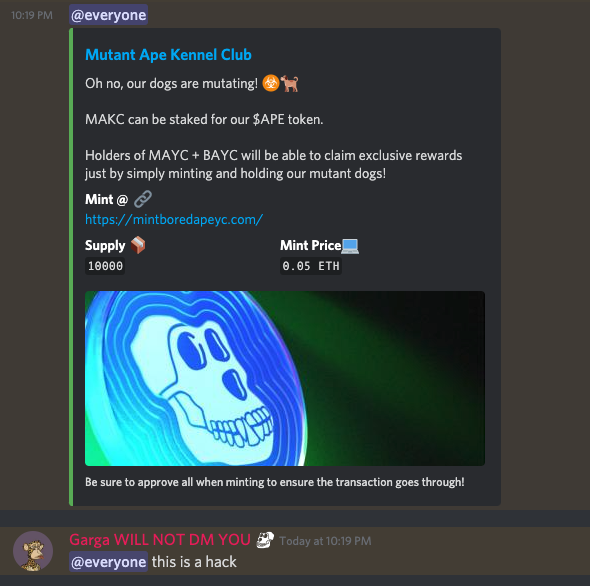 The incursion happened a few hours ago as of publishing and details are thin on the ground at the moment.
Discord is a social media platform primarily for the gaming community. It's not the first time the platform has been used in a BAYC heist. In November, NFT collector Calvin Becerra lost three iconic bored apes worth nearly $1 million to scammers on Discord.
ApeCoin tokens, which back the project, have dumped 8.5% on the day. The newly launched APE token is currently trading at $12.71 according to CoinGecko. It has lost 26% since its March 18 all-time high of $17.17.
Disclaimer
BeInCrypto has reached out to company or individual involved in the story to get an official statement about the recent developments, but it has yet to hear back.