Bitget offers its worldwide customer base comprehensive and safe trading options.
It is not easy for a newbie to get successful in crypto trading. The factor of basic and in-depth knowledge of all trading aspects is necessary to reach a successful level. Many don't even have the time for that in today's world.
That is where copy trading comes into play. It allows users to copy trades from some of the most successful traders. Let us look at Bitget, a copy trading, derivatives, and spot trading platform.
A brief intro about Bitget
Bitget, founded in 2018, offers comprehensive and secure trading solutions to its worldwide customer base.
Bitget, which focuses on social trading, has over 3 million users, 1.1 million followers, and 55,000 professional traders from more than 50 countries; remarkable numbers.
The exchange is listed in the top 5 internationally for derivatives trading volume by CoinGecko. The platform also has over $8.1 billion in average daily trading volume. Its team is 600+ strong and spans 38 countries.
Bitget announced the world's first USDT-margined futures in June 2019. It was the first exchange to provide crypto futures copy trading in 2020, and it is now one of the industry's largest cryptocurrency futures copy trading platforms.
What does Bitget offer?
Bitget provides numerous trading solutions that may suit newcomers to cryptocurrency and seasoned traders. Bitget's platform delivers spot trading for new investors. It also facilitates futures trading for experienced traders.
The platform believes that the future of trading is social. It provides users with copy trading and grid trading. Here is what Bitget offers to its users:
Spot trading
Bitget provides users with spot trading of over 250 asset pairs. It also offers spot grid trading, allowing users to buy low and sell high automatically. Spot Grid Trading is a quantitative trading approach in which a trading bot buys and sells on the spot market for you.
It is intended to put orders in the market at predetermined intervals within a predefined price range.
Spot Grid Trading bots can assist you in avoiding unnecessary trading chases based on human impulsiveness in the unpredictable digital asset market.
Futures trading
Bitget offers USDT-M Futures, USDC-M Futures, Coin-M Futures, Futures Grid trading and also demo trading. The platform offers margin trading with maximum leverage. This allows users to trade for a higher amount than what they have in their accounts. Leveraged trading comes with risk, and traders should be cautious regarding that.
Copy trading
For those inexperienced traders with less time to learn to trade, copy trading is the one to go for. Copy trading allows users to copy trades from experienced traders.
There are 12K+ professional traders on Bitget's One-Click Copy and over 380K+ followers. Over $100M has been made by its traders, and over $120M has been made by its followers.
All trader data is visible to the public and has undergone a rigorous assessment by Bitget to maintain a transparent exchange environment on its platform for all parties.
You don't need to actively purchase and sell assets to achieve your goals and emulate the trading strategies of its best traders.
"Bitget aims to help experienced investors with high trading volumes while also giving new entrants a means to enter and profit from the market by doing away with trading costs and inventing distinct incentives to keep, trade, or earn."

Gracy Chen, managing director of Bitget.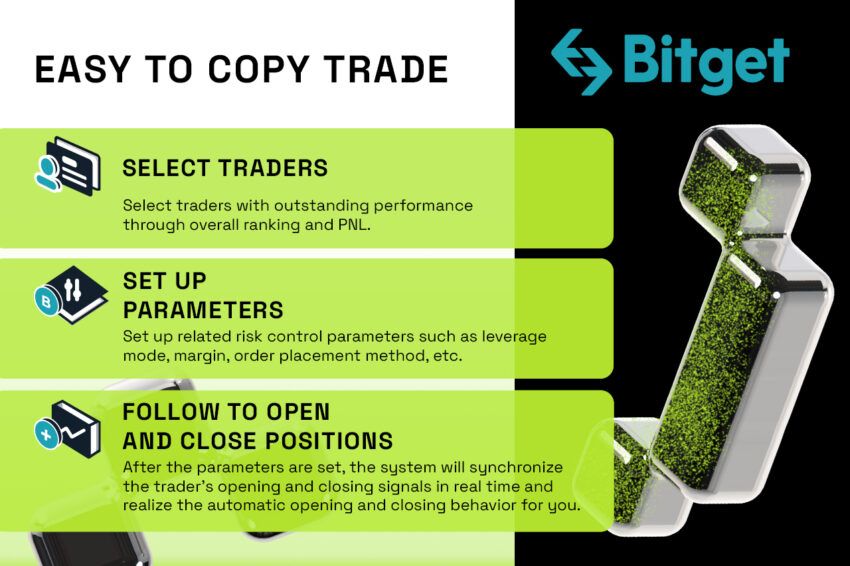 Bitget launchpad
The main objective of Bitget's launchpad is to provide consumers with early access to the most innovative projects so they can participate and benefit from the rewards.
Bitget launchpad operates in a subscription-based manner. It allows users to participate in obtaining lottery tickets and a chance to buy BGB tokens early on by holding assets or trading. Once registered for the launchpad, your assets in both Spot and Futures accounts will be immediately computed.
The launchpad gives you access to the best projects right before they rocket.
Bitget launchpool
Bitget launchpool lets users enjoy yield farming by staking their tokens and earning rewards. The launchpool provides lower entry points to cater to as many users as possible. You just need one USDT worth of any cryptocurrency supported by a pool.
Currently, Bitget supports over 7 projects where users can stake their tokens and earn passive income. The available projects include ETHF, TRX, CHZ, BGB, ETC, LUNC, and XRP.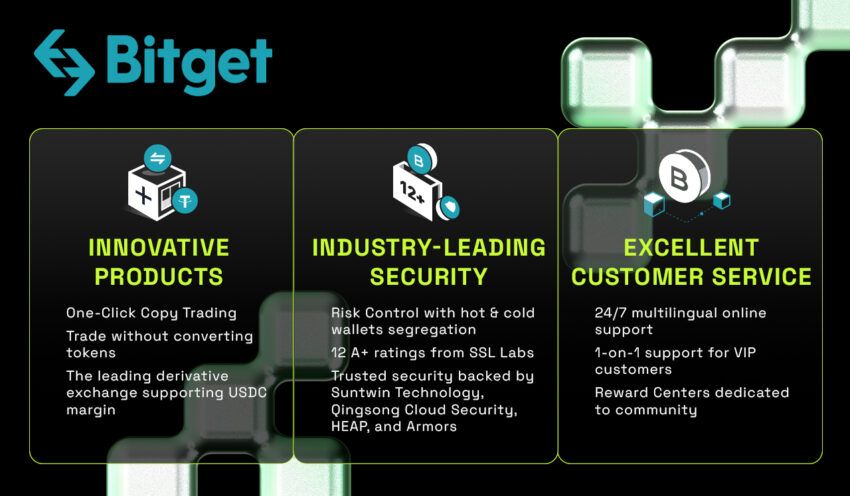 BGB token
BGB is the native token of Bitget. It holds several utilities for its holders.
Total supply – 2,000,000,000
Chain -ERC-20
BGB, as a margin, provides a 5% discount on trading fees.
Payment with BGB allows a 20% discount on trading fees.
Holding BGB provides exclusive access to several features of Bitget.
Users can stake BGB to earn more rewards.
On the raise
Bitget provides stable and secure trading even during extreme market conditions. In addition to copy trading, spot and futures trading, it provides a full set of quantitative trading tools. It also has intuitive trading tools and support for over 70+ trading pairs for margined futures accounts.
Bitget announced in September 2021 that it would become the official esports cryptocurrency partner of PGL Major. It also stated that it would sponsor the illustrious football side Juventus as its first-ever sleeve partner.
The partnerships and collaborations can be taken as proof of the sturdiness and trust of the platform. If you are looking for a trusted and safe platform to trade crypto, Bitget should be the one to look out for.
Frequently Asked Questions
What is the fee structure on Bitget?
Can I trade on Bitget without verification?
Who is eligible to participate in Launchpool?
What type of trading does Bitget offer?
Website | Twitter | Telegram | Discord | Reddit
Disclaimer
All the information contained on our website is published in good faith and for general information purposes only. Any action the reader takes upon the information found on our website is strictly at their own risk.