Bitcoin's explosive rise is having a ripple effect on the rest of the cryptocurrency market. Blockchain-related firms that are trading on stock exchanges have risen in the past few days — alongside the leading cryptocurrency.
As Bitcoin broke through $13,000 yesterday, cryptocurrency-related stocks followed. On Wednesday, financial firm MGT Capital Investments Inc. saw its stock rise as much as 55 percent. DPW Holdings, another financial firm specializing in cryptocurrencies, saw its stock rise 45 percent. Grayscale Bitcoin Trust BTC rose 17 percent during Bitcoin's rally. Some more-established retail giants have benefitted from Bitcoin's rise as well. Overstock.com, whose founder is a well-established cryptocurrency bull, also saw its stocks rise some 21 percent.
The ripple effect
Bitcoin's rally is having on the market is indicative of its market dominance. Ultimately, it rising means that everything within its ecosystem rises as well — except, perhaps, altcoins. Firms specializing in blockchain technology and cryptocurrencies have the most to gain, of course.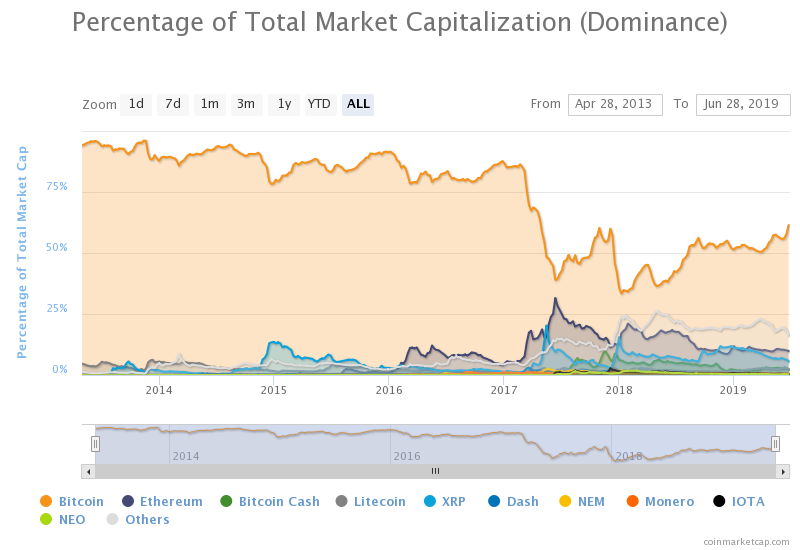 According to Bloomberg Intelligence's Mike McGlone, Bitcoin broke above 'key resistance' in early May. With Tether (apparently) getting past some of its troubles and the Libra slated for release in 2020, momentum is only increasing. Macroeconomic factors have been pushing the price upwards as well, with Bitcoin trying to position itself as the
"digital version of gold"
in an increasingly unstable geopolitical world. As Bitcoin continues to rise, we can likely expect more gains from cryptocurrency-related firms trading on the stock market. Not only will their investment portfolios grow, but their company shares are also due for a rise. Bear in mind that, since 2017, many more financial firms specializing in cryptocurrencies have sprung up. That means that their impact will be significantly more visible than the previous bear market. The growth of cryptocurrency-related firms is a microcosm of how serious the institutional investments and interest in Bitcoin have become. With their stocks now rising, we can see it as an indicator that the largest traditional investment community is turning bullish on Bitcoin.
Do you believe this upward momentum will sustain itself or are we due for a months-long cool off? Let us know your thoughts below. 
Disclaimer
All the information contained on our website is published in good faith and for general information purposes only. Any action the reader takes upon the information found on our website is strictly at their own risk.