Retail interest in bitcoin appears to be growing, according to data from IntoTheBlock. The number of BTC holders who have held for less than a month is growing, as are longtime holders.
The number of new bitcoin addresses is rapidly rising, with addresses holding bitcoin for less than 30 days growing in correlation with the price of bitcoin.
Blockchain and crypto market data firm IntoTheblock tweeted about the trend, saying that these traders tend to follow the price action.
The number of holders who have joined in the past month has increased by 3.77%. The change indicates some tentative optimism for the month, possibly heralding an increase in bitcoin's price over the coming months.
Alongside this, bitcoin's correlation with precious metals gold, silver, and platinum have all also dropped in the same time frame. Dropping by -0.52, -0.39, and -0.52 to gold, silver, and platinum according to IntoTheBlock's matrix, the correlation is at its lowest since Aug. 2021.
Like it has been seen in the past, the number of longtime holders is also standing strong. Addresses holding bitcoin for over a year are at an all-time high and have even been increasing. These addresses represent 57% of all BTC holders, according to IntoTheBlock.
Retail investors seem really keen on bitcoin going forward, which is evident from the aforementioned trends. This comes at a time when bitcoin faces some volatility following geopolitical events.
Bitcoin trajectory for 2022
Bitcoin's price movement in 2022 is uncertain at this point. Besides global events, there is generally a lot of uncertainty concerning regulation.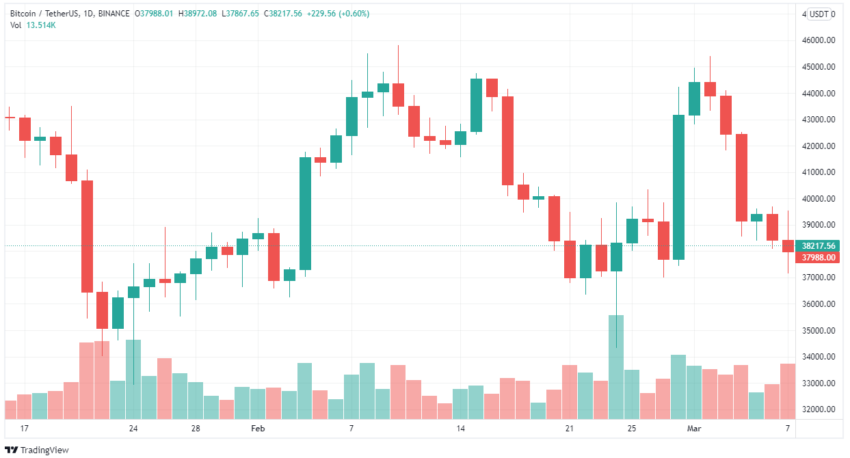 Opinions on the effect of the Russian invasion of Ukraine are divided. Some have said that it could have a positive effect on bitcoin's prices as people turn to hedge against risks affecting the global market. On the other hand, it has sharply fallen in price since the start of the incident.
However, institutional investment also seems to be growing, which is a good sign. With regulation all but certain in 2022, there could be some doubt put to rest, which could boost crypto prices altogether.
Disclaimer
BeInCrypto has reached out to company or individual involved in the story to get an official statement about the recent developments, but it has yet to hear back.