On July 25, 2019, the Bitcoin (BTC) price reached a high of $10,188. A small decrease ensued. On July 27, the price reached similar highs near $10,200. A rapid decrease ensued. The price reached lows near $9300 on July 30. Another upward move began, and the price reached highs near $10,200 for the third time on August 1.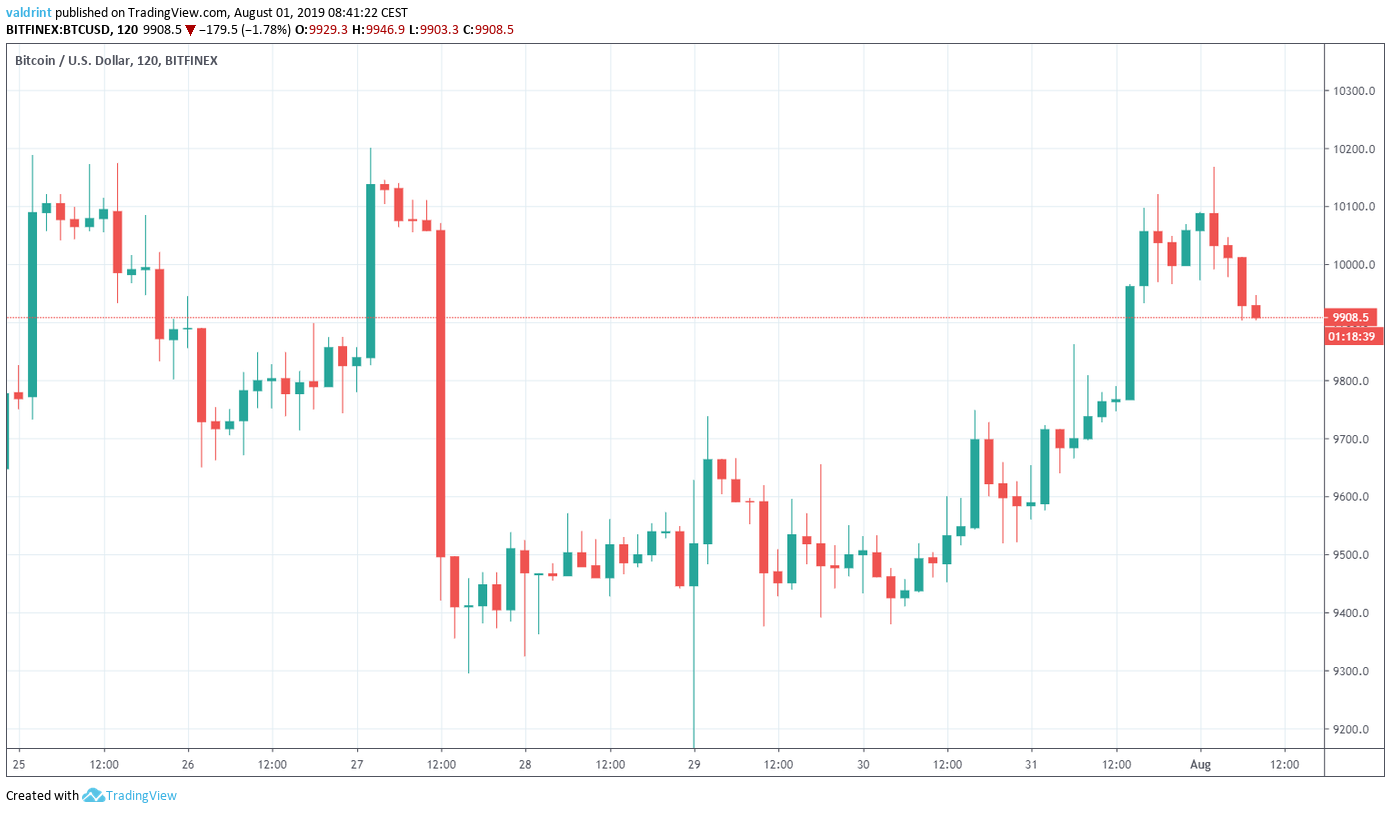 Will BTC finally be able to break through? Keep scrolling below if you are interested in finding out.
For our previous analysis, click here.
If you are interested in margin trading Bitcoin (BTC) and other cryptocurrencies with a multiplier of up to 100x on our new partner exchange with the lowest fees, follow this link to get a free StormGain account!
Bitcoin Price: Trends and Highlights for August 1
BTC/USD has possibly created an inverse head and shoulders
It is following a descending support line.
There is resistance at $11,000.
The price is facing resistance from the 20-day moving average.
Inverse Head & Shoulders
A look at the two-hour time-frame shows that the price is possibly in the process of creating an inverse head and shoulders (H&S) pattern.
This pattern is considered a bullish one, making price breakouts more likely.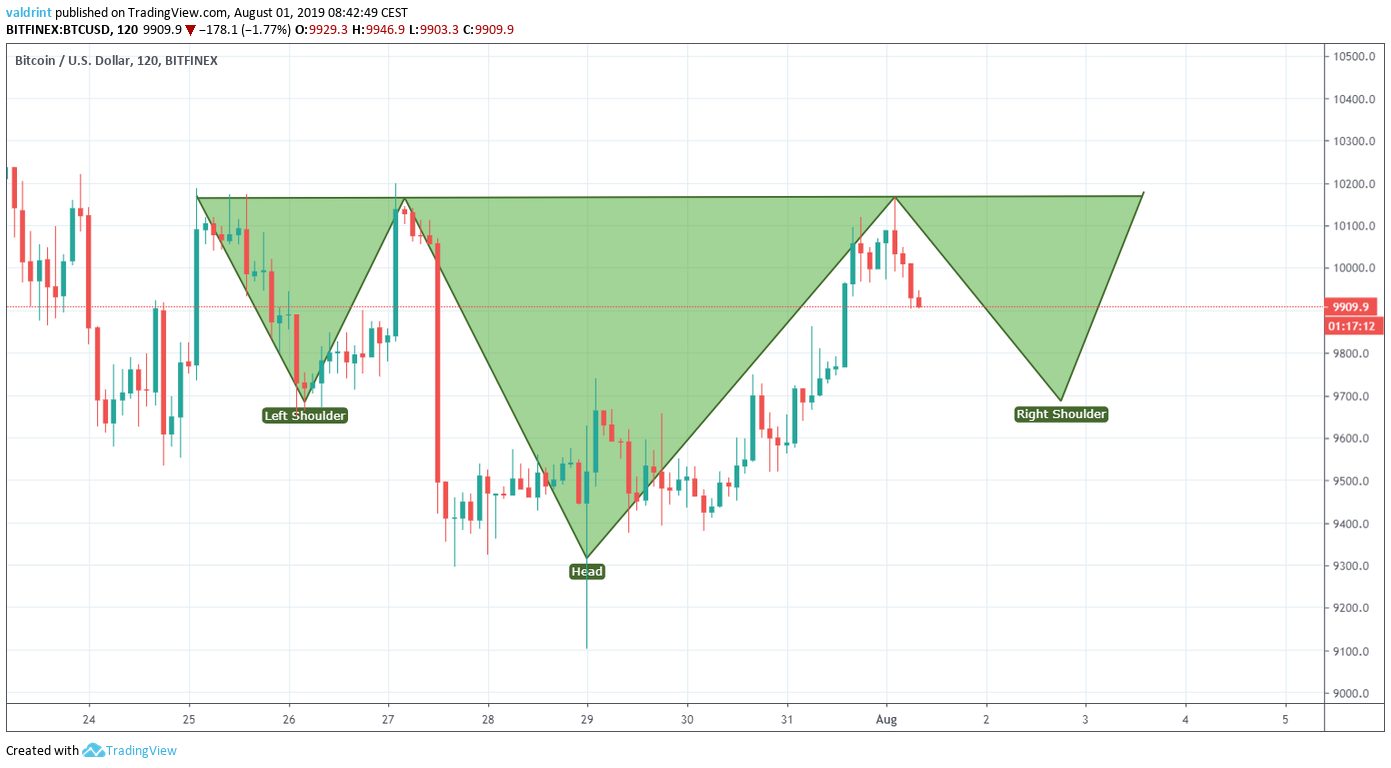 If the Bitcoin price does so, it should decrease towards $9700. The ensuing upward move should complete the right shoulder.
Afterward, a breakout should commence.
Judging by the height of the pattern, a likely target for BTC would be $11,000.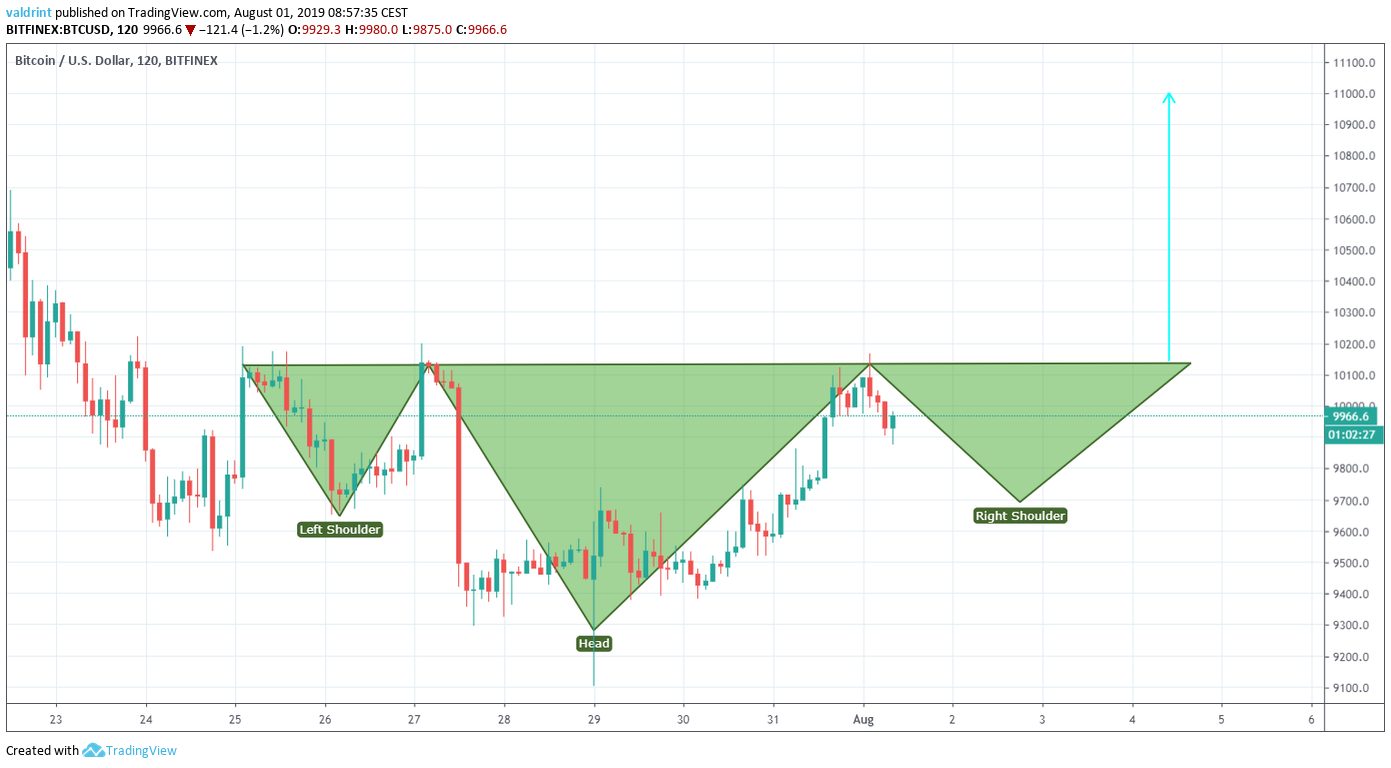 Will BTC reach it?
Let's take a step back and look at a longer-term time-frame.
Daily Support
A look at the daily time-frame shows that BTC has been following a descending support line since the beginning of July.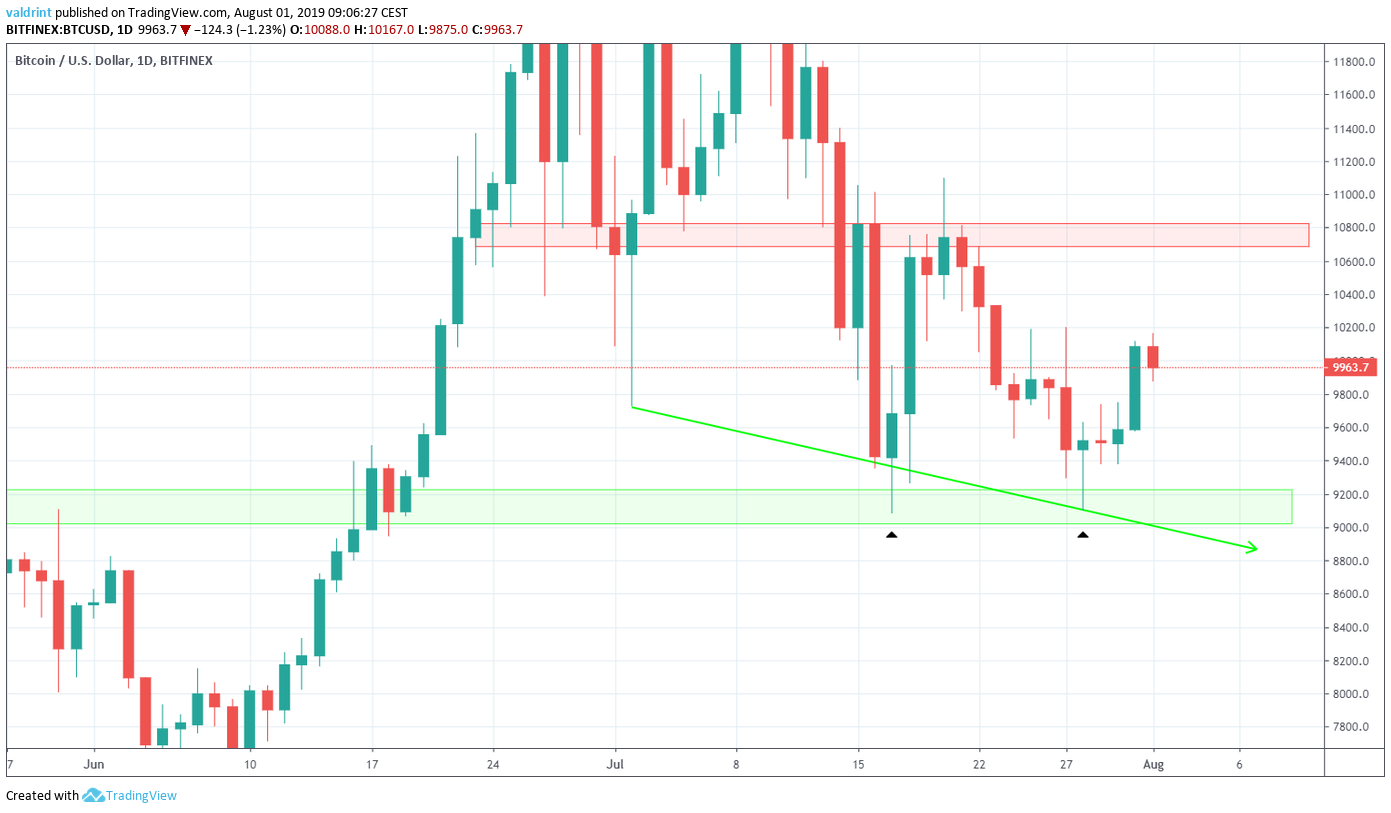 BTC has touched this support line twice, most recently on July 16 and 28.
Both times upward moves of varying magnitudes ensued.
This created long lower wicks and a support area near $9200.
Additionally, there is one resistance area slightly below $11,000, lining up with the target given by the inverse head and shoulders.
A closer look at the daily candlesticks gives us more bullish signs.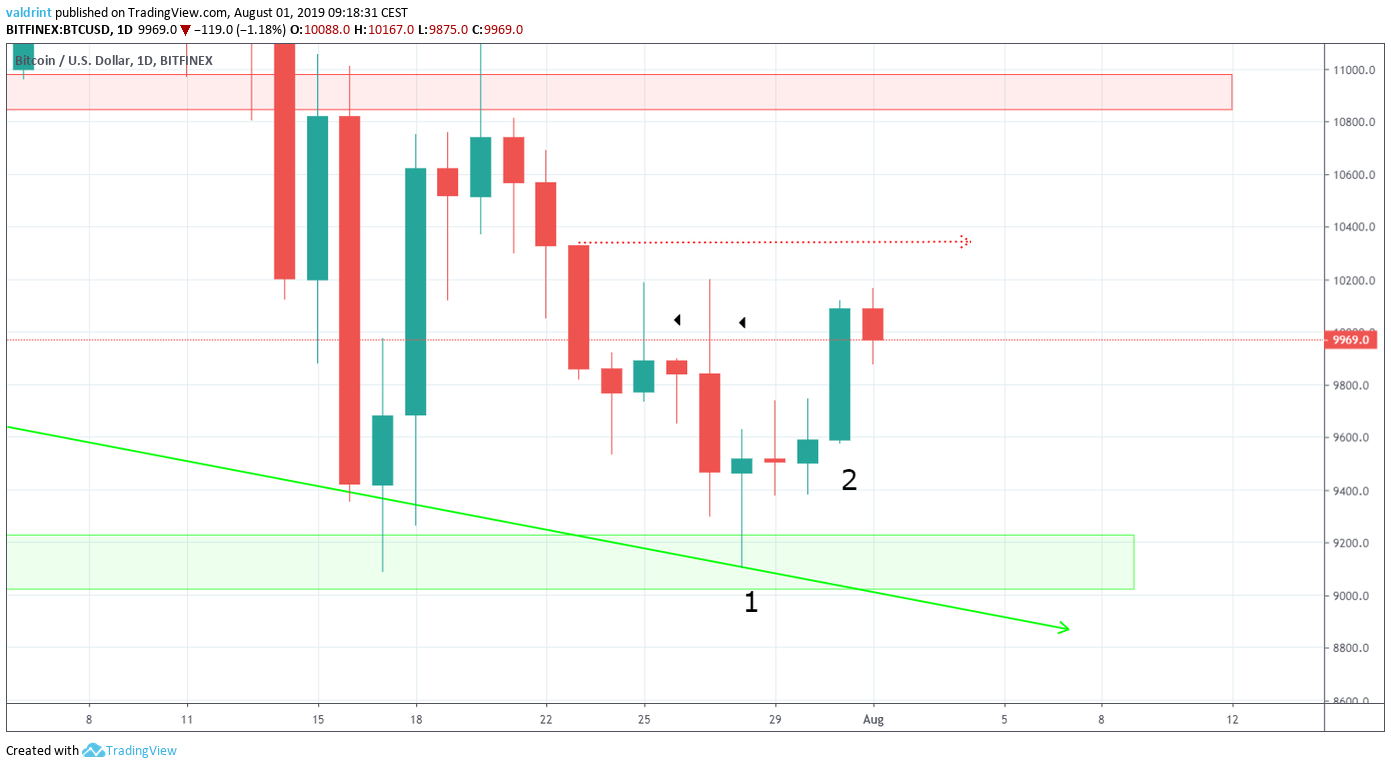 The possible reversal started with a bullish hammer on July 28 (1).
After three days, BTC created a bullish engulfing candle (2). The price closed well into the resistance of the long upper wicks of July 25 and 27 respectively.
The next level of minor resistance is found slightly below $10,400.
A price close above it would indicate that only the significant resistance area near $11,000 is left.
A look at the daily moving averages (MA) indicates that the relationship between the Bitcoin price and its MAs is at a critical point.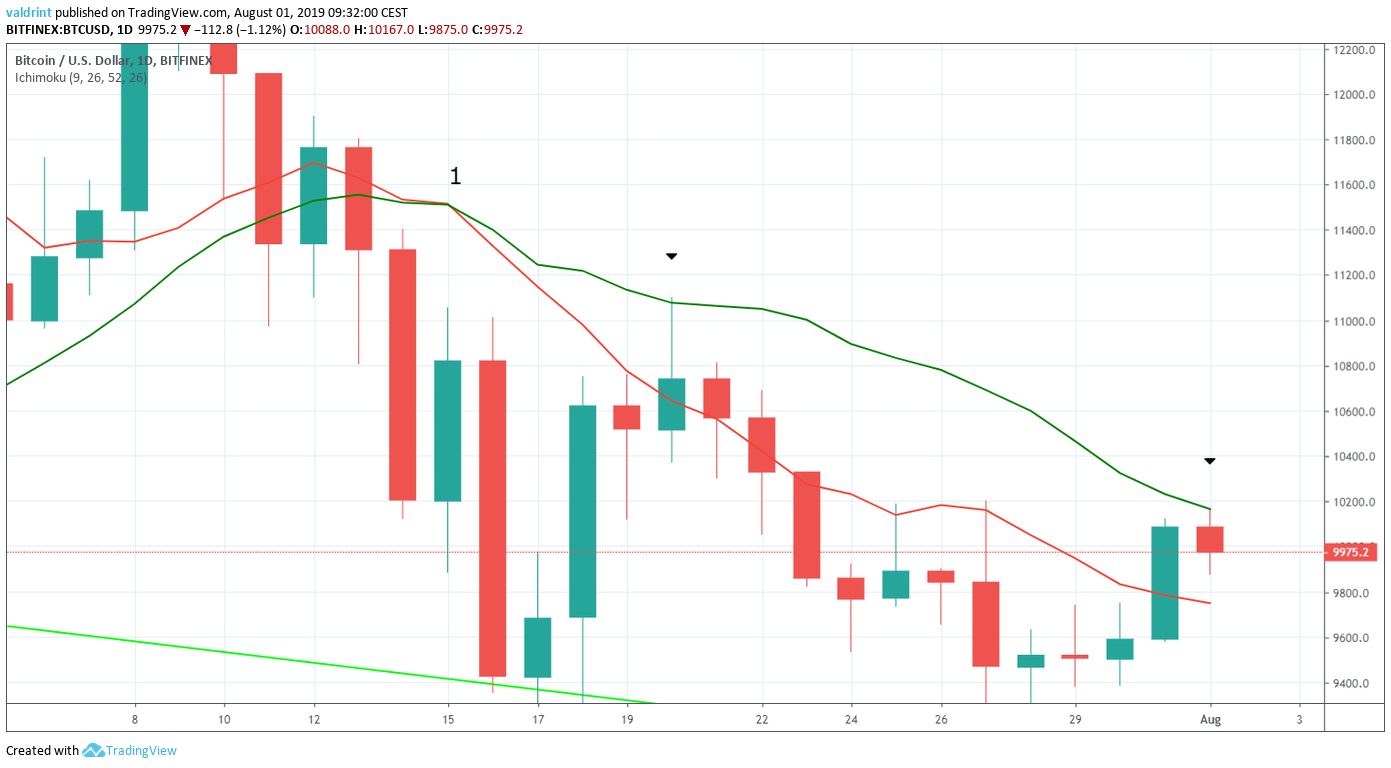 The most recent increase took BTC above its 10-day MA.
At the time of writing, it had reached the 20-day one.
The previous time it did so, on July 20, it reversed and began a 10 day downtrend.
BTC has not traded above its 20-day MA since July 13.
A price close above it would go a long way in suggesting that the price has finished its correction and began a new uptrend.
Looking Ahead
A look at the weekly time-frame provides perspective when trying to decide whether we are beginning a new uptrend or are still in a correction.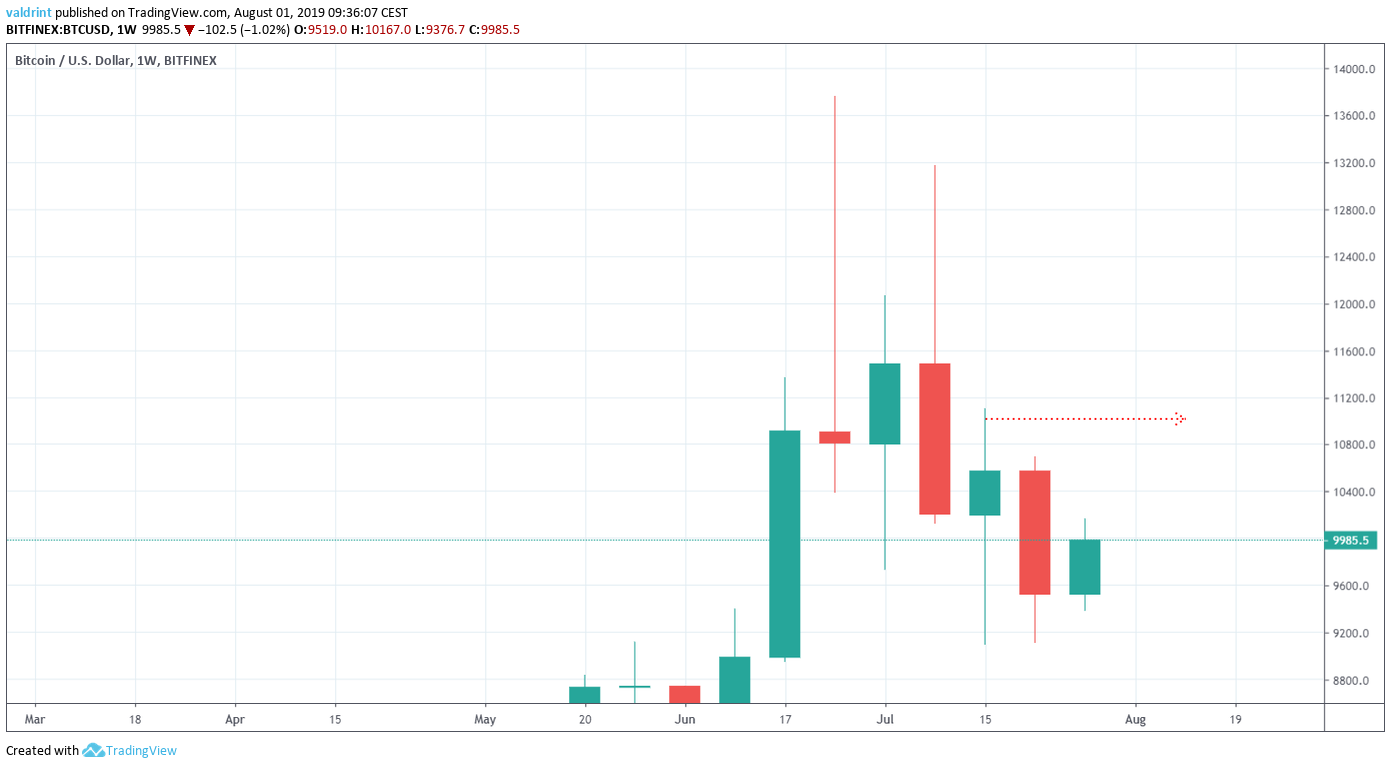 We can see that the recent increases pale in comparison to prior decreases.
This is especially visible when considering the prior week's bearish candle.
If the BTC price breaks out of the H&S pattern and reaches its target, it would reach the horizontal line outlined above.
As we can see, that would not give us confirmation that a long-term uptrend has begun.
Continued increases after and a weekly close above $11,600 would do so.
At the current time, however, it seems futile to try and predict if it will.
Rather, if it completes the H&S, we will look for signs that help us do so.
Bitcoin Price Summary
The BTC price has possibly created an inverse head and shoulders pattern.
According to our analysis, it will complete the right shoulder before possibly breaking out.
Do you think BTC will complete its pattern? Let us know in the comments below. 
---
Disclaimer: This article is not trading advice and should not be construed as such. Always consult a trained financial professional before investing in cryptocurrencies, as the market is particularly volatile. 
Images are courtesy of TradingView and Shutterstock.
---
Images courtesy of Shutterstock, Trading View and Twitter.