Turkey's population registers overwhelming interest in bitcoin as it finds its lira in freefall against the dollar.
Google searches for bitcoin grew exponentially in Turkey following a sudden wave of economic uncertainty and volatility in the region.
The news comes after Turkey's President Erdoğan ousted the country's central bank head, Naci Ağbal, on March 22. According to data sourced directly from Google Trends, interest in bitcoin spiked over 500% around the same time the lira nosedived by 15%.
Turkish Lira Turns Bearish Overnight
Şahap Kavcıoğlu, the new central bank chief, is a known critic of high interest rates. Last month, he expressed disdain at the central bank's decision to hike interest rates — claiming it hurt the general public. The latest hike, announced March 18, bumped interest rates by 200 basis points, bringing the figure to 19%.
Even though the series of interest rate hikes have treated the lira well, Turkey's current President is a fellow critic. Ergodan stated that he is "absolutely against" high interest rates, believing that it causes inflation, as recently as January 2021.
However, if the past year has been any indication, the opposite is true. What's even more concerning is that the new central bank chief has echoed the same sentiment in recent weeks.
Since November 2020, the central bank has raised interest rates from 10.25% to 19%. In the same time frame, the Turkish lira appreciated considerably against the US dollar. After collapsing to 8.49 against the USD, the lira recovered under the previous chief's reign to 6.94.
During this time bitcoin increased nearly 300% in value.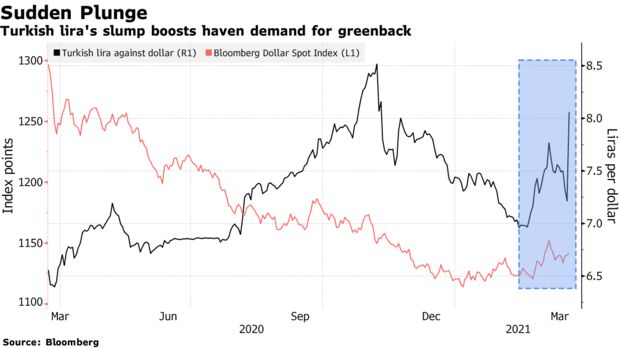 The change in central bank leadership, however, has sent the lira tumbling, even as Kavcıoğlu claims no immediate changes are planned. At the height of investor panic, the dollar gained nearly 15% against the lira.
Bitcoin Turns Savior for Struggling Economies
Although bitcoin has often viewed as a hedge against bad monetary policy, that viewpoint has been legitimized even further of late.
While gold has witnessed significant pullback since 2020, bitcoin grew to a valuation of $1 trillion in 2021. Even as traders and investors pulled their funds from speculative and high-growth stocks, the cryptocurrency market has stayed strong.
Crisis-hit nations are also some of the biggest adopters of cryptocurrency — with Venezuela trading millions worth of bitcoin weekly. Data shows that there is still considerable demand for the cryptocurrency in the region, especially via peer-to-peer modes.
Given that forex and metals are difficult to obtain in many countries, cryptocurrencies like bitcoin offer an instant hedge against falling fiat currencies. In Turkey, P2P exchange Paxful reported an overwhelming increase in new user registrations over the past 12 months.
Whether this is a short-term trend or long-term migration away from the lira, however, remains to be seen.
Disclaimer
BeInCrypto has reached out to company or individual involved in the story to get an official statement about the recent developments, but it has yet to hear back.