Every time 210,000 blocks are mined on the
Bitcoin
Network, it goes through an event which is called a halving. This means that the rewards for mining are cut in half. As halvings occur approximately every four years, there have been two such events in Bitcoin's past.
The first halving occurred in November 2012, when miners reached block 210,000. After that, the rewards for mining were cut from 50 BTC to 25 BTC per block. The second halving occurred in June 2016, after miners reached block 420,000. Afterward, the block rewards got cut in half again, going from 25 to 12.5 BTC. While the third halving has not yet occurred, it is expected to occur sometime in May 2020, possibly
earlier
. Twitter cryptocurrency analyst
@davthewave
used a logarithmic growth
curve
in order to determine future Bitcoin price movement. Interestingly enough, he predicts a period of consolidation and a slight decrease until May of 2020, at the time when the halving is expected to occur.
I started looking at the growth curve here, and wondered how it was to go essentially sideways for so long to get to there….

Well, I think we have the answer. pic.twitter.com/cwpdsh6Onj

— dave the wave (@davthewave) October 16, 2019
The tweet does not state that we are currently in a fractal between the outlined periods. However, it says that we could trade sideways for a long period of time. Therefore, the price in May and June 2019 should behave similarly to that in May and June 2017.
BeInCrypto
discussed this possibility in a previous article that
predicts BTC's price
before and after halving.
Logarithmic Resistance
We drew a curved resistance line only slightly dissimilar to that of @davthewave, connecting the highs throughout the 2018 correction. The price broke out above this resistance line in May 2019 and the rate of increase accelerated rapidly afterward.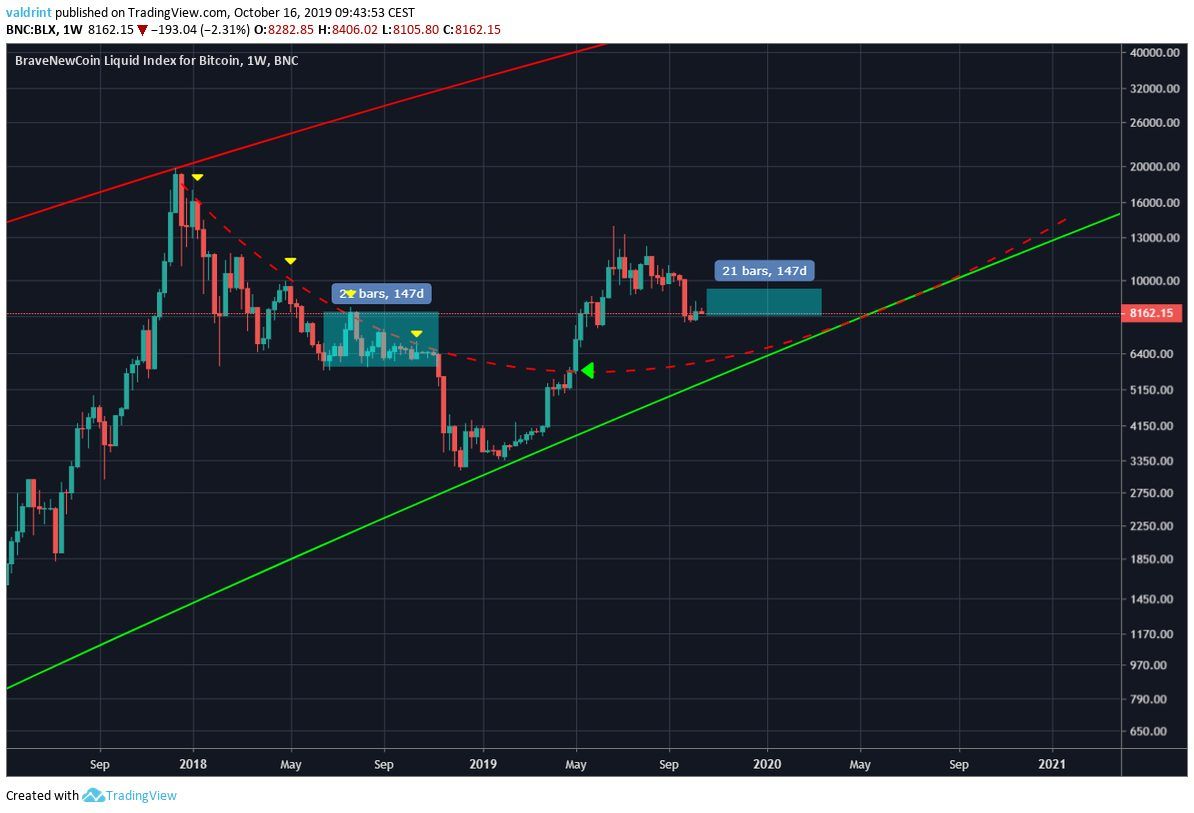 Since then, it has not come back to validate the resistance line, which is a very common movement pattern. The dashed resistance line is set to coincide with the green support line, which has been in place since 2013. However, the price does not necessarily have to decrease in order to reach it. Rather, if it were to consolidate until the middle of next year, it would eventually reach the line all the same. Looking at the daily price movement, a very rough outline of how this might play out is given below: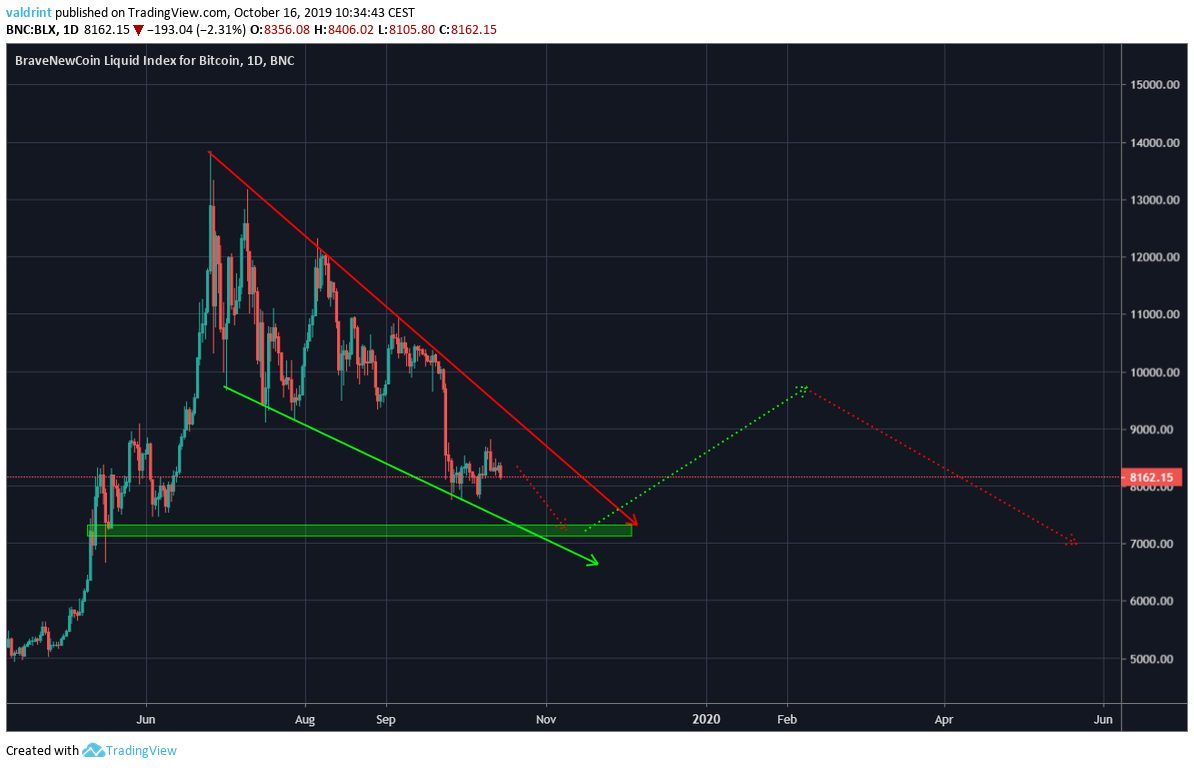 This would actually fit well with the 2017 movement, in which there was an upward move before a long period of consolidation. Afterward, a gradual decrease would follow until the price reached $7,000 again around May or June of 2020.
Do you think Bitcoin will consolidate before halving? If not, will it increase or decrease? Let us know in the comments below.
Disclaimer: This article is not trading advice and should not be construed as such. Always consult a trained financial professional before investing in cryptocurrencies, as the market is particularly volatile.
Disclaimer
In line with the Trust Project guidelines, this price analysis article is for informational purposes only and should not be considered financial or investment advice. BeInCrypto is committed to accurate, unbiased reporting, but market conditions are subject to change without notice. Always conduct your own research and consult with a professional before making any financial decisions.