Bitcoin (BTC) has surged over the last few days with a high of nearly $8200 reached on May 14. Have Litecoin (LTC) and Bitcoin Cash (BCH) been surging too?
To answer this question, we examine the current long-term and short-term trading patterns of Bitcoin (BTC), Bitcoin Cash (BCH) and Litecoin (LTC).
After comparing their technical indicators, we generate possible trade setups. Then our major findings are summarized. In conclusion, the winner of this analysis is selected based on future price potential.
You can read our previous analysis of BTC, BCH, and LTC here.
Ascending Support
On Apr 3, the price of BTC/USD reached a high of $5335.5 and a low of $4842. Resistance and support lines are traced from this date to generate the ascending channel outlined in the graph below:
The price broke out from the channel on May 5th. A rapid increase began and the price reached highs of $8194.1 on May 14.
The price is very close to the major resistance area of $8300-$8500 created by the highs of July 2018.
The daily candles have been characterized by long upper wicks, indicating that there is selling pressure in the market. However, excluding May 12, the past 9 daily candles have been bullish.
The price of LTC/USD, however, has been following an ascending support line since making lows of $53.4 on Mar 12.
The increase intensified on Apr 2 and the price reached a high of $99.4 on Apr 3. After reaching similar levels on Apr 6, it began a gradual descent and validated the support line on May 1.
The price is trading inside the ascending triangle outlined below:
The price is currently trading near $93. Since the beginning of the support line, it has increased by 78%.
Similar to LTC, the price of BCH/USD has been following an ascending support line since Dec 18, 2018, when a low of $85.2 was reached.
Subsequently, the price surged to reach a high of $232.1 on Dec 21, 2018.
Since then, Bitcoin Cash has been trading along an ascending channel. While trading inside the channel, the price has increased by a massive 352%.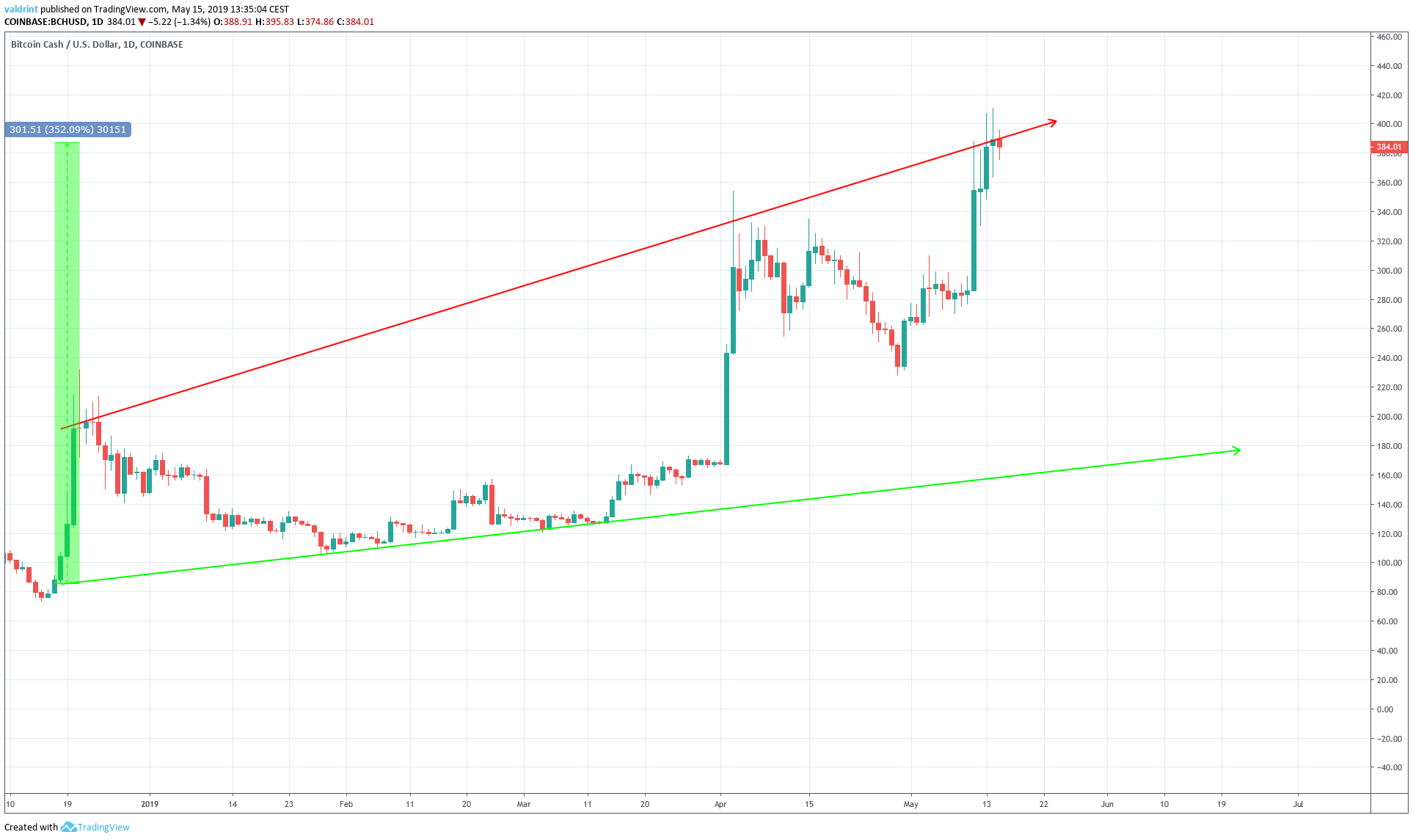 However, these patterns alone are not sufficient to predict future price movements.
In order to do that, we need to take a look at each of these coins within a shorter time-frame alongside relevant technical indicators.
Bitcoin's Current Pattern
On May 12, the price reached a high of $7448.0. A gradual decrease brought it to a low of $6880.0 the next day. It has been trading inside the ascending channel outlined below:
Furthermore, the price seems to be following a short-term resistance line (dashed) which creates a symmetrical triangle.
At the time of writing, the price is trading very close to the support line of the channel.
Will it break down?
In order to figure that out, the price of BTC is analyzed at two-hour intervals alongside the RSI:
---
Do you want to BeInCrypto? Join our Telegram Trading Community for exclusive trading signals, educational content, discussions and project reviews! Images courtesy of Shutterstock, Trading View and Twitter.