Decentralized prediction markets platform Augur has just recently launched its V2 on the mainnet. Total value locked into the DeFi platform has also increased and its native REP token has been performing well.
The betting and prediction protocol was founded in 2014. The first iteration of the platform launched in 2015 following an ICO that netted over $5 million.
Augur Chasing DeFi
The long-awaited upgrade to v2 was first announced last year, heralding in a raft of requested improvements and upgrades. It also allows users to buy and sell shares of event outcomes using the Dai stablecoin, which has recently seen an uptick in demand.
The first version of Augur used Ethereum for trading which caused problems due to price volatility. A stablecoin solution was required to eliminate the wild price swings. Peter Vecchiarelli, head of operations at Augur, simplified one of the biggest changes to the platform;
With DAI being pegged to the dollar and if it stays stable, when people make the bet, the payout that they get at the end is what they expected to get. So, that's kind of the biggest change in Augur v2.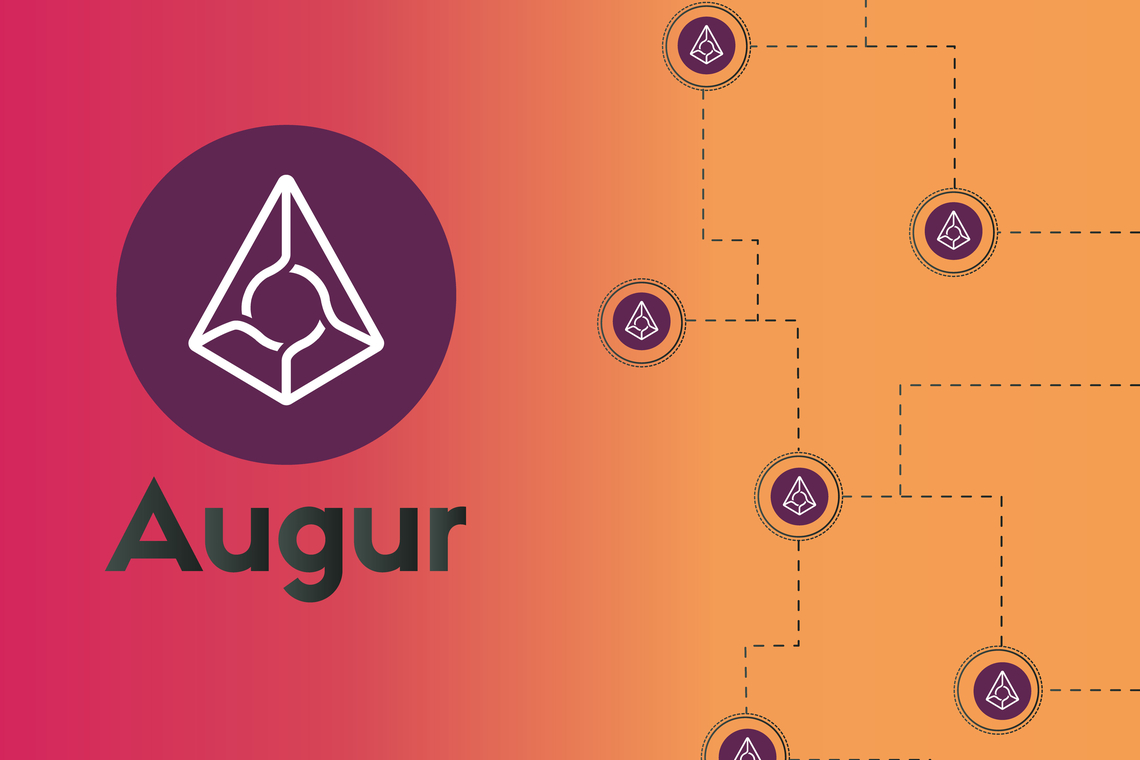 Augur is also making upgrades to keep pace with DeFi, and the integration of decentralized exchange protocol 0x will also help to cut down on trading fees. Integration with Uniswap v2 has also alleviated some of those fees, allowing peer-to-peer trading while improving liquidity.
A new scam filter mechanism has also been included in the upgrade which identifies invalid bets or possibly fraudulent prediction markets and moves them to an area on the dashboard not immediately accessible to new users. Augur v2 also runs within a browser as opposed to the previous desktop app that was needed to access markets. Vecchiarelli added;
We also redesigned the user interface from the ground up. It's more akin to what you'll see on Binance or Coinbase Pro.
Token migration from REP to REPv2 is already underway with most major exchanges, such as Kraken, supporting the new protocol. The announcement stated that current REP holders will need to manually migrate their tokens using the Augur Client. It added that migration was optional, however;
There is no immediate requirement to migrate REP to the new REPv2 upon deployment. The only time in which migration from REP to REPv2 would become a necessity is if an Augur v2 market entered into the forking process.
REP Price Reaction
REP token prices have performed well in the buildup to the highly-anticipated protocol upgrade, though on the actual day of release, there wasn't much of a reaction. Since the beginning of the year, REP has cranked 177% from $9 to a two-year high of $25 last week.
A slight pullback this week has dropped prices to $21. Like most pre-2018 altcoins, REP is still a long way down from its all-time high of $115 in January 2018.
In terms of total value locked on the platform, Augur has gained 35% over the past week or so to reach $507 million. Augur TVL is still way off its peak of almost $3 million which came in November 2018.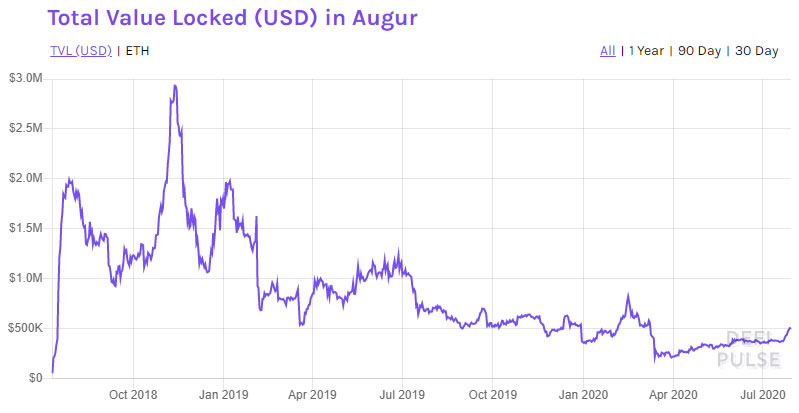 The Ethereum-based prediction market platform is currently ranked number 33 on the DeFi charts, just below the flash loan provider bZx.
DeFi is Still Small Fry
Even as DeFi markets knock on the door of $4 billion in total value locked, they represent a tiny fraction of the larger crypto picture. Currently, the amount of crypto collateral locked into DeFi smart contracts is just 1.14% of the entire total market capitalization, which has recently topped $320 billion.
Messari researcher Ryan Watkins [@RyanWatkins_] has observed this in a recent tweet;
The entirety of what we call DeFi is worth less than both XRP and Bitcoin Cash alone. Despite its rerating over the past couple months, DeFi is still extremely small in perspective.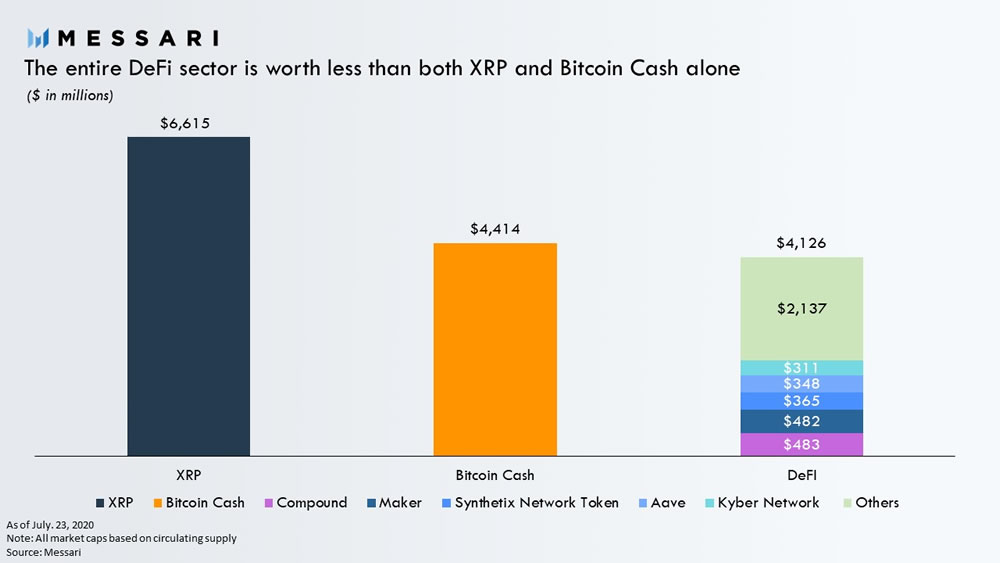 He added that DeFi's relative stature becomes even starker when comparing it to all publicly traded Layer-1 tokens outside Bitcoin and Ethereum. DeFi is worth an order of magnitude less than these projects, which are collectively worth $45.7 billion, the researcher noted.
Ethereum and DeFi proponent, Ryan Sean Adams [@RyanSAdams], also reposted the findings which totally dispute claims that the nascent industry is a bubble. Watkins was largely critical of the majority of altcoins, claiming that the top-thirty outside of BTC and ETH are;
Useless first-gen cryptocurrencies, ghost town 'ETH killers,' and dead projects,
Before adding;
Even Dogecoin, a literal meme coin, is worth more than nearly every asset in DeFi.
The only DeFi asset that has a larger market cap than Doge is Maker according to the research. He did not include Chainlink or Ethereum since they are not strictly 'DeFi only' assets and have applications way beyond decentralized lending and borrowing markets.
In the grand scheme of things, this train of thought could be applied to the entire crypto market which is just a blip compared to some of the market capitalizations of the largest corporations on the planet. Apple, for example, has a market cap of $1.6 trillion according to MacroTrends.
This is means that the entire crypto market is worth less than 20% of one tech company, in terms of market capitalization.
On a broader scale, Watkins went on to compare the markets to the global wealth figure, which puts things into perspective even more.
There's about $360 trillion in global wealth. At just under $300 billion, suffice it to say, cryptocurrencies have a long way to go.
With this in mind, DeFi is still just a drop in the proverbial bucket, and while these high yielding liquidity farming opportunities may soon fade out, the industry itself has a very long way to go.
Disclaimer
All the information contained on our website is published in good faith and for general information purposes only. Any action the reader takes upon the information found on our website is strictly at their own risk.