The pivot to decentralized finance (
DeFi
) continues as the leaderboard switches on the total value locked (TVL) charts.
It's all about change in the world of
DeFi
as a new king of TVL emerges. It didn't take long for collateral locked in DeFi to top $7 billion, a mere 26 days after it first surpassed $4 billion.

This month alone has seen a 75% surge. The growth in 2020 has been phenomenal, with a gain of over 900% since January 1. By comparison, the total market capitalization of cryptocurrencies has increased by just 86% over the same period, which in itself is no mean feat.
Aave Flips Maker on TVL
The momentum on DeFi markets today has come from flash loan platform
Aave
which has surged 10% in TVL terms to top $1.5 billion. The move dislodged Maker off the top spot, according to DeFi Pulse. The
Aave dashboard
is reporting a figure just above $1.4 billion at the time of writing, which is just ahead of Maker.
@AaveAave reached the top of the DeFi mountain 🗻 Big thanks to all the developers building innovation with the Aave Protocol (can't wait to unleash the v2). Would never expected this to happen, but glad it did. 😍🙌🥳 pic.twitter.com/LwOhqlZfJ8

— stani.eth 👻 v2 mode 👻 (@StaniKulechov) August 25, 2020
Aave
provides a wide range of digital assets for lending and borrowing and has most of its collateral locked in a number stablecoins, including
Tether
,
TrueUSD
, USDCoin, and
Dai
. The measure of TVL has come under some scrutiny recently as liquidity mining pools such as those offered by Compound and
Curve
can result in a positive feedback loop or double counting, which inflates this value. Technically, any
DAI
liquidity on Aave is a second counting of the original assets supplied as collateral to Maker to mint the
stablecoin
. The term 'locked' is also questionable as collateral is constantly on the move from protocol to protocol and can be withdrawn instantly. Either way, it has become the go-to metric for DeFi superiority this year, and Aave is wearing that crown today. Aave's native LEND token also surged, hitting an all-time high of $0.78, according to data from tradingview.com.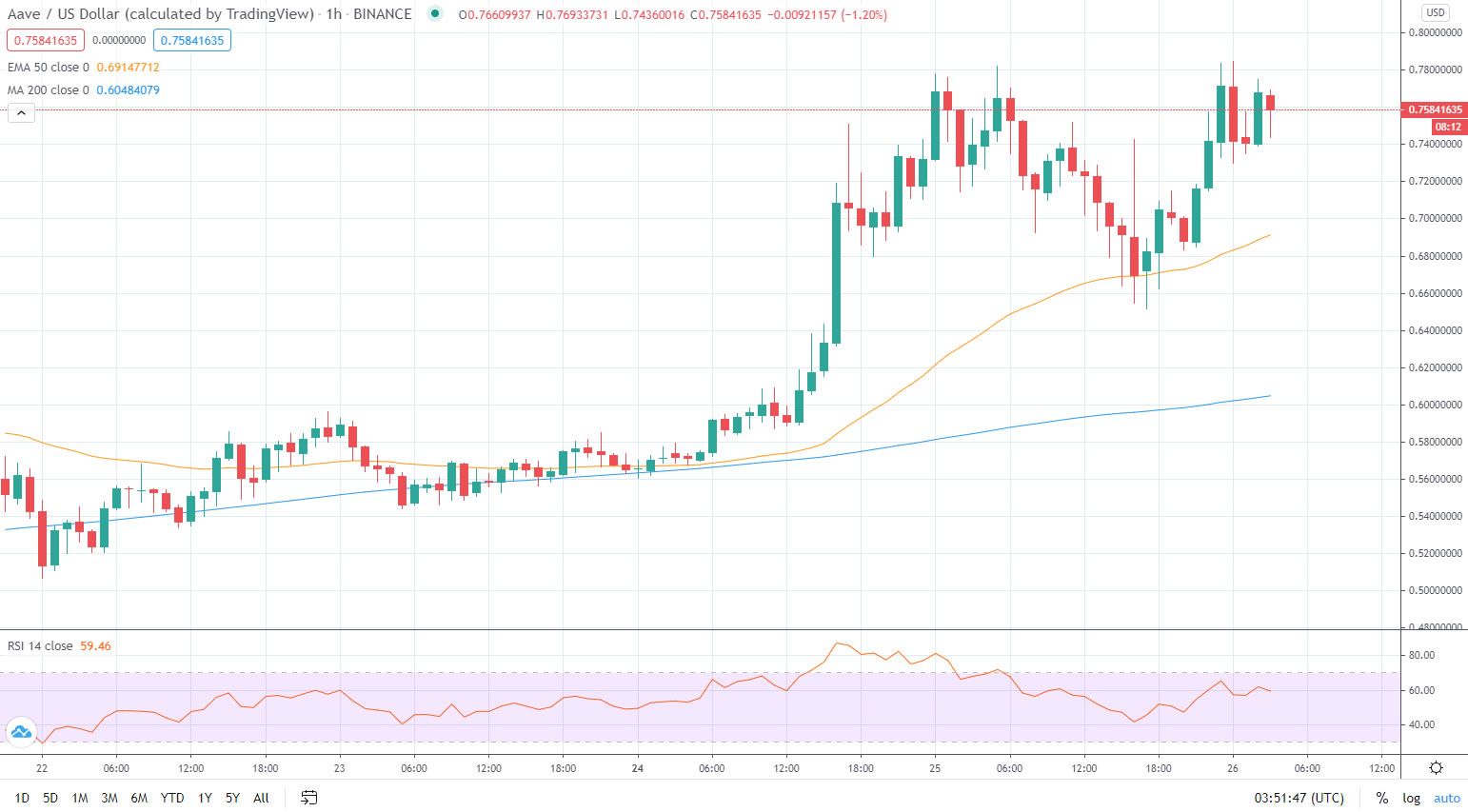 Since the beginning of July, LEND prices have skyrocketed 440% as it approaches the billion-dollar market cap milestone.
Momentum From UK eMoney License
Part of this new Aave momentum likely comes from an official endorsement in the form of an Electronic Money Institution (EMI) license from the United Kingdom Financial Conduct Authority (FCA). The license permits Aave Limited, to 'issue electronic money (e-money) and provide payment services' according to
official FCA data
. Aave founder and CEO, Stani Kulechov, explained that the,
Electronic Money Institution is the same authorization that Coinbase and Revolut has in Europe. It will mostly support on-boarding new users into the Aave Ecosystem and to the decentralized protocol over time.
He added that Aave will pilot in the UK before rolling out to cover the whole European Economic Area. He also expects to expand globally with a service that will allow users to go from fiat to stablecoins and other assets natively in the Aave ecosystem. Currently, users can lend or borrow crypto assets with no third party involvement and no KYC (know your customer) requirements. This may well change once fiat and the banking system become involved, though, the DeFi protocol is likely to remain a separate entity.
Disclaimer
All the information contained on our website is published in good faith and for general information purposes only. Any action the reader takes upon the information found on our website is strictly at their own risk.