Yearn Finance founder Andre Cronje has announced on Twitter that he is alive and well but choosing to step back from social media. The update comes on the heels of threats lodged against him tied to his latest project, Eminence.
The post follows recent uncertainty surrounding his whereabouts. In a tweet posted on Oct. 9, he revealed that he is "still here" and "still building, adding that he is "done tweeting and being on social media." He still has his Twitter account, which suggests that he might be back.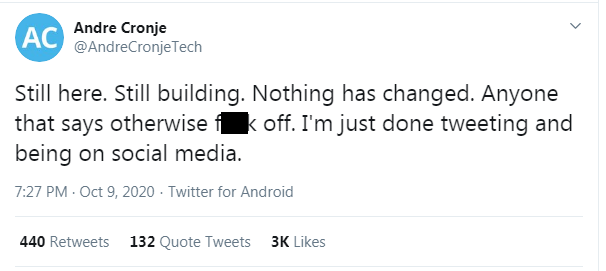 On Sept. 29, Cronje revealed that he had been receiving a "fair amount of threats" from investors in the unfinished Eminence (EMN) project, which was compromised by a hacker. Following the theft of EMN tokens worth $15 million, the hacker sent $8 million worth of the stolen EMN to Cronje's developer account for a reason that is unclear. 
As I am receiving a fair amount of threats, I have asked yearn treasury to assist with refunding the 8m the hacker sent. The multisig is safer and as such I feel more comfortable with them having the funds. Funds will be returned to holders pre-hack snapshot. https://t.co/wbputn5hYD

— Andre Cronje (@AndreCronjeTech) September 29, 2020
Cronje's Recent Controversy
Built with the videogame industry in mind, EMN was being designed to create a radically different approach to in-game transacting and economics. Cronje, who prior to the hack was known for his outspoken views on Twitter, warned investors that the project was incomplete — but not everyone chose to listen.
He was reportedly away on Sept. 29 when investors began pumping EMN despite his repeated warnings that the project and the smart contracts were not complete. Hackers subsequently compromised the smart contracts and helped themselves to $15 million worth of EMN.
Inexplicably, they then chose to send back $8 million to his developer account — a development that apparently incensed a number of investors who saw their funds stolen or the value of their holdings fall sharply. On Sept. 20, Cronje confirmed that these funds will be returned to their holders based on an ownership snapshot.
1/x First, the data;

1. Yesterday we finished the concept behind our new economy for a gaming multiverse. Eminence. As per my usual methodology, I deployed our staging contracts on ETH so we can continue developing on it.

2. Eminence is at least ~3+ weeks still away

— Andre Cronje (@AndreCronjeTech) September 29, 2020
At press time, Cronje had not indicated why uncompleted code was tested on the mainnet, rather than a  readily available Ethereum testnet.
Yearn Finance Takes a Beating
As the chart below shows, the Sept. 29 EMN hack coincides strongly with another sharp fall in YFI during a strange September that was both bullish and bearish. The token shed 67 percent of its value from its Sept. 12 all-time high of $43,000 to just over $12,500.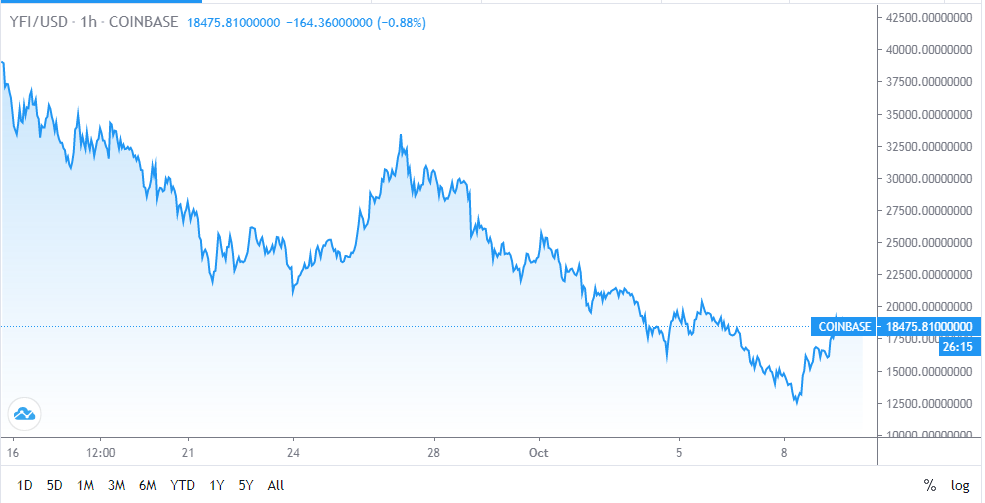 As of press time, it is trading around $17,170.
Disclaimer
All the information contained on our website is published in good faith and for general information purposes only. Any action the reader takes upon the information found on our website is strictly at their own risk.