A recovery in the crypto market can lure in more venture capital investments. Here we examine the close relationship between venture activities and crypto prices. 
Historically, the blockchain and crypto sectors have attracted significant venture capital (VC) funding, particularly during the 2017-2018 and 2020-2021 boom. However, funding can fluctuate based on market conditions, regulatory changes, and other factors.
Amid changing scenarios in the crypto domain, funding initiatives have swung drastically. A correlation exists between venture investment activity and crypto asset prices, especially for blockchain and cryptocurrency projects. When crypto assets experience a surge in value, there tends to be a rise in investment in related startups and projects. 
Conversely, when the prices of crypto assets fall, there may be a decrease in investment activity in this area.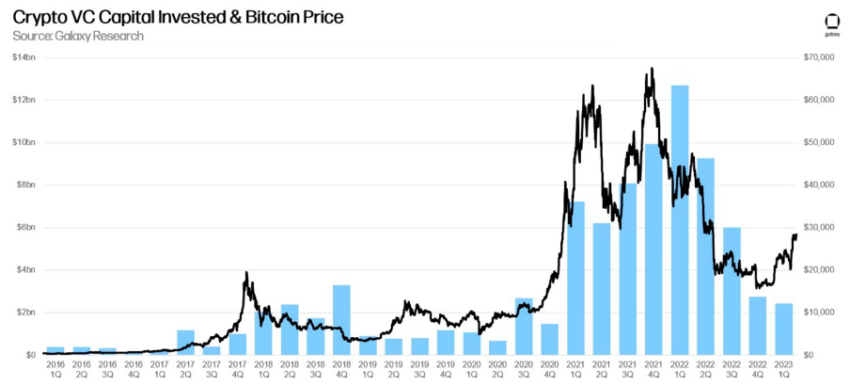 However, it is worth noting that this correlation is not necessarily a direct causal relationship. Other factors, such as regulatory changes or market sentiment, can also impact venture investment activity in the crypto space. Additionally, venture investment activity in any industry is influenced by a wide range of factors beyond asset prices, such as the quality of the team, the strength of the business model, and the potential for growth and profitability.
The Role of Investors
Venture capital investment plays a critical role in the growth and development of crypto firms. The crypto industry has experienced explosive growth in recent years, driven by increased adoption and mainstream acceptance. However, despite the vast potential of this industry, crypto firms still need to overcome challenges, including regulatory uncertainties, technological hurdles, and lack of funding.
VC investment provides the cash to fuel the growth of crypto firms. These investments enable startups to scale up their operations, expand their product offerings, and bring innovative solutions. With VC funding, crypto firms can invest in research and development, marketing, and talent acquisition, among other critical areas. This, in turn, helps them stay competitive and meet the ever-increasing market demands.
Moreover, VC investment brings more than just financial support to crypto firms. It provides valuable expertise, guidance, and networks. VC firms have years of experience identifying promising startups, evaluating their potential, and supporting them through their growth. They bring industry knowledge and connections that can help crypto firms navigate the complex and rapidly evolving landscape of the crypto industry.
Investment Deals
VC investment also plays a critical role in attracting further investment into the crypto industry. When reputable VC firms invest in crypto firms, they validate the potential of these startups and signal to others that the industry is worth investing in. This, in turn, attracts more investment, fostering a virtuous growth cycle.
Furthermore, VC investment in crypto firms helps to promote innovation and creativity. The crypto industry is still in its early stages, and there is a vast potential for new and innovative solutions. However, crypto firms need ample funding to bring these solutions to the market. VC investment provides the capital to fuel this innovation and create new products and services to revolutionize our lives and work.
However, things can go south. With the collapses in 2022, investors pulled away as the industry lost credibility. According to a report from Galaxy Research, the research arm of crypto investment firm Galaxy Digital, the first quarter of 2023 supports a similar conclusion. Q1 saw the lowest crypto VC activity in two years, with $2.40 billion invested across 439 deals.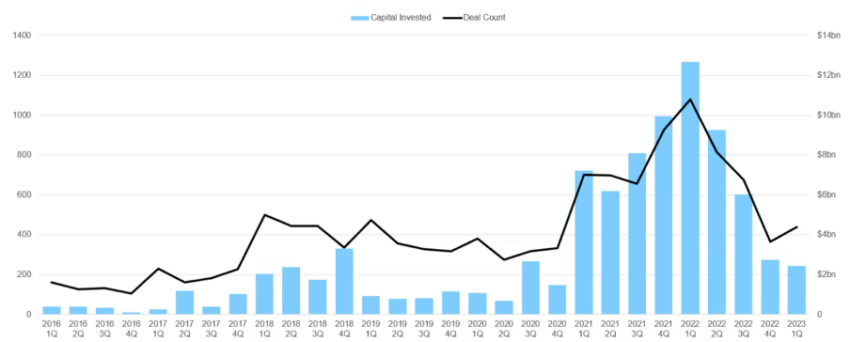 VC investments have fallen since peaking at nearly $13 billion in Q1 2022, with the latest quarter's results representing a decline of over 80% compared to last year.
Baggage of the Past
The drop is "not a surprise," said PitchBook crypto analyst Robert Le, who noted that venture investing has dwindled across the board this year. In addition to rising interest rates, Q1 also saw the unraveling of Silicon Valley Bank, an institution relied on by venture-backed companies. 
"There's still a lot of fear about what's going to happen since the macro environment is still very uncertain," Le said.
Regardless of the downward trend in capital invested, deal activity grew in Q1 2023, with 439 deals raised vs. 366 in Q4 2022. The gains were primarily driven by relative increases in pre-seed deal activity (89) after a dismal Q4 2022 that saw only 42 pre-seed deals.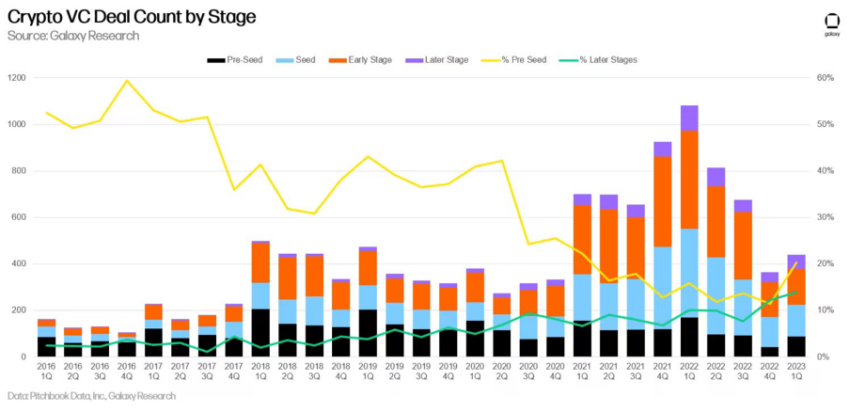 Even the funding valuation, on average, witnessed a notable increase. The average new fund size increased in Q1 2023, reaching $211 million. At the same time, the median fund size fell for the first time since 2020 ($62.50 million).
Can the figures rise if the crypto market rebounds in the second quarter this year? Alex Thorn, the lead researcher at Galaxy Research, told BeInCrypto:
"Historically, venture activity has tracked crypto asset prices pretty closely. (It) will be interesting to see if crypto VC activity can rebound if prices remain resilient or constructive this year. Lots of macro and monetary headwinds, though."
Hoping For a Recovery
While a recovering crypto market may attract more venture capitalists and investors, many factors can influence investment decisions beyond market performance.
Investors typically look at various factors before investing in any asset, including cryptocurrencies. These may include the underlying technology, the development team's strength, the potential market size, the regulatory environment, etc.
Furthermore, plenty of investors and venture capitalists are actively investing in the crypto space even during a downturn. Many have a long-term outlook and see current market conditions as an opportunity to acquire assets at a discount.
So while a recovering market may help attract more investors, market performance is just one factor influencing investment decisions.
Disclaimer
Following the Trust Project guidelines, this feature article presents opinions and perspectives from industry experts or individuals. BeInCrypto is dedicated to transparent reporting, but the views expressed in this article do not necessarily reflect those of BeInCrypto or its staff. Readers should verify information independently and consult with a professional before making decisions based on this content.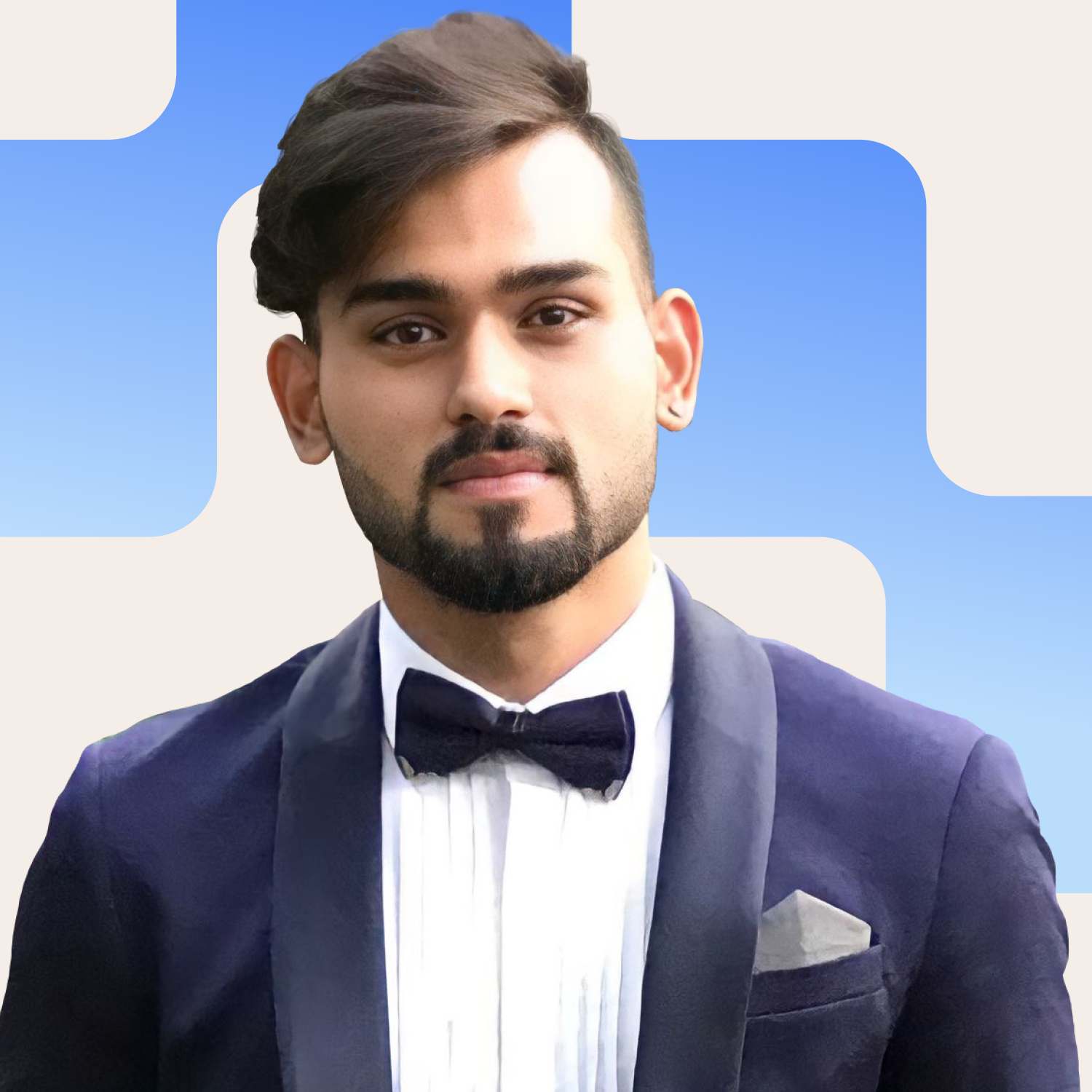 An engineer and an accountant by degree, Shubham ventured into the crypto world to pursue his passion. He believes digital currencies will redefine our economies in the decades to...
An engineer and an accountant by degree, Shubham ventured into the crypto world to pursue his passion. He believes digital currencies will redefine our economies in the decades to...
READ FULL BIO
Sponsored Sponsored