The explosive growth of the cryptocurrency market over the past few years has been a significant point of interest for beginner and advanced investors alike.
Amidst the crowded landscape of new projects, finding the coins that could "pump" has become a crucial skill.
Fortunately, several new cryptocurrencies are gaining traction and could become the next high-flyers in the market.
The first of these cryptocurrencies is AiDoge ($AI), an AI-powered meme coin that has also been making headway – with many traders anticipating a price pump once the token is listed on major exchanges.
Unlike Copium, AiDoge's presale is open to all and is still ongoing. This presale has been an enormous success, raising an incredible $12 million in less than a month.
The fact that AiDoge is still in its presale phase hasn't deterred investors, with over 18,000 people joining the official Telegram community.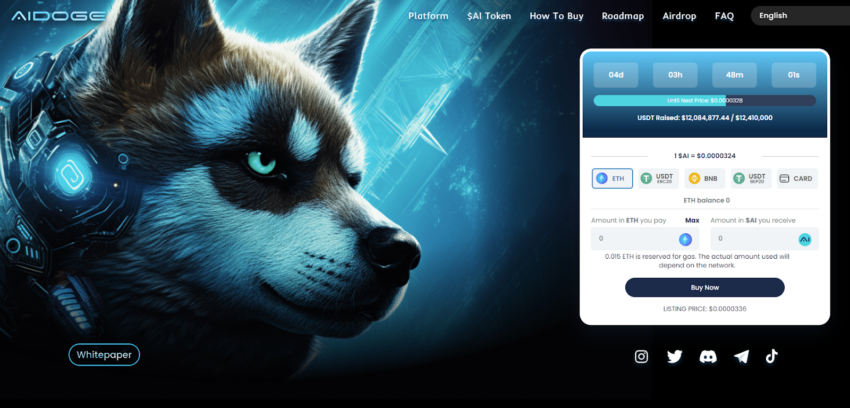 AiDoge has even been attracting the attention of crypto influencers on YouTube – with My Financial Friend, who boasts more than 236,000 subscribers, recently posting a video in which he speculated that AiDoge could be "the new king of meme coins."
Influencers are buzzing about the project, primarily because of AiDoge's innovative "meme generator." This tool uses AI algorithms to create memes instantly, eliminating the need for users to have photo-editing experience.
This tool will be great for social media users, as it'll make it much easier to "go viral" in the hours surrounding major events.
For readers seeking something different from meme coins, there's another project making big moves – yPredict ($YPRED).
In contrast to Copium and AiDoge, yPredict is not a meme coin; rather, it is a comprehensive crypto analytics ecosystem intended to provide traders with a competitive advantage in the market.
Per yPredict's whitepaper, the ecosystem will contain AI-driven price predictions, automatic pattern recognition, advanced technical indicators, trader sentiment analysis, and more.
Users can also pay AI experts for access to their custom-built financial models using $YPRED, the platform's native token.
As if that wasn't enough, the yPredict ecosystem even features a built-in staking protocol, whereby $YPRED holders will receive up to 45% quarterly staking rewards – derived through a commission taken from financial model subscription revenue.
These features look likely to revolutionize how crypto traders operate within the market – which is why the yPredict presale has already raised over $1.5 million in funding. Numerous traders have backed yPredict, such as Jacob Bury who has touted the project to be a 10x crypto.
Shifting gears, another new token that's been being backed by traders is $LPX, the native token of Launchpad XYZ.
Another presale project, Launchpad XYZ is building a comprehensive Web3 investing analytics platform designed to help traders and investors navigate the markets.
The platform will offer an array of different features, including with market news, sentiment, and insights, a trading terminal for executing strategies, and a DEX with market-leading liquidity.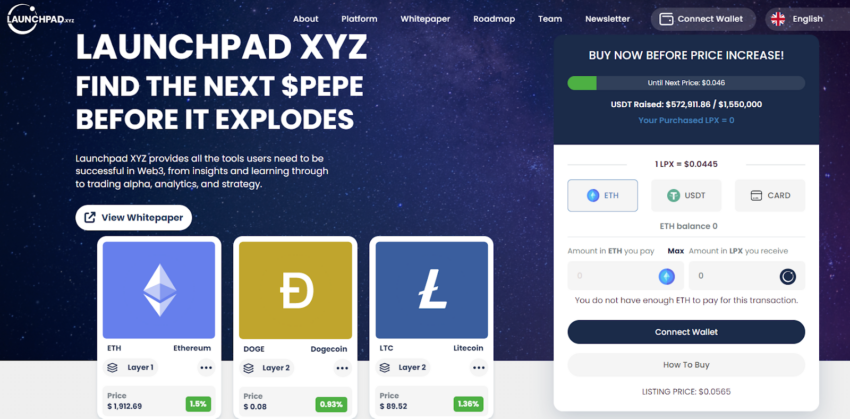 So far, Launchpad XYZ has raised over $500k – more than a third of its $1.5m target. The token is available to buy for 0.0445, but the price will shortly increase to 0.046 ahead of the listing price that will be 0.0565.
Numerous traders and influencers are backing Launchpad XYZ to have a bright future.
For example, Michael Wrubel, who has over 300k YouTube subscribers, has described the project as a game changer.
Disclaimer
This article is sponsored content and does not represent the views or opinions of BeInCrypto. While we adhere to the Trust Project guidelines for unbiased and transparent reporting, this content is created by a third party and is intended for promotional purposes. Readers are advised to verify information independently and consult with a professional before making decisions based on this sponsored content.