So-called Dogecoin-killer Shiba Inu ($SHIB) continued to slide this week amid a wider market downturn, continuing a months-long losing streak as it loses shine to other emerging memecoins. 
Let's have a look a closer look at the technical and cultural events surrounding SHIB, and why AiDoge and yPredict are two tokens that continue to grow despite current market bearishness.
Shiba Inu Continues to Slide Amid Market Downturn
Shiba Inu dipped to $0.00000867 on Friday, down from $0.00000996 a week ago, and $0.00001029 14 days prior. The token is now down more than 11% over the last seven days.
According to analyst Avi Lev on YouTube, Shiba Inu's declines are but a continuation of a week-long declining trend channel, comprised of two downward-sloping lines of support and resistance.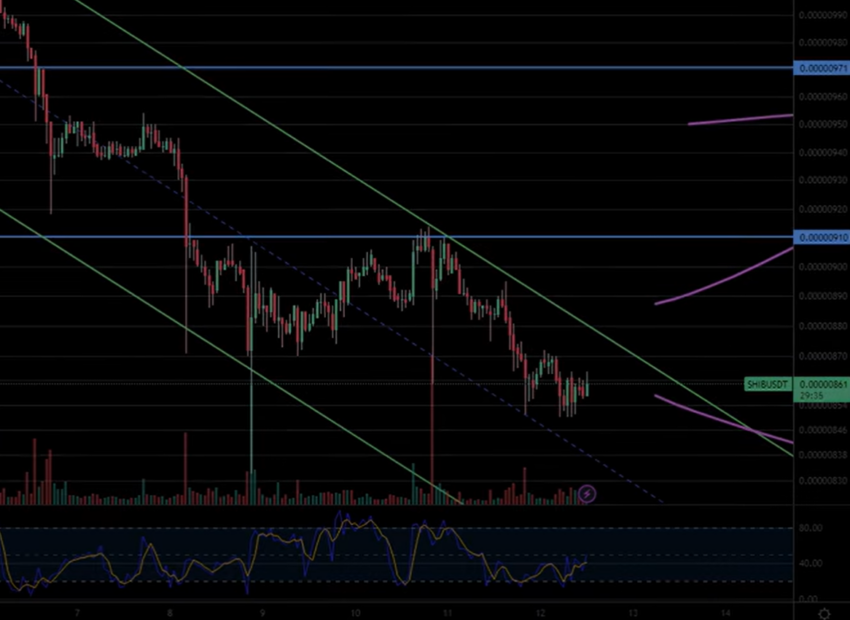 These declines are despite bullish announcements for the memecoin in recent weeks, such as Alpha Topup announcing that it will accept SHIB for mobile top-up. The firm's website shows that it has over 150 million users, and 1200 mobile partners. 
While the company calls Shiba Inu the "hottest memecoin of the year," the coin's results this year prove it is far from that. It's slid consistently since topping at $0.00001473 in February, only punctuated by a brief period of flat trading from mid-March to mid-April. At this time, Bitcoin and other cryptos were surging in response to the banking collapse, meaning SHIB was still underperforming the rest of the market.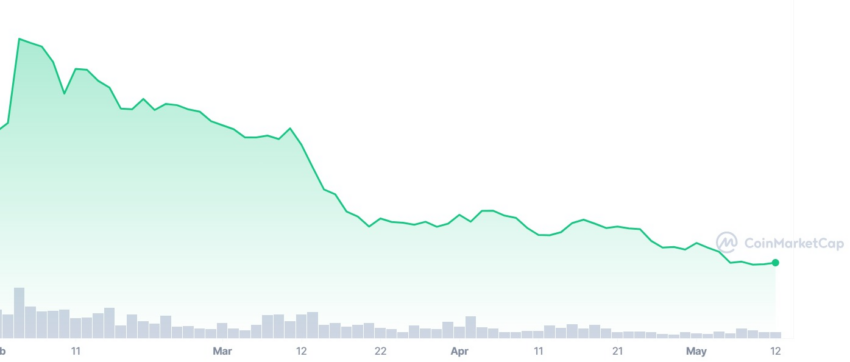 SHIB/BTC. Source: CoinMarketCap
Shiba Inu's burn rate also appears to have dropped considerably this week, meaning the rate at which tokens are leaving their circulating supply is diminishing. Greater supply means less value per coin, so its diminishing burn rate may be negatively affecting its price.
SHIB also failed to gain significant ground alongside other memecoins from late April to early May, losing shine to new trading favorites like Pepe ($PEPE) which surged by 2100% within a week. Though these coins have significantly retraced, memecoin traders don't appear to be returning to SHIB. 
The last time SHIB saw a comparable price runup to PEPE was in 2021, when traders hailed it as the second coming of Dogecoin ($DOGE). While Dogecoin had its day in the sun earlier that year, Shiba Inu proved to be the most popular crypto of 2021 after briefly overtaking the original memecoin in October. Analysis from Changelly suggests that SHIB may only see comparable gains during the next Bitcoin bull market in 2025. 
Instead of waiting on SHIB to return to bull territory, here are two emerging memecoins that traders might wish to explore in the short term.
New AI Crypto Token yPredict is Surging as Alternative to Struggling Major Tokens
The latest memecoin craze sparked by PEPE and the emergence of BRC-20 tokens has turned the crypto market into a traders paradise. As such, it might be a good idea to invest in tools – and tokens – that are appealing to that market. One such token is $YPRED, the native coin of new AI crypto platform yPredict.
yPredict is a crypto research and trading platform providing traders with "dozens of AI-powered signals, breakouts, pattern recognition, and social/news sentiment features." Through a monthly subscription service, users will get access to data, analysis, and a prediction marketplace where scientists offer their results and signals generated through their predictive models.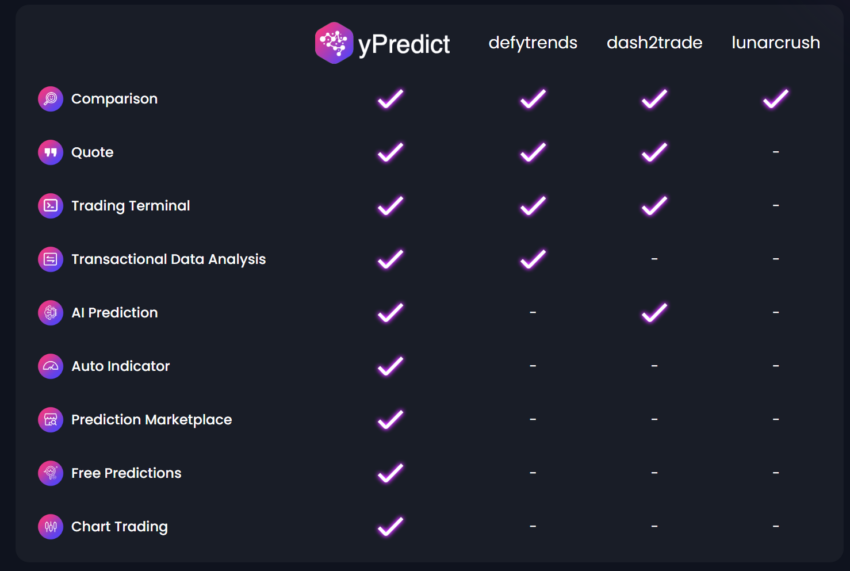 The platform's native token, $YPRED, lets new uers access the Predict ecosystem. It also awars existing holders with 10% of the profits netted through each new subscription in YPRED tokens. Furthermore, those who stake YPRED will gain access to even higher APY by reaping 15% of the fees within yPredict's in-built trading platform. 
The token has a total supply of 100 million units, and will circulate on the Polygon network. So far, the YPRED presale has raised over $900,000, and the platform has over 20,000 users on its waiting list, indicating huge potential.
YPRED's current presale price is $0.7, which will increase after 20 days to $0.9. At listing, the coin's price will be $0.12, sporting a market cap of $6.5 million based on circulating supply. 
Given that artificial intelligence is such a hot trend right now and the volatile crypto market is leaving traders looking for reliable tools, YPRED appears to be hitting the market at the right time, and may enjoy some sizable gains once it starts trading.
You can visit the $YPRED presale here.
AiDoge Keeps Pumping Despite Market Slide, with Over $6m Raised So Far
Like YPRED, AiDoge ($AI) is capitalizing on the AI craze in recent months – but in a creative and fun way. 
Specifically, AiDoge is a meme generation platform powered by artificial intelligence. Using a sophisticated AI algorithm, recent crypto news, and a meme dataset, the platform will automatically generate memes based on user-provided text prompts.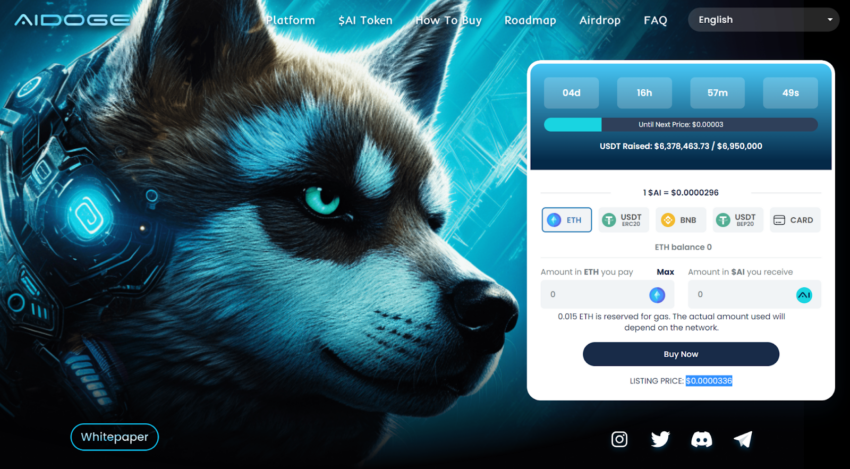 Those memes can then be shared to a public wall where the community can upvote and downvote each other's memes. The creator's behind the top-voted memes each month will receive AI tokens as a reward.
Unlike other dog tokens such as DOGE or SHIB, AI provides real utility by allowing users to purchase the credits necessary to create memes. Alternatively, users can stake their AI to gradually earn credits over time.
The AiDoge.com presale has seen immense success so far, raising over $6.3 million so far. Interest investors can purchase the token today for $0.0000296 per token, but its price will increase to $0.00003 within 4 days. It will ultimately list for $0.0000336. 
If you wish to buy AI, you can use ETH, BNB, USDT, or card payments. The coin will finally be listed on centralized and decentralized exchanges in Q3 2023, so investors have the opportunity to buy now at discounted prices.
Considering the huge interest in the presale and unique crossing of AI utility with meme coins, AiDoge is surely a token to keep your eye on in the coming months.
You can visit the AiDoge presale here.
Disclaimer
This article is sponsored content and does not represent the views or opinions of BeInCrypto. While we adhere to the Trust Project guidelines for unbiased and transparent reporting, this content is created by a third party and is intended for promotional purposes. Readers are advised to verify information independently and consult with a professional before making decisions based on this sponsored content.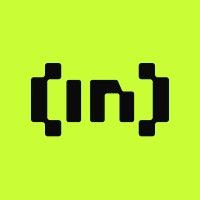 BeInCrypto Team comprises a diverse group of experienced journalists, analysts, and crypto enthusiasts dedicated to delivering the latest news, insights, and analyses in the...
BeInCrypto Team comprises a diverse group of experienced journalists, analysts, and crypto enthusiasts dedicated to delivering the latest news, insights, and analyses in the...
READ FULL BIO
Sponsored Sponsored