Coinbase monthly volumes took a nosedive in March as OKX recorded more than seven times the volume of the largest exchange in the United States.
March proved to be a difficult time for non-fungible tokens (NFTs), decentralized exchanges (DEXs), and centralized exchanges such as Coinbase. According to Be[In]Crypto Research, Coinbase generated around $88.75 billion in total trading volume.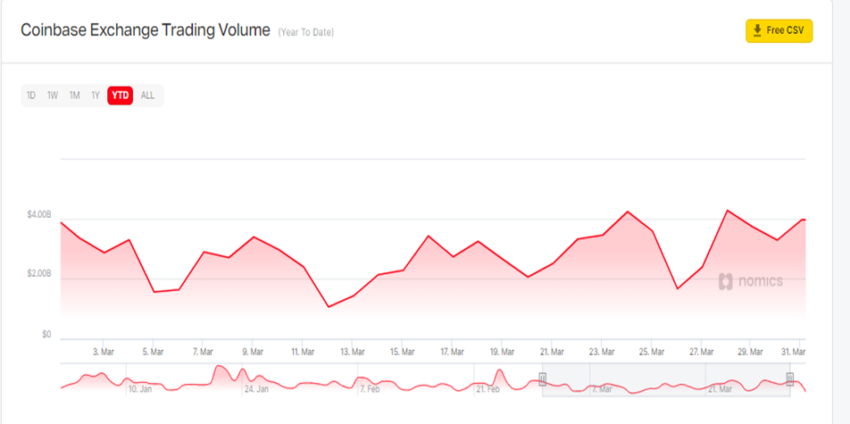 To novice or beginner traders, such figures are extremely impressive considering the CEX competes with others such as Binance, Crypto.com, Bybit, FTX, Huobi Global, Gate.io, HitBTC, KuCoin, and many others.  
With that said, March 2022 volume was down by 4% from February 2022 trading volume. In February 2022, Coinbase generated approximately $93 billion.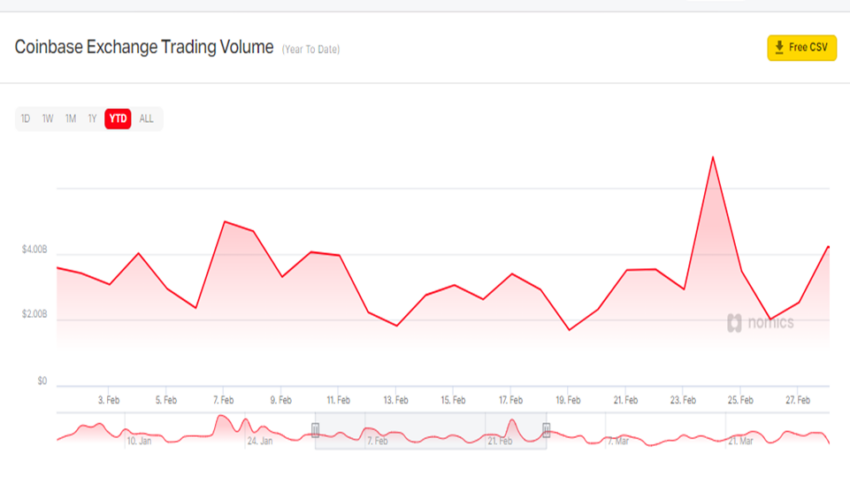 Coinbase trading volume continues to decrease from 2021
The total volume of Coinbase over the past year was down by 3% since March 2021, which saw around $92 billion in volume recorded, according to Nomics data.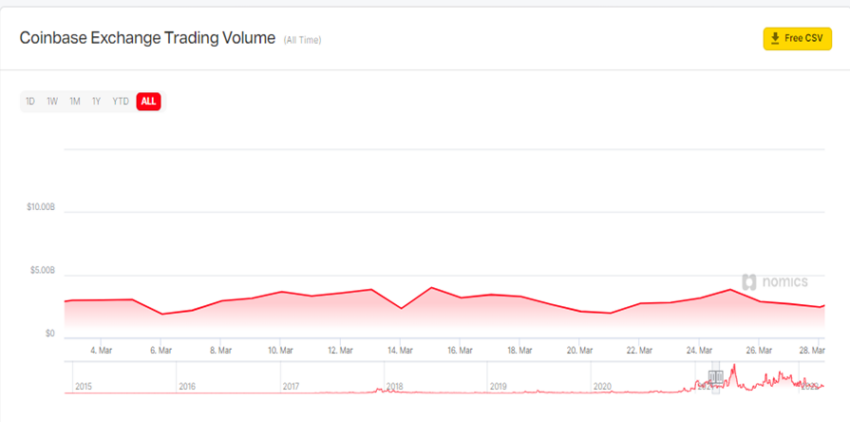 After March 2021, positive crypto market sentiment led to a boom in the demand for cryptocurrencies for the rest of the year. In May 2021, several digital assets reached new all-time highs. In addition to this, many centralized and decentralized exchanges also recorded new all-time highs in trading volume.
As a result, March 2021 volumes increased by 176% to approximately $255 billion in May 2021.
The announcement of the delisting of Bitcoin (BTC) as a payment method by Elon Musk for Tesla products in addition to the banning of the use of all forms of digital assets as transactional currencies by many countries led to a decline in the demand for many cryptocurrencies.
With this, there was a 26% decrease in May's milestone to around $186 billion in trading volume by the end of October 2021.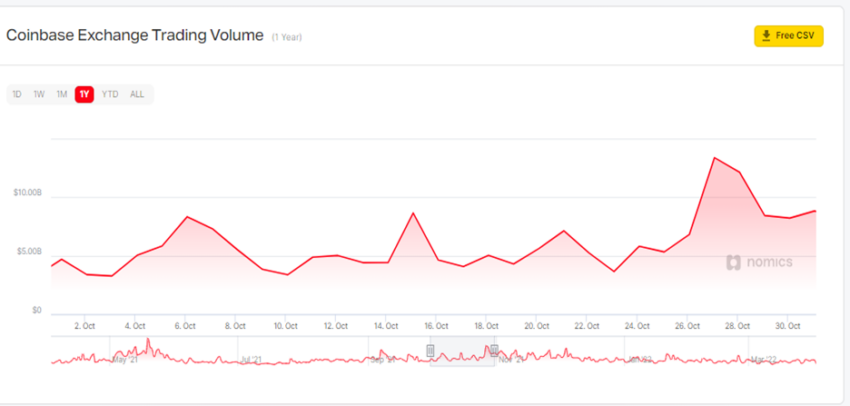 Although the bulls returned in November, Coinbase took another hit in the last month of 2021. In December 2021, trading volume was around $151 billion — an 18% dip in the volume recorded from October 2021.
OKX continues to outpace Coinbase in trading volume
While Coinbase managed to generate $88 billion in March volume, OKX managed to record approximately $697 billion.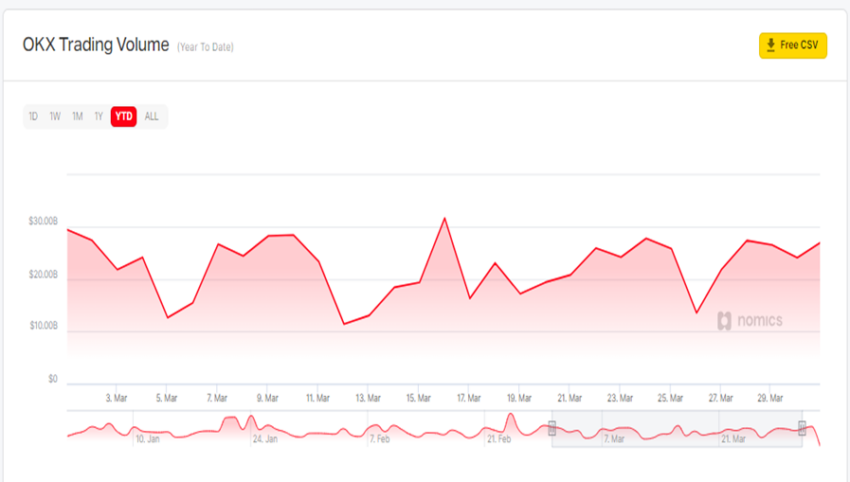 In contrast to Coinbase, OKX volume increased by 5% from February 2022. February 2022 saw OKX generate around $658 billion.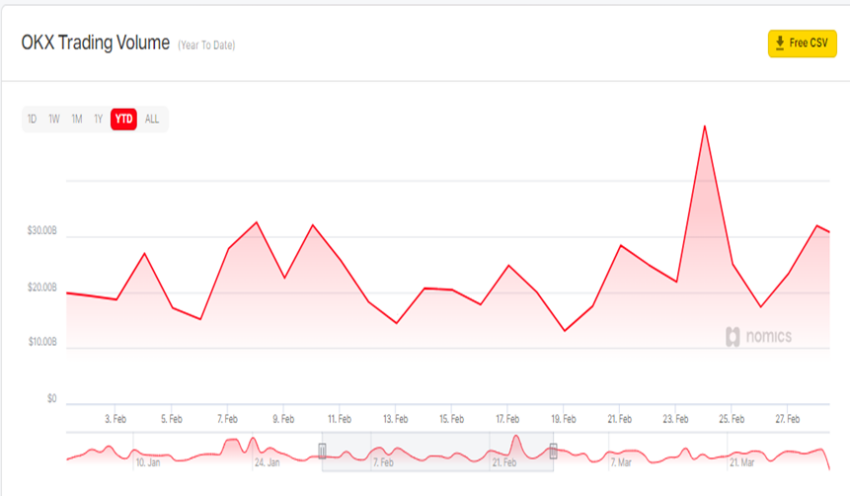 In addition to this, OKX saw a year-over-year monthly increase of 62% for March. In March 2021, OKX's trading volume was around $428 billion.
Centralized cryptocurrency exchange users continue to favor OKX
As of April 2022, the largest cryptocurrency exchange by trading volume is Binance. However, based on the statistics, OKX remains the clear choice for traders after Binance.
Before the increase in volume for OKX and decrease in volume for Coinbase in March 2022, OKX surpassed Coinbase for several months.
In February 2022, OKX exceeded Coinbase by $565 billion. In March 2021, OKX generated $336 billion more than Coinbase.
At the peak of the markets in May 2021, OKX recorded $573 billion more than Coinbase and $542 billion more in trading volume than Coinbase Exchange in December 2021.
What caused the differences in monthly volumes?
To make sense of the differences in monthly trading volume, you have to consider factors such as markets supported, the number of coins on an exchange, and the volumes of those individual markets on Coinbase and OKX.
As of writing, Coinbase supports approximately 128 cryptocurrencies, around 519 pairs of which 455 are active.
The top-10 markets on Coinbase are USD pairings of Ethereum (ETH), Bitcoin (BTC), Solana (SOL), Avalanche (AVAX), Shiba Inu (SHIB), Cardano (ADA), United States Dollar Tether (USDT), Gala (GALA), Cosmos (ATOM), and Skale (SKL). The combined volume of these markets is approximately $1.48 billion.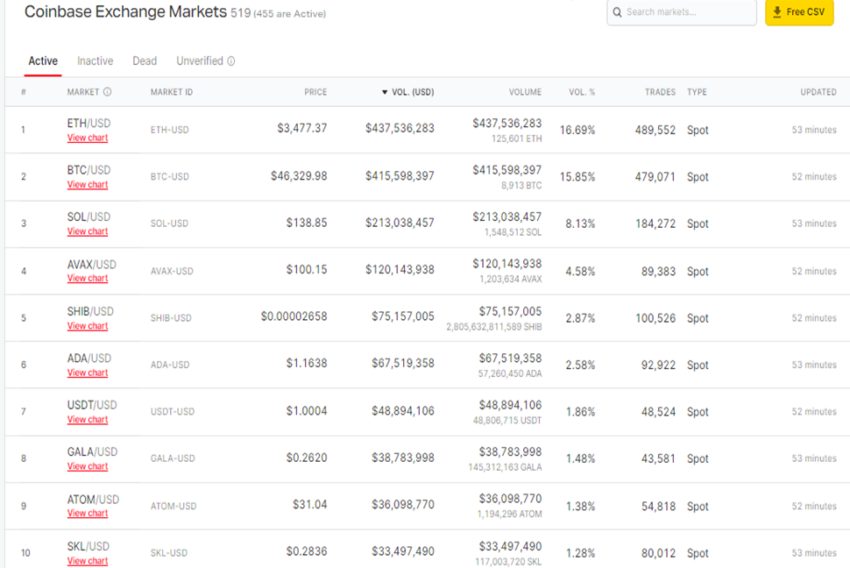 As of writing, OKX supports around 279 cryptocurrencies, approximately 28,964 markets, of which 796 are active. The top-10 markets on OKX are stablecoin-pairings of Zilliqa (ZIL), Bitcoin, Ethereum, Terra (LUNA), Fantom (FTM), Solana (SOL), Sun (SUN), STEPN (GMT), Blockchain Brawlers (BRWL), and United States dollar pairing of Bitcoin. The total volume of these markets is around $1.96 billion.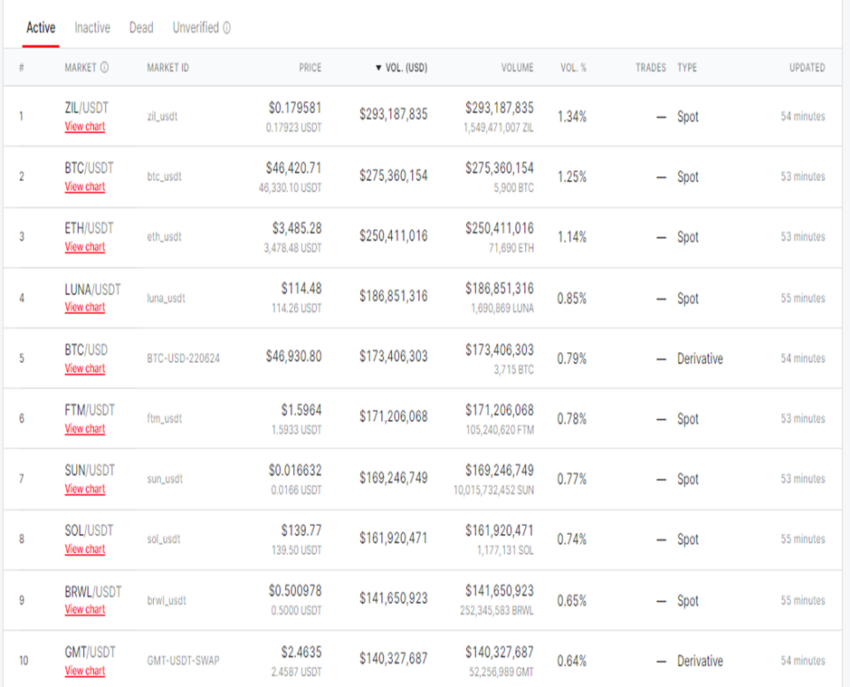 From the statistics, it can be concluded that the number of cryptocurrencies supported by OKX is 2.17 times that of Coinbase.
Aside from this, the number of markets supported by OKX is 55.80 times that of Coinbase. Although OKX has only 2% of the potential markets active, it is still 1.74 times more than the active market on Coinbase.
OKX outpaced Coinbase because the exchange reflects the patterns of the market.
Thus, in the early days of March, the market was still in a bearish cycle, and this saw the increasing demand for stablecoins such as Tether (USDT). Per statistics provided, out of the top 10 markets on OKX, nine were stablecoin pairings.
Towards the end of March, there was a recovery of the market that saw cryptocurrencies such as Bitcoin, Ether, and Cardano experience gains. Out of OKXs 10 biggest markets, one of them was BTC/USD, and this signals the demand for the asset.
With the demand for USD pairings in addition to stablecoin pairings by millions of traders, there is a huge chance that OKX could outpace Coinbase by the end of April 2022.  
Disclaimer
In adherence to the Trust Project guidelines, BeInCrypto is committed to unbiased, transparent reporting. This news article aims to provide accurate, timely information. However, readers are advised to verify facts independently and consult with a professional before making any decisions based on this content.