Investors' zeal for cryptocurrency seems to have returned, at least for now. Although most digital assets saw their individual market capitalization dramatically rise at the end of this past week, NEO is continuing to perform particularly well.
After
prices of Bitcoin
and other leading crypto assets spent much of August, September, and October in a decline, a massive price pump on this past Friday surprised many. Most digital currencies experienced some pretty spectacular gains in just a matter of hours. Bitcoin's market capitalization alone surged by around $40 billion according to Coinmarketcap. From close to $134 billion, the leading digital currency reached a high of just over $174 billion — an increase of almost 30%. It has since slipped back a little but the value of all
Bitcoin
in existence is still over $169 billion.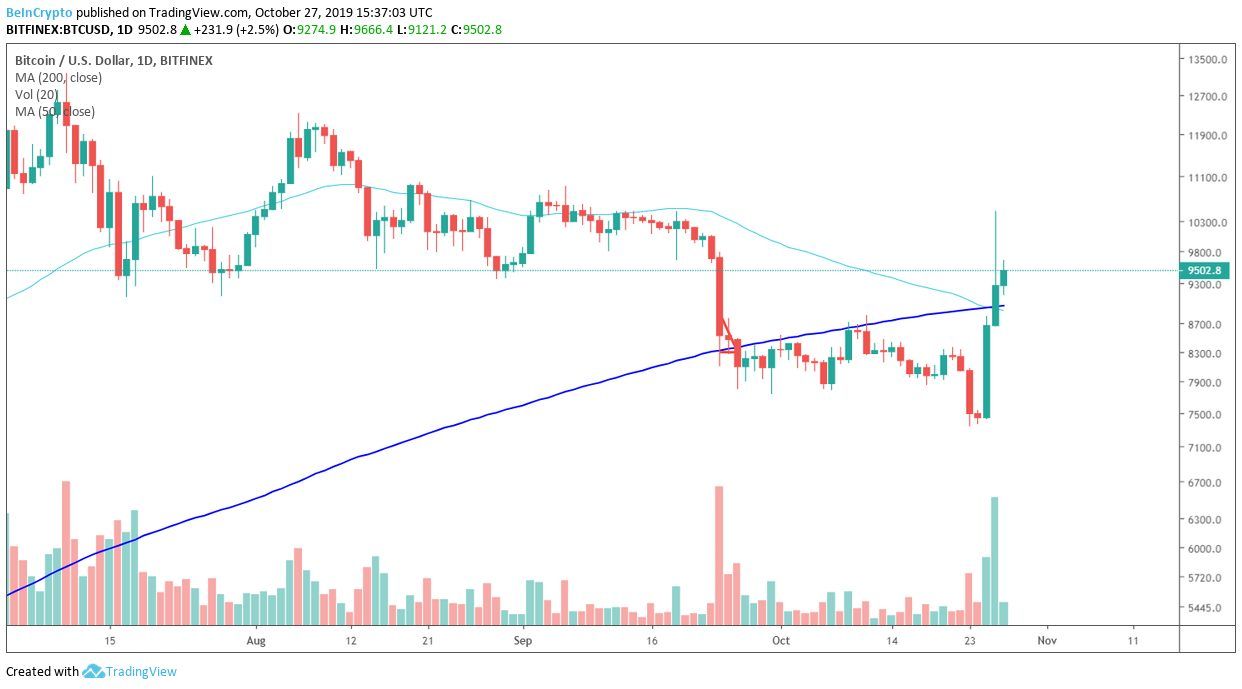 Is NEO the One?
Most other digital currencies experienced similar increases on Friday. However, one appears to be continuing its
stellar
performance. Whereas the surge in prices seems to have slowed for the wider market,
NEO
, a smart contract platform that was often referred to as the 'Chinese Ethereum' in its early years, has seen almost 22 percent gains over the last 24 hours. By contrast, Bitcoin gained close to two percent, while Ethereum, Litecoin, and XRP have remained around the same price for the period in question.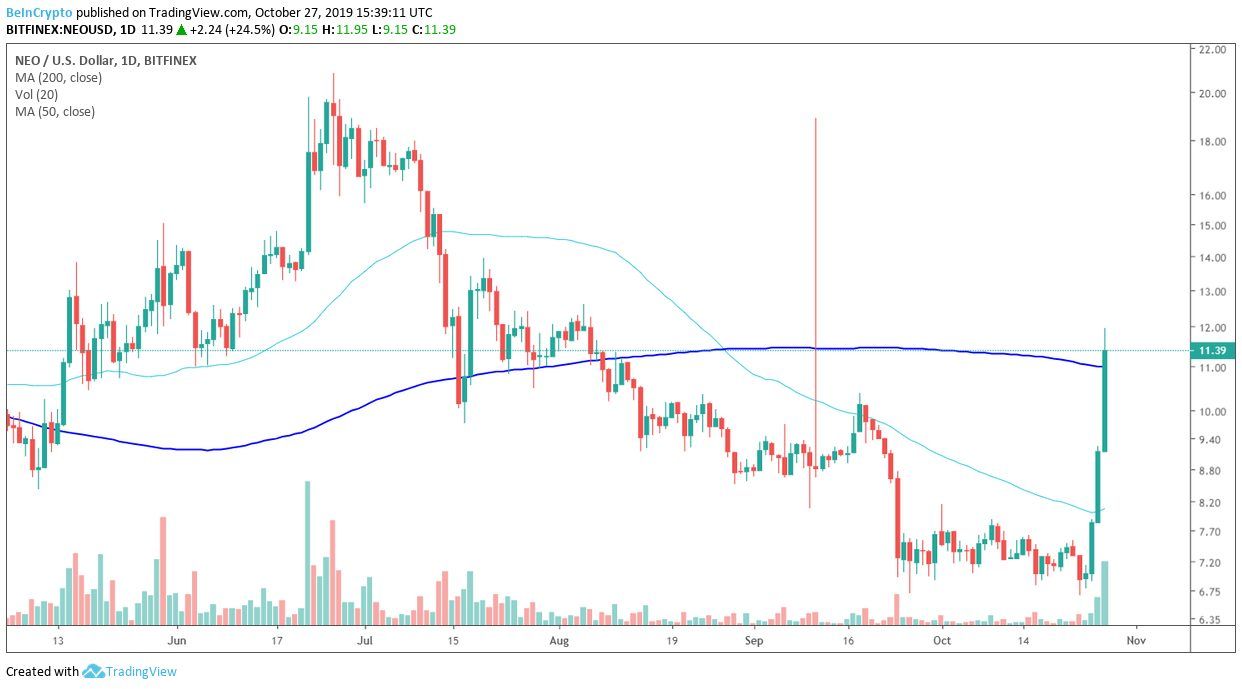 Renewed Chinese Blockchain Hype
Some analysts have speculated that the reason behind the epic surge across the crypto market is the Chinese government's recent endorsement of blockchain technology. On Friday,
BeInCrypto 
reported on President Xi Jinping encouraging the nation to lead the planet in terms of
adoption of the technology
. Since then, numerous institutions have announced new
initiatives involving blockchain
.
12 hours after the major "Xi Pump"

1. "Blockchain" headlined on People's Daily print version today
2. Top Universities in China start "Blockchain" course offering overnight
3. Expect to see massive blockchain initiatives from local municipal soon

The ripple effect is strong pic.twitter.com/2E2Be6RHol

— Dovey 以德服人 Wan 🪐🦖 (@DoveyWan) October 26, 2019
If the recent crypto market pump is being driven by the news out of China, its rationality is somewhat questionable. Does China's endorsement of blockchain technology really change anything about the way the nation feels about anarchic and public cryptoassets like Bitcoin? However, as we've seen many times before, digital asset markets do not always behave rationally. Senior analyst at eToro Mati Greenspan believes that the Chinese blockchain endorsement is behind NEOs continuing rise.
Of course NEO is pumping hardest. Duh… Chinese regulated Blockchain network. Not sure why I didn't make the connection sooner. 🤕 pic.twitter.com/JzuyU9ZGOE

— Mati Greenspan (tweets ≠ financial advice) (@MatiGreenspan) October 27, 2019
The smart contract platform has long marketed itself as a regulatory-compliant public blockchain. It, therefore, makes sense that investors would interpret Xi Jinping's statement as bullish for NEO. However, there doesn't appear to be any new evidence of the Chinese government embracing NEO as its blockchain of choice. In recent years, blockchain has become something of a catch-all title for any system using a distributed ledger. Private systems designed by enterprises have been branded as blockchains and given the nature of the Chinese government, it seems much more likely that such a system would be favored over one not designed by the government itself. That certainly doesn't mean that NEO can't ever be adopted in China. However, the recent pump seems to be driven much more by hope than any form of evidence. So soon after China going public with its interest in blockchain, it's still much too early to tell exactly how the government will adopt the technology.
BeInCrypto
will continue to report on developments in the nation as they occur.
What do you think about NEO's ongoing price pump? Do you think the smart contract platform will have a place in a blockchain-friendly China? Comment your thoughts down below.
Disclaimer
All the information contained on our website is published in good faith and for general information purposes only. Any action the reader takes upon the information found on our website is strictly at their own risk.
A former professional gambler, Rick first found Bitcoin in 2013 whilst researching alternative payment methods to use at online casinos. After transitioning to writing full-time...
A former professional gambler, Rick first found Bitcoin in 2013 whilst researching alternative payment methods to use at online casinos. After transitioning to writing full-time...
READ FULL BIO
Sponsored Sponsored