Various metrics have been pointing to a mispricing of Ethereum in recent times. Adding to the growing list of these pointers is Metcalf's Law.
ETH and BTC Correlation Begin to Break Away
Over the past few months, ETH and BTC price action have maintained a sharp correspondence. The latter has mostly been in the spotlight.
Investors and market participants showered their attention on Bitcoin in 2020. The price of the pioneer cryptocurrency broke out to new all-time highs above $40,000. This action has not gone well for most altcoins, which have bled in valuation against BTC. 
As the mammoth cryptocurrency loses steam, this may mean the market is giving way to Ethereum. ETH appears to have begun its journey to new price levels.
Metcalf's Law Suggests an Exponential Growth for Ethereum
Indicators show that the number of ethereum transactions are spiking. The recent exchange supply shock has also reached the lowest point since 2018.
According to an article by macroeconomist and statistician D. H. Taylor, Metcalf's law just added credence to the bullish thesis. He explains that prices may soar above $20,000.
Metcalf's Law states that the utility of a network is proportional to the number of users of the network. This utility represents a square function, often represented as this: Utility = n2
This implies that using mathematical principles, the rate of increase of any network can be mapped as a square of its userbase. An illustration further explaining Metcalf's Law shows the exponential effect of adding more telephones creates independent connections to each other at the same time.
Two telephones can create just one, whereas with five telephones, we could have ten connections, and with 12, 66 connections.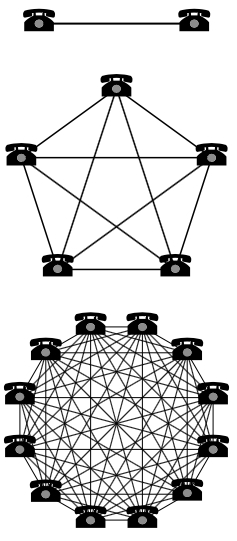 This model, which has been applied to other cases, has proven true for both Bitcoin and Facebook. It reveals the inherent value that could be created with the growth of users on any network. The principles point to a massive room for the increase in the ethereum price.
The 2017 Bull Run in Retrospect
Referring to the previous bull cycle, a major rally is usually preceded by bullish bitcoin price action and consolidation. After this, the main alt boom begins. 
As ethereum moves to break its previous all-time high, the euphoria seems to be building up as retail investors jump into the market. Only time will tell whether or not history will repeat.
Disclaimer
BeInCrypto has reached out to company or individual involved in the story to get an official statement about the recent developments, but it has yet to hear back.