Litecoin mining difficulty has reached a record high of 18 million hashes, according to the announcement from the digital asset's foundation.
The official account of the foundation posted on CoinMarketCap that its mining difficulty hit a new all-time high of 18 million on Nov. 4, citing data from CoinWarz.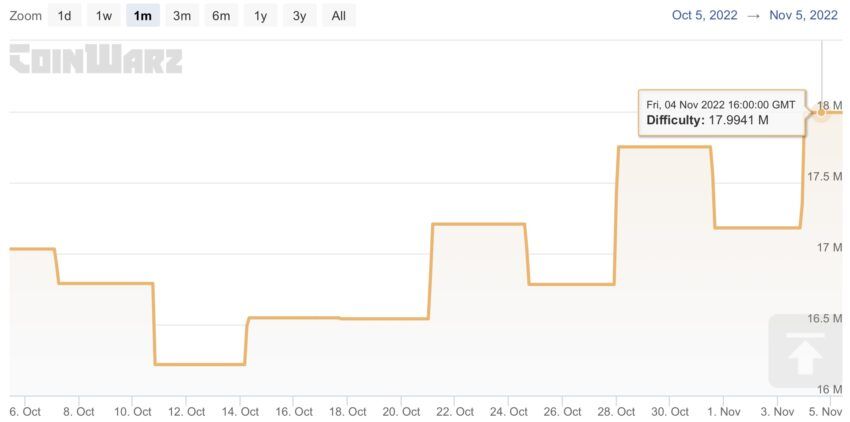 Mining difficulty is a popular metric that is used to describe the average number of hashes required to solve a block and earn mining rewards on the network.
The increasing mining difficulty suggests that the competition among miners has increased, which is likely due to more miners joining the network.
Litecoin, like Bitcoin, uses the proof-of-work consensus mechanism.
Litecoin Price Touches 5-Month High
Litecoin's price has enjoyed a recent renaissance, touching a five-month high over the last 24 hours.
According to CoinMarketCap data, LTC rose by 2.8% to trade for $68.25 as of press time. However, the wider industry also saw its value go up within that period.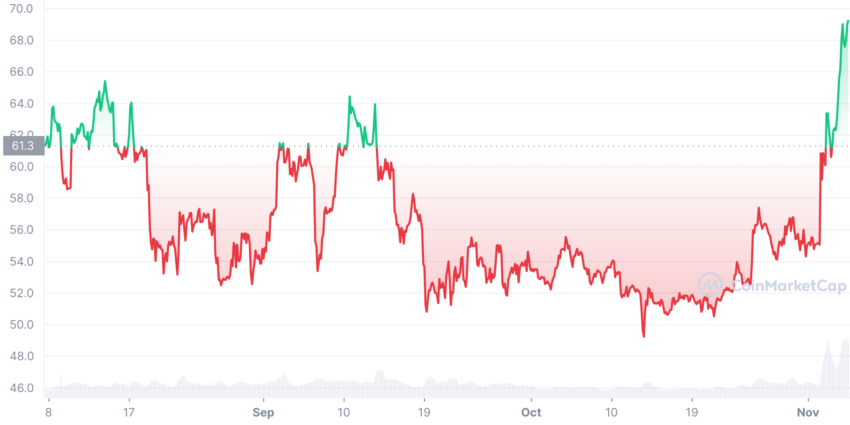 The recent price performance of LTC also looks positive, thanks to the 13% spike in its price on Wednesday. This was due to the announcement by MoneyGram that US customers will soon be able to use the MoneyGram app for trading and holding BTC, ETH, and LTC.
The digital asset is up 24% in the last seven days, 32% in 14 days, and 25% over the last 30 days.
However, it is 83% below the all-time high of $410, which it reached in May 2021. It has lost more than 50% of its value this year, as it was worth $146 at the start of the year.
Nevertheless, many might be bullish on cryptocurrency, especially with its "halving event" set to happen next year. Halving events is when PoW cryptocurrencies reduce miners' reward mining and occur about every four years.
In 2011, the reward for mining Litecoin was 50 LTC, but it has already dropped to 12.6 LTC. The halving event in 2023 will reduce the reward to 6.25 LTC.
Got something to say about this article, or anything else? Write to us or join the discussion on our Telegram channel. You can also catch us on Tik Tok, Facebook, or Twitter.
For BeInCrypto's latest Bitcoin (BTC) analysis, click here
Disclaimer
BeInCrypto has reached out to company or individual involved in the story to get an official statement about the recent developments, but it has yet to hear back.