The law has finally caught up with outlaw John McAfee. The crypto bull and antivirus pioneer has been hit with a one-two punch from the U.S. Department of Justice and Securities and Exchange Commission all at once.
McAfee has been arrested in Spain on charges of U.S. tax evasion and failing to file his taxes, something he has bragged about on social media before. In addition, he's facing a lawsuit from the SEC for his role in recommending more than half-a-dozen ICOs. McAfee allegedly earned more than $23 million for touting those deals without disclosing to investors that he was being compensated.
'Catch Him If You Can'
McAfee has documented his lifestyle on social media, leaving the authorities to connect the dots and nab him on tax evasion tied to the millions of dollars he earned from promoting cryptocurrencies while not reporting a dime of it between 2014-2018. According to the U.S. Department of Justice in a statement,
"McAfee allegedly evaded his tax liability by directing his income to be paid into bank accounts and cryptocurrency exchange accounts in the names of nominees. The indictment further alleges McAfee attempted to evade the IRS by concealing assets, including real property, a vehicle, and a yacht, in the names of others."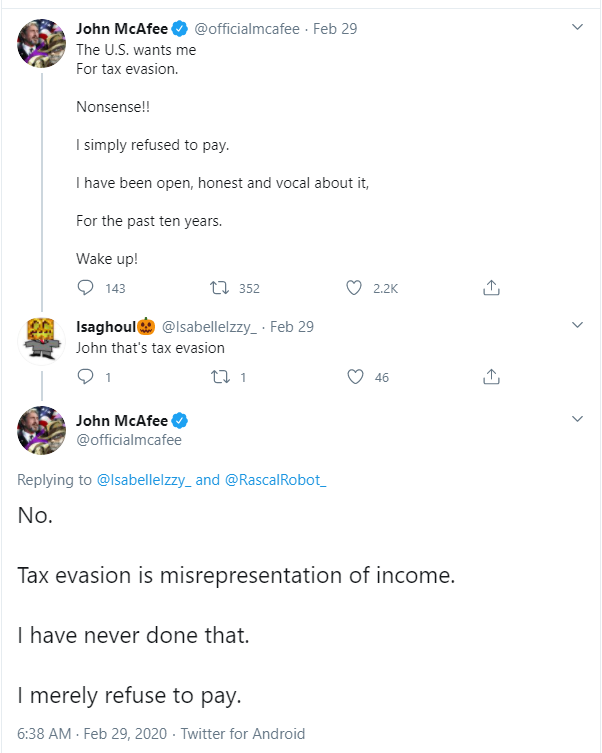 Crypto Community Responds
McAfee, who boasts more than 1 million followers on Twitter, has embraced the fugitive lifestyle for years. But he also seeks the limelight and previously launched his own US presidential campaign under the Campaign of Libertarian. He has been a source of entertainment in the crypto community for his outlandish claims, lavish lifestyle and total disregard for the law. In true McAfee fashion, he was even behind his own privacy coin dubbed Ghost but according to reports his involvement with the project didn't pan out.
"John Mcafee arrested for breaking every tax law known to man"

Crypto Twitter: pic.twitter.com/xQWfGvBlwQ

— Rob "Crypto Bobby" Paone (@crypto_bobby) October 5, 2020
Trading at Coinbase halted on news of John McAfee's arrest pic.twitter.com/ezMcLpm7bb

— KING CO฿IE (@CryptoCobain) October 5, 2020
It seems that McAfee's shenanigans have finally caught up with him, as he awaits extradition in Spain. He is facing up to half-a-decade in prison for each count of tax evasion and up to one year for each count of failing to file his taxes.
Disclaimer
All the information contained on our website is published in good faith and for general information purposes only. Any action the reader takes upon the information found on our website is strictly at their own risk.