As the dust begins to settle on one of the most dramatic collapses in the crypto sector regarding FTX and Alameda, there's a growing narrative that these companies' privately held equities may be in limbo.
Former FTX founder Sam Bankman-Fried's fortune significantly fell from an estimated $16 billion to effectively nothing overnight. His wealth reached a staggering $26 billion in March of this year. But it all came crashing down after the FTX group filed for Chapter 11 bankruptcy last week.  
FTX empire collapse: One of history's largest destructions of wealth
The Bloomberg Billionaires Index now values FTX's U.S. arm, of which Bankman-Fried owns about 70%, at $1 billion because of a potential trading halt from $8 billion in a January fundraising round. 
The said executive successfully raised billions to fund the FTX group. But what about the same group's ventures? One should know that SBF's reach in the cryptoverse was far beyond just FTX, Alameda, and FTX.US. 
Given that fact, do we know the sheer extent of the contagion here? More specifically, the possibility of the spread of an economic crisis across different exposed firms.
Here's a small glimpse of the SBF empire's investments, many of which were regarded as industry leaders: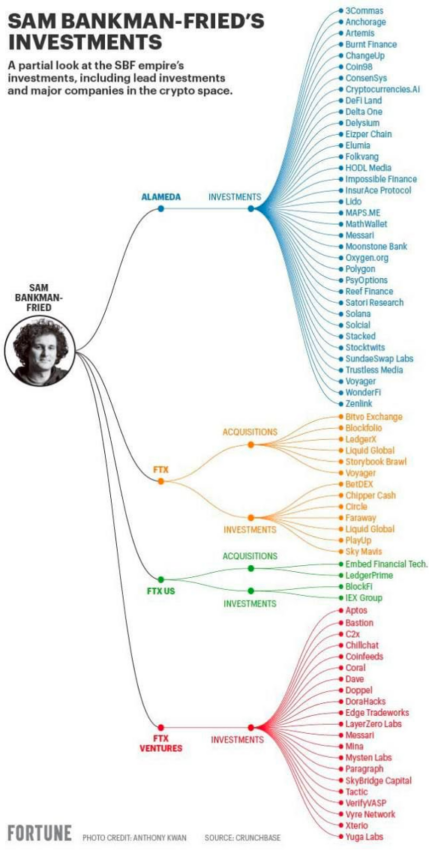 Given their exposure to FTX and Alameda, the firms mentioned above are at a high risk of becoming 'contaminated.'  
What's the situation? 
Data from Crunchbase shed some light on different investments made by SBF and respective companies. Overall, Alameda Research was responsible for 184 investments, FTX Ventures for 48 investments, and the FTX exchange for 21 investments. 
A small glimpse into such investments or even acquisitions can give some insight for readers to maintain caution against the exposed firms.
FTX's latest investment was on Aug. 29 in the blockchain gaming company Limit Break. The firm raised $200 million from FTX and other investors, including Coinbase Ventures, Anthos Capital, SV Angel, and Shervin Pishevar. Limit Break is known for its DigiDaigaku NFT collection.
Gabriel Leydon, the founder of the game company, then stated, "We have the perfect partners, perfect investors, and perfect team in place to bring the gaming industry into a new era."
At press time, there was some speculation on Twitter that the company wasn't affected by FTX's demise. BeInCrypto reached out to Leydon for comments but has not received a response. 
BlockFi elaborates on its situation 
'Reverberations from the collapse of Sam Bankman-Fried 's empire continue to spread through financial markets, threatening the future of crypto lenders like BlockFi Inc.,' Bloomberg reported.
But how bad was it? BeInCrypto did some digging in order to provide clarity.
On Nov. 14, BlockFi, the famed crypto lending platform, admitted it had exposure to FTX. It even included obligations owed to Alameda Research, assets held at FTX.com, and a credit line from FTX.US.
You may remember that in July of this year, FTX signed a deal with BlockFi to provide the latter with a $400 million line of credit. 
BeInCrypto reached out to BlockFi on Twitter for additional comments regarding this matter. A representative replied: 
"Given that FTX and its affiliates are now in bankruptcy, the most prudent decision for us, in the interest of all clients, is to continue to pause many of our platform activities for now.
"The rumors that most BlockFi assets are custodied at FTX are false. That said, we do have significant exposure to FTX and associated corporate entities that encompass obligations owed to us by Alameda, assets held at FTX.com, and undrawn amounts from our credit line with FTX.US."
Nonetheless, there are rumors swirling about BlockFi potentially considering bankruptcy. However, the representative did not comment on this specific matter.
This development comes days later after the lending platform paused customer withdrawals. 
Potential financial distress signal 
FTX and its venture capital arm, including its trading firm Alameda Research, had widespread investments; that's no secret. Tech news website The Information reported on Nov. 10 that SBF himself had more than $500 million invested in funds managed by Sequoia and other venture capital firms.
But if those assets were held via Alameda, there's fear over a potential wipeout.
For instance, FTX and Alameda may have gotten tokens as part of the deal, but if they are now filing for bankruptcy, those assets are locked. This is one of the reasons why crypto projects acted quickly to try and untangle their relationship. Some even took drastic measures to offset the situation.  
The company behind the interoperability protocol LayerZero, LayerZero Labs, repurchased its stake from FTX and Alameda just a day before the pair filed for bankruptcy. 
In a memo to investors on Nov.10, Bryan Pellegrino, co-founder and chief executive of LayerZero Labs, wrote:
"We've worked around the clock for the past 72 hours to structure an agreement and have bought FTX/FTX Ventures/Alameda out of 100% of their equity position, token warrants, and any and all agreements between us."
Mysten Labs, the firm behind the Sui blockchain, raised ~$300 million led by FTX Ventures. Meanwhile, Aptos, a layer-1 blockchain platform, closed $150 million in funding by FTX Ventures and Jump Crypto. 
BeInCrypto reached out to both companies but has not heard back at the time of publication. However, Evan Cheng, the chief executive at Mysten, replied to speculation on Twitter: 
Aptos also fully denied exposure. 
More on this denial list
One that stands out here is Circle. In an interview last year, Circle had raised $440 million involving FTX as an investor. However, Jeremy Allaire, co-founder and CEO of Circle, is distancing the firm from the growing FUD on the matter and denying all exposure:
But there's more on this topic. Paolo Ardoino, Chief Technology Officer (CTO) at crypto exchange Bitfinex and stablecoin issuer Tether, clarified they also had no exposure when asked about Tether's relationship with FTX by blockchain journalist Colin Wu.
Overall, the extent of the contagion from the demise of FTX/Alameda appears vast. Remember that FTX held just $900 million in liquid assets and had $9 billion of liabilities the day before going bust.
During a Twitter Spaces conversation, an FTX insider told Mario Nawfal, chief executive officer of International Blockchain Consulting, that the FTX/Alameda contagion "seems significantly worse than many of us fear."
So, maintain caution when dealing directly or indirectly with any of these companies.
Disclaimer
Following the Trust Project guidelines, this feature article presents opinions and perspectives from industry experts or individuals. BeInCrypto is dedicated to transparent reporting, but the views expressed in this article do not necessarily reflect those of BeInCrypto or its staff. Readers should verify information independently and consult with a professional before making decisions based on this content.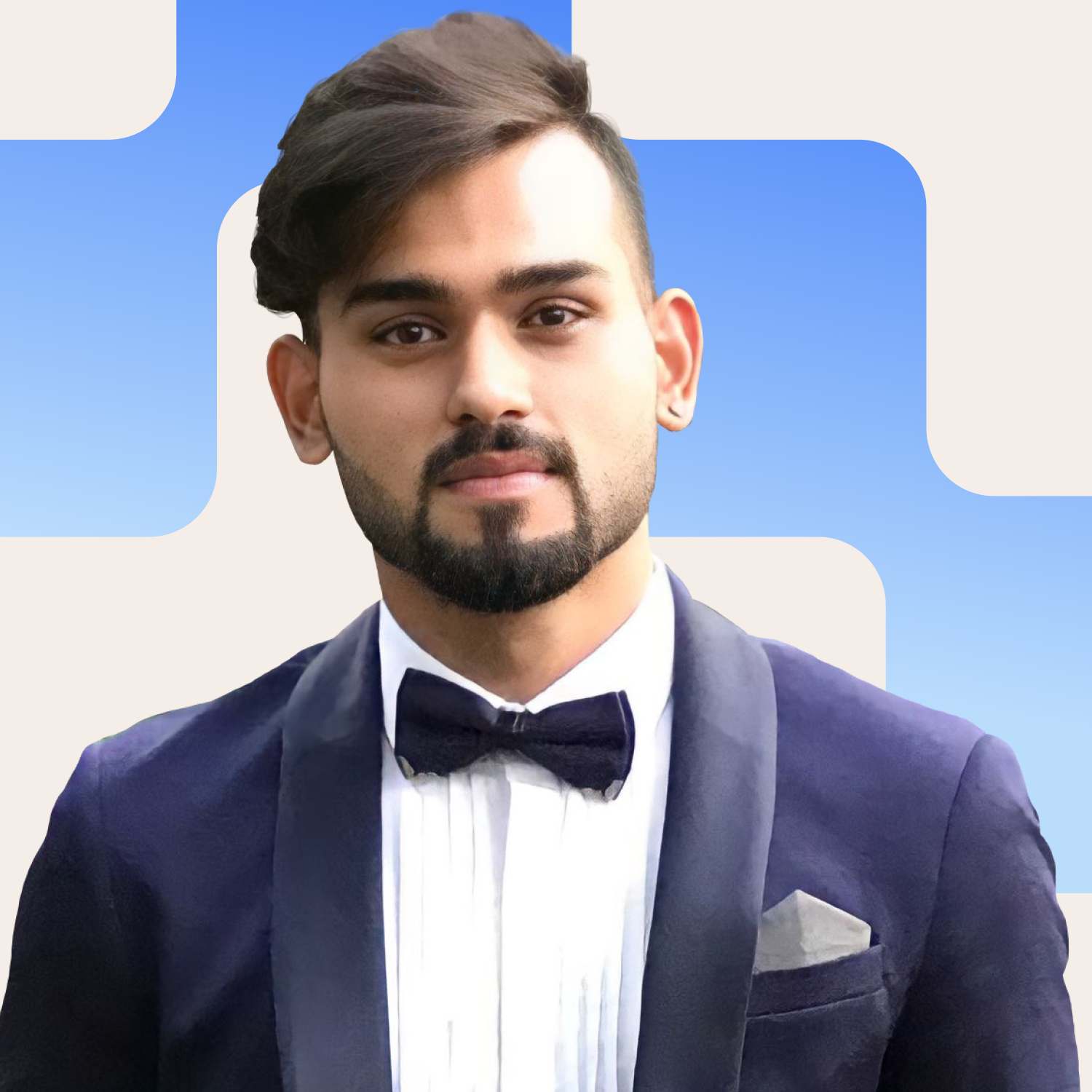 An engineer and an accountant by degree, Shubham ventured into the crypto world to pursue his passion. He believes digital currencies will redefine our economies in the decades to...
An engineer and an accountant by degree, Shubham ventured into the crypto world to pursue his passion. He believes digital currencies will redefine our economies in the decades to...
READ FULL BIO
Sponsored Sponsored