The DeFi market has taken a huge tumble, with its total value locked (TVL), hitting 20-month lows. This is occurring as the crypto market bleeds in the wake of the FTX collapse.
The DeFi market has seen its total value locked (TVL) drop by over 10% in the last 24 hours. The TVL is now $44.36 billion, a figure which last occurred in March 2021. The 20-month low is another sign that the crypto market is in a rough state following the collapse of FTX.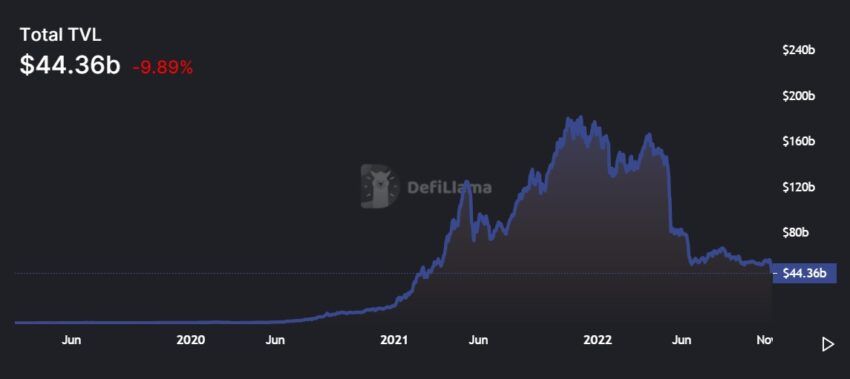 TVL is down approximately 75% down from its all-time high and about the same figure with respect to year-over-year and year-to-date comparisons. It's a huge fall for the DeFi space, which has always been a solid pillar in the market.
It's unlikely that these numbers will hold for too much longer, as the DeFi space is usually quite strong and flourishes. Furthermore, it is considered one of the more innovative and useful use cases of decentralized technology and has attracted the attention of many notable entities. Having said that, individual ecosystems are all tanking, with Ethereum, Binance Smart Chain, and many others taking massive hits.
Ethereum, BSC, and others all take damage
Ethereum's TVL stands at $25.36 billion, which is down by 75% year-to-date and down by the same amount from its all-time high. MakerDAO currently dominates the DeFi space with a 14.85% dominance, followed by ETH liquid staking solution Lido. BSC's TVL is at $5.13 billion, and this has mostly been flat for a few months.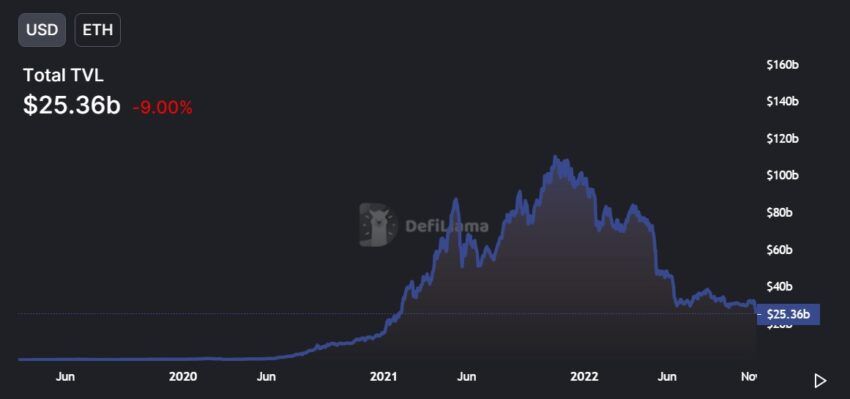 TRON is one of the exceptions, with its value only dropping less in comparison. Its TVL stands at $4.57 billion, which is up 7.94% over the last 24 hours. This figure is not too far away from its all-time high of nearly $7 billion.
TRON saw a 480% increase in the number of holders of USDD and a 71% increase in the TVL in Q3. This was before the FTX incident took place, but generally speaking, TRON does not seem as affected. DeFi wallets also saw strong growth in October, with the number of active wallets crossing 500,000 in the month, according to DappRadar.
TradFi looks more appealing than DeFi now
DeFi players are leaning towards TradFi or traditional finance as the market tumbles. MakerDAO, which recently introduced traditional finance assets into its ecosystem, now generates half of its revenue from these assets.
MakerDAO is in the midst of its own difficulties, as investor a16z does not agree with founder Rune Christensen's belief that protocol should be broken up into smaller units. A16z holds a large portion of MKR and, therefore, governance power.
All of this is occurring as bonds are beating crypto assets, and investors see more appeal in TradFi. It's been a wild 2022 for crypto, but most enthusiasts are confident that the market will bounce back.
Disclaimer
BeInCrypto has reached out to company or individual involved in the story to get an official statement about the recent developments, but it has yet to hear back.