One of the world's most popular automated finance platforms, Compound, is preparing to distribute tokens as part of its ongoing governance proposal.
The Compound token distribution will begin on June 15 following a successful testnet trial. Compound
tweeted
the results of the trial which successfully activated the continuous delivery of
COMP
tokens to all protocol users:
"We've completed the $COMP Distribution testnet trial; thank you to every community member that participated. Compound Governance Proposal 007 has been created, which if passed, will begin the COMP Distribution on June 15th."
Compound is an autonomous interest rate
DeFi
protocol which has been built for developers to unlock a wide range of open financial applications. The Ethereum-based platform lets users earn automatically-adjusted interest or
borrowed assets against crypto collateral
. Compound was initially launched in September 2018 and upgraded to version 2 in May 2019. The protocol has been formally audited and verified and currently supports ETH, DAI, SAI, BAT, REP, USDC, WBTC, and ZRX.
$90 Million Locked in Collateral on Compound
According to
Defi Pulse
, Compound is the third most popular crypto lending platform behind Maker and Synthetix. It currently has around $90 million in total value locked, with around 250k ETH locked up. The all-time high for Compound in terms of total value locked was in late February when it topped $180 million. The mid-March Covid crash hit the entire
DeFi
market hard. Ethereum prices plunged by almost 50%, depleting the collateral deposited in several smart contracts.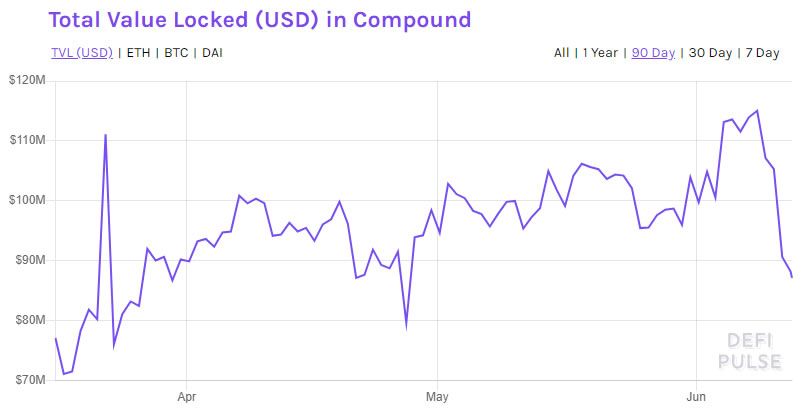 Since then, Compound has recovered by over 60%. However, the crypto market's latest slump is knocking Ethereum prices down and, consequently, Compound's too. It is the first 'liquidity pool' protocol which doesn't directly lend to other users. Instead, liquidity is supplied to the market, and users borrow from that market. When users supply assets to the Compound protocol, the balance is represented as a cToken, which can be transferred or traded. Users can borrow up to 75% of the value of their cTokens. The actual rate depends on the quality of the underlying crypto asset.
Compound Governance System
The token distribution test is part of a broader
governance proposal
that aims to use COMP tokens as a medium for
voting
. A decentralized community of COMP token-holders and their delegates made the
proposal
late last month. General Partner at Uncorrelated Ventures, Salil Deshpande, elaborated:
"Compound Governance was designed with institutional investors in mind; investors are able to participate in governance decisions, or delegate our votes to active community stakeholders, without our tokens leaving supported custody infrastructure, such as Coinbase Custody. It's a preview of how DeFi applications will evolve into upgradable, permanent financial infrastructure over time,"
Any address with a delegation of more than 100,000 COMP may propose governance actions. Votes relate directly to executable code. According to the documentation, if a majority of at least 400,000 votes are cast, the work is queued in a 'Timelock contract,' which can be implemented after a two day waiting period. COMP has been in the testing phase for the past two months, and the voting mechanism has successfully implemented upgrades and changes to the protocol. These include the addition of Tether, a new
DAI
interest rate model built on Dharma (a Compound dApp), and a
proposal
to slowly close the SAI market.
Coinbase Custody
successfully supported and integrated Compound governance, and the voting interface proved to be free of vulnerabilities. The COMP token, which is due for distribution on June 15, will become the core mechanic of the Compound protocol.  The protocol will continuously and automatically grant governance rights for all users and related apps via the tokens. Compound Founder, Robert Leshner, stated:
"The individuals, applications and institutions that use the Compound protocol are capable of collectively stewarding it into the future — and are incentivized to provide good governance."
COMP Token Distribution
The tokens will be placed into a 'Reservoir contract,' which transfers 0.50 COMP per Ethereum block into the protocol for distribution. Distribution is allocated to each market on the platform, proportional to the interest accrued for that market. Adjustments are made on the fly according to demand. Liquidity suppliers earn half of the supply, the other half by borrowers, in real-time.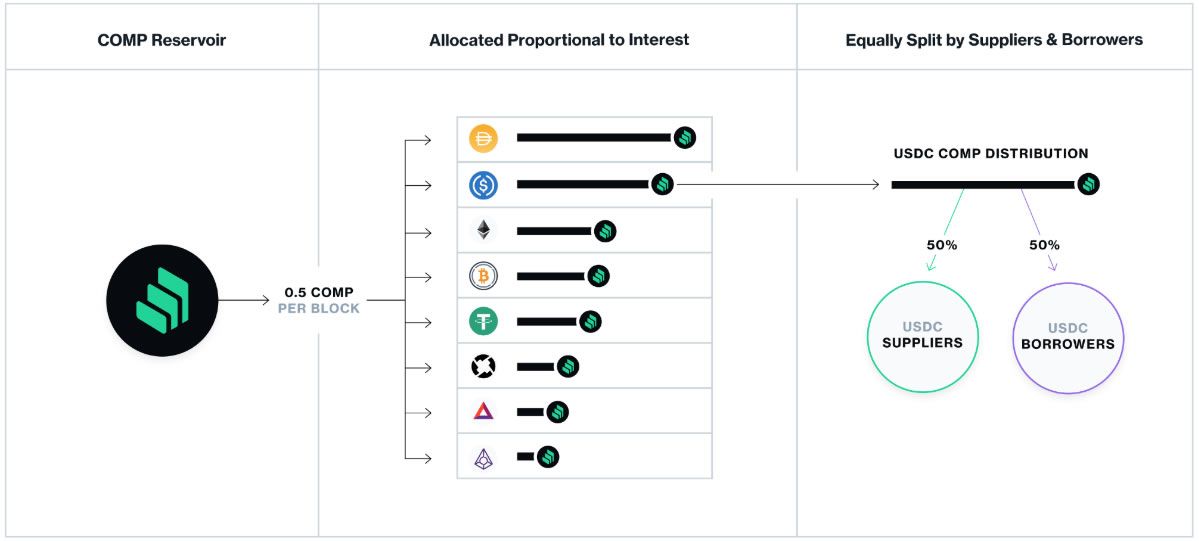 Compound has released a
COMP distribution tracker
, which will allow DeFi users to see the allocation for each market. Daily interest payouts have also been included, which currently shows that DAI is the best paying crypto-asset. The test distribution was successful, with tokens verified and analyzed on Ethereum's Kovan testnet. The next step is the actual distribution, which will begin on Monday.
Disclaimer
All the information contained on our website is published in good faith and for general information purposes only. Any action the reader takes upon the information found on our website is strictly at their own risk.

Martin has been covering the latest developments on cyber security and infotech for two decades. He has previous trading experience and has been actively covering the blockchain...
Martin has been covering the latest developments on cyber security and infotech for two decades. He has previous trading experience and has been actively covering the blockchain...
READ FULL BIO
Sponsored Sponsored