Blockchain gaming has maintained some impressive statistics from last year. In 2023, the sector is expected to grow even stronger as traditional gaming projects incorporate web3 attributes. But will expectations become a reality by the end of 2023? 
The use of blockchain technology in gaming had a big impact on the industry last year. Despite a prolonged bearish market, popularly termed a 'crypto winter,' the sector witnessed a rise in dominance and funding. This has carried over into 2023, with leaders from the traditional gaming sector (web2) switching to web3 gaming.
Although, there's still plenty of room for development in the blockchain gaming space to showcase its full potential. 
Key Findings From 2022
The Blockchain Gaming Alliance shared a report with BeInCrypto on Jan.12 that surveyed 347 professionals representing 252 projects or companies in the blockchain sector. The study gave a detailed insight into the current state of the gaming domain, dishing out impressive statistics coupled with some twists. 
Firstly, the blockchain gaming industry performed significantly well and showcased growth regardless of last year's adverse market conditions. The snapshot below sheds some light on this narrative:
According to the survey, blockchain games can be considered a step up from traditional gaming. Some key benefits included asset ownership, player reward models, and advanced revenue business models.
These numbers do portray a promising scenario, but pitfalls remain nonetheless. Even though the industry saw considerable funding, the development rate wasn't directly proportional. 
Obstacles In the Way
Blockchain technology is still a ways off from reaching its full potential within the gaming industry.
Focusing on some of these challenges, the Blockchain Game Alliance (BGA) experts told BeInCrypto that the biggest flaw was user experience. More than half of the respondents agreed that onboarding challenges and player accessibility were the biggest issues within this sector.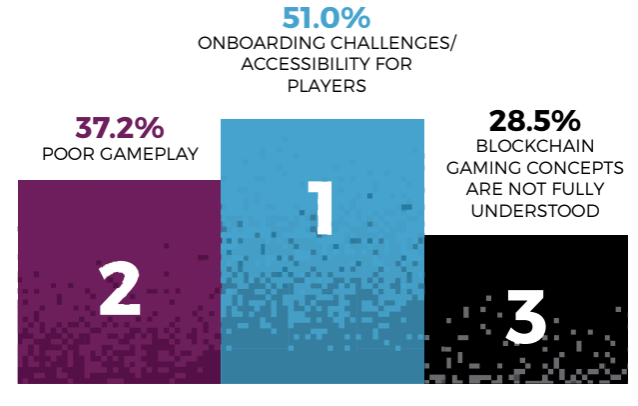 Talking to BeInCrypto, co-founder and CEO of Unix Gaming, Mirko Basil Doelger, stated: 
"The gaming industry has spent the last decade trying to simplify the onboarding experience. Blockchain gaming, for all its innovation, has made onboarding unintuitive and obtrusive. Blockchain game developers should understand that games need to work for the player. We need to go through the hoops necessary to attract players rather than demand the player jump through hoops to play the game. The fact is, if your blockchain game can't provide a comparable or superior experience, you're out."
Apart from this, fear around regulation was another common concern. This is something that the blockchain and cryptocurrency industry as a whole has been uncertain about for years. But many gaming enthusiasts remain optimistic about the new year.
Once Popular, Now Fading
There has been a significant shift in players' attitudes toward the play-to-earn model. P2E exploded in popularity in 2021 and 2022, but players of these games became less enamored as the prices of the assets they were earning plummeted.
Only 22.5% of surveyed candidates now believe that P2E could be a driving factor for the industry in 2023. A significant decline compared to 2021 when over two-thirds (67.90%) of respondents supported the model.
Instead, the focus has shifted to nurturing the gameplay experience and making the adoption of these games go mainstream.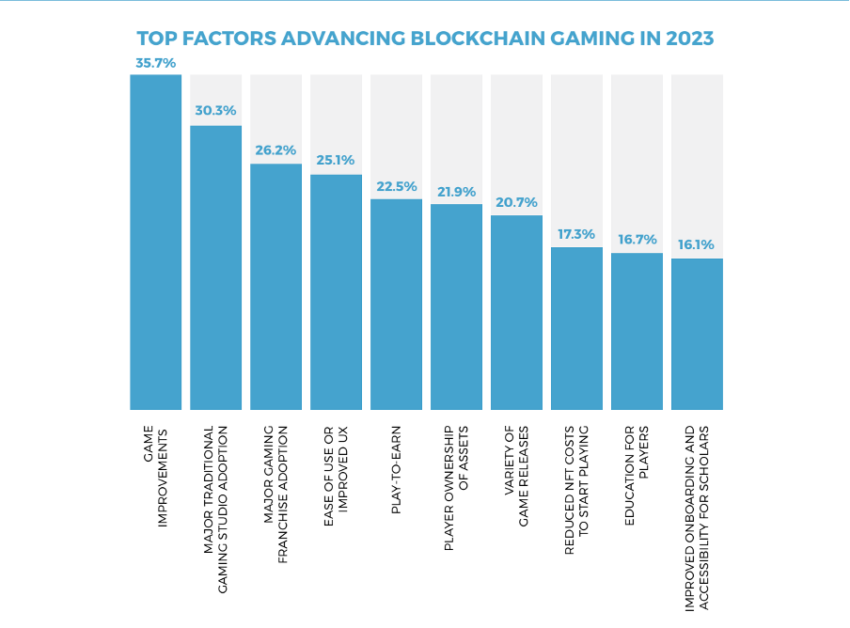 In 2022, capital became more innovative and demanding amid a deepening crypto bear market. "As a result, cheap point-and-click browser play-to-earn games are no longer getting the funding they used to get. Instead, more cutting-edge game studios integrating web3 and AI into Unreal Engine-based, high-fidelity games are seeing more traction," Felix Hartmann, CIO of Hartmann Metaverse Ventures, asserted.
Meanwhile, Rowan Zwiers, the co-founder of web3 consulting company Blockminds, saw the explored model as 'unsustainable.' Nonetheless, it created headlines and laid a path for the latest, more mature gaming dynamics this year: free-to-play games. This is the next generation of web3 games, according to Pedro Heddera, head of research at DappRadar, who further added: 
"2023 is shaping up to be a make-or-break year."
Some other respondents from the survey also included their opinions on what's to come: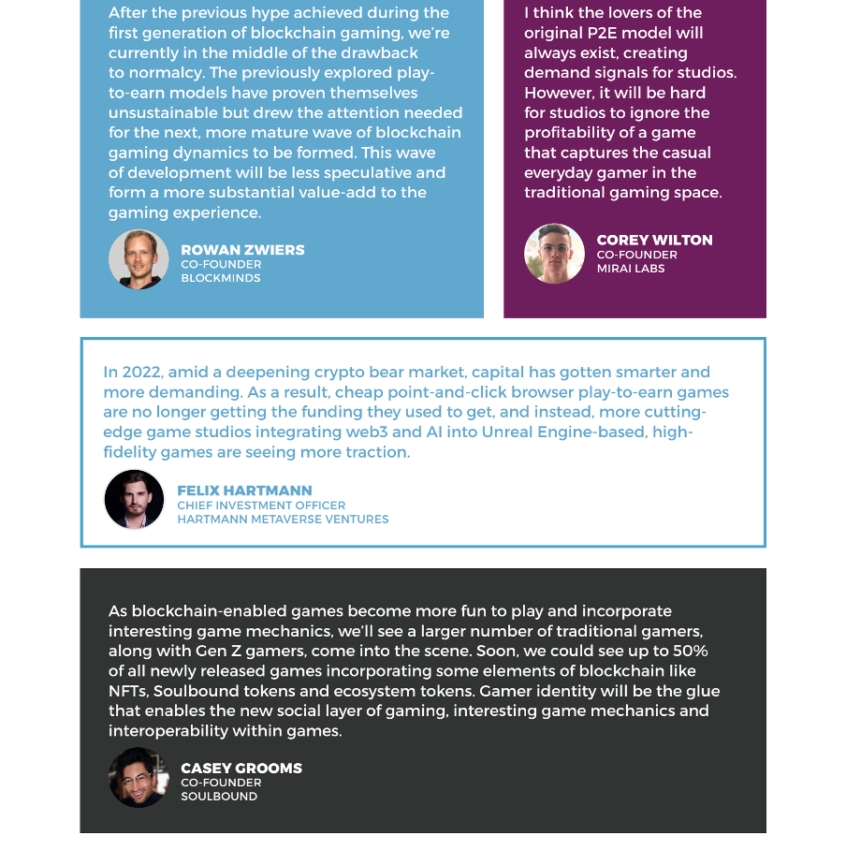 High expectations in 2023
The shift from the web2 gaming domain to the web3 space is one of the most anticipated pieces of the blockchain puzzle. Herein, traditional gaming studios and existing gaming franchises could potentially incorporate years of exposure and experience into the sector.
Netmarble, the studio behind Ni no Kuni: Cross Worlds and Monster Arena, launched the MBX blockchain gaming platform and Marblex Wallet. Similarly, Com2uS, Wildlife Studios, Square Enix, and one of the leading names, Epic Games, are all working on expanding the web3 gaming space. 
But again, these are still early days for the space to stand up against the traditional sector. Nevertheless, 2023 will likely be a defining year for the gaming industry.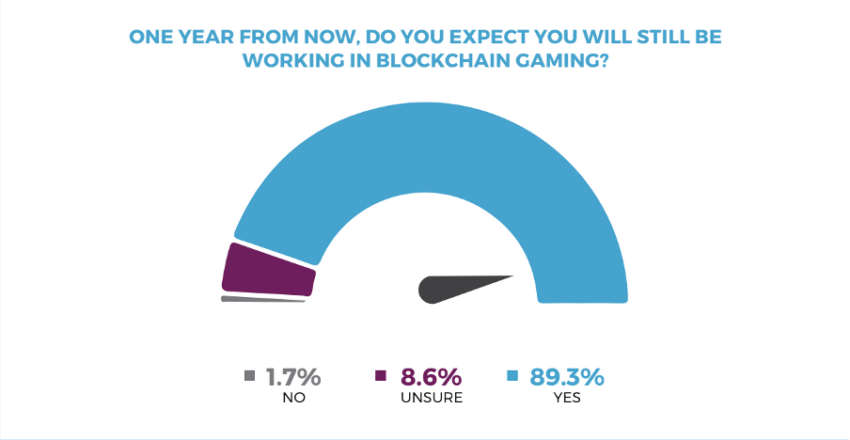 Disclaimer
All the information contained on our website is published in good faith and for general information purposes only. Any action the reader takes upon the information found on our website is strictly at their own risk.