Bitcoin mining operations are becoming more sustainable as emissions intensity declines. More miners are now using sustainable energy, and hardware efficiency has improved.
Bitcoin mining emissions intensity has dropped to its lowest-ever level, according to Woo Charts. Climate technology venture investor and activist Daniel Batten posted the findings on April 3.
According to the chart, BTC mining now produces fewer energy emissions when compared to its energy consumption. Batten predicted that Bitcoin is on track to halve its emissions per KWh within three and a half years.
"No other industry is reducing emission intensity as fast," he added.
Furthermore, there are two primary reasons for the fall in emissions intensity. The majority of Bitcoin miners now use sustainable energy sources. Secondly, mining hardware has become much more efficient.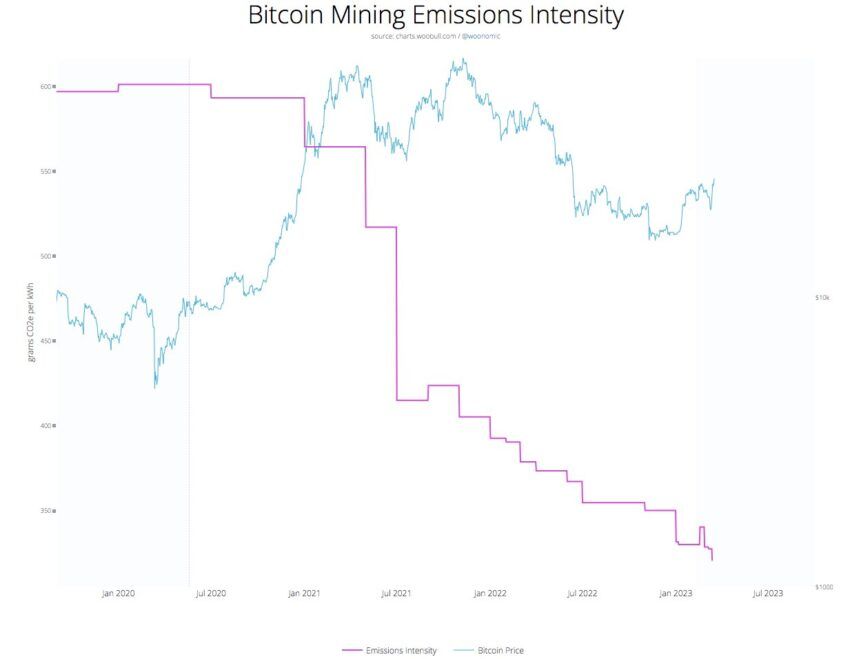 Bitcoin Mining Sustainability Near Peak
The researcher added a chart on Bitcoin mining sustainability. This has dipped a tiny fraction but remains near its peak value of 54%.
He said it remains high because a large percentage of new hash rate entering the network is sustainably powered.
As a result, more than half of the network is powered by clean energy.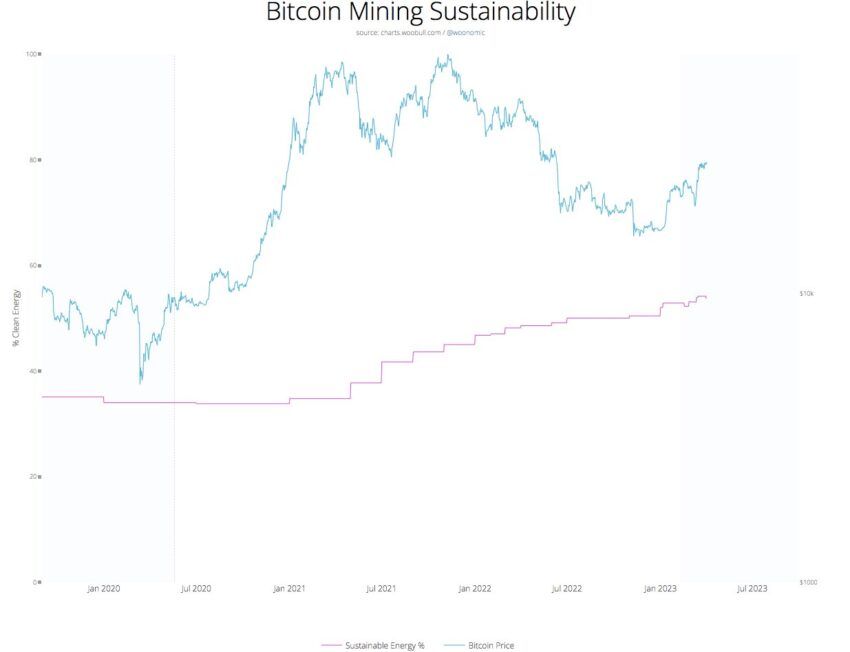 Furthermore, total emissions have increased over the past fortnight. This is due to a rising hash rate without a significant rise in mining activity from flared or vented methane.
As reported by BeInCrypto in late March, Bitcoin mining is now greener than electric vehicle technology. Hydroelectric energy is Bitcoin's major power source, according to Batten.
"Fossil fuel sources have been decreasing at a combined 6.2% per year since January 2020," he noted.
Nevertheless, lawmakers who continue to crack down on the industry have not acknowledged the improvements in energy efficiency. Mining mecca Texas has seen backlash towards mining companies despite a recent bill recognizing the right to mine BTC in the Lonestar state.
BTC Mining Ecosystem Outlook
According to Cambridge University, the BTC network currently consumes around 140 TWh per year. However, this is still less than the 206 TWh per year lost in the U.S. due to transmission and distribution.
The average network hash rate is currently at 349 exahashes per second (EH/s). This is not far off its March 24 all-time high of 398 EH/s, according to BitInfoCharts.
Additionally, network difficulty, which measures competition between miners, is at an all-time high of 46.8 T.
Finally, mining profitability remains low at just $0.078 per day per TH/s.
Disclaimer
In adherence to the Trust Project guidelines, BeInCrypto is committed to unbiased, transparent reporting. This news article aims to provide accurate, timely information. However, readers are advised to verify facts independently and consult with a professional before making any decisions based on this content.