Developed and maintained by the American technology company Ripple Labs Inc, XRP was launched as a medium of exchange for the next generation of payment settlement and money transfer systems.
XRP is the native digital asset for the Ripple payment protocol, which is used by Ripple's other products to facilitate cross-border and inter-bank value exchange. The cryptocurrency was initially released by "OpenCoin" back in 2012, following which the company rebranded to Ripple Labs in 2015.
A common misconception is that the terms Ripple and XRP are synonymous—they are not, despite how CoinMarketCap and many cryptocurrency exchanges label the cryptocurrency. Instead, Ripple is a digital payment protocol which can be used to transfer cryptocurrencies, including XRP.
After generating one of the highest ROIs of all time for ICO investors, the industry regards XRP as one of its biggest success stories. However, will XRP be able to return to its former glory, or will it crash and burn like so many others? We will examine the possibilities below!
For those of you who would prefer a video analysis, please click below for a detailed summary of the price action for XRP.
Regular Price Predictions for XRP
---
At 
BeInCrypto
, we offer regular price analyses and predictions for the most popular and relevant cryptoassets. To see our latest updates,
click here
.
---
The XRP price has been trading inside a descending wedge for the past 144 days.
The descending wedge is a bullish pattern, making a price breakout more likely.
XRP reached the support line of the wedge on September 24 and has been increasing since.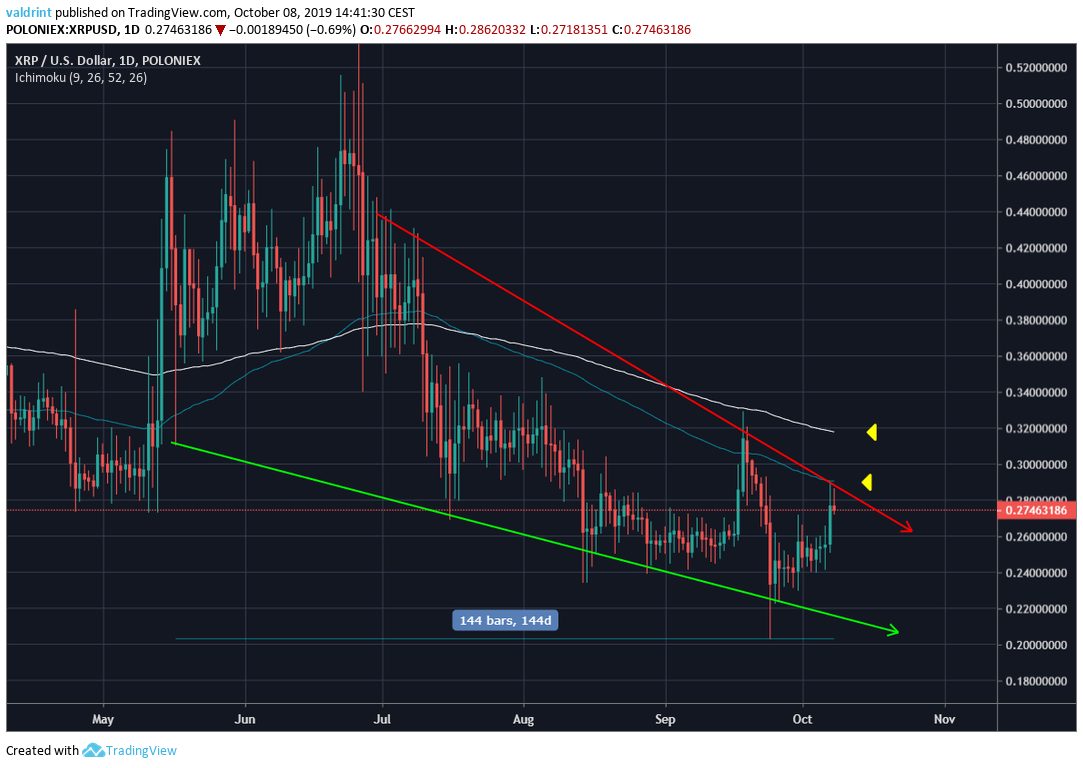 On October 7, it reached the resistance line before decreasing.
Additionally, the price faces very strong resistance from both the 100- and 200-day moving averages.
While we believe XRP will eventually break out, it is likely to consolidate inside the wedge for a period of time before it does so.
---
Oh Look, There's More…
Fundamental Analysis
As with any cryptocurrency, sound fundamentals are absolutely critical to its long term success. Fortunately, Ripple's XRP cryptocurrency is about as secure as they come in this department, and it has a solid reputation built on success and innovation.
However, as a centralized cryptocurrency that runs on a permissioned blockchain, there are concerns about the long-term desirability of the project.
Use Case
XRP's use case is extremely promising—allowing individuals, companies, and global financial institutions to transmit money between countries almost instantly and at low cost.
To help make cross-border payments as simple, secure, and fast as possible, Ripple offers three main products to institutional clients and banks:
xRapid: A liquidity solution that uses RippleNet to provide on-demand liquidity to banks and other payment providers. xRapid can reduce the cost of cross-border transactions by up to 70%, which might be why more than 20 partners are already working with the technology, including Euro Exim Bank, Bitstamp, and Moneygram.
xVia: Used as a portfolio management system for sending money to developing economies without complicated bureaucracy issues. xVia is essentially the tool that financial institutions access to make use of RippleNet.
xCurrent: A solution used for instantaneous transaction settlement and the end-to-end tracking of payments. xCurrent consists of a simple API for exchanging messages between banks. It also includes a validator module for cryptographically confirming the success or failure of a payment.
These solutions make it easy for payment providers to safely transfer value—this is the primary purpose of the XRP cryptocurrency. Understandably, this has led to significant price gains for XRP, since getting the banks on-board with cryptocurrency has always been seen as one of the major stepping stones towards global adoption.
Major Competitors
Transactions conducted in XRP typically reach finality within five to seven seconds. This is drastically faster than the great majority of cryptocurrencies, making it suitable for interpersonal transfers as well as remittance payments.
Because of this speed, XRP can be said to be competing with other high-speed cryptocurrencies, including NANO, Stellar (XLM) and IOTA. Currently, XRP is marginally faster than both NANO and IOTA but is slightly edged out by XLM. Compared to the ~10 minute confirmation time provided by Bitcoin (BTC), XRP is massively faster.
Time to Achieve Transaction Finality
| | | |
| --- | --- | --- |
| XRP | XLM | NANO |
| 5-7 seconds | 2-5 seconds | 5-10 seconds |
However, with many cryptocurrencies now beginning to work on second-layer scaling solutions to drastically improve transaction speeds, XRP may not have the edge for much longer. Beyond this, XRP is also competing with the SWIFT and SEPA systems used by most banks for international payments.
XRP Controversies
Although XRP has had a good run since its launch in 2012, the cryptocurrency hasn't been without controversy—particularly throughout 2018 and 2019.
Among the most worrying of these is the recent spate of XRP sell-offs executed by Ripple. Throughout 2019 alone, Ripple is reported to have sold well over $400 million worth of its asset in the first half. According to the company, these sales were made to finance the development of its products, on-boarding new clients, and marketing. However, some speculate that this has had a knock-on effect on the value of XRP, contributing to its decline in 2019.
Beyond this, speculation that XRP could be considered an unregistered security has unnerved investors, who now fear that a crackdown by the Securities and Exchange Commission (SEC) could be on the horizon.
Currently, there are several lawsuits underway against the company for a variety of reasons, with potential price manipulation and operating an unregistered security being common concerns.
Important Highs And Lows
Throughout its history, XRP has reached several notable highs and lows.
The most significant are given in the table below:
| | |
| --- | --- |
| High | Low |
| December 18, 2014 – $0.3124 | November 12, 2015 – $0.0035 |
| May 17, 2017 – $0.4481 | July 16, 2017 – $0.1263 |
| January 4, 2018 – $3.5316 | September 24, 2019 – $0.2028 |
Similarities
In order to predict the XRP price in the future, we will attempt to find similarities between price movements at certain points in time and then use them to make prediction for the future.
Additionally, we will use technical indicators in order to confirm these similarities.
First, we will begin by analyzing the MACD and the RSI.
Since 2015, there have only been four periods in which the weekly MACD line has crossed into positive territory.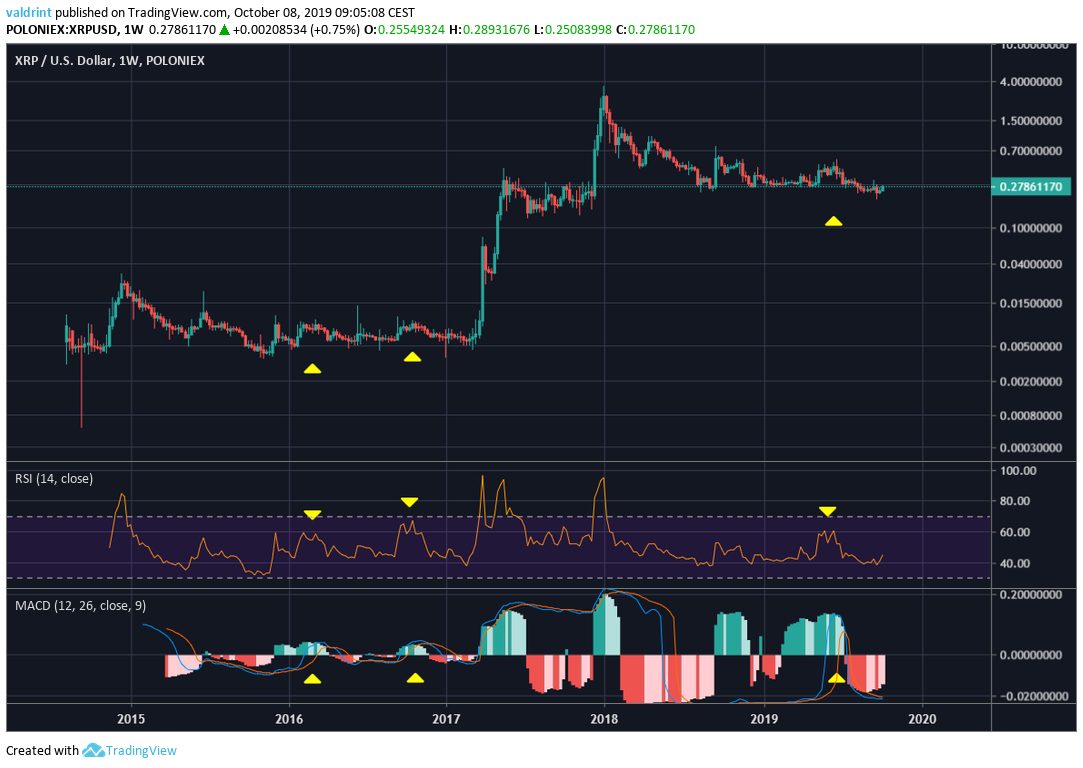 This movement occurred twice in 2016, once in 2017 (lasted until the middle of 2018) and once in 2019.
The 2017 one will not be considered in our predictions.
We decided for this because of two reasons. First, while in the other three occasions the positive MACD lasted for less than 100 days, it stayed there for close to 500 days in 2017.
This happened because of the rapid upward move in the beginning of 2017. This caused the RSI to go deep into overbought territory and the MACD to do the same.
Since both the RSI and MACD are momentum indicators, when a rapid move causes the RSI to increase significantly, it is likely to do the same to the MACD, which was more than 5x times higher than during the the other three movements
So, we are left with three movements of the MACD above the 0 line and a RSI between 30-70 (neither overbought nor oversold).
During 2016, these movements occurred right after the other with a short pause in between. The other time was in May 2019.
The timelines and duration for each are given in the image below.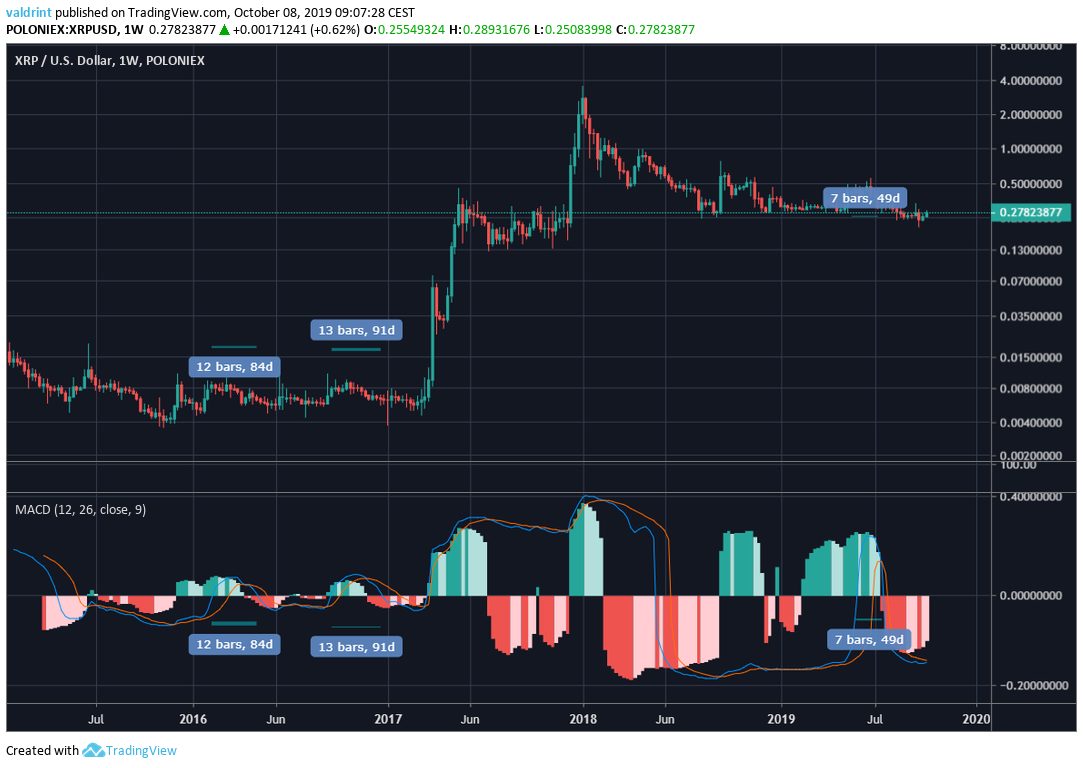 Finally, this similarity is also confirmed by the 200-day moving average (MA).
In 2016, the price moved above the 200-day MA at the exact time the MACD crossed into positive territory.
Afterwards, it moved back down only to cross it again the next time the MACD became positive.
In June 2019, the price moved above the 200-day MA before at the same time the MACD crossed into positive territory. Afterwards, the price crossed below the MA.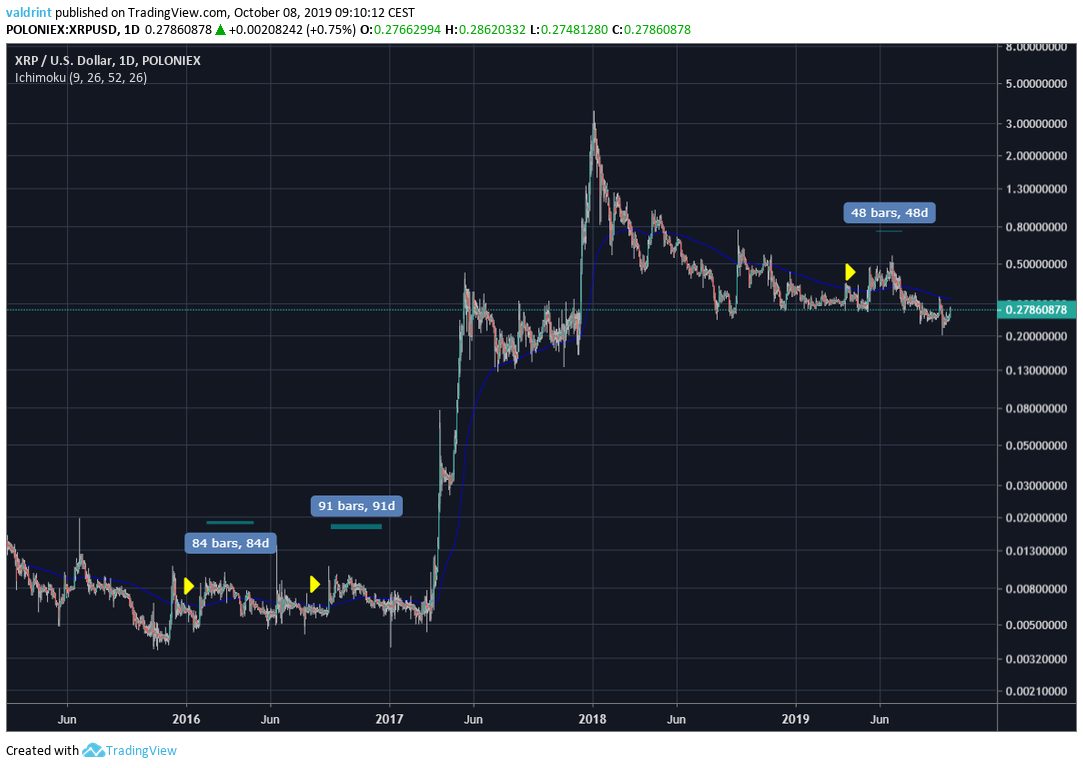 Therefore, we have three similarities between these two movements:
Positive MACD.
Neither overbought nor oversold RSI.
Movement above the 200-day MA.
Rates of Conversion
In order to find the exact price at an exact date, we will attempt to find a rate which converts the movements in 2016 to those in 2019.
The two movements in 2016 lasted for 84 and 91 days respectively. This gives us an average of 87 days for one movement. On the other hand, the movement in 2019 was significantly quicker, transpiring in only 49 days.
This gives us an average of 1.77 days in the 2016 movement for one day in the 2019 one.
Using this ratio, the next high should be reached on February 11, 2020. Converting this to the the 2016 movement, it should correspond with the high reached on May 17, 2017.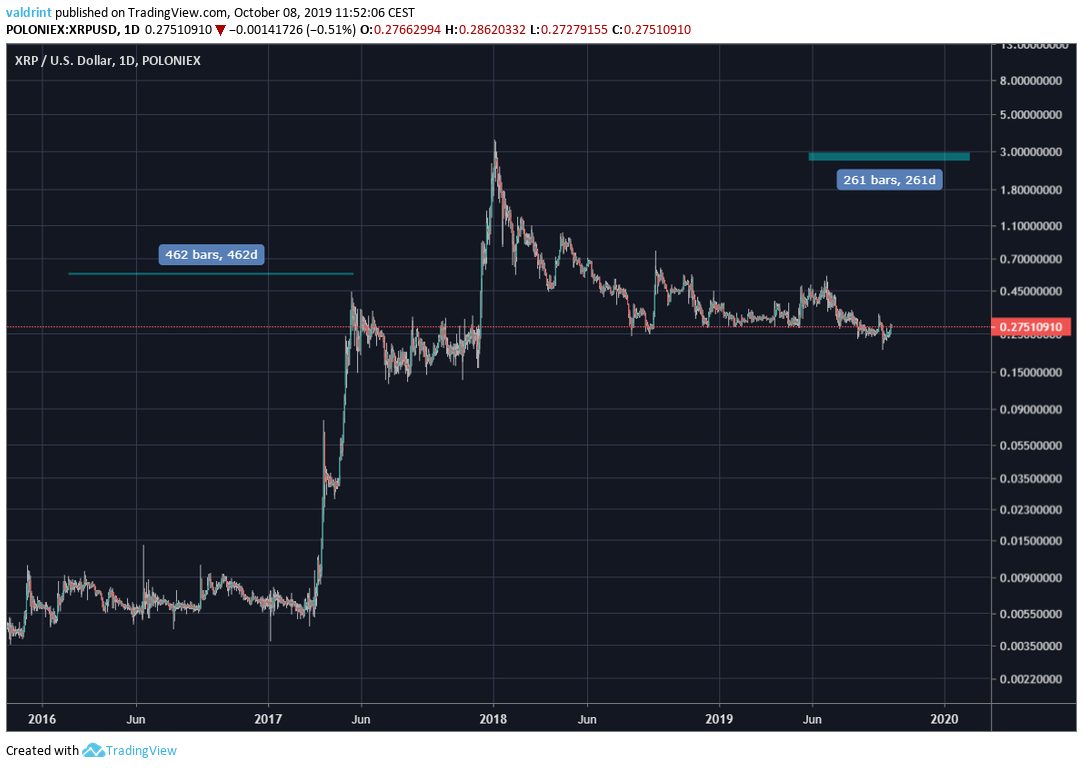 Now that we have found a rate for converting time periods, we need to do the same for the magnitude of the upward and downward moves.
In order to do that, we will measure the decrease from the previous high to the low.
Doing so gives us very similar rates of decrease of 93 and 89%.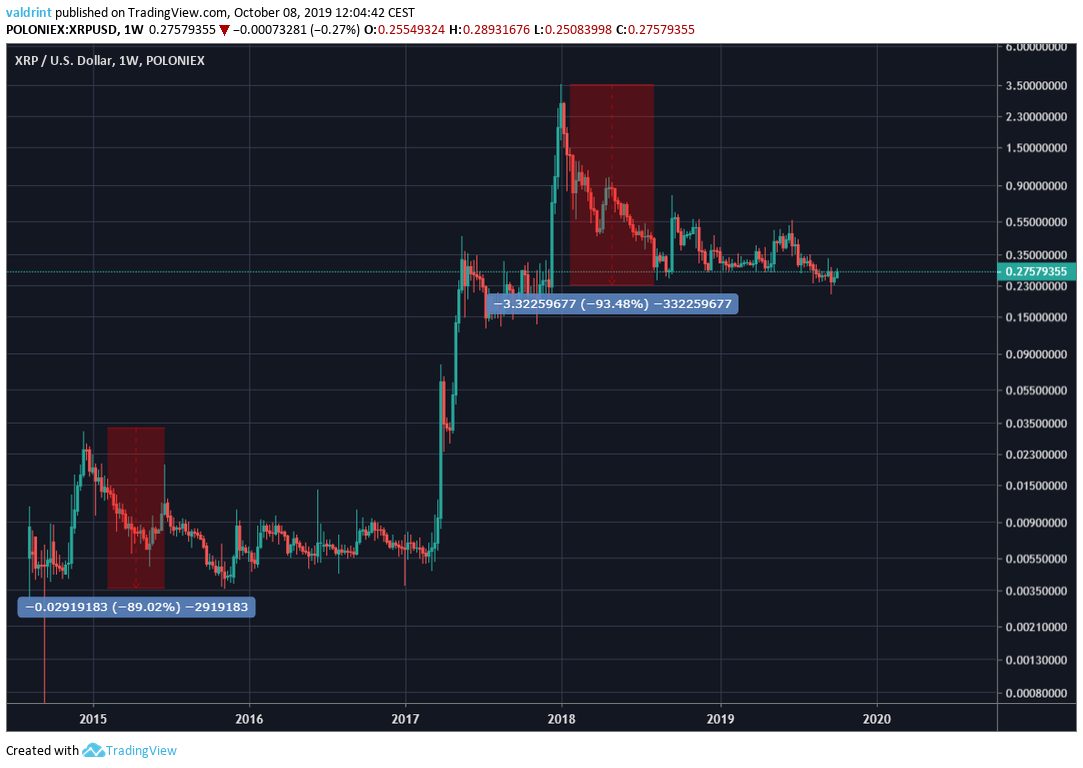 For the sake of this analysis we will consider these two rates the same when we make our prediction.
End of 2019 Prediction
The first time the MACD crossed into positive territory was on February 6, 2016.
We have made the assumption that the price movement after it coincides with the movement after May 27, 2019, which was the most recent time the MACD crossed into positive territory.
While the movement in 2016 has had the same magnitude, it has been 1.77 times slower.
Using these ratios, we get a price of  a price of $0.276 for December 31, 2019, which is very close to the current price.
This is understandable since it is likely that XRP continues its consolidation phase until the end of the year.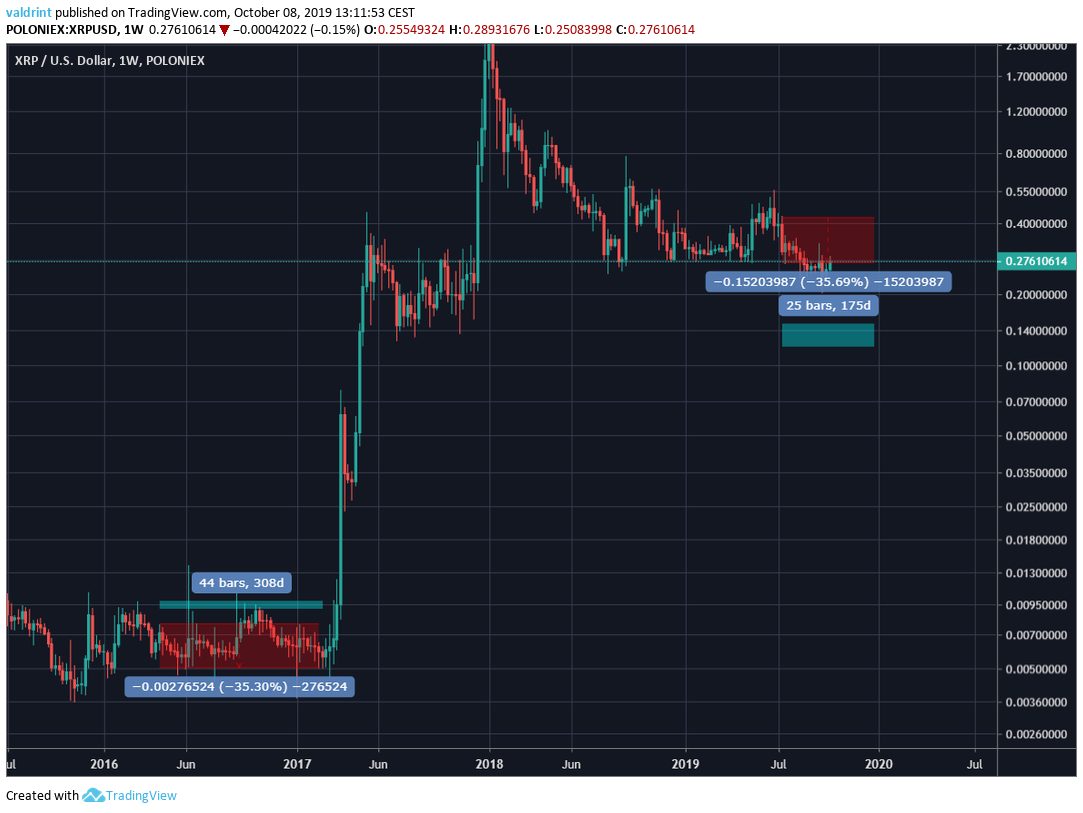 2020 Prediction
For 2020, we will use the same method as we did for our previous prediction.
Using the rate of time, we will find the date that corresponds with December 31, 2020.
Doing that, we get a price of $18.5 on December 31, 2020.
However, before this value is reached, XRP should reach an all-time high price of $93.5 on October 21, 2020.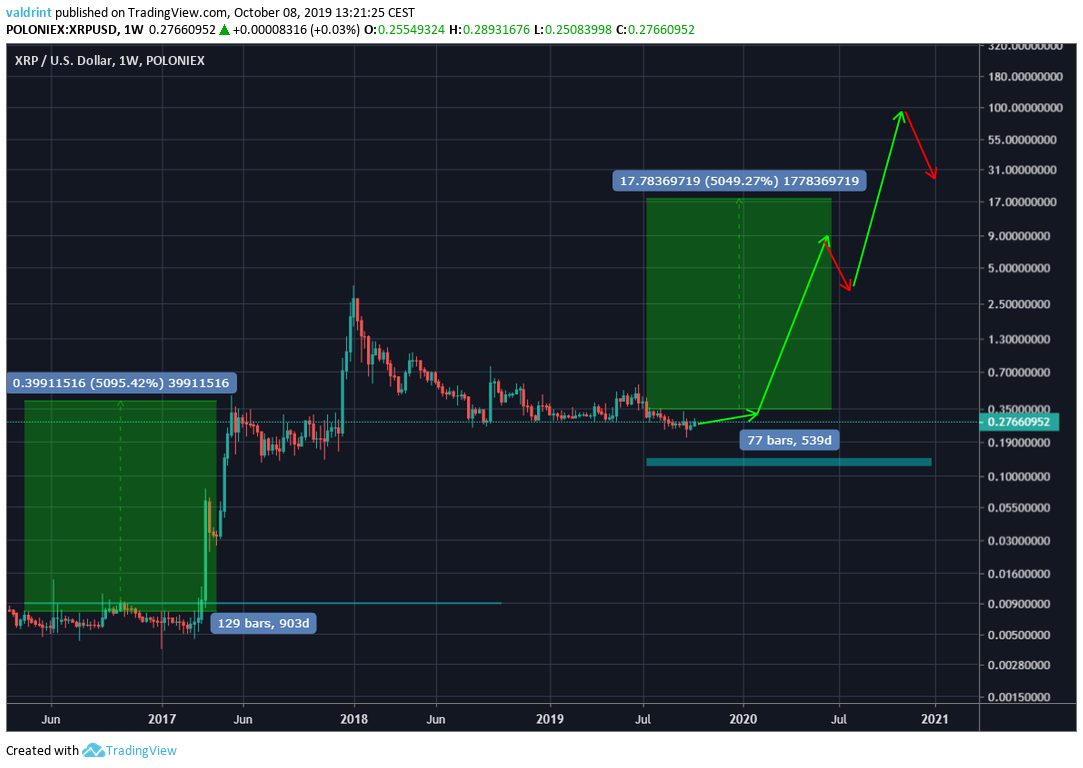 Five Years From Now
In order to find the price in December 31, 2024, we cannot use the same method, since it would require us to measure the price change for a date in the future which we have not yet reached.
Therefore, we will use curved trend-lines which link the current highs and lows.
Doing so gives us a range between $70 – $175 for the price in December 31, 2024.
Additionally, our high of $18.5 is contained within the confines of our newly created channel.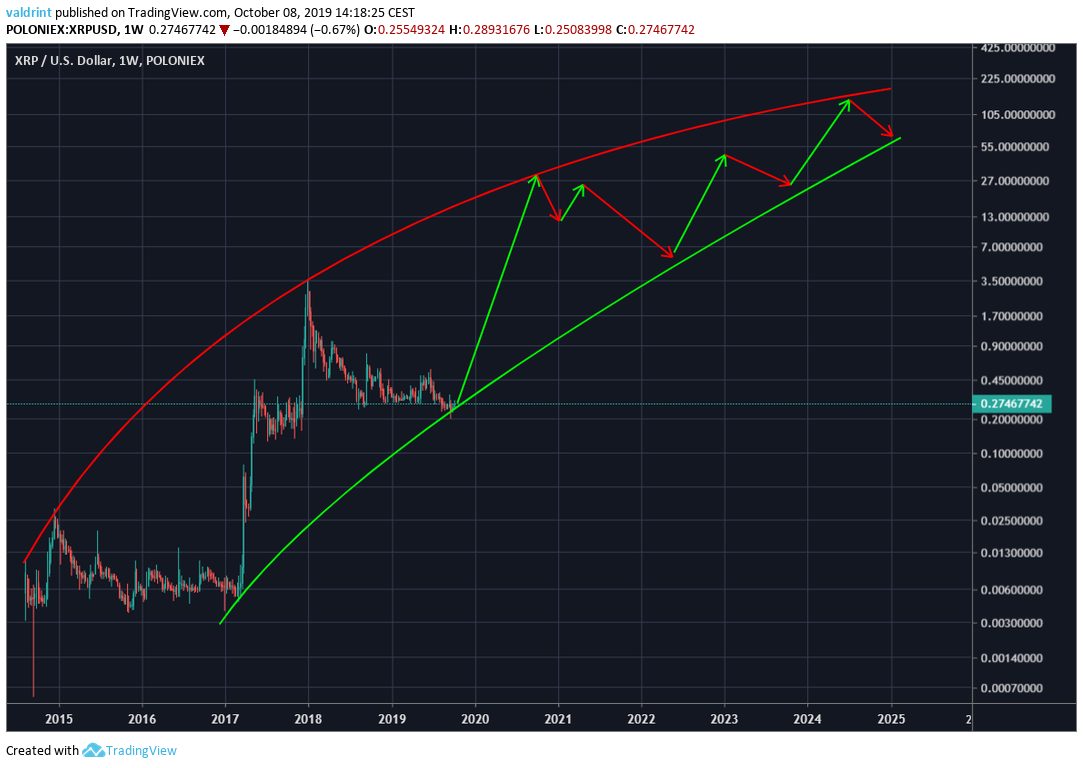 Conclusion
As with any cryptocurrency, the potential for XRP to either explode in value or crash will always be there. However, as a company, Ripple has set itself apart from many others in the industry, opting to develop solid fundamentals rather than focus on boosting the value of XRP.
By developing a strong ground game, it is believed that Ripple will be well-positioned in the future, particularly from a regulatory standpoint. This makes it one of the most likely candidates for broad-scale adoption while also being a safer option for banks and other financial institutions looking to improve their efficiency through the use of Ripple's liquidity solutions.
However, XRP is currently experiencing a tumultuous time in 2019 and appears to be under scrutiny from both investors and the SEC alike. But, if XRP manages to come out of 2019 unscathed and avoids designation as a security, then its fundamentals should eventually lead the asset to discover an improved price, and it would come out stronger on the other side.
Until then, XRP remains a risky investment.
The price predictions for 2019, 2020 and 2024 are given in the table below.
| | | |
| --- | --- | --- |
| December 31, 2019 | December 31, 2020 | December 31, 2024 |
| $0.276 | $18.5 | $75-$175 |
Do you think XRP can ever exceed its previous all-time highest price? What developments need to occur to realize this? Let us know your thoughts in the comments below!
---
Disclaimer: This article is not meant to be used as personal investment advice, nor is it information from a qualified investment advisor. Cryptocurrency is a notoriously risky investment, and it is possible to lose everything. Please conduct your own research and investigation prior to investing in cryptocurrency.
---
Do you want to BeInCrypto? Join our Telegram Trading Community for exclusive trading signals, educational content, discussions and project reviews! Images courtesy of Shutterstock, Trading View and Twitter.