On August 21, 2019, the XRP price reached a low of 2535 satoshis. An upward move ensued and the price reached a high of 2724 satoshis the next day. After a gradual decrease, XRP reached a higher high of 2752 satoshis on August 29. It has been decreasing since.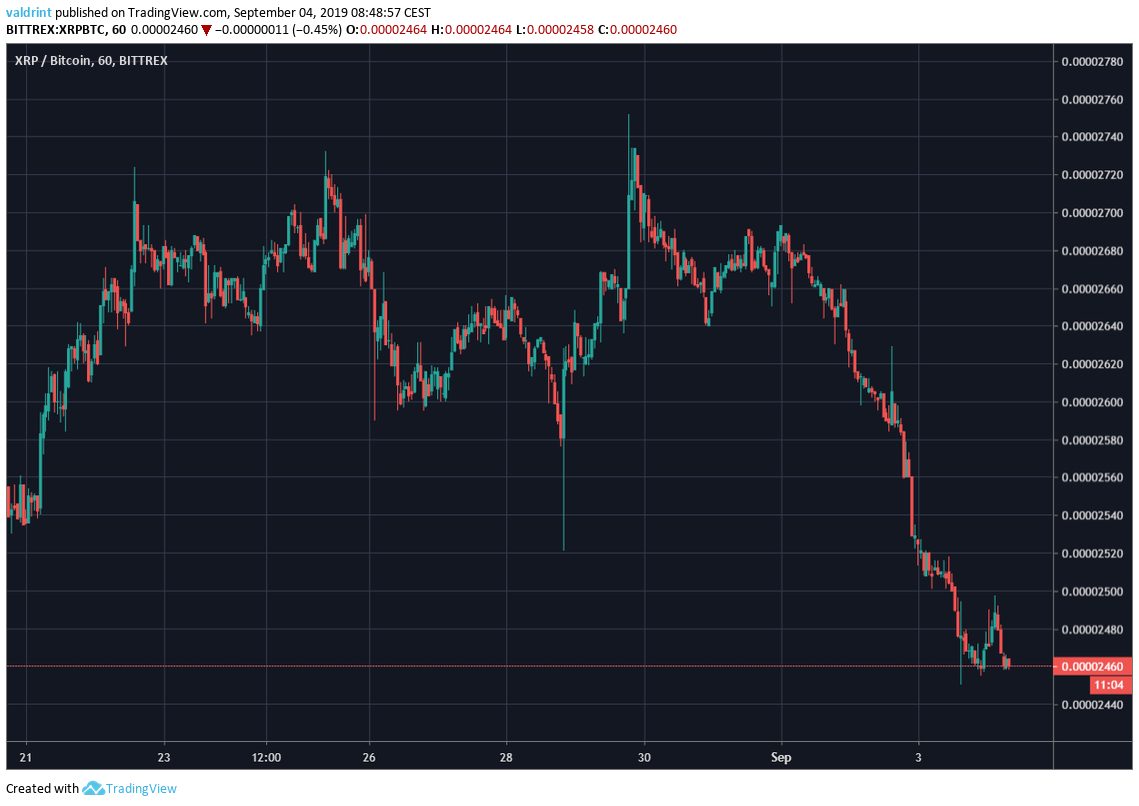 At the time of writing, the XRP price was trading below 2500 satoshis.
When will XRP stop decreasing? Continue reading if you want to find out.
For those of you that are more interested in a video analysis, please click below:
XRP Price: Trends and Highlights for September 4
XRP/BTC broke down from a symmetrical triangle.
The RSI and MACD have generated bullish divergence.
The price has possibly made a double/triple bottom.
There is resistance near 2500 satoshis.
Previous XRP Price Movement
A look at the daily time-frame shows that beginning on August 6, XRP traded inside a symmetrical triangle for 26 days.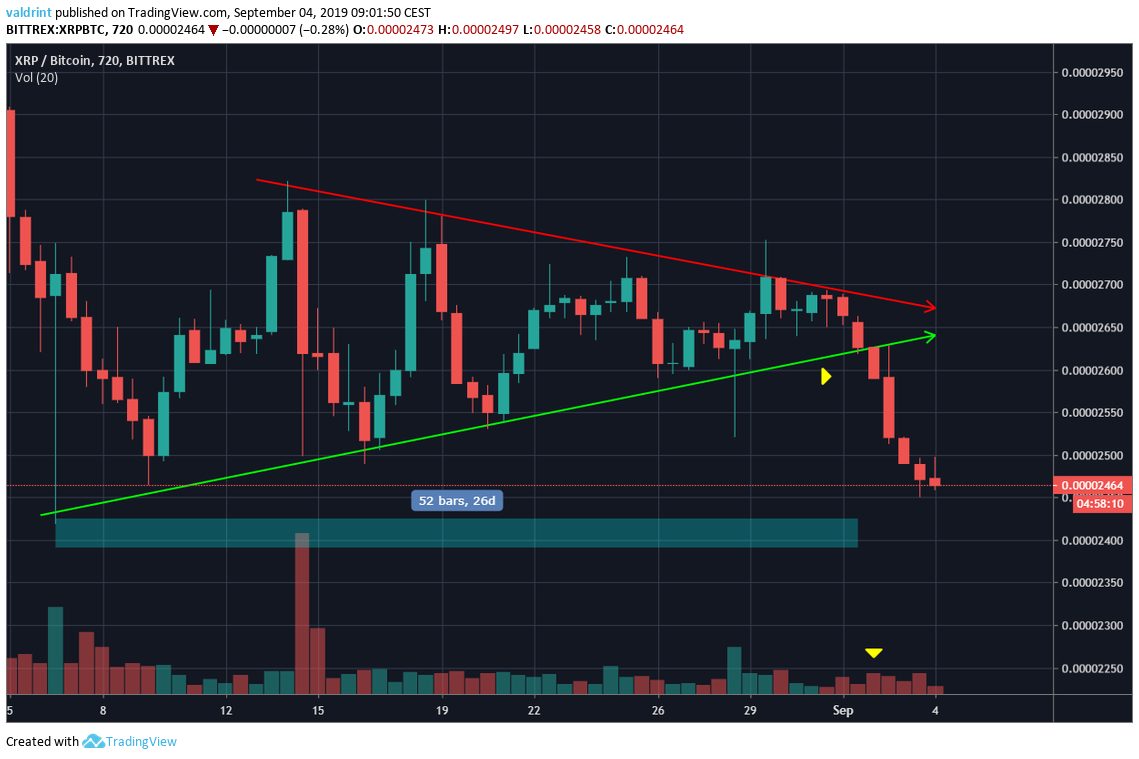 On September 2, the XRP price broke down from the triangle.
The breakdown occurred with average volume — somewhat reducing its validity.
Since then, XRP has been decreasing — reaching lows below 2500 satoshis.
Reversal Signs
A look at the daily RSI and MACD reveals a developing bullish divergence.
The divergence has been present since the initiation of the triangle.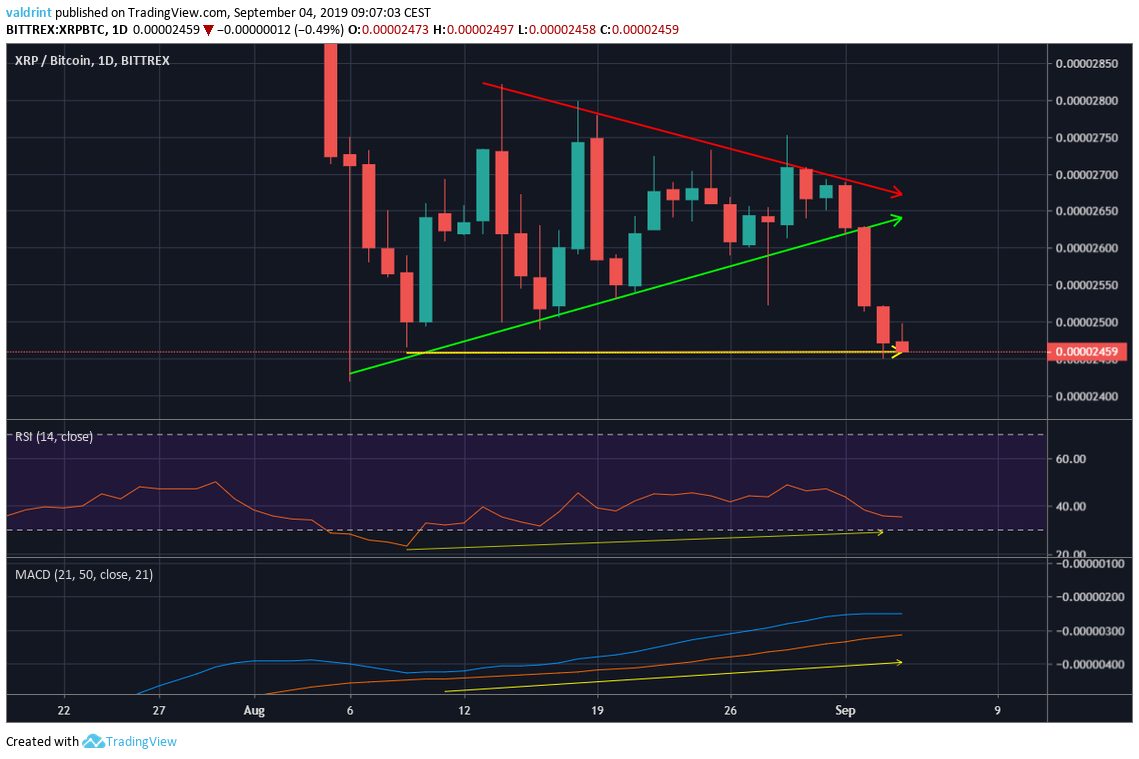 Additionally, the divergence is present in both indicators.
Looking at the XRP price movement without the now invalidated triangle, we can see that XRP may have created a double bottom pattern.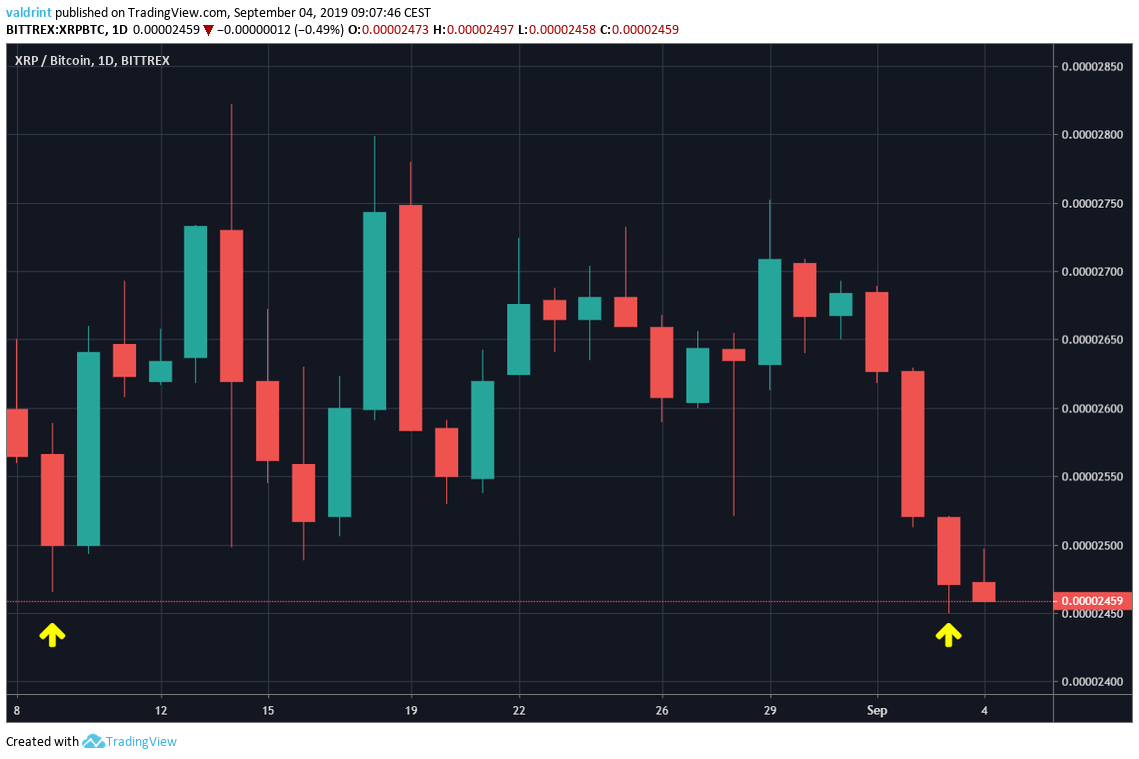 When found in a downtrend, this is considered a bullish reversal pattern.
Let's take a look at the short-term to see if an upward movement will begin.
Short-Term Movement
A look at the hourly time-frame shows additional signs of a reversal.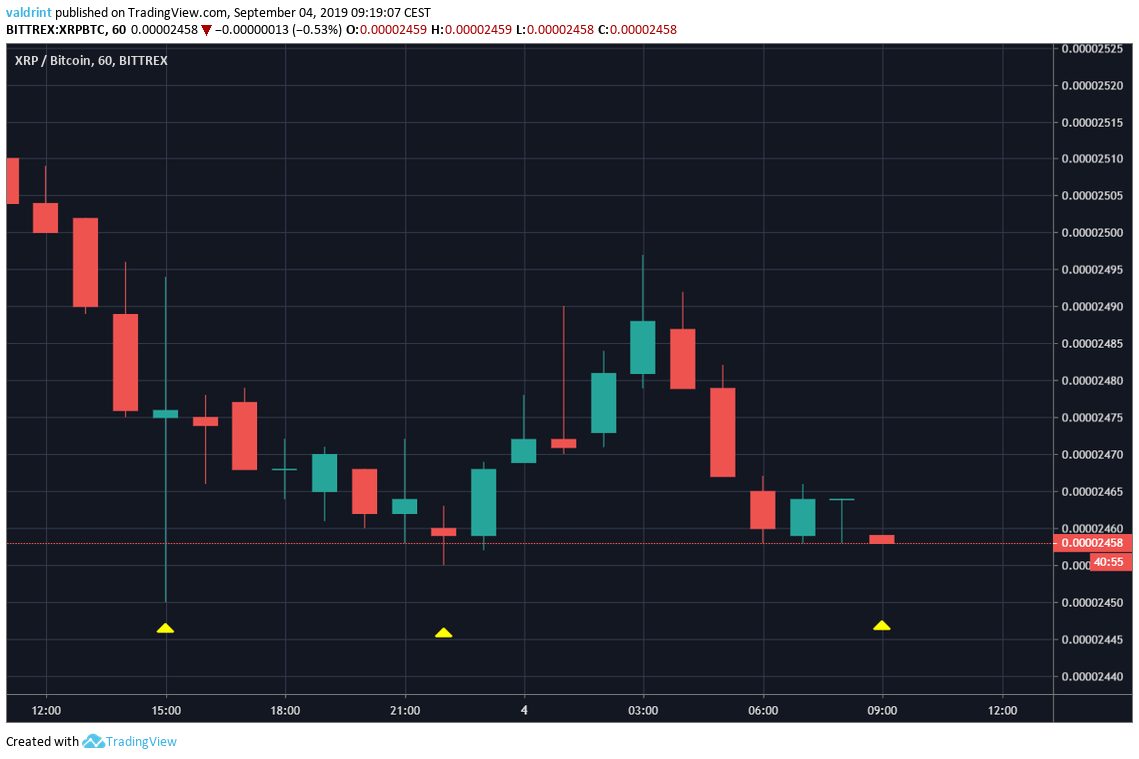 First, on September 3, XRP created a bullish doji, with the bottom of the lower wick at 2450 satoshis.
It reached the same level later that day, before initiating an upward move.
Afterward, the XRP price made a similar low for the third time.
A look at the RSI shows that, during these three almost identical lows, the RSI generated consistently higher values.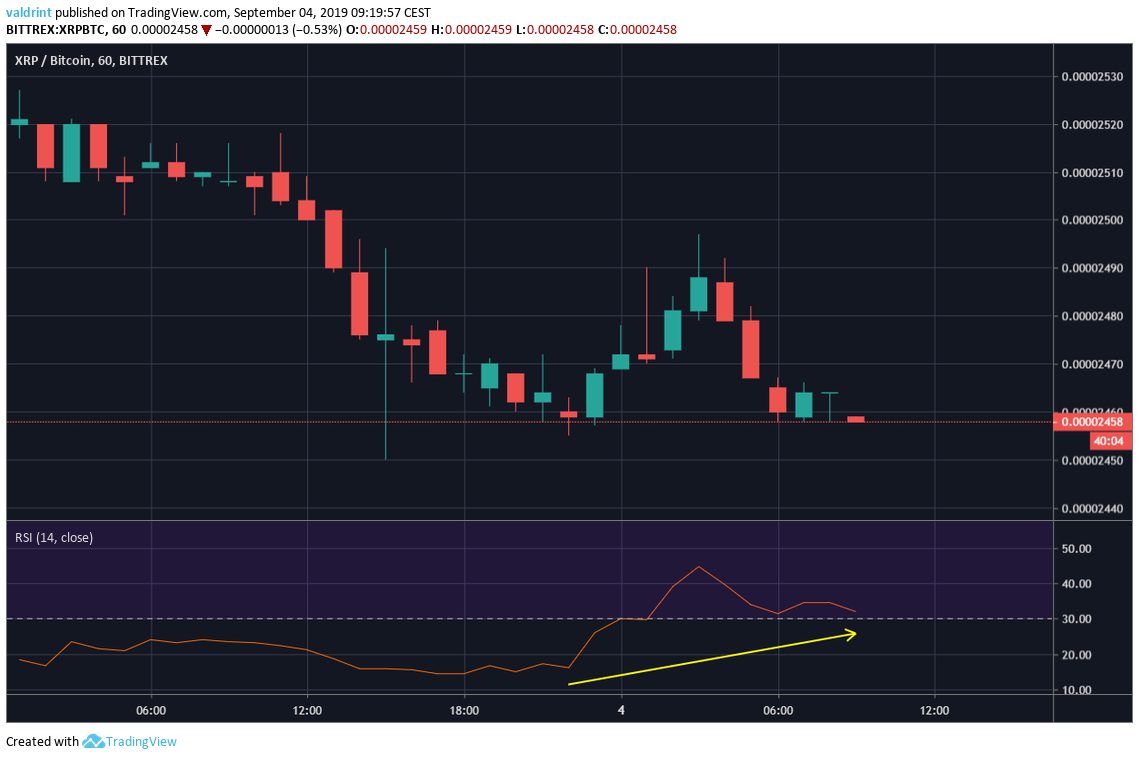 While the divergence is not very significant and only present in one indicator, when combined with our previous analysis, it makes us believe that XRP will soon begin an upward move.
Reversal Areas
If the XRP price begins to increase, one resistance area is outlined below.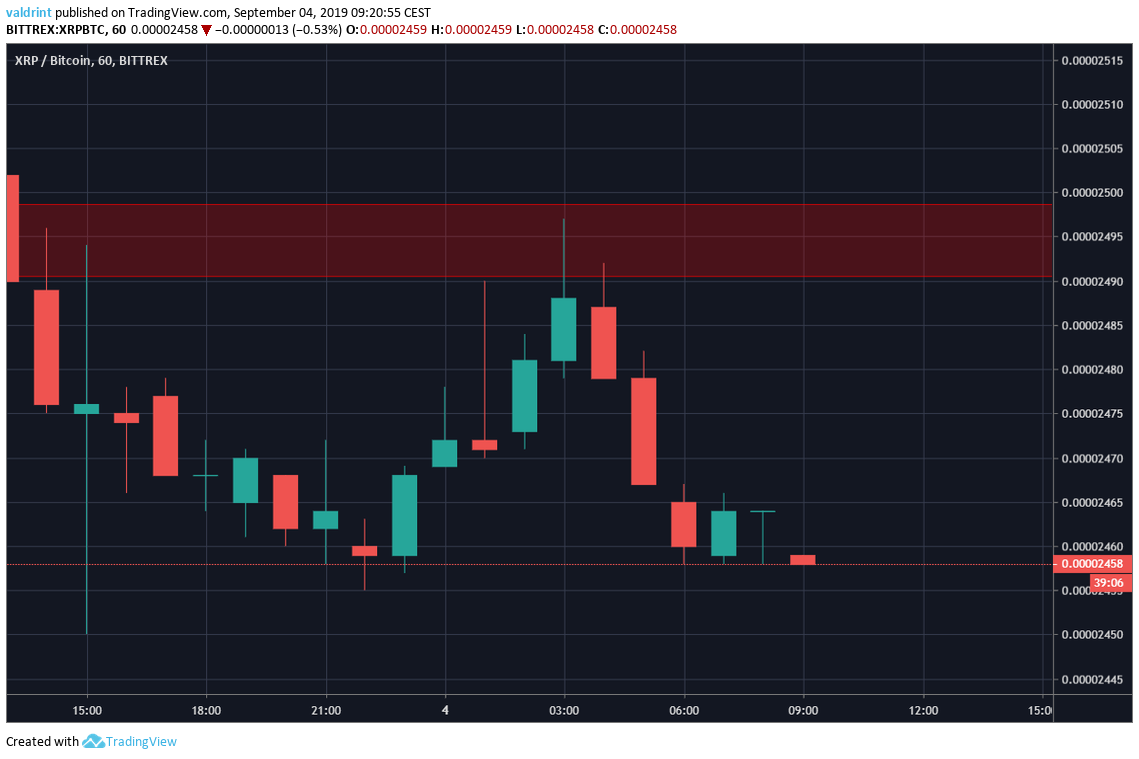 It is found near 2500 satoshis.
According to our analysis, XRP is likely to reach it.
Summary
The XRP price has made a double/triple bottom in both long and short-term time-frames.
According to our analysis, it is likely to soon initiate an upward move and reach the resistance area outlined above.
For trading purposes, I would consider initiating a long on XRP in short to medium-term time-frames, with the goal of locking in profits within the next 3-4 days.
The use of a stop loss below 2400 satoshis would be recommended.
Do you think XRP will begin an upward move? Let us know in the comments below. 
---
Disclaimer: This article is not trading advice and should not be construed as such. It is for educational purposes only and represents the typical trades the author would make himself. Always consult a trained financial professional before investing in cryptocurrencies, as the market is particularly volatile.
Images are courtesy of Shutterstock, TradingView.
---
Do you want to BeInCrypto? Join our Telegram Trading Community for exclusive trading signals, educational content, discussions and project reviews! Images courtesy of Shutterstock, Trading View and Twitter.