A look at on-chain indicators for Bitcoin (BTC), more specifically Spent Output Profit Ratio (SOPR) and Coin days destroyed (CDD), in order to gain a more accurate insight about the current market movements. 
SOPR is showing readings similar to those on Feb. 2018, when the market was mired in a long-term correction.
SOPR in 2017
SOPR measures the aggregate state of profit or loss in the market. Simply put, it is created by the ratio of the selling price over the buying price for every single output. If it shows a value above one, it means that the market is in profit and vice versa. The adjusted SOPR (aSOPR) removes transactions that have a lifespan smaller than one hour.
A characteristic of the 2017 bull market was that the SOPR stayed consistently above 1 for the entirety of the bull run, returned to the line four times and bouncing (black arrows). The first break below this line occurred on Jan. 19, 2018. Afterwards, the indicator stayed below 1 for 27 days, before finally moving above the line.
This led to a peak of 1.023 on Feb. 22, 2018. In hindsight, this was the relief rally prior to the continuation of the long-term correction.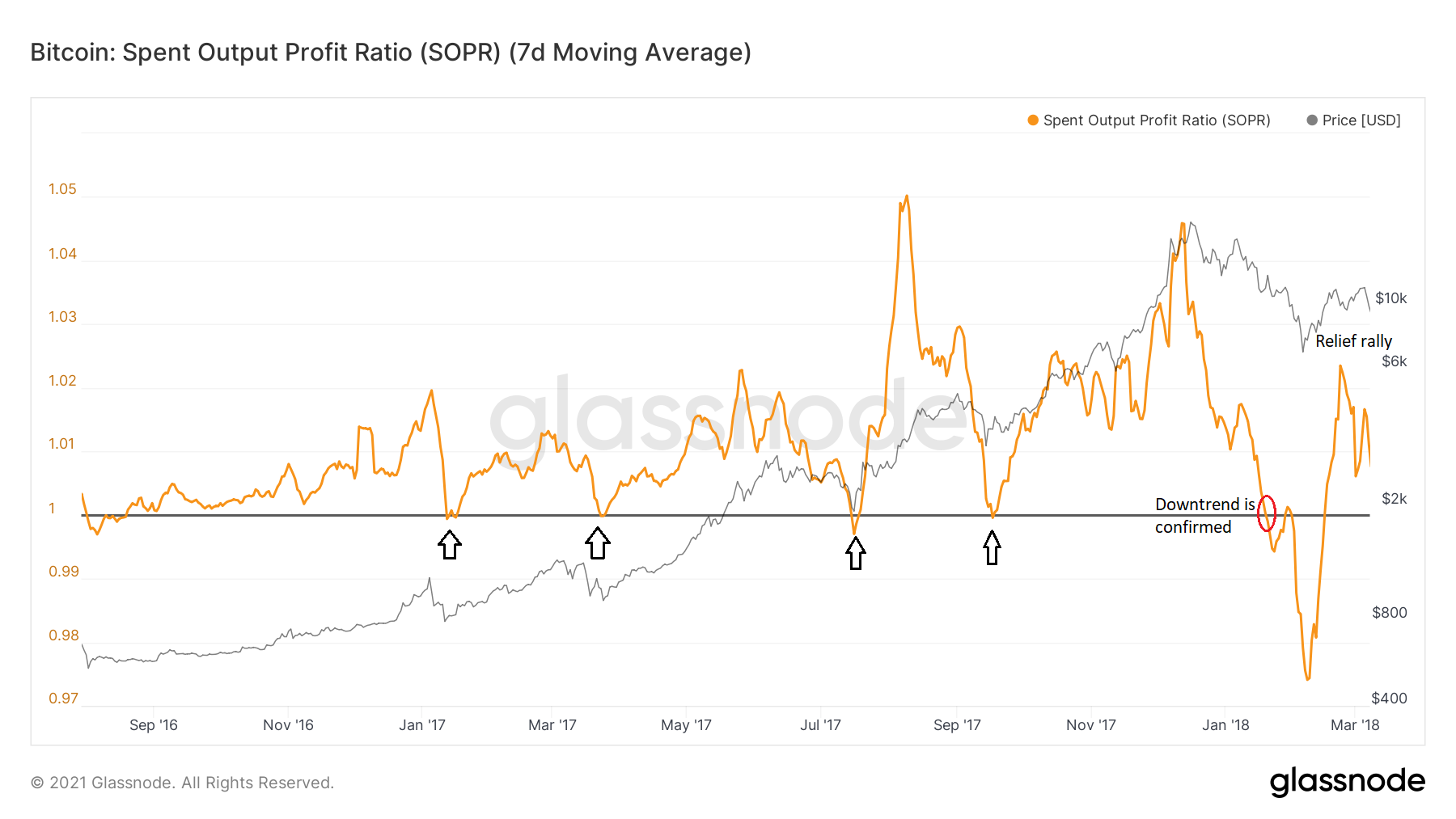 During this time, SOPR moved above and below 1, indicative of an undetermined trend. This movement continued until the March 2020 low.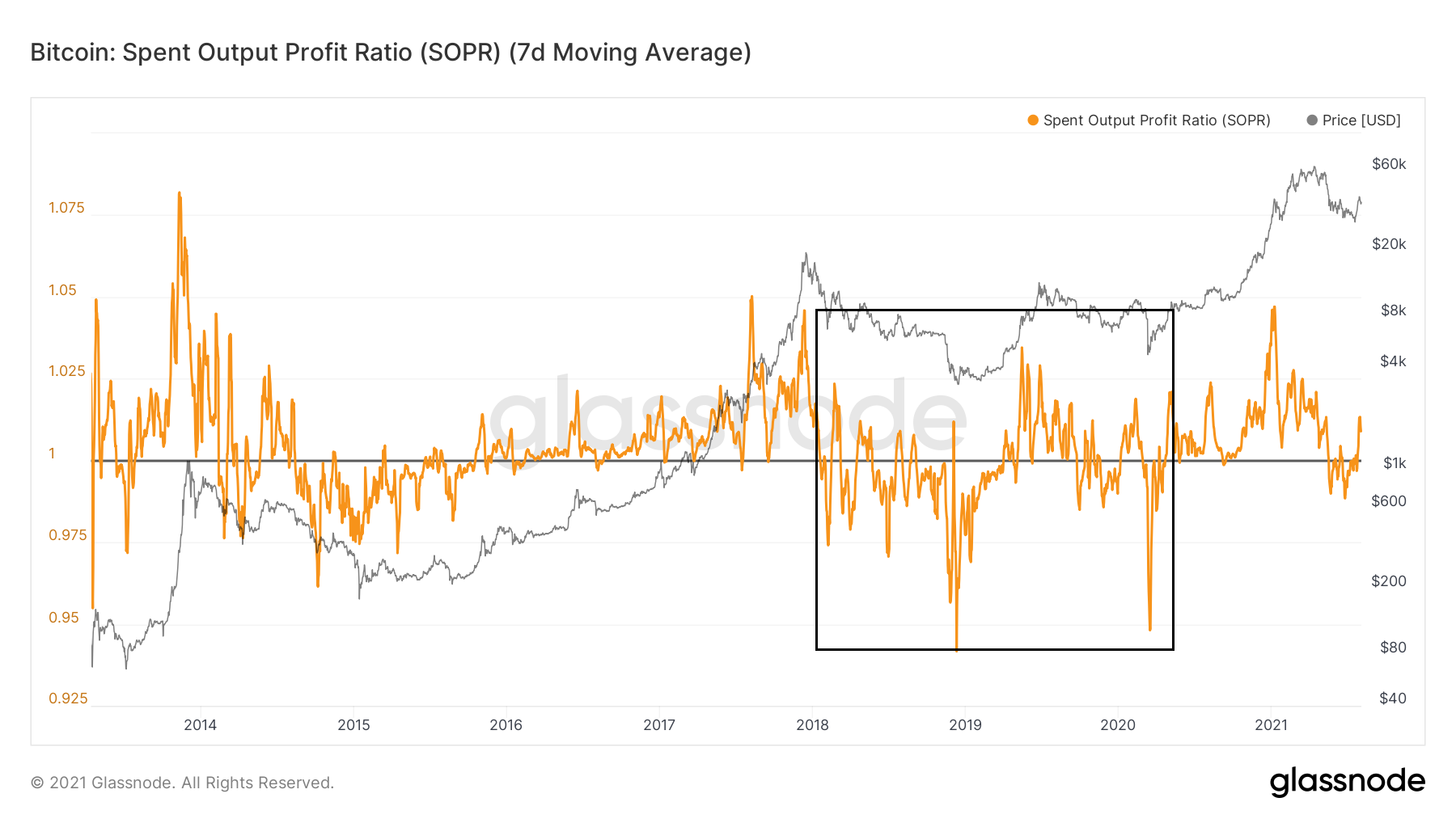 Current movement
The 2020/2021 bull run had very similar traits to the 2017 one. Similarly, SOPR bounced thrice at the 1 line (black arrows). 
Afterwards, it broke down below 1 on May 17, 2021 and stayed below the line for nearly 60 days, more than twice as long as it did in 2017.
Afterwards, it moved above 1 on July 26 and has reached a high of 1.013 so far, close to the 1.023 high from 2020. 
Therefore, the movement of the SOPR indicator does share similarities with that transpired in Feb. 2018, when the market was in a long-term correction.
The fact that the market is at a critical point is also visible when looking at the Relative Unrealized Profit/Loss indicators, which measures the sentiment of investors by using the market and realized capitalizations.
This was shown by analyst @Positivecrypto, who noted that the current reading is analogous to both the "Optimism" and "Denial" phases in the market cycle.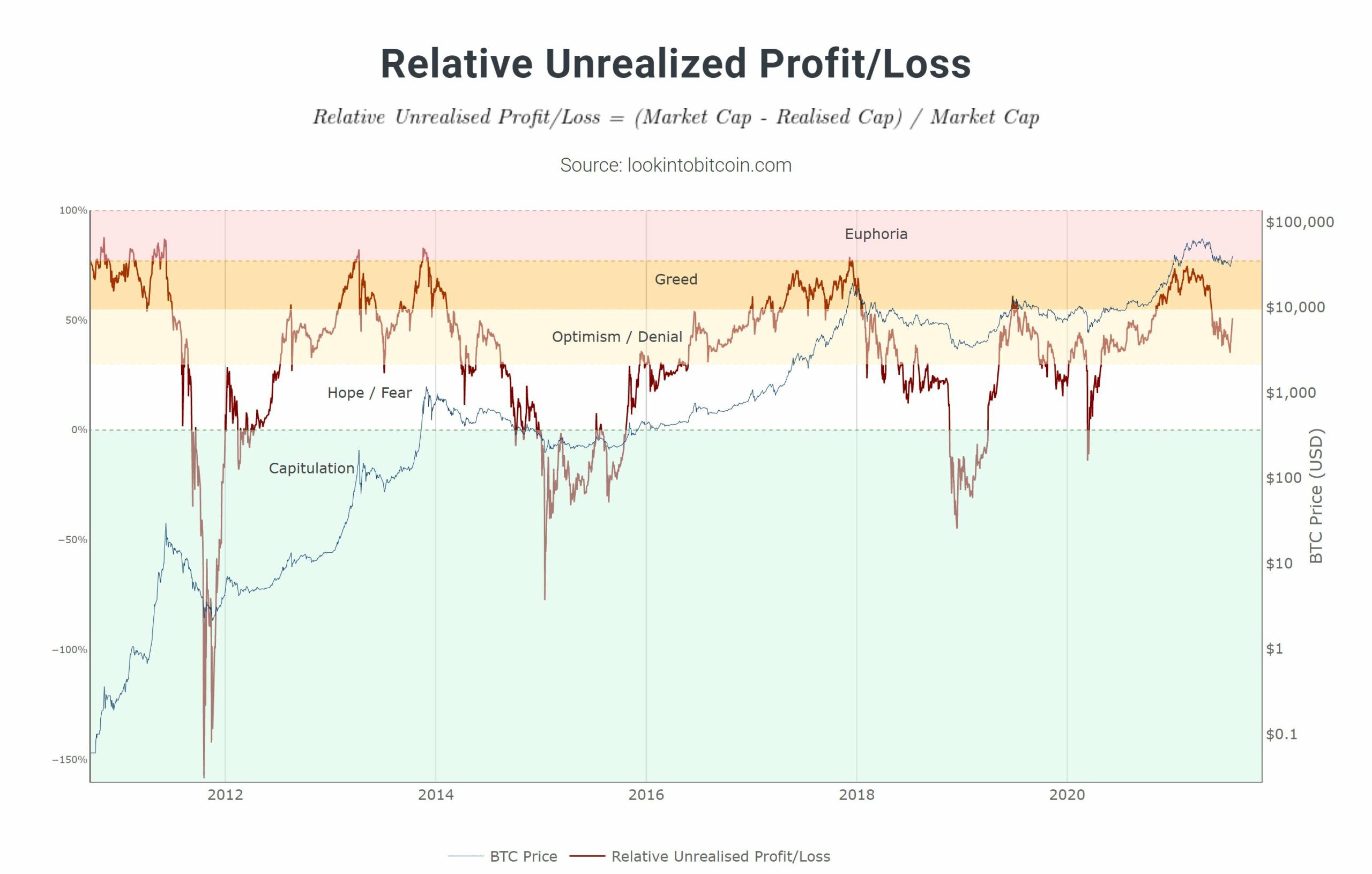 For BeInCrypto's latest bitcoin (BTC) analysis, click here.
Disclaimer
All the information contained on our website is published in good faith and for general information purposes only. Any action the reader takes upon the information found on our website is strictly at their own risk.