The cryptocurrency market is once again in the grips of bearish forces as the global crypto market capitalization shrinks by 1.5% in the last 24 hours.
To the disappointment of meme coin enthusiasts, Pepe remains unable to break its strong correlation with Bitcoin prices. As BTC plunges by over 2% in the last 24 hours, $PEPE prices turn red as well. 
On the other hand, a few new meme coins continue to outperform the crypto market with bullish momenturm. The explosive price growth displayed by $COPIUM and AiDoge highlights that these high-utility tokens may be able to maintain momenturm that's been lost by other trending meme coins.
Pepe Price Slides, Is the $PEPE Phenomenon Dead?
The Pepe token is credited with kickstarting the current meme coin season and bringing their growth prospects back into the limelight. $PEPE surged over 8000% after launch, turning several small investors into millionaires in a matter of few weeks. A trader with the pseudonym dimethyltryptamine.eth generated over 5,000,000% profits worth over $12 million. 
Pepe's success has inspired traders to search for alternate tokens that have the same growth potential. Several tokens such as Turbo, Sponge and Floki have surged in the wake of Pepe's remarkable rally.
However, as Pepe's market cap ballooned over $1 billion, the meme coin has shown a strong correlation to the broader crypto market. Instead of continuing the bullish momentum, $PEPE prices take a heavy toll during the bear market. The meme coin has plummeted over 5% in the last 24 hours, with its technical analysis pointing to a difficult road ahead.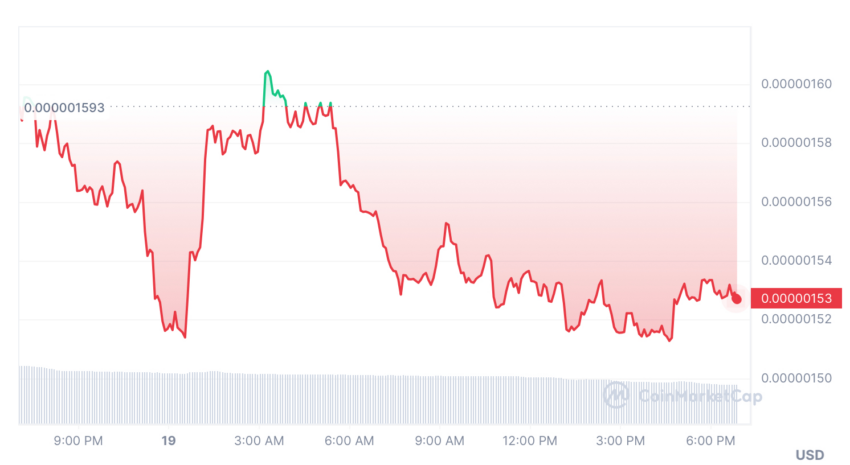 TradingView, a technical analysis platform, gives a SELL signal to $PEPE in the daily time frame. The token is currently underperforming both the 10-day exponential and simple moving averages. Furthermore, the 20-day simple moving average and the Hull Moving Average highlight the token's poor growth prospects in the near future.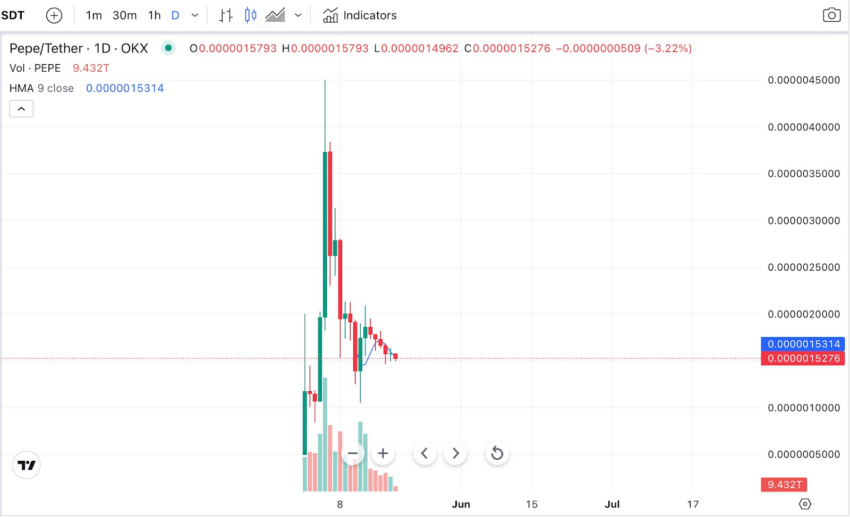 Pepe is expected to receive a boost from the fast-paced developments in its ecosystem. After Binance, several other platforms such as Ledger, Kraken Exchange, Gemini, etc. are listing the token. Furthermore, LayerZero Lab has developed a new bridge that enables traders to move $PEPE across Ethereum, BNB and Arbitrum networks. 
However, a recent report by Santiment, an on-chain data analysis platform, highlights the deficiencies that are hampering Pepe's bull rally. The report suggests that Pepe is receiving almost no support from retail participation. 
On the other hand, Dogecoin and Shiba Inu's ascent to the top of the meme coin market is marked by several boosts from strong retail participation. Furthermore, Dogecoin's bull movement saw the token hit trading volumes of $70 billion, compared to just $2 billion for Pepe.
Investors remain optimistic that Pepe still has plenty of unrealized potential which will come to fruition during favourable economic conditions. Dogecoin's explosive growth took place during a broader crypto bull market while Pepe's rally has been mired with bearish sentiments and low liquidity from market makers.
Nevertheless, investors are scurrying to find other meme coin investment opportunities as Pepe continues to underperform its expectations.
$COPIUM Explodes After Successful Launch, Hailed as the Next Pepe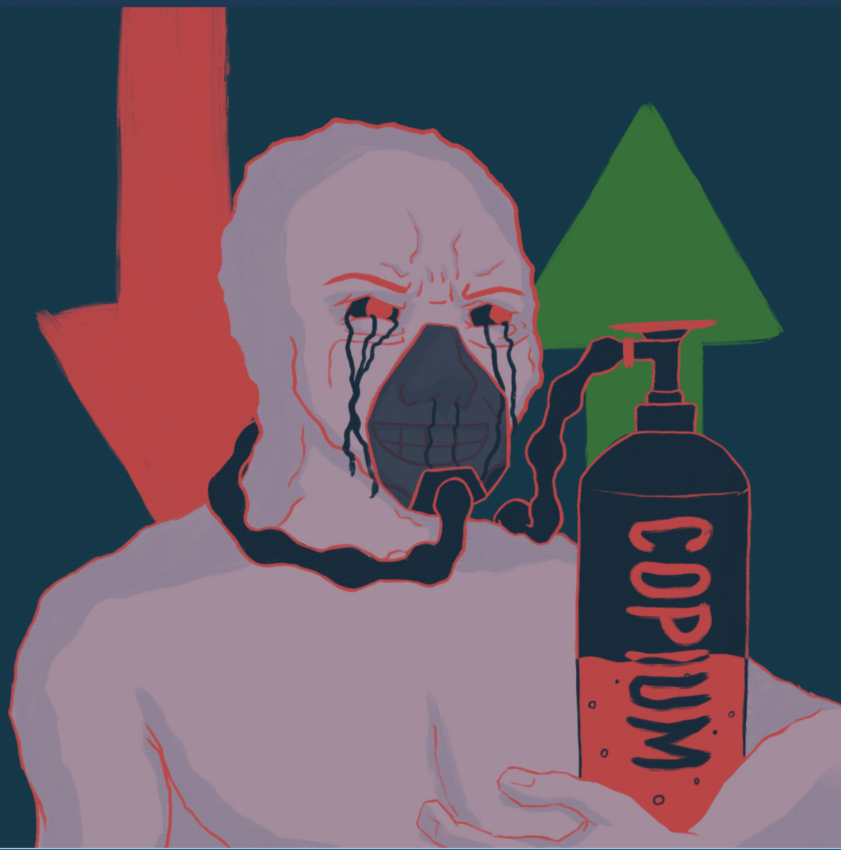 While many tokens struggle, the $COPIUM token has shown an explosive price movement reminiscent of Pepe after a successful launch on Uniswap earlier this week.
The token, which launched at the price of $0.001312, surged to $0.01625 showing a growth of over 1100% in less than 24 hours. The token has corrected to $0.009878 since then, as shown on Dextools, with a total market capitalization of $9.09 million and liquidity of $4.00 million.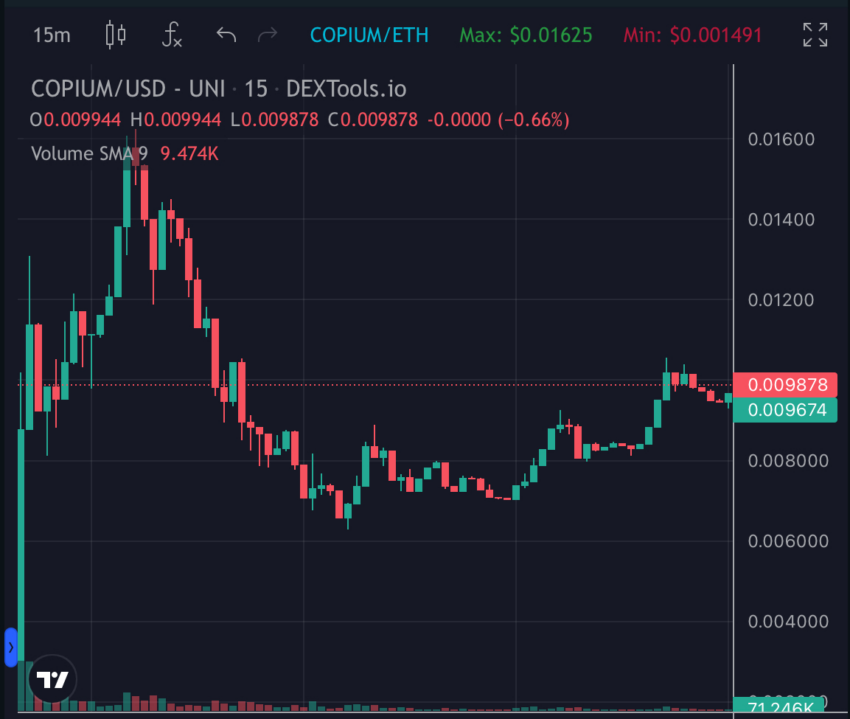 The $COPIUM meme coin is catching fire on social media due to its unique goal. In the meme culture, the word copium refers to holding on to a desperately optimistic view of a dire situation. Considering the volatility of the crypto market, many traders can relate to this sentiment.
$COPIUM's social media is already buzzing with many traders who either missed out on a significant opportunity or suffered heavy losses. The project makes light of such a situation through a sense of community and hilarious memes. The project believes that heavy profits can be generated by harnessing the power of humour and the community.
After Uniswap, the token is now also listed on various centralized exchanges such as LBank, MEXC and Poloniex. An expanding community and ease of access are bound to boost the meme coin's price. Copium's invite-only presale is also helping the project gain enormous traction.
Copium tapped several popular social media influencers, many of whom have over 100k followers, to invest in the token. These influencers will not only act as the meme coin's investors but also as their brand ambassadors. Copium already has close to 17k followers on Twitter, less than 24 hours after launch.
The token is already piquing the interest of a few whales. The Dextools platform shows that several Copium purchases worth over $20k were made in the last 24 hours. Meanwhile, Dextools analyses the Copium project across various parameters and gives it a positive score of 72 out of 99.
Users can purchase $COPIUM by connecting their wallets to the Uniswap portal and swapping popular tokens such as ETH.
AIDOGE Continues Huge Momentum with Over $9.5m Raised in Presale
Another new meme coin with bullish momentum is $AI, the native token of revolutionary meme generation platform AiDoge, which is receiving strong interest from investors as it continues to dominate the presale. 
The $AI presale has already raised over $9.6 million and is incredibly close to hitting the $10 million mark. $AI is currently trading at $0.0000312 and will launch at $0.0000336.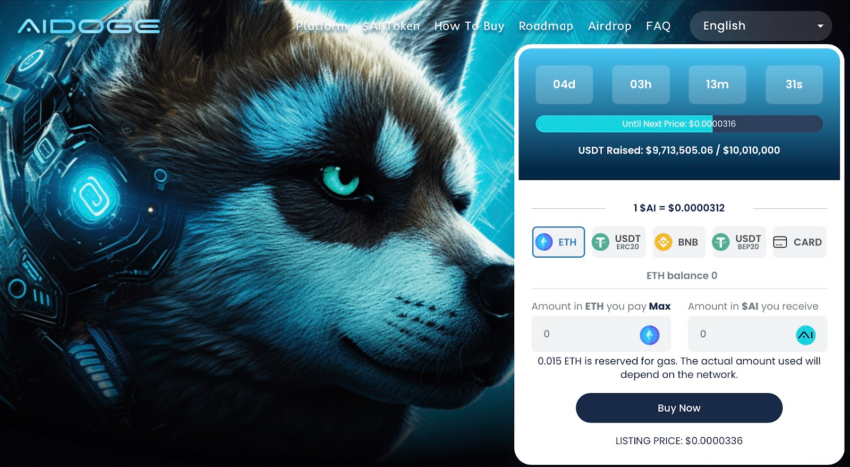 AiDoge leverages advanced artificial intelligence algorithms to offer an innovative meme generation solution to users as well as other crypto projects. The algorithms are trained on an extensive meme dataset and crypto news and ensure that users receive high-quality and relevant memes. 
AiDoge allows users to purchase $AI tokens by connecting their crypto wallets and swapping ETH or BNB to receive the tokens. The incorporation and support of BNB during its presale makes $AI a strong contender for a Binance listing. The odds of a potential listing increase due to AiDoge's real-world utility of helping crypto projects reach several key demographics such as young crypto traders using memes.
Investors are also recognizing the project's commitment to security and long-term excellence. The token's smart contract will be audited by Certik to prove its adherence to proper security standards. Furthermore, 25% of the $AI tokens will be vested with the company to insulate investors from any rug pulls.
AiDoge is also taking strong steps to further increase user adoption. $AI holders are eligible to receive exciting rewards by staking $AI or voting on the AiDoge platform. Furthermore, supporters of the project are eligible for a 50 billion token airdrop. Users simply need to purchase the meme coin during its presale and receive a unique, shareable referral link.
Based on the amount raised through the link, users will earn a share of the 50 billion tokens available.
Disclaimer
This article is sponsored content and does not represent the views or opinions of BeInCrypto. While we adhere to the Trust Project guidelines for unbiased and transparent reporting, this content is created by a third party and is intended for promotional purposes. Readers are advised to verify information independently and consult with a professional before making decisions based on this sponsored content.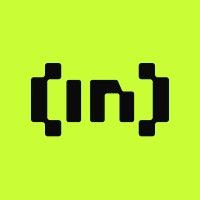 BeInCrypto Team comprises a diverse group of experienced journalists, analysts, and crypto enthusiasts dedicated to delivering the latest news, insights, and analyses in the...
BeInCrypto Team comprises a diverse group of experienced journalists, analysts, and crypto enthusiasts dedicated to delivering the latest news, insights, and analyses in the...
READ FULL BIO
Sponsored Sponsored