The meme coin market has been on a wild ride in recent weeks, with some coins posting massive gains while others have crashed.
Pepe ($PEPE), one of the most popular meme coins, has fallen into the latter camp – seeing its price tank as investors seek more promising alternatives.
However, several new meme coins are withstanding the tide and generating immense buzz – with Wall Street Memes ($WSM) and AiDoge ($AI) being the two most prominent examples.
$PEPE Continues to Drop as Investors Seek Alternative Meme Coins
According to CoinMarketCap, $PEPE is now trading 76% below its all-time high – underscoring the token's incredible fall from grace.
Amid the meme coin mania of late April and early May, $PEPE dominated conversations, which helped push it to a market cap of over $1.5 billion at its peak.
However, Pepe's heyday was fleeting, and the token crashed during the past four weeks as investors chose to secure profits while the price was still high.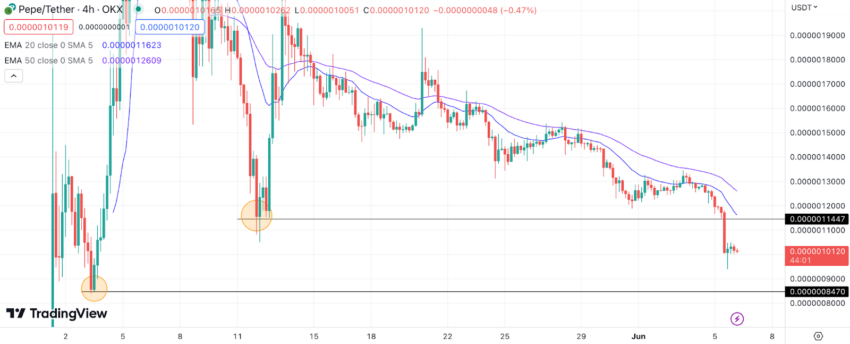 A recent tweet from Lookonchain revealed that large investors, also known as "whales," were selling their $PEPE holdings – typically viewed as a hugely bearish signal.
Not only that, but many of these whales were liquidating their positions at a loss, highlighting their pessimism regarding a potential price reversal.
From a technical perspective, $PEPE has fallen below the crucial support zone at $0.0000011, which propped up price on May 12.
The break below this zone has been aggressive, with price now forming a bear flag on the 4H time frame – hinting that another sharp drop is imminent.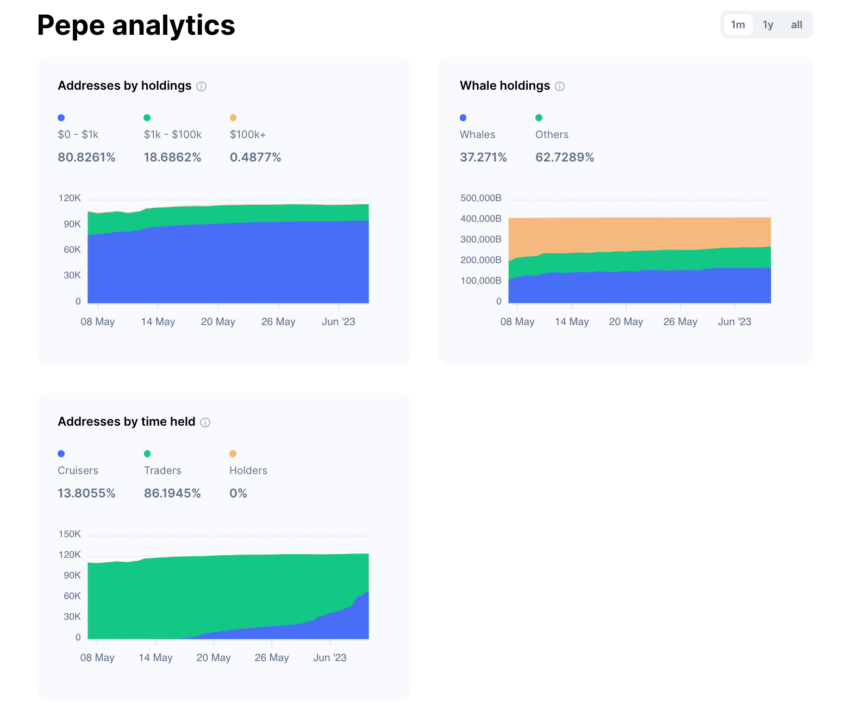 Adding even more fuel to the fire is the SEC's recently-announced lawsuit against Binance, which has caused chaos in the market.
Although there's no telling how this lawsuit will play out, many in the crypto community speculate that Binance could face severe trading restrictions in the US if it doesn't go in their favor.
This uncertainty has prompted a wave of bearish momentum in the market, with the meme coin niche unable to evade it.
Consequently, the $PEPE price has been pushed down even further – and with no end to the downtrend in sight, investors may have to brace themselves for continued volatility.
Wall Street Memes Presale Explodes in Popularity & Raises $4.4 Million
Despite this gloomy scenario in the meme coin market, some new projects are outperforming – with Wall Street Memes ($WSM) being one of the most talked-about.
$WSM has demonstrated incredible resilience over the past week, surpassing the $4.4 million milestone in its ongoing presale phase.
In contrast to the broader meme coin niche, Wall Street Memes continues to gather momentum as investors clamor to buy tokens while they're available at a low price point.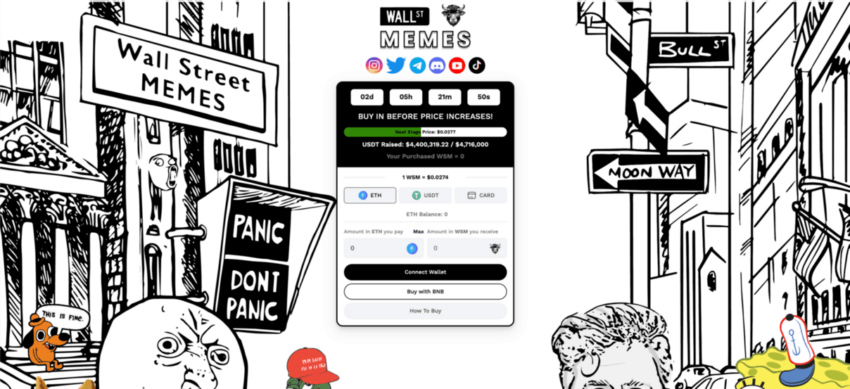 Investors can purchase $WSM through the current presale stage for just $0.0274 – significantly lower than the final stage price.
This exciting setup has prompted immense buzz around the Wall Street Memes project, with the official Telegram channel quadrupling in size over the past week.
The Wall Street Memes team has also been very active in promoting the project, opting to launch a lucrative airdrop setup whereby five lucky community members will each win $10,000 worth of $WSM.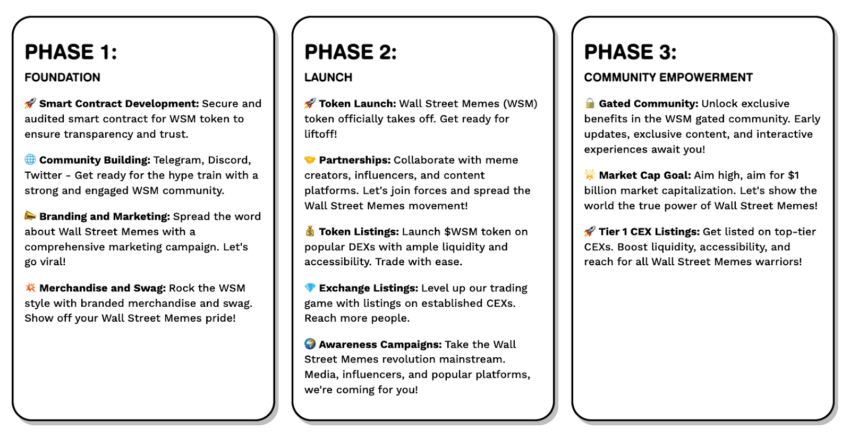 Moreover, the team has added several exciting plans to the project's roadmap – including tier-1 CEX listings, collaborations with prominent crypto influencers, and even an exclusive "gated community."
Some influencers have already got in on the act, with well-known crypto YouTuber Jacob Bury, who boasts nearly 18,000 subscribers, revealing that he invested $3,000 in the Wall Street Memes presale.
Overall, this promising new meme coin project has the potential to make waves in the market – and with investors continuing to pile into the presale, there's no doubt that $WSM has a bright future ahead.
Visit Wall Street Memes Presale
New Meme Coin AiDoge Gears Up for CEX Listings After Raising $14.9m
Another meme coin that's making headlines during the ongoing market turmoil is AiDoge ($AI).
AiDoge is an innovative meme coin project that effortlessly combines a hilarious aesthetic with artificial intelligence concepts – thereby creating a unique offering that's captured the attention of investors worldwide.
Unlike Wall Street Memes, AiDoge has recently ended its presale after hitting its fundraising goal of $14.9 million in just over one month, highlighting the exceptional response from investors.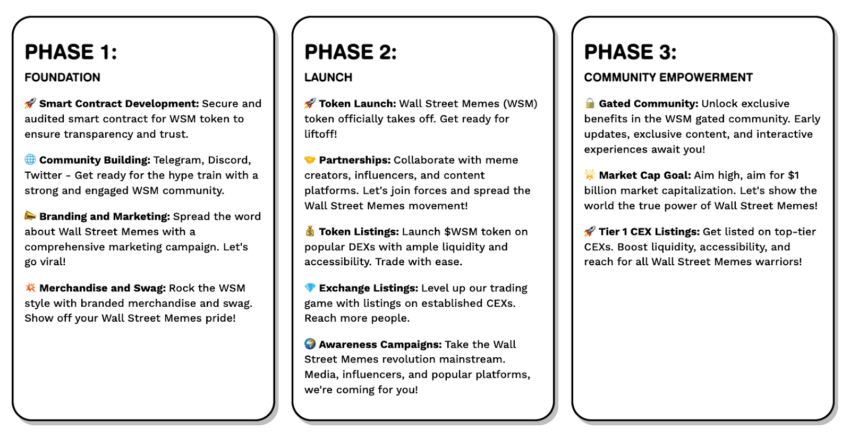 Now, AiDoge's team is getting ready to launch the $AI token on CEXs on June 16 – an event sure to spark excitement and anticipation within the crypto community.
However, although the project's presale has ended, AiDoge's developers are offering one final chance for investors to buy $AI tokens ahead of these listings at the final stage price of $0.0000336.

This final opportunity to acquire $AI at a potentially low rate has created a buzz among AiDoge's Telegram community – with many investors theorizing that this might be the lowest price point for $AI before it makes its official appearance on exchanges.
With the token's debut just around the corner, AiDoge is poised to become one of the biggest meme coin launches of 2023 – potentially transforming the market's landscape.
Disclaimer
This article is sponsored content and does not represent the views or opinions of BeInCrypto. While we adhere to the Trust Project guidelines for unbiased and transparent reporting, this content is created by a third party and is intended for promotional purposes. Readers are advised to verify information independently and consult with a professional before making decisions based on this sponsored content.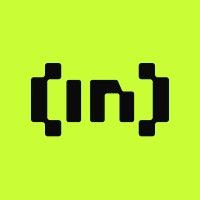 BeInCrypto Team comprises a diverse group of experienced journalists, analysts, and crypto enthusiasts dedicated to delivering the latest news, insights, and analyses in the...
BeInCrypto Team comprises a diverse group of experienced journalists, analysts, and crypto enthusiasts dedicated to delivering the latest news, insights, and analyses in the...
READ FULL BIO
Sponsored Sponsored