The last day has been a rollercoaster ride for followers of meme cryptocurrencies, marked by a series of key developments that grabbed the spotlight.
BEN Coin ($BEN) led the rally, with its price skyrocketing by 94% overnight, peaking at a monumental $0.000000156.
But $BEN wasn't the only meme coin stirring up the market. AiDoge ($AI) and Copium ($COPIUM) weren't far behind, making their own headline-worthy announcements that aroused investor curiosity.
Newcomer BEN Coin Makes a Splash – But Can This Momentum Be Sustained?
BEN Coin is the latest project to make waves in the rapidly-evolving meme coin niche.
Having only launched a few weeks ago, $BEN has already posted an all-time high of $0.000000188 on May 9, per CoinMarketCap.
This achievement thrust it into the limelight, convincing MEXC, one of the largest global crypto exchanges, to list $BEN on May 12, which sparked a slight uptick in price.
However, this pales in comparison to the bullish wave experienced in the past 24 hours.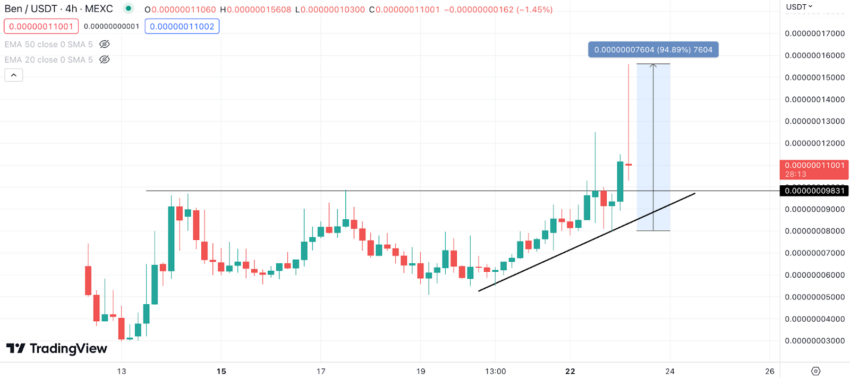 At the time of writing, there's no apparent reason for $BEN's 94% price pump. This hasn't fazed early BEN Coin investors, who have generated exponential returns over the past few weeks.
However, BEN Coin's official Twitter account hasn't tweeted since May 11, except for retweeting a post from Ben Armstrong, the mind behind the BitBoy Crypto YouTube channel.
The retweeted post disclosed that Armstrong would be assuming the reins from ben.eth, the project's original creator.
Aside from that, there has yet to be any movement regarding utility or tokenomics changes. Per Etherscan.io, the total supply of $BEN remains constant at 420,690,000,000,000, with a little over 17,100 token holders.
This gives $BEN a fully-diluted market cap of $52,688, placing it ahead of recently-trending meme coins like Milady Meme Coin and Doge Killer.
All in all, the dramatic price increase of $BEN appears somewhat mysterious, given the absence of a clear trigger – so it remains to be seen if $BEN can maintain its upward trajectory or if this surge is merely fleeting.
AiDoge's Combination of AI & Memes Sparks Presale Frenzy & Raises $12 Million
While $BEN continues to pump, meme coin sensation AiDoge ($AI) is also making significant strides, this time in the presale market.
Within the past few hours, AiDoge has just breached the $12 million mark during its presale phase – all in less than one month.
The buzz around AiDoge's presale has been nothing short of spectacular, with investors clamoring to buy $AI tokens while they're still being offered at a discount relative to the planned CEX listing price.
A solid community has also formed around the AiDoge project – with over 34,000 people following its official Twitter page.
The extraordinary trajectory of AiDoge hasn't gone unnoticed by heavyweights in the social media arena.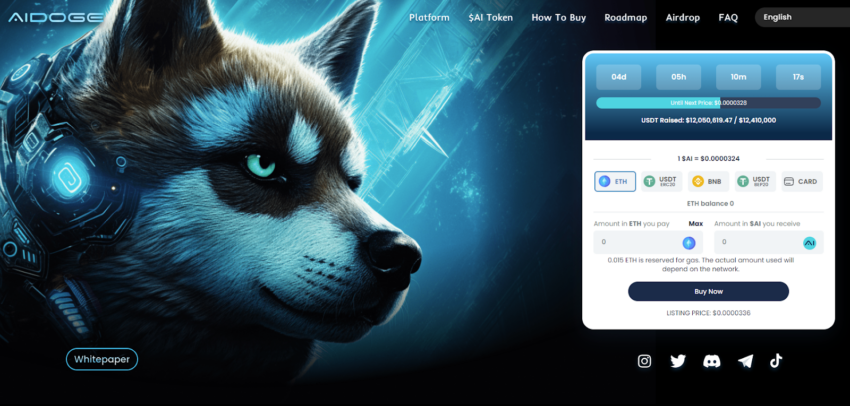 Michael Wrubel, who boasts over 310,000 subscribers on YouTube, put out a video revealing that he'd invested in the AiDoge presale – and that he's highly optimistic about its future.
Similarly, crypto influencer Jacob Bury shared a video to his 16,900+ subscribers, detailing how he believes the $AI price could "pump 10x" upon its exchange listing.
The bullishness of these two well-known figures in the crypto community stems from AiDoge's fusion of artificial intelligence concepts and a catchy "Doge-style" design.
As detailed in its whitepaper, AiDoge will also feature a first-of-its-kind meme generator, where users can instantly create memes using text-based prompts – no caption or photo-editing experience is required.
Excitingly, AiDoge also has a built-in earnings protocol allowing users to receive $AI tokens as a reward for creating popular memes. These $AI tokens can then be used to create more memes – thereby creating a circular economy.
Meme coin lovers will be keeping an eye on how AiDoge's roadmap unfolds over the coming months – if it manages to replicate the resounding success of its early presale phase, then $AI investors are certainly in for an exciting ride.
Copium's Upcoming Token Burn Ignites Market Excitement
Another intriguing player in the meme coin sphere is Copium ($COPIUM).
Last week, Copium made a striking debut by listing on the Uniswap DEX and skyrocketing over 800% within a few hours.
This propelled the $COPIUM price to a high of $0.0162 – yet this high was short-lived, and the token has pulled back over the past four days.
However, the "Copium Club" is getting excited once more, as Copium's developers tweeted a few hours ago that there will be a colossal token burn today, set to kick off at 6pm CET (4pm UTC).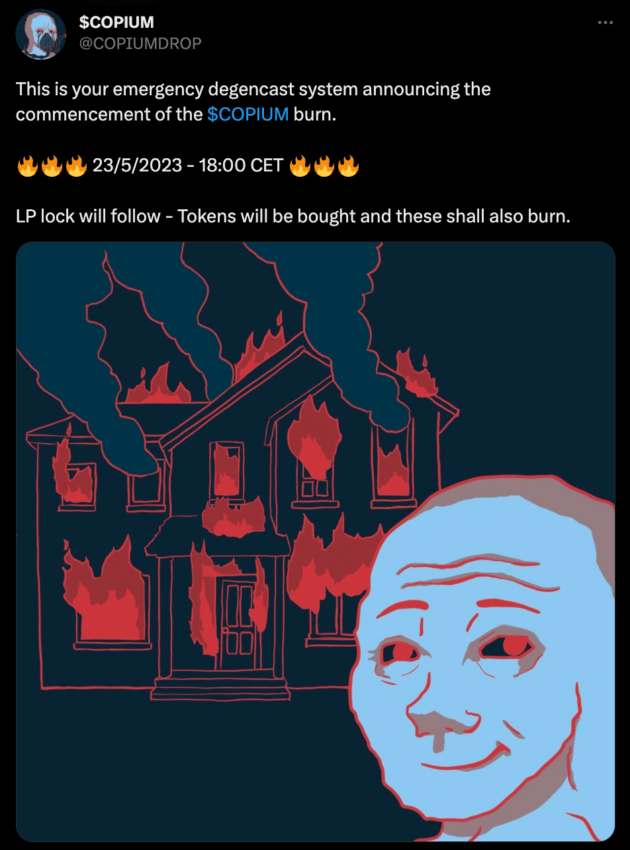 This event will permanently eliminate 30% of the total token supply – a staggering 300 million $COPIUM.
Naturally, this decreases the circulating supply of $COPIUM, making the remaining tokens scarcer and potentially more valuable. Assuming that token demand holds steady, this could provoke a notable surge in price.
Token burns are typically well-received by the broader market as they highlight a developer's commitment to amplifying value for current token holders.
This token burn has got the Copium Telegram community buzzing, with many members speculating that $COPIUM could 10x once it has concluded.
As the clock ticks down towards this token burn, optimism surrounding $COPIUM is rising – marking it as a meme coin to watch closely over the next 24 hours.
Disclaimer
This article is sponsored content and does not represent the views or opinions of BeInCrypto. While we adhere to the Trust Project guidelines for unbiased and transparent reporting, this content is created by a third party and is intended for promotional purposes. Readers are advised to verify information independently and consult with a professional before making decisions based on this sponsored content.