NFTs are a revolutionary new form of art that is taking the world by storm. With their popularity exploding into the mainstream, it might be worth knowing how to make and sell NFT art. This can even be done for free on some of the most popular NFT marketplaces. In this step-by-step guide, we'll walk you through everything there is to know about minting digital assets into NFT art.
Most popular platforms to manage tokenized art
To hold NFT
Wirex
Free non-custodial cross-chain wallet for NFTs & DeFi

Explore platform
on Wirex's official website
Limited time offer
$15 refer-a-friend bonus
Earn interest
up to 20% APR
To trade art fractions
Angelo App
Diversify your portfolio with real art fractions

Explore platform
on Angelo's official website
Limited time offer
Airdrop of art fractions
To trade NFT
OKX NFT Marketplace
Decentralized market offering NFT trading cards & more
Explore platform
on OKX's official website
Limited time offer
Airdrop up to $10,000
What is NFT minting?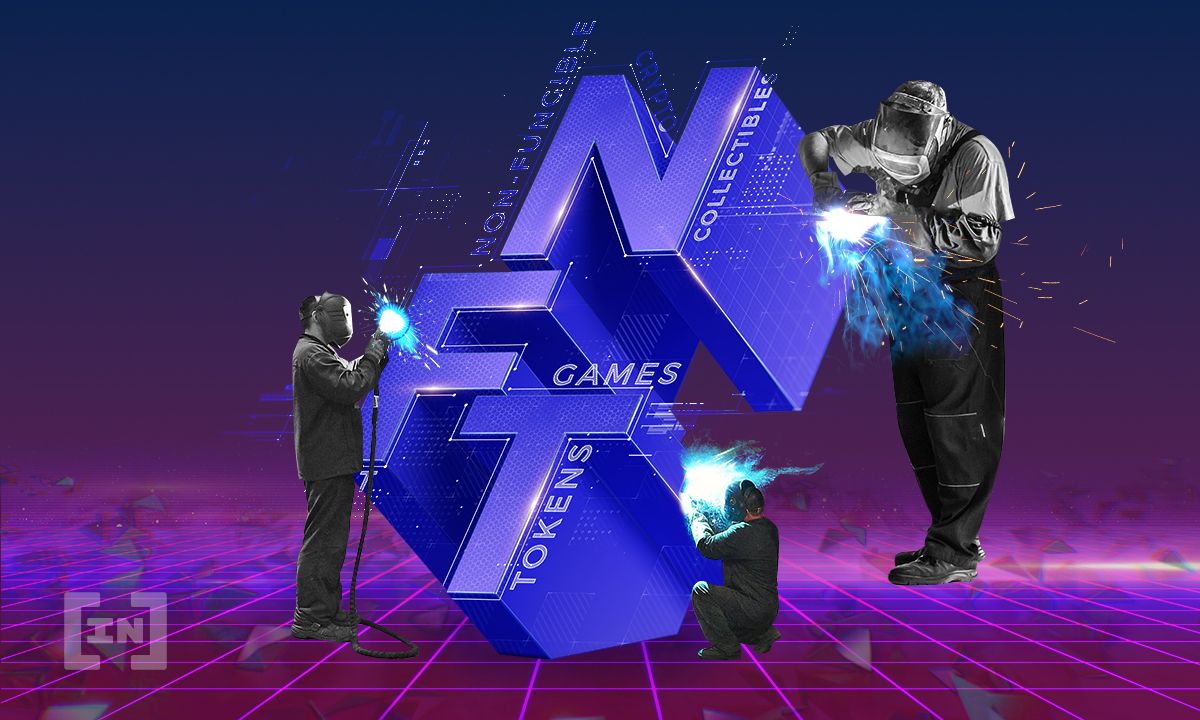 NFT stands for Non-Fungible Token, and it is used to prove ownership over a specific asset. Generally, we're referring to digital assets when talking about them. NFT minting simply refers to creating it on the blockchain.
What can an NFT be? Basically, anything we have and own in the digital space can be minted into an NFT. It can be a tweet, digital artwork, or even a music album, but the most successful ones we've seen in 2021 have been art collections.
With the help of blockchain technology, artists from anywhere in the world are able to reach art collectors and sell their work in a secure way. The best news about this is that anyone can create and learn how to sell NFT art.
But the process of tokenizing a digital asset, or NFT minting, incurs a dreadful gas fee. Most of them are created on Ethereum, so we will talk about minting on Ethereum. But the popular network has one huge downside when it comes to transactions and gas fees, in general, high gas fees. This will be a pain point until the network shifts to Ethereum 2.0.
While the process of minting an NFT isn't much different than uploading a piece of content on a streaming platform, the gas fee isn't a negligible amount, and it can vary over time. We recommend checking out the current Ethereum gas fee prices on Etherscan before minting and executing transactions.
For minting and creating, you will need a cryptocurrency wallet, such as MetaMask, and some ether (ETH) to pay for the gas fees. However, in this guide, we'll be showing you how to create and sell NFTs for free using both Ethereum and Polygon blockchains.
Minting NFTs for free
To get into how to make and sell NFT art, you need to first choose an NFT marketplace where you can mint your NFT for free. You will also need a crypto wallet to pay fees and receive payments if your NFT is sold.
You can create and sell NFTs on many specialized platforms. We'll be covering the most popular platforms for NFT trading — OpenSea and Rarible. As for the crypto wallet, there are many wallets supported by these platforms, but we will use MetaMask since this is one of the most popular among crypto users.
However, an important aspect of these popular NFT marketplaces is that they allow free NFT minting, but they still charge a 2.5% service fee (from the selling price) for each NFT listed. This fee goes to the platform and not to the blockchain network.
This step-by-step guide will help you understand how to create and sell NFTs, regardless of how new or experienced you are with the crypto space.
While minting NFTs is free using the methods listed here, we recommend having some ETH in your wallet just in case. You can get ETH here (for U.S. customers) and here (non-U.S. customers).
How to mint NFTs for free on OpenSea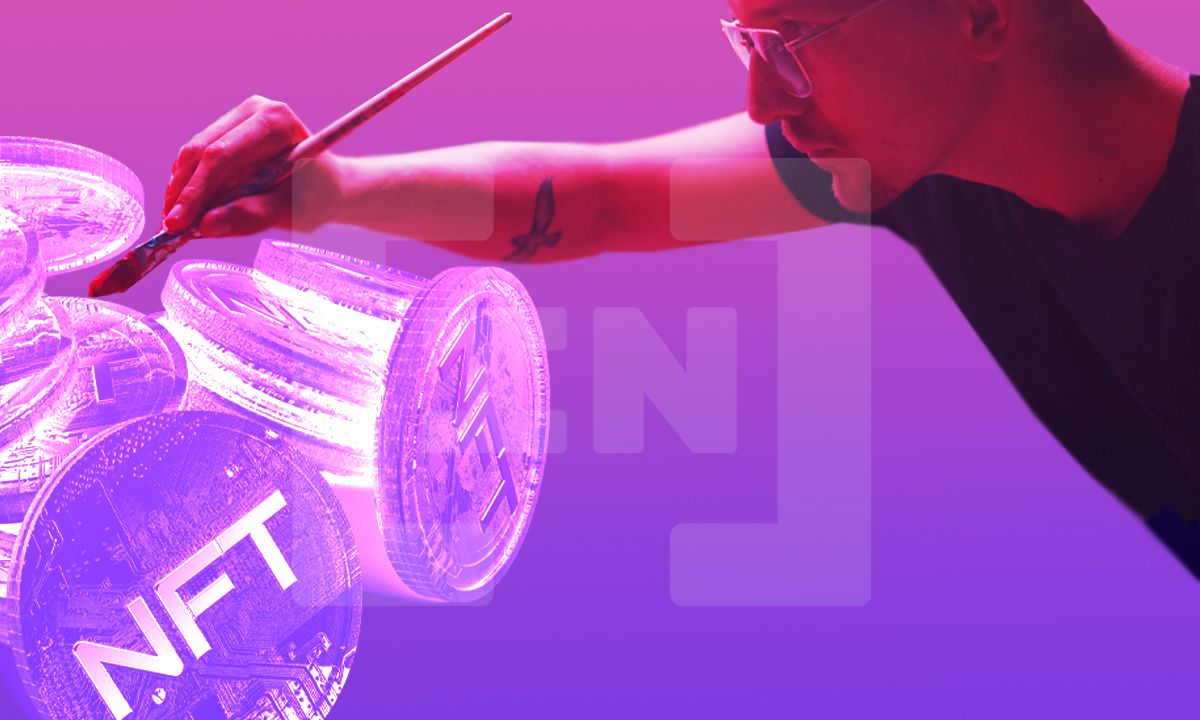 Step 1. Install and create a MetaMask wallet
MetaMask is one of the most popular cryptocurrency wallets, and it works as a browser extension on your device. If you haven't used it before, go to the MetaMask website and download the wallet.
Already have a MetaMask wallet? Then you can import it by using the secret recovery phrase. If new, create a new wallet by following the indicated steps. Make sure to write down the secret phrase (using pen and paper) as it will be needed to recover your wallet if something happens to your device. You will also have to set a password for the wallet, which you will need whenever you want to connect it to a new app.
Your wallet should look like this.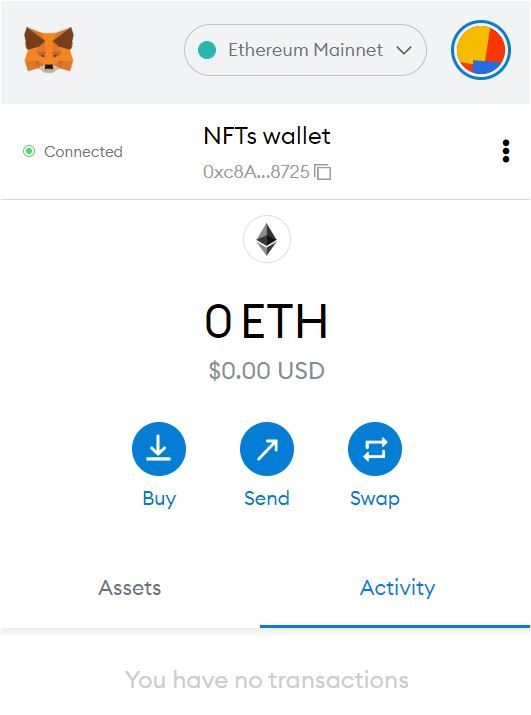 Step 2. Connect MetaMask to OpenSea
Go to OpenSea marketplace and click on the top-right wallet icon to connect your wallet. Select MetaMask and confirm the connection from the wallet (a pop-up will appear). After your wallet is connected to the NFT marketplace, you will be able to see your profile and create your first NFT.
Step 3. Create and mint NFTs for free on OpenSea
You can choose between a single or an NFT collection. Considering the most popular NFTs, we recommend minting an NFT collection, as those seem to be more successful than single NFTs.
To create a single NFT, click on Create (on the top-right menu). If you want to mint an NFT collection, click on the account icon (top-right, next to the wallet icon) > My collections > Create a collection.
The steps are fairly similar to both single and collection. The NFT collection will require extra details, and after you create it, you will be able to add items to it and select the exact number of each NFT to be minted. You can always burn some of these later if you want to create more scarcity for your NFTs.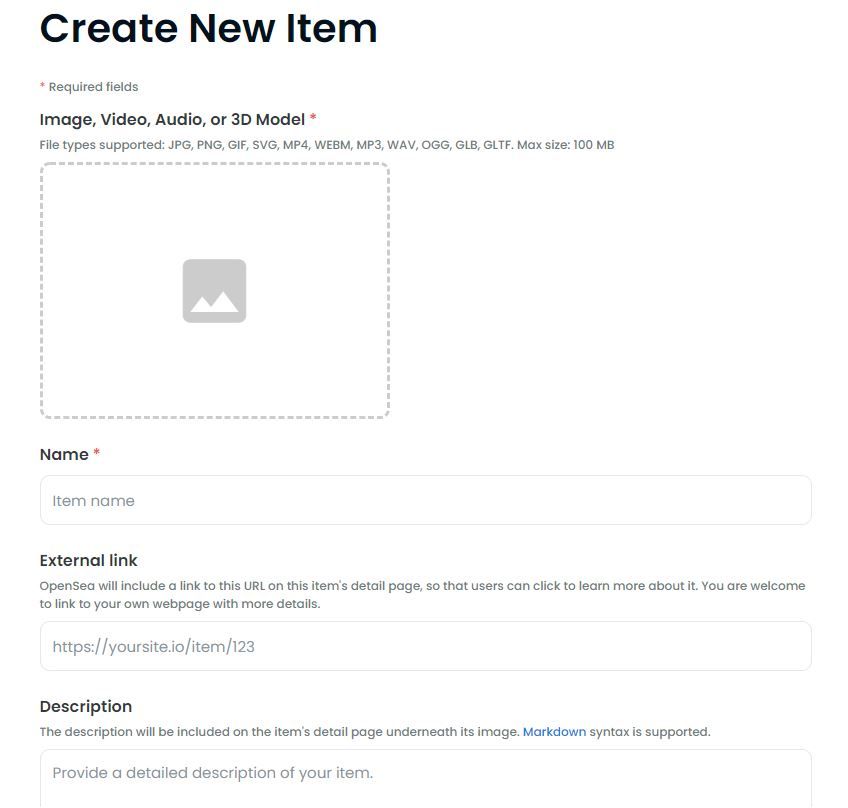 For each item or NFT, you will have to provide a few details, including:
Digital artwork (image, video, audio, 3D model)
Name
External link
Description
Collection (if you have more collections created)
Special properties
Unlockable content
Supply
Blockchain
Since we are talking about how to create and sell your NFTs for free, it is important to select the Polygon blockchain, instead of Ethereum, the default one.
Most of you have heard that Ethereum is the blockchain for NFTs, but there are other blockchains that support smart contracts and NFT minting. Polygon is one of the top networks for NFTs and crypto transactions, as it offers significantly lower fees and faster transaction speed. In this case, it allows OpenSea creators to mint NFTs for free.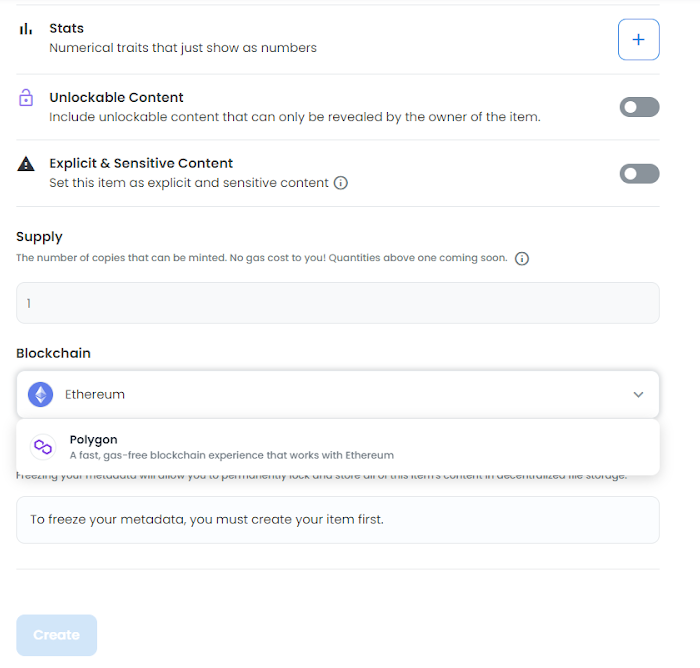 Click on Create, and your first NFT will be minted. However, the item is not listed for sale and you will not find it if you try to search for it, using the search box.
Step 4. List your NFT
To list your NFT, click on Sell (top-right).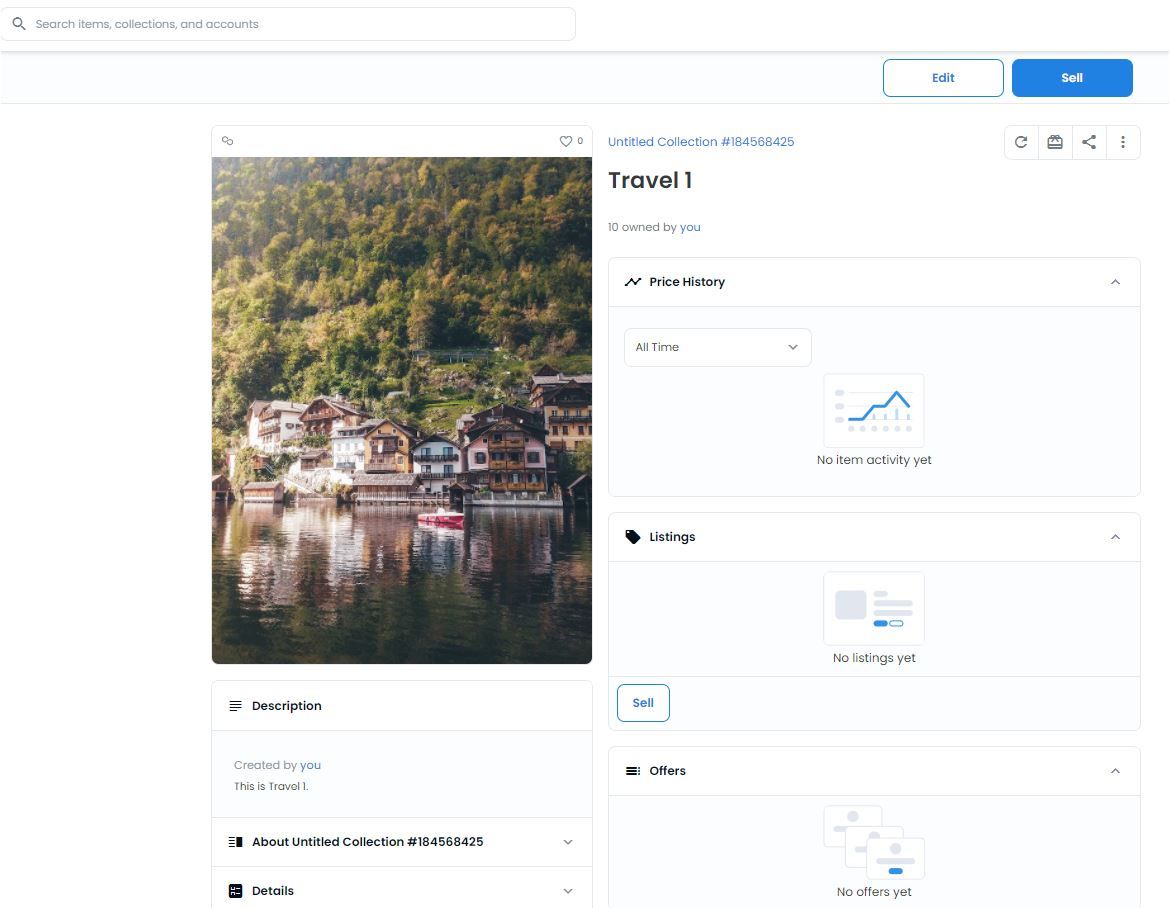 You can set the desired price for your NFT.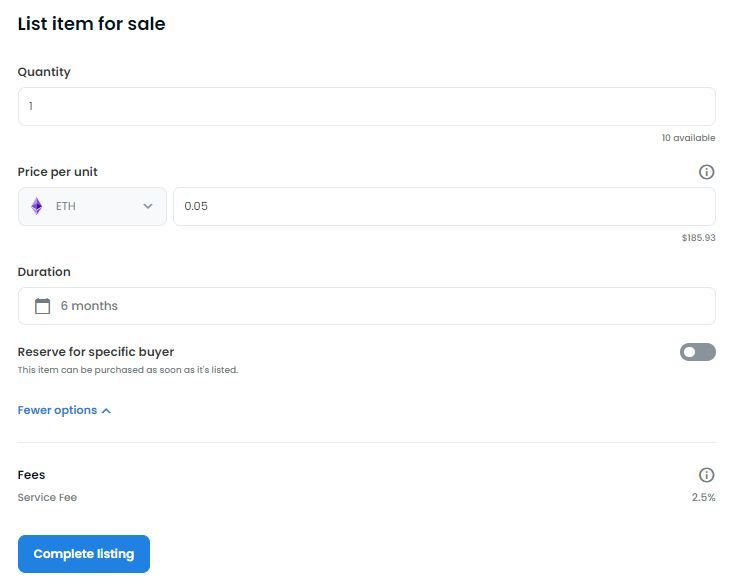 After you've set all the details, click on Complete listing, and the NFT will be listed for sale.
Note that OpenSea has service fee of 2.5%, which will be deducted from the selling price, after the NFT has been sold.
And that's it! You now know how to create and sell NFTs on OpenSea.
What is lazy minting?
Lazy minting, also known as gasless minting, is allowing NFTs to be minted at the moment of purchase (and not creation) and was created to eliminate any up-front costs for new artists. Lazy minting is a feature available on the most popular marketplaces, including OpenSea and Rarible.
The lazy minting method was introduced in late 2021, as the gas fees proved to be a problem for creators, particularly those who are new to the field and don't want to spend a lot upfront before they know if their work will sell.
With lazy minting, it's possible to delay the cost of minting an NFT by using advanced techniques until it is sold to its first buyer. It is practically minted on the blockchain until it is sold for the first time. The data regarding it is stored on the IPFS, a decentralized file storage system, until it is minted.
The transaction that assigns the NFT is also responsible for the gas fees. That's why the creator does not have to pay any additional costs to mint. A portion of the purchase price goes towards creating the NFT record on the blockchain.
How to mint NFTs for free on Rarible
Another popular NFT marketplace for NFT art, in-game collectibles, and other NFT assets is Rarible. We'll walk you through all the steps necessary to learn how to sell NFT art for free on Rarible. Since you will need a crypto wallet to connect to Rarible, we will use the same MetaMask wallet as we use for OpenSea.
Step 1. Install and create a MetaMask wallet
This step is identical to the first step on the OpenSea platform. If you don't have a MetaMask wallet, please install and create a wallet on your device. Make sure to securely save the secret recovery phrase, in case something happens to your device.
Step 2. Connect MetaMask to Rarible
Go to Rarible.com and connect your MetaMask wallet by clicking on the Sign in > Sign in with MetaMask.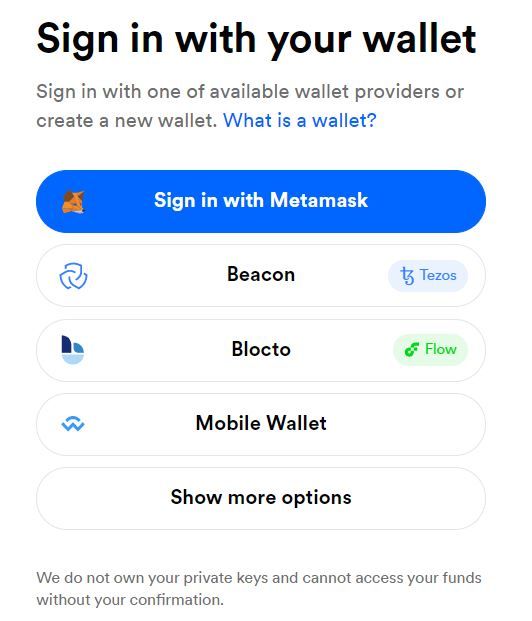 Step 3. Create and sell NFTs on Rarible
After you've confirmed the connection to the marketplace from your wallet and accepted the Rarible Terms of Service, you can click on Create (top-right) and create a new NFT on Rarible.
Choose Ethereum blockchain and choose Single or Multiple NFT.
Choosing multiple means you want to create an NFT collection, which is considered to be a more popular option. However, for the point of our guide on how to create and sell NFTs for free, it makes no difference, and that's why we will choose Single.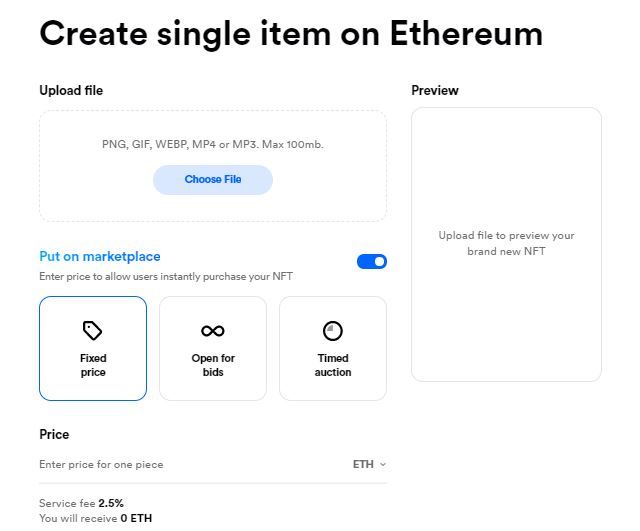 Then you will have to enter all the details of your new NFT, including:
Digital file (image, video or audio)
Choose the listing type (fixed price, bids, timed auction)
Price
Unlockable content
Collection (choose Rarible for free minting)
Free minting (you need to enable this)
Name
Description
Royalties
It's important to choose the Rarible (RARI) collection if you want to benefit from the free minting feature.
Also, you need to make sure that the Free minting option is enabled, which is actually the lazy minting option on Rarible. By checking this option, the NFT is minted only when the NFT is first sold on the platform and the buyer will pay for the gas fees for minting.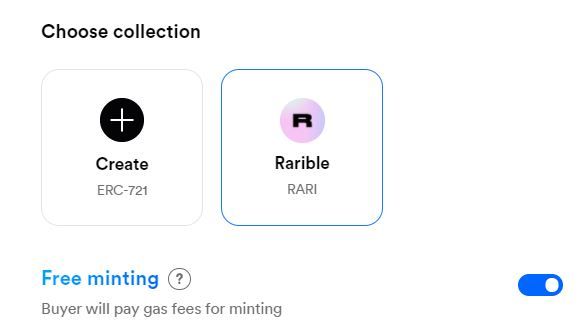 After you've entered all the details and made sure everything is right (because you cannot change any of these later), scroll down and click on Create item to create your first NFT on Rarible.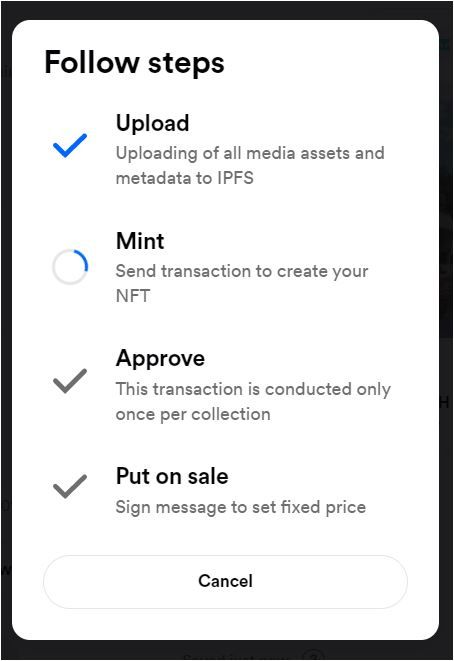 After the NFT is created, it will be available for sale on Rarible. However, until someone actually buys the NFT it gets minted on the Ethereum blockchain, the NFT won't be registered on the blockchain.
Congrats on learning how to sell NFT art for free on Rarible!
How to sell your NFTs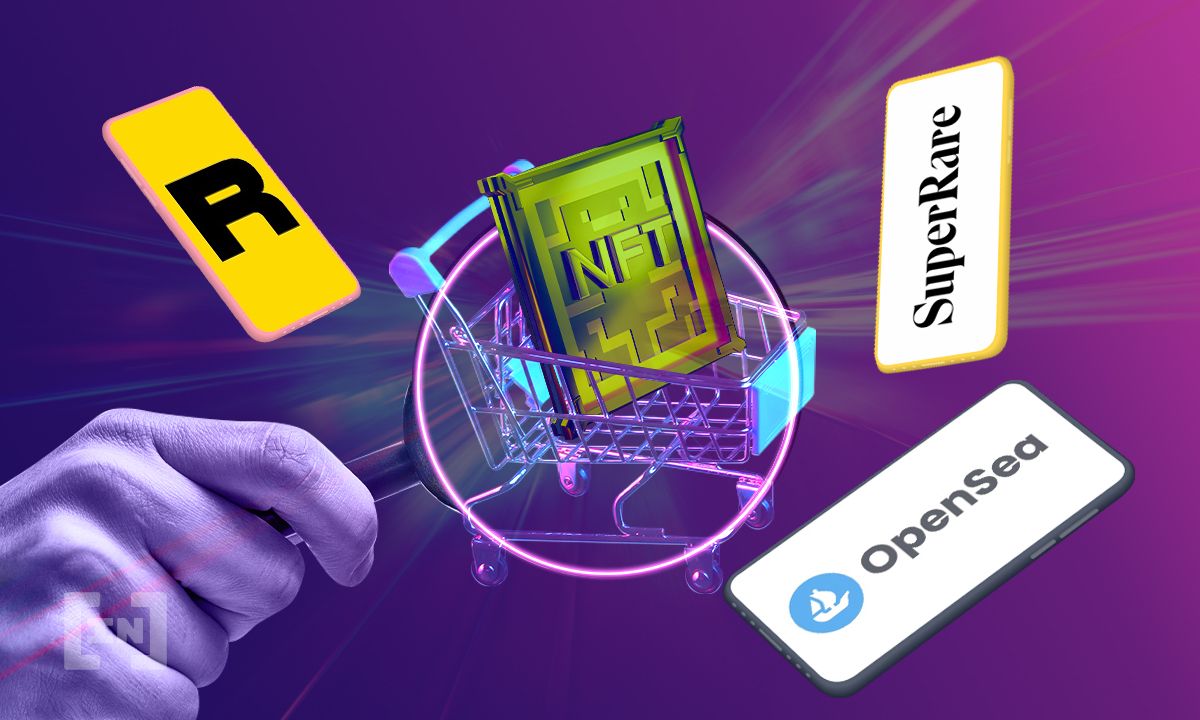 Now that you've learned how to sell your NFTs for free on OpenSea and Rarible, you need to focus on the two major aspects of selling NFTs, which are creating a community around your NFTs and promoting your NFTs.
Creating a community
Creating a community around your NFTs is an important step that each new NFT artist needs to focus on. For instance, OpenSea and other popular NFT marketplaces use social proof to approve NFT art. OpenSea requires you to include at least one count of the social media channels that you use to manage your NFT collection and to share it with the public.
Make it a goal to inform your audience that you are interested in NFTs. Get the word out as soon as you have your first NFT collection.
Experts recommend that you release limited edition NFTs to increase your sales and followership.
Promoting your NFTs
You must learn how to market your NFTs to have the highest chances of selling your digital art. You can't simply list it and expect people will buy it. Your NFTs should be promoted to your followers on all social media channels available. Most NFT artists and creation labs use Twitter, Telegram, Discord, and Reddit to keep in touch with their fans.
OpenSea or Rarible to sell NFTs?
Now that you know how to make and sell NFT art on both the OpenSea and Rarible platforms, you might be wondering which marketplace is better? This comes down to your community, already established fan base, different features of the platforms, and personal preference. While there are a few differences between OpenSea and Rarible, they tend to borrow features from each other, if the market likes a particular feature.
In the end, these are the top two most popular NFT marketplaces and are fairly similar. However, one important difference is the possibility to mint NFTs to different blockchains. OpenSea offers creators the option to mint NFTs on either the Ethereum blockchain or the Polygon blockchain. Rarible offers creators the possibility to mint NFTs on Ethereum, Flow, and Tezos. Because NFTs are fairly a recent trend, this difference might not exist in the future, as the two NFT marketplaces will aim to encourage new NFT creators to join the crypto space.
Another feature available on Rarible is the ability to apply for a verified badge. Artists might like this feature more, and this could play a role in choosing the best platform for selling NFTs.
NFTs can be hard to keep up with, so why not join BeInCrypto's Discord server to ensure you're on top of everything?
< Previous In Series | NFTs | Next In Series >
Frequently asked questions:
Where can I sell my NFT art?
How do I sell my NFT digital art?
How much does it cost to sell an NFT?
Can I make money with NFT?
Disclaimer
In line with the Trust Project guidelines, the educational content on this website is offered in good faith and for general information purposes only. BeInCrypto prioritizes providing high-quality information, taking the time to research and create informative content for readers. While partners may reward the company with commissions for placements in articles, these commissions do not influence the unbiased, honest, and helpful content creation process. Any action taken by the reader based on this information is strictly at their own risk.
Iulia Vasile is a seasoned professional in the cryptocurrency and blockchain industry, working full-time in the field since 2017. With a background in computer engineering, she...
Iulia Vasile is a seasoned professional in the cryptocurrency and blockchain industry, working full-time in the field since 2017. With a background in computer engineering, she...
READ FULL BIO
Sponsored Sponsored