Trading card games (TCG) have long been a favorite amongst gaming enthusiasts. They allow users to develop mental fortitude by strategizing maneuvers to outsmart their opponents. Now with the introduction of blockchain, players can take their gameplay to the next level. Users can monetize their activities while playing by incorporating asset ownership into gameplay. Play-to-earn means Gods Unchained provides immense opportunities for TCG fans that weren't possible with web3 gaming experiences. Find out more about this fantasy web3 game and where to buy its native token, GODS, in this comprehensive Gods Unchained guide.
Want to get all the hottest news and reviews on the best crypto projects? Join BeInCrypto Trading Community on Telegram: read news, discuss play-to-earn games, ask for technical analysis on coins and get answers to all your questions from PRO traders & experts! Join now
What is Gods Unchained?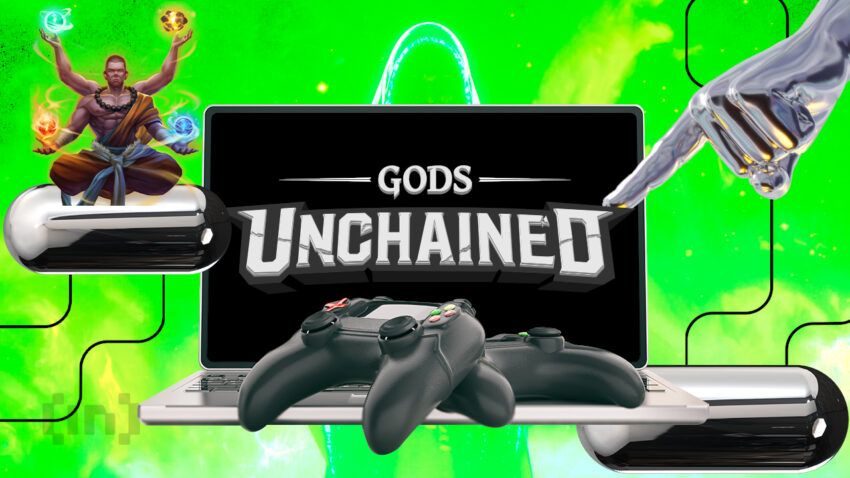 Gods Unchained is one of the hottest play-to-earn (P2E) trading card games on the market right now. The game is built on Ethereum's first NFT scaling solution, Immutable X. Players are taken on an epic journey where they must summon magic powers to overthrow gods. Gods Unchained takes the mechanics of competitive gameplay and collectibles and adds the element of blockchain technology. In this way, players are empowered to own and trade the assets they win. With over $52 million worth of cards traded and more than 450K registered users, Gods Unchained is a force to be reckoned with.
How to play Gods Unchained?
To get started, visit the Gods Unchained site to create a free account. The most powerful deck of cards used to defeat the opponent's gods wins. Players are then faced off in an arena to determine who is more powerful based on card strategy. These matches earn players experience levels where they receive Core card packs of Standard, Epic, or Legendary strength. Their goal is to subdue their opponent's god's health to zero by choosing the elements of Nature, Light, Deception, Death, War, or Magic. The power present in the cards can be used to summon creatures, cast spells, or equip relics.
The types of cards in the game include:
Expansion cards – NFT cards that are sold as part of a season
Free to Play cards – Unlocked by playing the game (includes Welcome Set and Core)
Promo cards – NFT cards that have a short release
Every player starts with the Welcome Set card deck (70 individual cards) that covers all six gods. Included are some Core cards, which are standard and are not NFTs. To obtain more cards, you can:
Play the game and level up
Join Weekend Ranked Events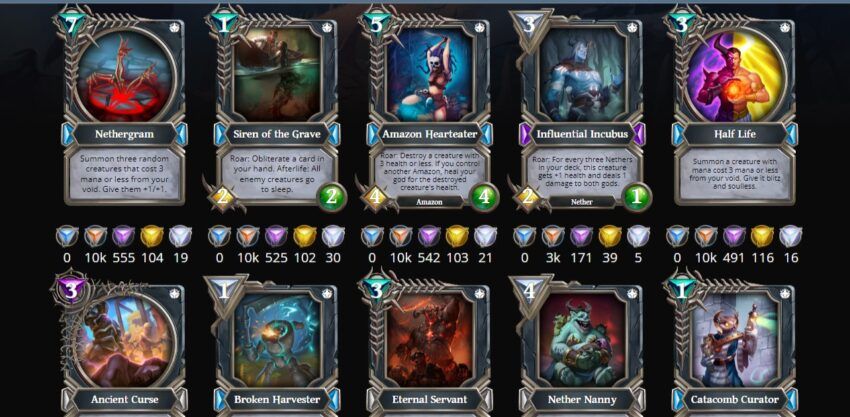 Gods Unchained guide: $GODS token
The Gods Unchained GODS token is an ERC-20 token that serves as both the game's currency and governance. It's currently priced at $0.24 and is ranked #403. GODS has a market capitalization of 36,351,655 with the following token supply:
Circulating supply: 151,410,256.59
Total supply: 500 million
Tokenomics
The tokens were distributed as follows: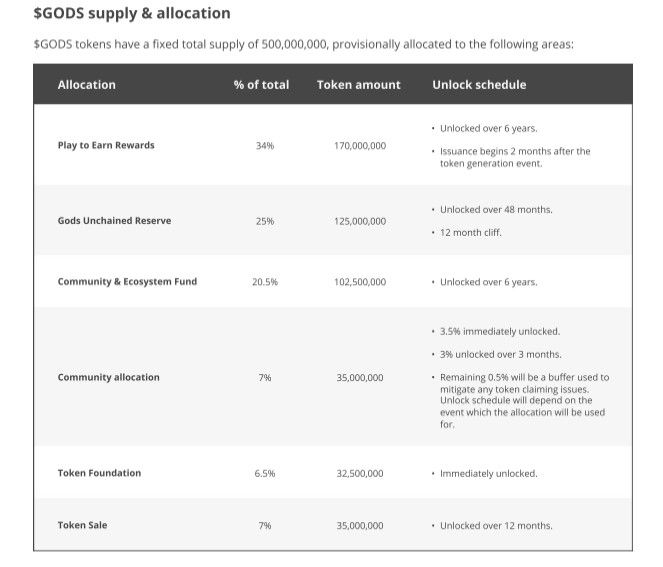 Price history
The GODS token is up 3.7% in 24 hours and 3.9% in seven days at the time of writing. However, it has been down 23% since November 2022. The token experienced some major peaks back in November 2021 through January 2022. On December 10, 2021, GODS hit its all-time high of $8.80. It wasn't until November 9, 2022, that GODS experienced its all-time low of $0.21.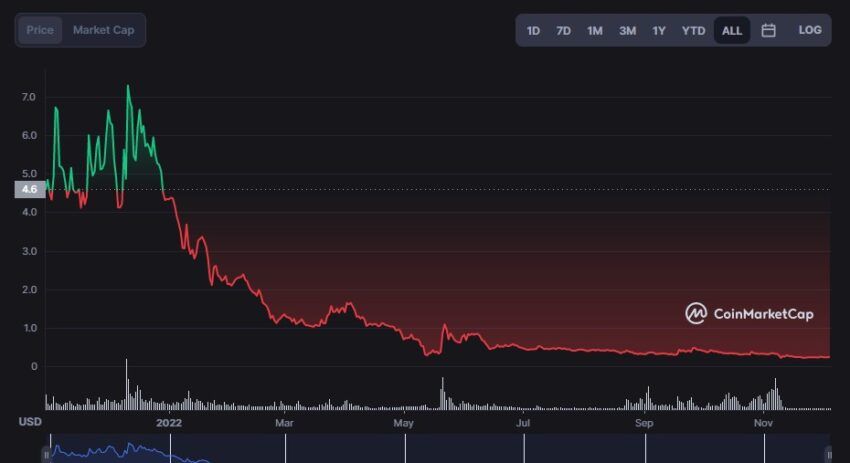 Token uses
Besides serving as a governance token and as the in-game currency, GODS serves other uses. These include:
Fusing cards to improve quality
Evolution for crafting new cards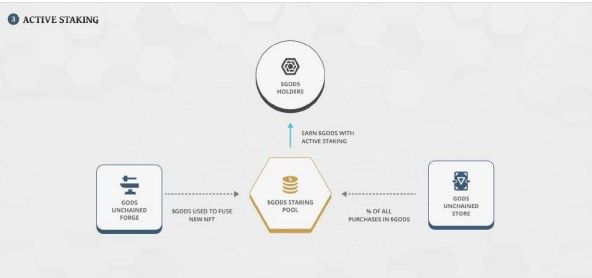 Where can I buy $Gods?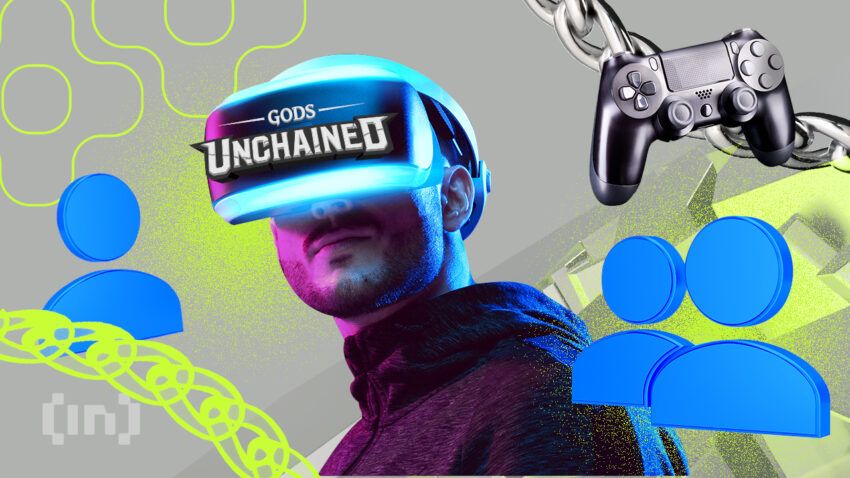 The GODS token can be purchased on both major centralized (CEX) and decentralized exchanges (DEX) including:
Centralized Exchanges
How do you earn money with Gods Unchained?
Gods Unchained is a play-to-earn NFT blockchain game that allows players to earn rewards and crypto during their in-game activities. Rewards are received in GODS tokens when battles are won. The GODS tokens can be swapped for other tokens, such as ETH. Other items, such as cards, can be sold on marketplaces such as Immutable X Marketplace or in the game itself.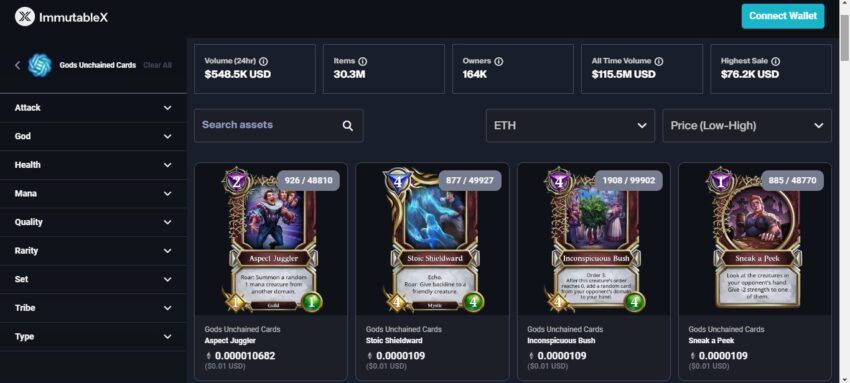 The various ways in which players can earn while playing Gods Unchained include:
Daily Play & Earn – This mode allows players to earn GODS by winning matches in the game.
Weekend Tournaments – Players can earn expansion packs in weekend tournaments which are available to players of any rank.
The Forge – Regular cards (Core) earned in the game can be fused with each other to create NFT cards that can then be sold.
Gods Unchained guide: NFTs
Some of the cards in the game are NFTs that can be traded on secondary marketplaces. In-game items can be forged into NFTs using either the GODS tokens or another game currency called Flux. Keep in mind that Core and Welcome Set cards cannot be sold. Eventually, as you play and earn, Flux can be used to enhance non-blockchain cards to turn them into tradeable assets. As new cards are released, they go through a balancing phase before they can be traded.
Gods Unchained developer team
Immutable created and developed Gods Unchained back in 2018. They are a VC-funded blockchain company backed by major investors, and they are the ones who developed Ethereum's layer-2 Immutable X. The team consists of world-class engineers and game designers from top-tier companies including Google and Goldman Sachs. Former game director of Magic: The Gathering Arena Chris Clay serves as one of the top leaders of the team. Alongside him include Derek Proud, Matt Aldrich, and Arash Mahboubi.
Is Gods Unchained safe to play?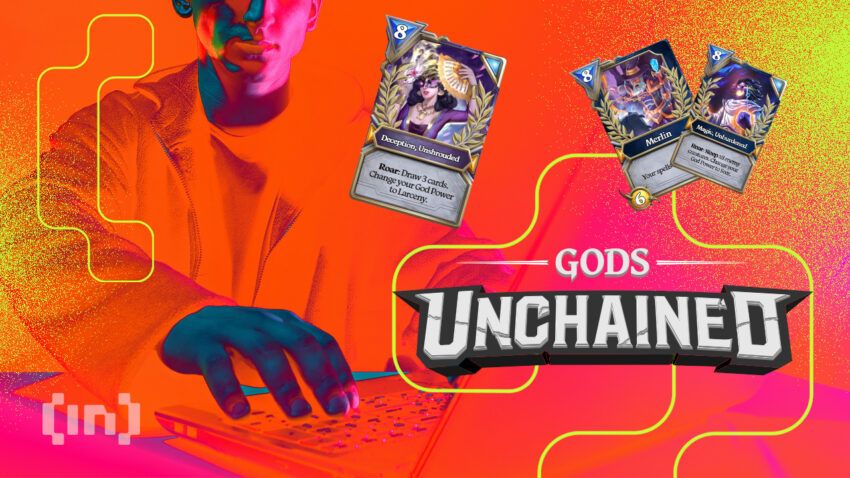 Blockchain technology provides a safe and secure environment for players and developers. This is due to the underlying infrastructure, which uses data encryption and public/private keys to secure token transactions. In addition, players own the assets they win in the game, giving them more control over their in-game activities. So there is no need to fear someone stealing your assets or hacking the game.
Gods Unchained brings a new dimension to TCGs
Projects like Gods Unchained have helped revolutionize the way we play games online. TCG fans, in particular, will appreciate the dynamic graphics of web3 gaming and the chance to earn passive income. Never before has the gaming sector been so enticing, especially while global economies are uncertain. As this Gods Unchained guide shows, a new dimension of online gaming is upon us. Play to Earn and NFT games are only set to evolve, and it looks like there's everything to play for.
Frequently asked questions
Is Gods Unchained free to play?
Yes. Gods Unchained is entirely free to play. In addition, it's very easy to get started. All you need is an Ethereum wallet and to connect that wallet to the game.
Can I play Gods Unchained on mobile?
As of now, Gods Unchained is only available on Windows and Mac. However, in the future, the game will be available on both Apple and Google app stores. The project also plans for the game to be supported on mobile or tablets too.
Is Gods Unchained worth playing?
Gods Unchained has amassed a lot of support and popularity. With more than 450,000 registered players and $52 million worth of NFTs traded, the game has proven to be a success. Since it's free to play with a chance to earn money, there's nothing to lose.
Is Gods Unchained difficult to play?
Gods Unchained is easy to learn, but winning rewards depend on each player's strategy and gameplay. The difficulty level will depend on how well a player understands the game. Some players have managed to reach top leaderboard status in a few weeks, while others have a difficult time obtaining good cards. Check our BeInCrypto Gods Unchained guide for everything you need to know about gameplay.
What Are The Best Cards In Gods Unchained?
Not all of the cards in Gods Unchained have the same value. If you have good cards, your chances of winning increase. Some of the best cards players can have in the game include Magic Missile Launcher, Demogorgon, Blade of Whiteplain, and Tammed Mammoth.
Disclaimer
All the information contained on our website is published in good faith and for general information purposes only. Any action the reader takes upon the information found on our website is strictly at their own risk.
At Learn, our priority is to provide high quality information. We take our time to identify, research and create educative content that is useful to our readers.
To maintain this standard and to continue creating awesome content, our partners might reward us with a commission for placements in our articles. However, these commissions don't affect our processes for creating unbiased, honest and helpful content.