Blockchain-specific gaming is in its ascendency. Direct gaming platforms like Gala Games, Axie Infinity, and Sandbox are getting the majority of developer and investor attention. But here, we shift our focus to Enjin — a different yet highly innovative web3 gaming project. Enjin deals in blockchain-driven gaming products and comprises the Enjin Network and its native Enjin Coin or ENJ. This Enjin Coin (ENJ) price prediction piece will explore this Ethereum-based ecosystem in depth.
#BonusHunter | Best bonuses you can get with ENJ🔥
Enjin Coin price prediction and the involved fundamentals
Firstly, the Enjin platform isn't a new entrant into the gaming space. In fact, Enjin was formed in 2009. Over the past 14 years, it has added over 20 million users to its network.
In 2017, Enjin ventured into the token space by running an ICO (Initial Coin Offering). Currently, the Enjin network is more of a blockchain-driven ecosystem where users can store, host, and trade in-game assets using the native token, Enjin Coin (ENJ). In simple terms, you can create in-game assets using the Enjin Network, backed up by ENJ.
Enjin, post its blockchain foray, aims to make in-game assets liquid and tradable. And with that, it also aims to grow the in-game NFT niche, courtesy of the ERC-1155 token standard that it supports.
In this Enjin Coin price forecast, we will focus on ENJ. Here are some key features of the native ERC-20 token.
It helps back virtual assets and makes them more liquid.
The token economics model is anti-inflationary.
It is compatible with most crypto wallets.
Overall, with the blockchain gaming market growing by the day, the Enjin ecosystem and the Enjin Coin look substantially strong.
Enjin Coin price forecast and tokenomics
The main utility of the ENJ is to provide access to virtual assets. Game developers can use the Enjin API and ENJ tokens to create their own assets. And remember, we used the term anti-inflationary. This means that creating assets requires ENJ tokens to be burned, making the supply scarce.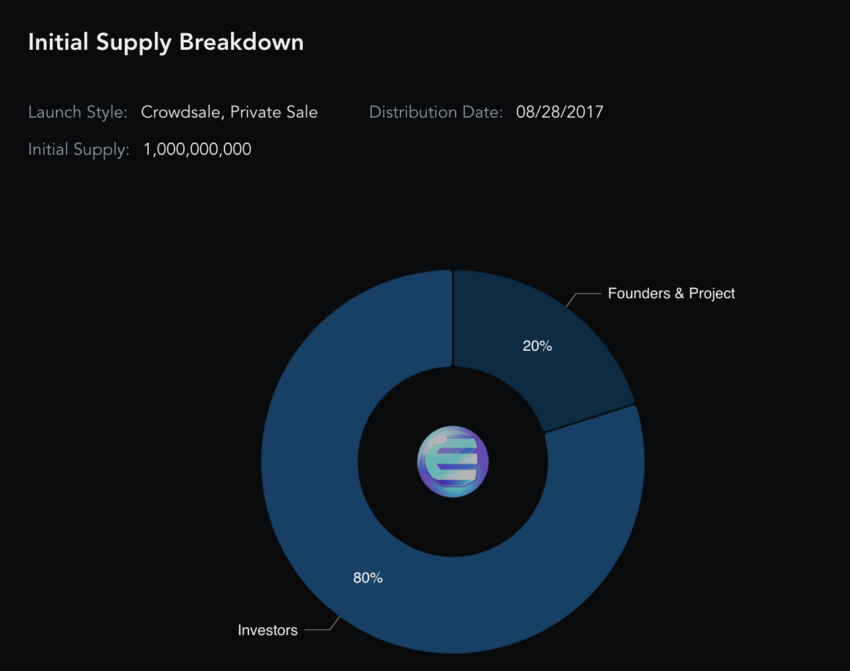 Coming to the supply cap, ENJ has a fixed supply of 1 billion tokens. Currently, the circulating supply is 100% of the total supply. Also, the initial supply breakdown shows 80% of the ENJ tokens went to investors — adding more transparency to the project.
The anti-inflationary stance makes ENJ a good investment prospect. However, greater adoption is still required for the Enjin Coin to go mainstream.
Enjin Coin price forecast and key metrics
The Enjin price chart compared against the volatility shows that the prices have taken off in 2023. This comes amid dropping price volatility. And there is a logic behind the drop in volatility.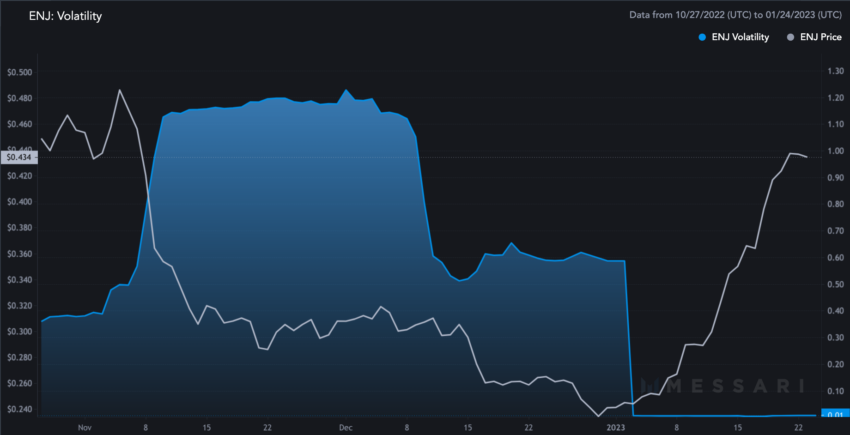 Both market cap and trading volume levels have moved up since the November 2022 peaks. And an increase in trading volume can really push price volatility down, owing to the liquidity push. This explains the price rise at ENJ's counter.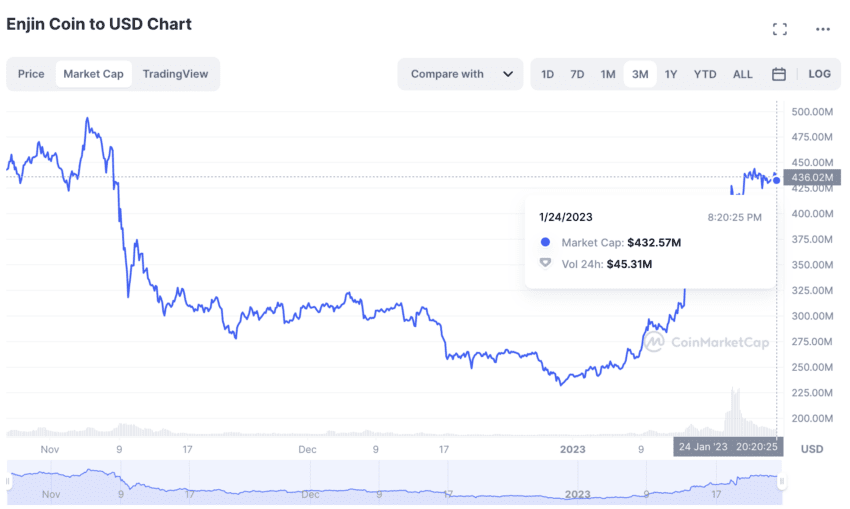 As an investor, you might also want to keep a close eye on the 90-day MVRV for ENJ. As of December 2022, the MVRV was in the negative zone. And negative MVRV is historically known to push the prices higher.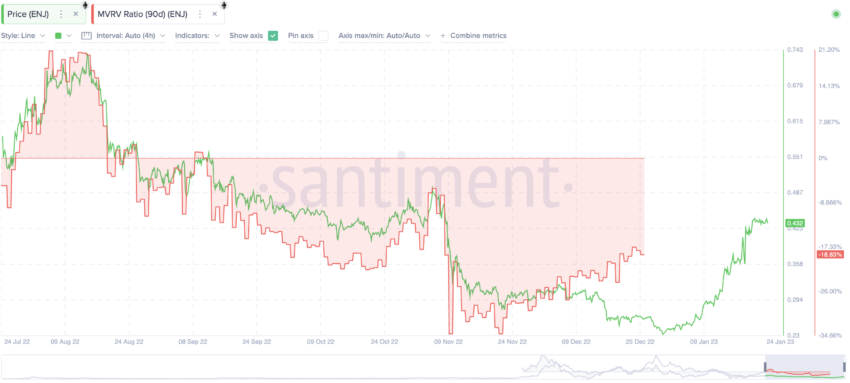 And finally, here is the yearly active address chart. Notice there was a peak in November, after which prices moved higher. Therefore, the active address count is more like a lagging on-chain indicator for Enjin Coin. Therefore, for the price of ENJ to move higher, greater adoption and higher peaks in active address growth will be required.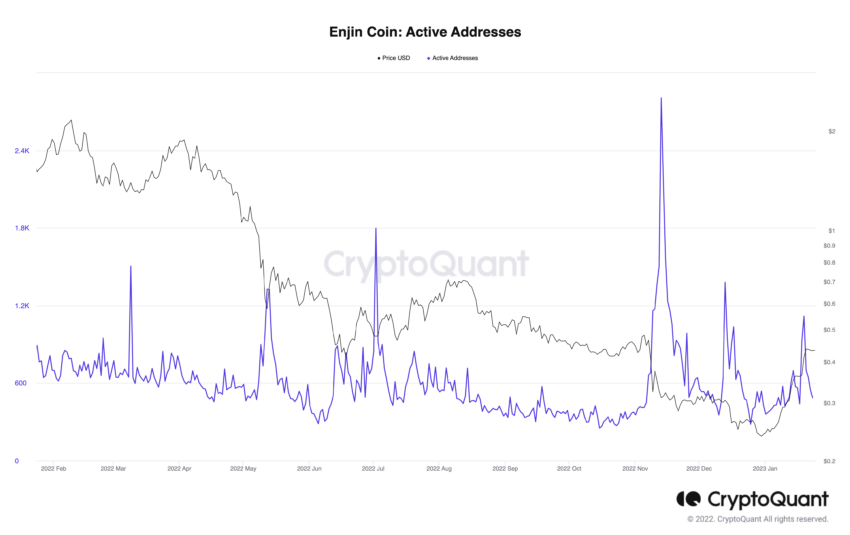 Enjin coin price forecast and technical analysis
The future price of Enjin Coin might depend on the condition of the broader crypto market. But we must resort to historical data and technical analysis to locate the exact price points corresponding to the next highs and lows.
For starters, here is the weekly chart for your reference: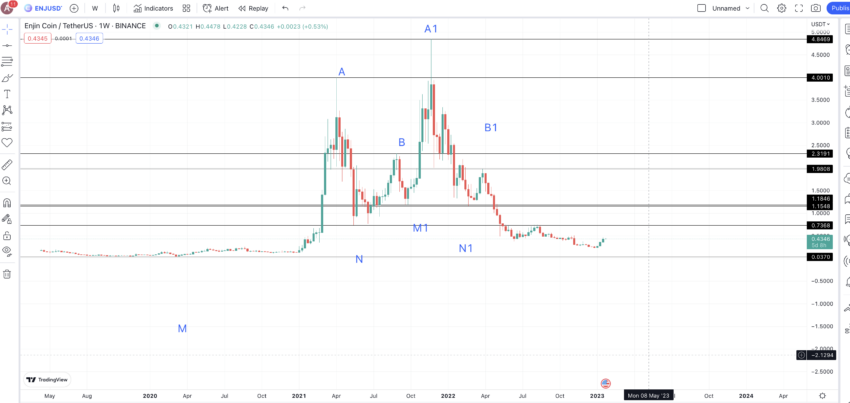 Pattern identification
Two blocks each show a high and a lower high. Let us mark the points as A-B and A1-B1. Each high starts from a low, market M and M1, respectively. Apart from that, there are lows between the two lower highs involving each pattern block.
Price changes
Assuming that the next path for the price of Enjin Coin involves a move similar to A to B and A1 to B1, we can locate the price changes and time differences between the points on the chart.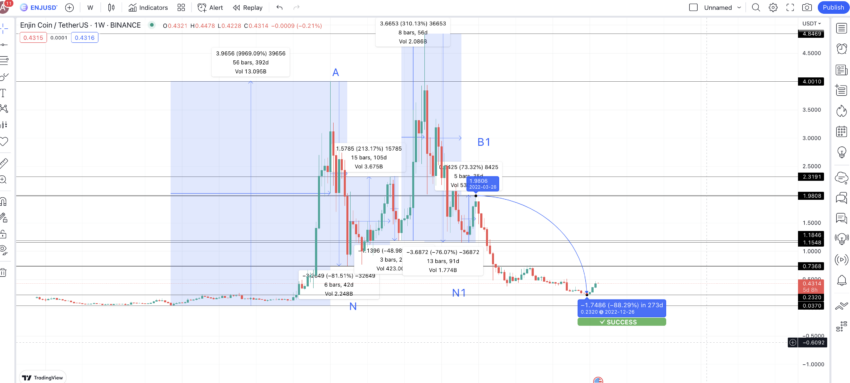 Once we have the required data, we can find the average and prejudice the future price of ENJ with clarity.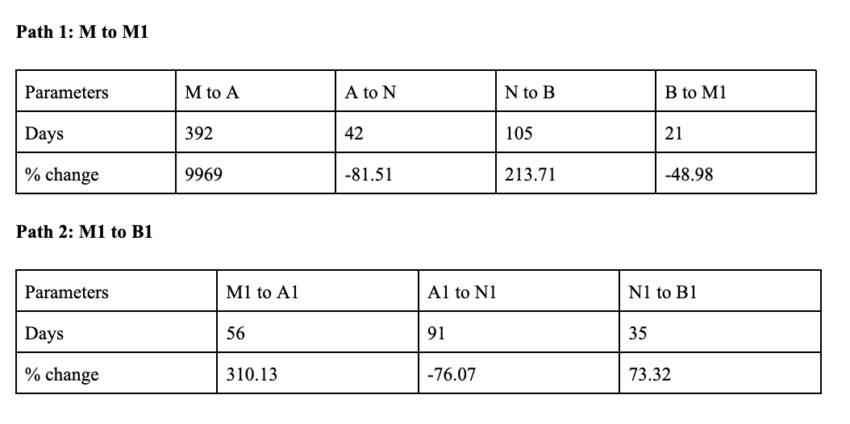 Do note that our first task is to locate the next low or M2. From M2, we can consider identifying the next A2, N2, and B2.
All the positive values signify low-to-high movements, whereas all the negative values signify high-to-low values.
Calculations
As B1 is the last point in the play, we shall take the high-to-low average first. Taking the sum of all the columns holding negative values, we get the average price dip and days as 68.85% and 51 days. Therefore, from B1, we can expect the next low or M2 to follow these levels. However, the expectation for low exceeded the average, and even the max dip showed up at $0.2320 and in 273 days.
Hence, the high-to-low distance can go as high as 273 days.
Per the table, the low-to-high average price hike and distance are 199.05% and 147 days. Notice we have ignored the % change from M to A or 9969%, as it might interfere with the current crypto market expectations.
We will use the above-mentioned data points to locate the next set of prices for the Enjin Coin.
Enjin Coin (ENJ) price prediction 2023
Outlook: Moderately bullish
From M2, the next high could follow the average of 199.05% to show up at $0.6923. The timeframe can be anywhere between 147 days to 392 days (from table 1). However, we have selected 147 days considering the current crypto market rally.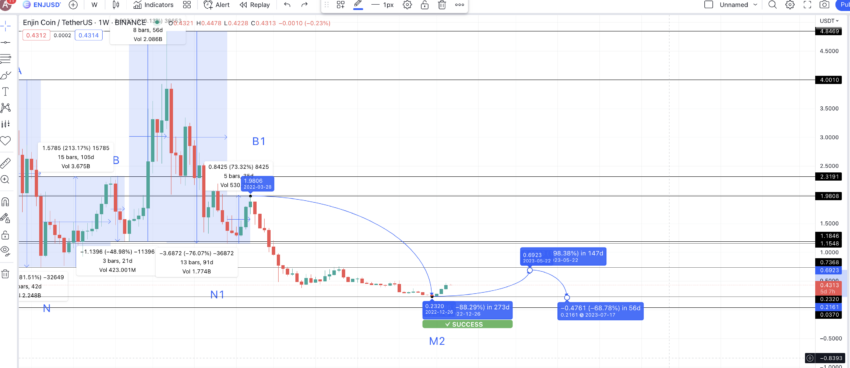 We can consider $0.6923 as the ENJ price prediction high for 2023. The low for 2023 can surface at a drop of 68.85% in 51 days — per the high-to-low average from the tables above. The forecast line puts the point at $0.2161.
Projected ROI from the current level: 69%
Enjin Coin (ENJ) price prediction 2025
Outlook: Bullish
From the 2023 low, we can locate the next high or B2, using the average percentage growth of 199.05%. The timeframe can vary depending on the market cap at any given point and other market conditions. For easier calculations and understanding, we can put this high at $0.645 in 168+ days. This point can be the ENJ price prediction high for 2024.
By 2024 we can expect the crypto market to start turning bullish again. Therefore, we can expect the percentage drop to stem at 48.98% — the lowest percentage drop from table 2. This should put the ENJ price prediction low for 2024 at $0.3193. We can mark this point as M3.

We can expect the ENJ price forecast to turn bullish by this time. Hence, A3 from M2 could easily follow the 199.05% average price hike. While the high might surface in 2024, the growth forecast and other macroeconomic factors can push the high into 2025. We take the maximum distance of 392 days as a reference for this hike.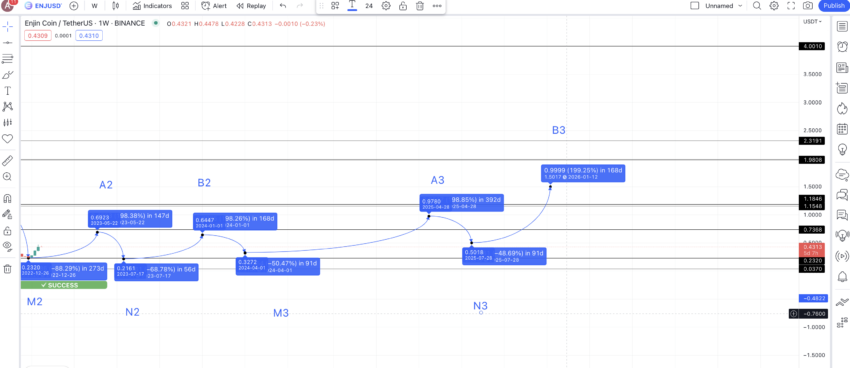 Therefore, the ENJ price prediction for 2025 might just surface at a high of $0.9780. The low in 2025 can show up in 91 days (max distance from the tables above) from the 2025 high and surface at a drop of 48.98% — minimum drop as by now we expect ENJ will be on an uptrend. Therefore, the low in 2025 might surface at $0.502.
Projected ROI from the current level: 138.70%
Enjin Coin (ENJ) price prediction 2030
Outlook: Bullish
The next high from the 2025 low or B3 might just be higher than A3. This would be the first time any B would surface higher than A. And if that happens, we can expect ENJ to become even more bullish. Using the average percentage hike of 199.05%, we can expect the ENJ price prediction for 2026 to surface at $1.5017.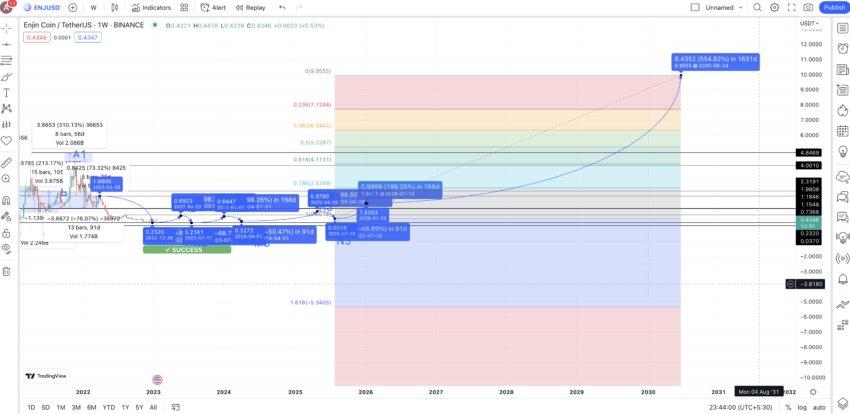 By now, we should have 2025 low or N3 and 2026 high or B3 at our disposal. Connecting them using the Fib indicator can help trace the path till 2030. Keeping the same price growth path, we can expect the Enjin Coin price forecast for 2030 to show up at $9.95. For that kind of movement to hold, the price of ENJ should breach its previous all-time high price of $4.85 by early 2029.
Projected ROI from the current level: 2328%
Enjin Coin (ENJ's) long-term price prediction (up to 2035)
Outlook: Bullish
If you want to use historical data to plot the future price of Enjin Coin through to 2035, the below table might come in handy.
| | | |
| --- | --- | --- |
| Year | | Maximum price of ENJ | | Minimum price of ENJ |
| 2023 | $0.6923 | $0.2161 |
| 2024 | $0.645 | $0.3193 |
| 2025 | $0.9780 | $0.502 |
| 2026 | $1.5017 | $1.17 |
| 2027 | $2.02 | $1.25 |
| 2028 | $3.34 | $2.60 |
| 2029 | $4.85 | $3.78 |
| 2030 | $9.95 | $6.17 |
| 2031 | $11.94 | $9.33 |
| 2032 | $15.52 | $12.10 |
| 2033 | $20.17 | $15.73 |
| 2034 | $26.23 | $20.45 |
| 2035 | $34.10 | $26.60 |
Table 3
Is the ENJ price prediction model accurate?
This ENJ price prediction model takes the fundamentals, tokenomics, and even the on-chain metrics of Enjin Coin. Moreover, the projection benefits from being grounded in data-backed technical analysis. Overall, this Enjin Coin price forecast model is as holistic and practical as possible in a dynamic and volatile crypto market.
Frequently asked questions
What will Enjin Coin be worth in 2025?
If you go by our ENJ price prediction model, you can expect the price of Enjin Coin to come close to the $0.9780 mark by 2025.  To reach this kind of price level, it is important for ENJ to maintain its steady ecosystem growth. And if the prices drop, we expect ENJ to take support at close to 50 cents in 2025. Despite the projections, we advise you to expect an average price of 75 cents for 2025.
Can Enjin Coin hit 100 dollars?
It is very difficult to predict if ENJ will hit $100 anytime soon or not. Our ENJ price prediction model puts the 2035 price of Enjin Coin at close to $35. Therefore, if the same growth path is followed, you can expect ENJ to reach close to $100 by 2040 or even beyond. Yet, this kind of price rise would require the fan token space to surge.
How much will Enjin Coin be worth in five years?
In five years from now, that is by 2028, we expect the price of ENJ to touch $3.34. Reaching this price level will take ENJ to cross a major hurdle of $1.50. However, even at $3.34, the price of ENJ will be at a fair distance from its current all-time high of $4.85, which would then be the next level to beat.
Is Enjin a good investment?
Enjin Coin seems like a good investment for a host of reasons. Firstly, with leading sporting clubs dipping their toes into fan tokens and blockchain-specific offerings, we expect Enjin — the ecosystem to pick up the pace and see increased adoption. Secondly, the ROI across the years is also expected to grow by a minimum of 2300%, especially if you plan to hold onto it for a long time, say till 2030.
Disclaimer
In line with the Trust Project guidelines, the educational content on this website is offered in good faith and for general information purposes only. BeInCrypto prioritizes providing high-quality information, taking the time to research and create informative content for readers. While partners may reward the company with commissions for placements in articles, these commissions do not influence the unbiased, honest, and helpful content creation process. Any action taken by the reader based on this information is strictly at their own risk.