What is the latest Dogelon Mars price prediction? How are meme tokens holding up in the bear market Unlike random price predictions, this Dogelon Mars price prediction piece considers a number of factors to answer these questions. Weekly/daily chart patterns, price changes over time, trendlines, Fibonacci levels, and mindful data extrapolation are all factored in.
Dogelon Mars and its native token ELON aren't particularly known for their fundamentals. Despite this, we've put together a few on-chain, social, and token-specific insights to piece together a price prediction.
Dogelon Mars price prediction: the role of fundamental analysis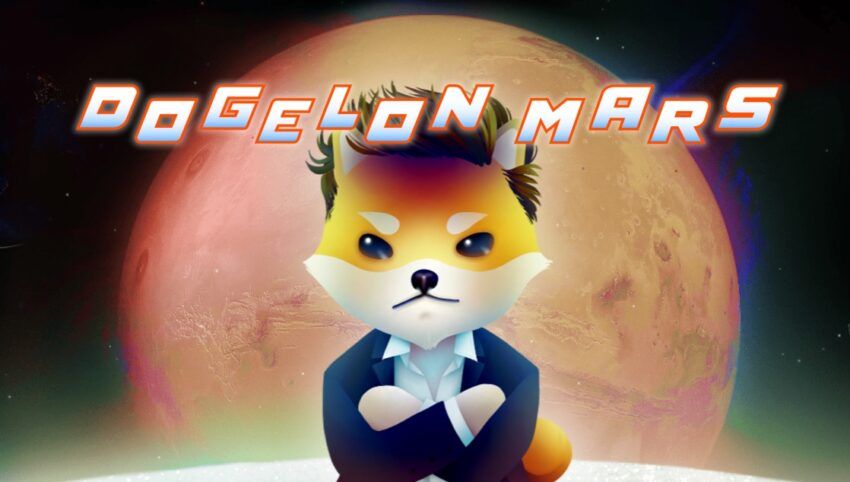 Before we get to the charts mentioning the price of ELON, let us look at the roadmap of the project.
Dogelon Mars roadmap
The token is more than a year old and has some history behind it.
First, the project founders of Dogelon Mars are currently undoxxed. The project came into existence on April 21, 2021, with a fixed supply of 1 quadrillion tokens. The same total supply cap as Shiba Inu.
The Dogelon community also donated to Vitalik Buterin — the man behind Ethereum — giving away 50% of the total supply in the process. Vitalik gave 43% of his ELON holdings to Methuselah Foundation as a charity.
The remaining half of Dogelon's supply made it to Uniswap's liquidity pool. And it was nothing short of a credibility-generation move. Here is how:
Does Dogecoin Mars have credibility?
Dogelon Mars moved ELON tokens and 40 ETH to the Uniswap liquidity pool to maintain pool balance and liquidity. In return, they received liquidity provider tokens. However, the Dogelon community chose to burn the LP tokens in a bid to show that they weren't in the space to make quick money.
Liquidity provider tokens are like receipts that can be used to withdraw project funds. Upon burning the tokens, the Dogelon Mars community stands zero chance of running away with user funds.
Dogelon Mars's initial vision was, and still is, to help victims of crypto scams. It's heavily community-backed and includes the more philanthropic holders in the space — known for airdropping ELON tokens to scam victims.
Dogelon Mars history
ELON has extended its presence to the Polygon blockchain. This development adds to the token's overall credibility.
Dogelon began life as an Ethereum-backed ERC-20 token. It now also has a presence in the Polygon ecosystem. Over time the Dogelon community has amassed a significant Twitter presence, with over 462k followers.
Here is the official Twitter handle:
Dogelon Mars use-cases
The future looks bright with the Dogelon community keeping a close eye on widespread DeFi adoption.
In addition to holders who are willing to bail out scam victims, Dogelon Mars aims to further an intergalactic story with its expanse. It is a fantasy-driven memecoin: the focus is on acting as a unified form of payment once "Mars is recolonized in 2420."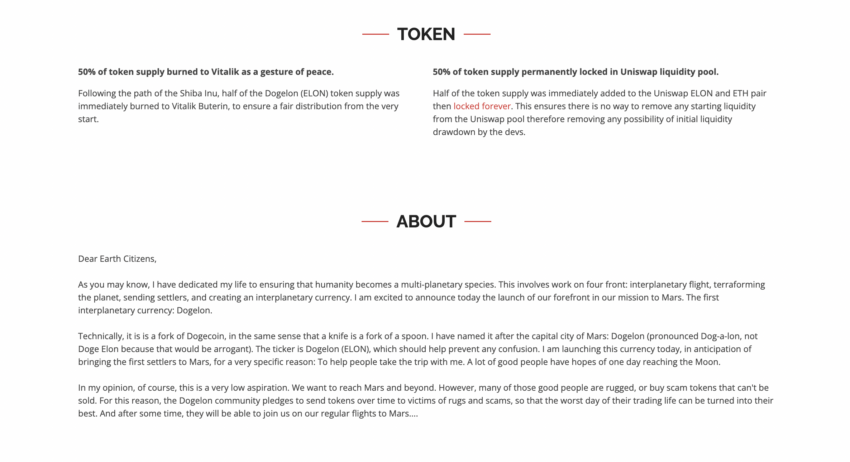 While the real-world use cases are still amiss, ELON tokens can be used with transactions with a compatible wallet, such as MetaMask.
For now, here are the use cases in play:
Playing along with the recently launched NFT project/comic book, where the main character is the Dogelon mascot.
Fund transfers using the top DeFi protocols courtesy of its ERC-20 parlance.
There is no clarity on the roadmap of the Dogelon Mars token. But the community has plans to bring forth an xELON token to speed up DeFi adoption, staking, and project governance.
Here is the tweet about the webcomic series:
The community has been planning this for a long time. Here is a tweet from October 2021:
Dogelon Mars tokenomics
Huge supply is an issue, but the market cap hasn't dropped anywhere near its all-time low during the bear market. This may be positive.
ELON has a current market cap of $172.5 million. And while it has a supply of 1 quadrillion tokens, 55% of these are already in circulation.
Coming to the market cap progression, Dogelon Mars's market capitalization dropped significantly since its October 2021 high of 1.21 billion. However, the current lows are still way above the all-time market capitalization lows made months after the token's launch.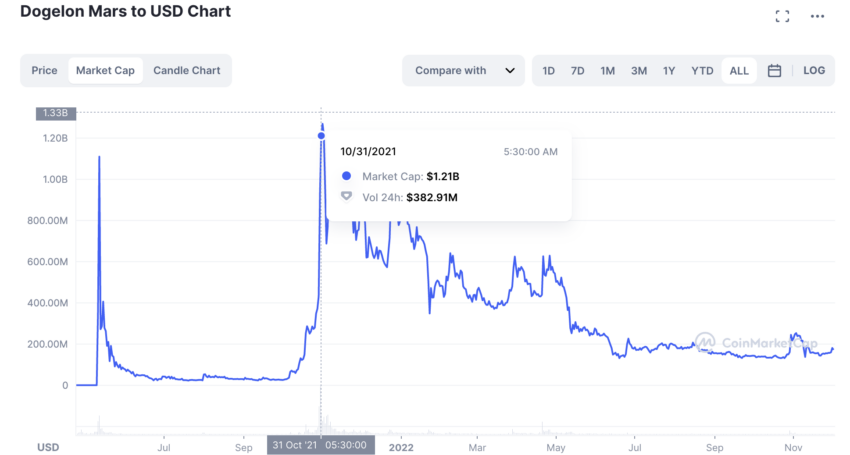 Dogelon Mars currently ranks 133 in terms of market capitalization. Its immediate goal would be to get into the top 100.
Dogelon Mars and crypto markets
The memecoin has a decent trading spread, showing credibility and a long-term use outlook.
Despite being a memecoin, Dogelon has a diverse exchange presence. Here are the top 15 centralized and decentralized exchanges where you can trade ELON pairs.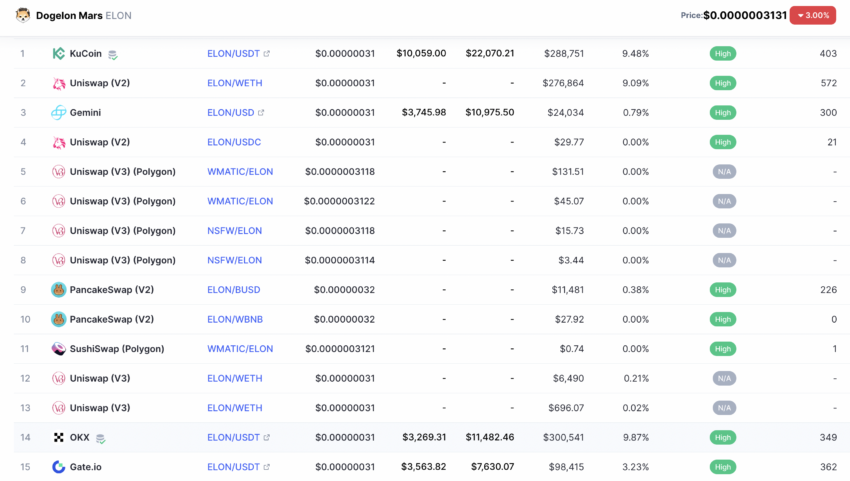 Do note that some exchanges even report decent liquidity scores and high confidence.
Dogelon Mars on-chain growth
Whale presence is worrisome for the price if there is a market-wide sell-off. However, the holder activity growth shows that people are more inclined towards buying than selling.
ELON holders have gradually increased in the bear market.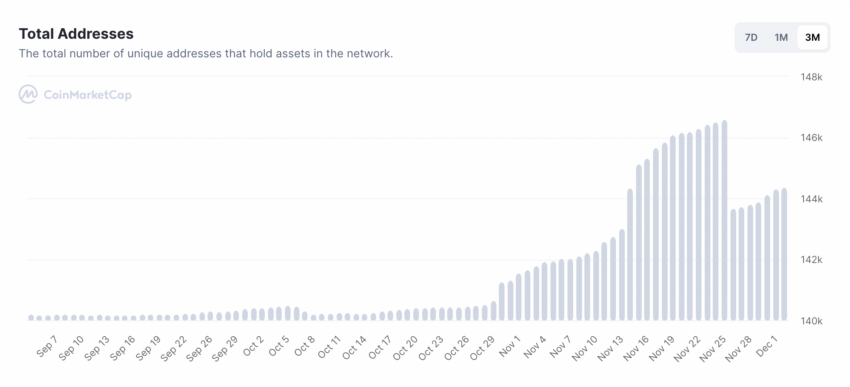 The current token summary shows that 25% of active ELON holders are in profit. And what's exciting is that 61% of holders are long-term investors and haven't sold off their holdings even in the bear market. This development shows confidence and should help with the future price predictions for ELON.

However, the top 100 holders having close to 86% of ELON's circulating supply could be cause for concern. If a market-wide sell-off starts, the prices might dip significantly. Therefore, it is necessary to periodically track ELON's exchange inflows and outflows.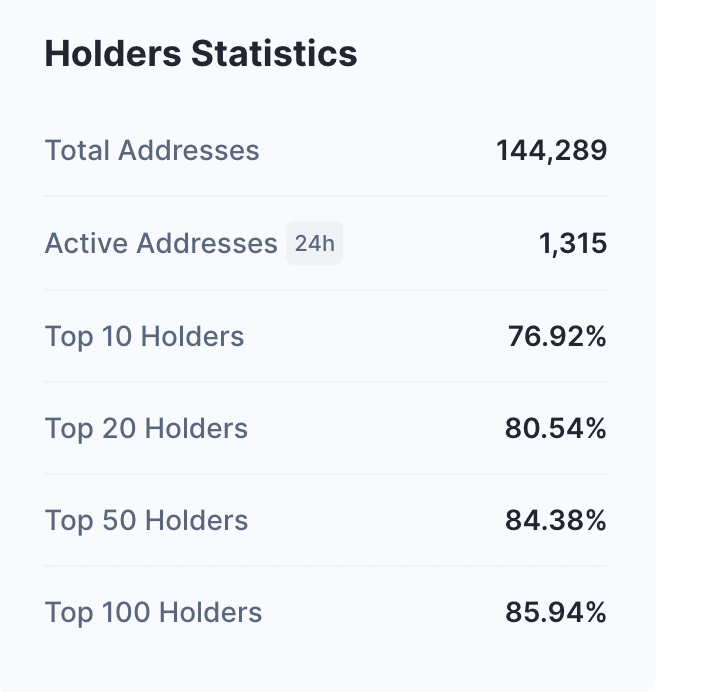 Dogelon Mars social presence
The price of ELON tokens responds positively to social sentiments.
The price of ELON is directly related to social hype. Social mentions shot up close to Oct. 27, 2022, when Elon Musk officially took over Twitter.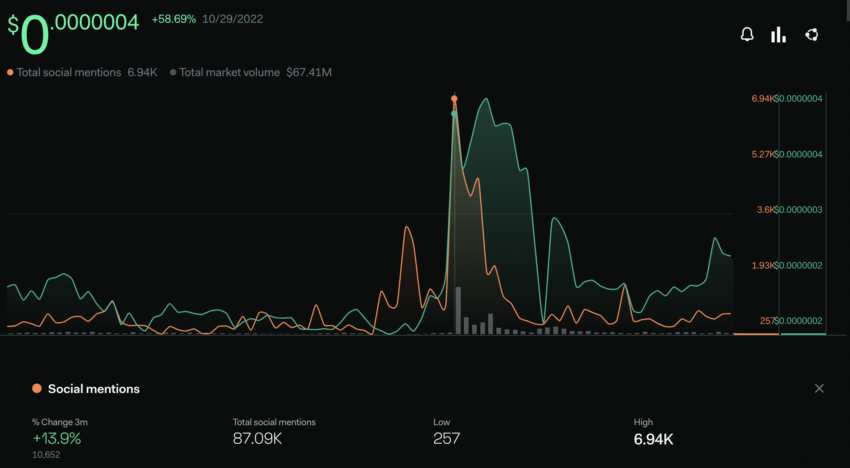 Prices surged as a result. With Elon Musk still in control of Twitter, the positive sentiments around Dogelon Mars are not random.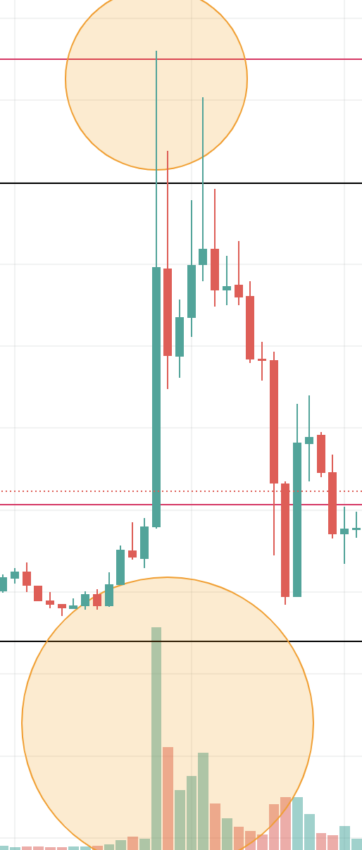 Dogelon Mars price prediction using technical analysis
Weekly pattern
Outlook: Bullish
This is what the Dogelon Mars price chart and technical analysis look like. First of all, here is a bird's eye view of the price action.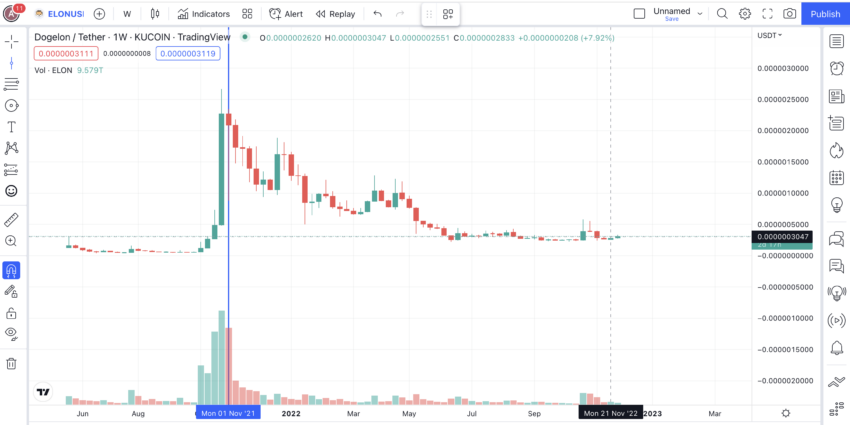 The weekly chart offers the following information:
ELON tokens started trading low.
The price of ELON tokens surged a few weeks after launch.
Prices dropped again and have been dropping since.
The vertical line separates into similar-looking halves as part of the Foldback pattern.
This means the right half is a mirror image (not an absolute replica) of the left half. So if historical information is to be believed, a similar trading pattern might soon show up, this time making highs.
If we draw a hypothetical path from the current lows, you will notice that the current chart again makes mirror-like foldbacks.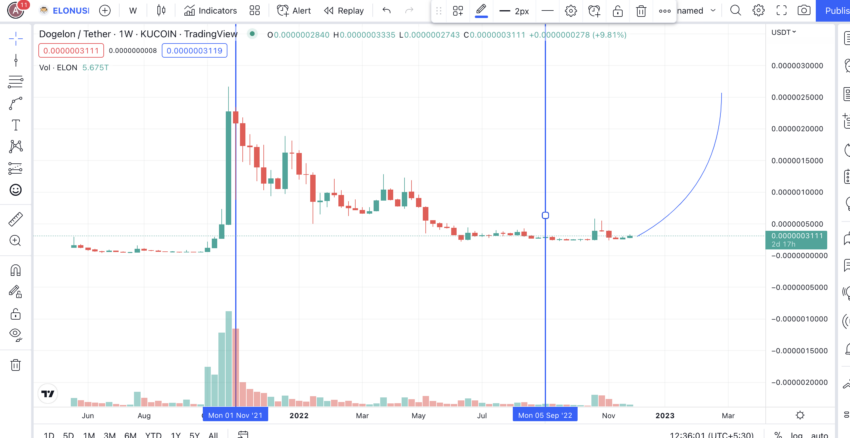 Inference: It won't be surprising if the price of ELON surges in the near term.
Daily pattern
Outlook: Bullish
Here is the zoomed-out daily chart for ELON. We noticed a pattern.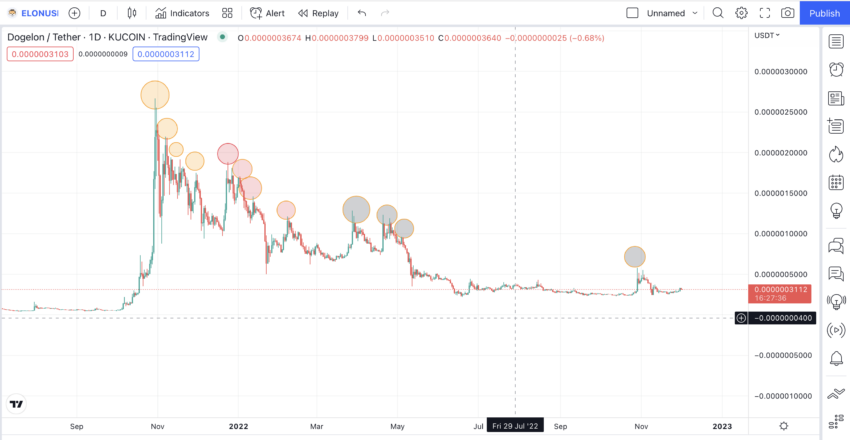 Do you see three clusters of four circles?
The first cluster of yellow circles shows a four lower-high pattern.
The second cluster of red circles similarly shows a four lower-high pattern.
The third cluster of gray circles also shows a four lower-high pattern.
As per the four lower-high patterns, another high might be on the way for ELON tokens.
Price change
Outlook: moderately bullish/neutral
Look at the daily chart. The patterns are as follows. Point A to Point B during the first double-top formation and C and D during the second double-top formation.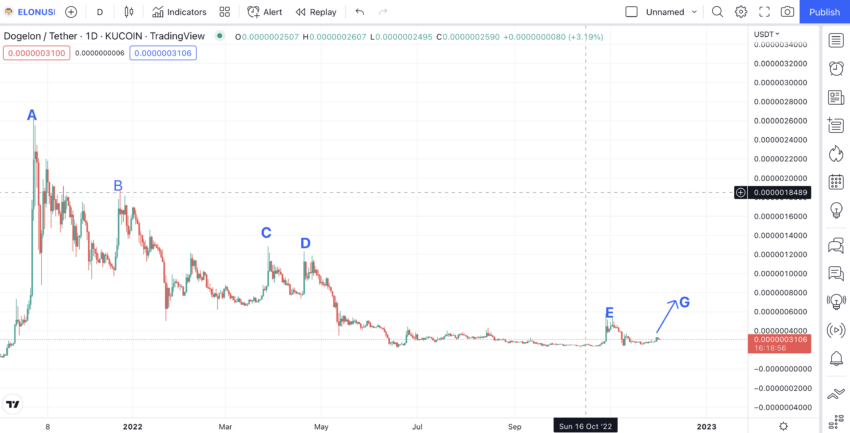 Look carefully, you will see that one top formation, E, is already there. ELON forms a bottom and curves towards a new high (G) to complete the double top formation.
Now let us calculate the price change percentage and timing to see where and when this high can show up:
Table 1:
| | | | |
| --- | --- | --- | --- |
| Price at A | Price at B | A to B in | % change |
| $0.0000026670 | $0.0000018811 | 55 days | 29.5% |
Table 2:
| | | | |
| --- | --- | --- | --- |
| Price at C | Price at D | C to D in | % change |
| $0.0000012820 | $0.0000012305 | 23 days | 4% |
Per the table, the time taken between E and G can be anywhere between 23 days to 55 days. Let's average it and say the time frame is 39 days.

The percentage change could be anywhere between 29.5% and 4%, per market conditions. The average percentage would be 16.75% or, rather, 17%.
So if E is at $0.0000005799, G might be at $0.0000004813. And the time frame should be 39 days from Oct 29. 2022, which is Dec. 7.
Considering the bearish market conditions, this might go anywhere into January 2023.
Also, we saw the price of ELON tokens is directly related to social sentiments. If Elon Musk makes a sudden statement, price predictions might come true more quickly than projected.
Medium-term highs and lows
Outlook: Bullish
While the immediate move for ELON could be to $0.0000004813, it isn't the absolute high for the next year. For that, we need to look at the time taken from the previous low to the current high. We would also consider the time taken to move from the low to high.
For the first cycle, take the low as X and the next high as C.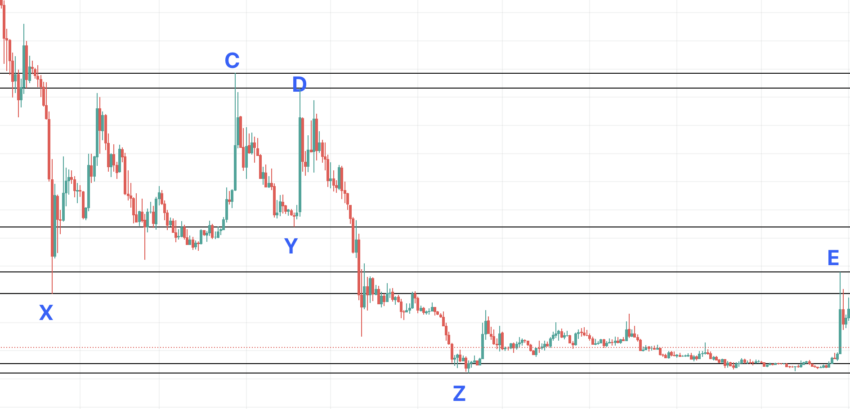 Table 3:
| | | | |
| --- | --- | --- | --- |
| Price at X | Price at C | X to D in | % change |
| $0.0000005030 | $0.0000012820 | 65 days | 154% |
For the next cycle, take the low as Y and the high as D.
Table 4:
| | | | |
| --- | --- | --- | --- |
| Price at Y | Price at D | X to D in | % change |
| $0.0000007392 | $0.0000012305 | 2 days | 66% |
For the next cycle, take the low as Z and the high as E.
Table 5:
| | | | |
| --- | --- | --- | --- |
| Price at Z | Price at E | Z to E in | % change |
| $0.0000002204 | $0.0000005794 | 132 days | 162% |
As seen, with ELON, prices can move within days. Or they might take months.
Now, if we take the average of the time taken from one low to the next high, we get (65 + 2 + 132)/3 = 67 days approx.
The average % change as per the patterns is (154 + 66 + 162)/3 = 127% approx.
Mid-term projections
Hence, if the low for this cycle is at $0.0000002553 on Nov. 21, denoted by O, the next high could be Jan. 27, 2023, at $0.0000005795.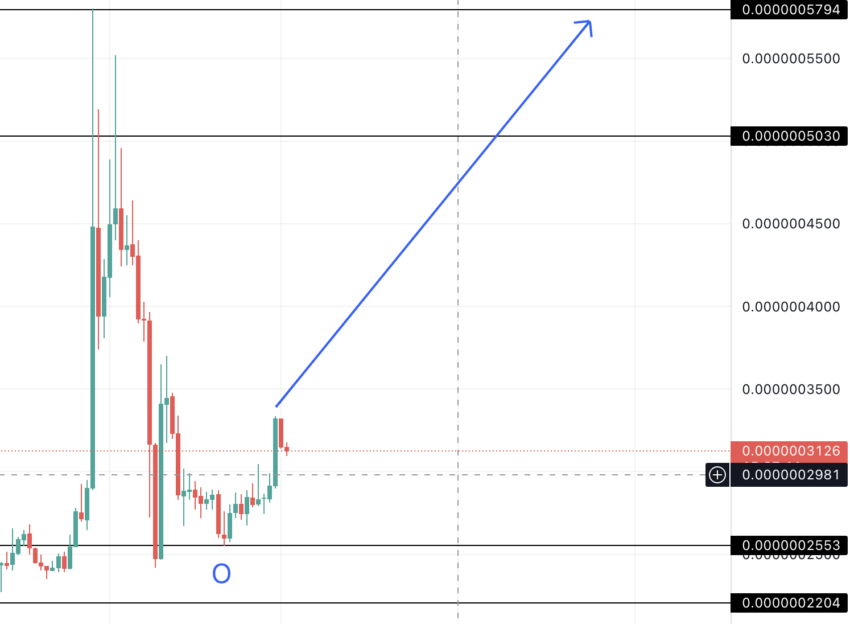 ELON has already made a higher low pattern in 2022, with Point O placed higher than Point Z. Therefore, the lowest point for the next swing might be higher.
If we place the Fib retracement indicator on the daily chart, the next low could be at $0.0000003218, which coincides with the 23.6% Fib level. However, this is true only if ELON manages to breach $0.0000005795 and continue the higher low pattern formation.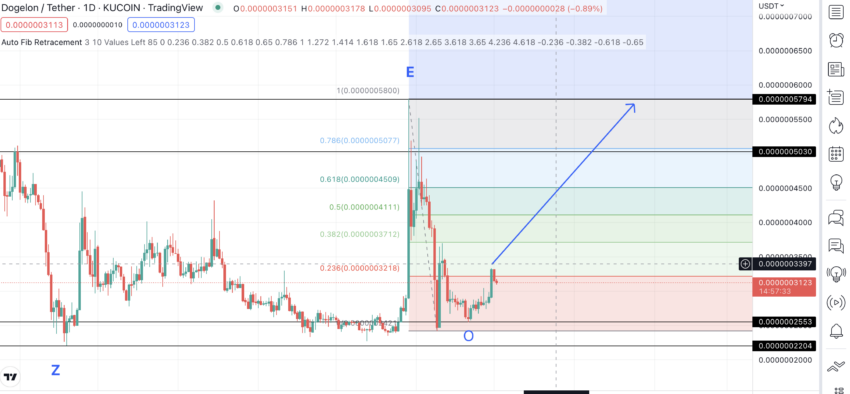 If $0.0000005795 is reached, ELON will successfully make a new higher high. This might start a rally in 2023 if sentiments are in line.
Dogelon Mars (ELON) price prediction in 2023
Circling back to previous calculations, $0.0000005795 looks like a reasonable projection for a 2023 high.
The low could show up at $0.0000003218, as per auto Fib adjustment.
Projected ROI from current levels: 84.60%
Dogelon Mars (ELON) price prediction in 2025
We must head back to the weekly chart for Dogelon Mars price predictions in 2024 and 2025.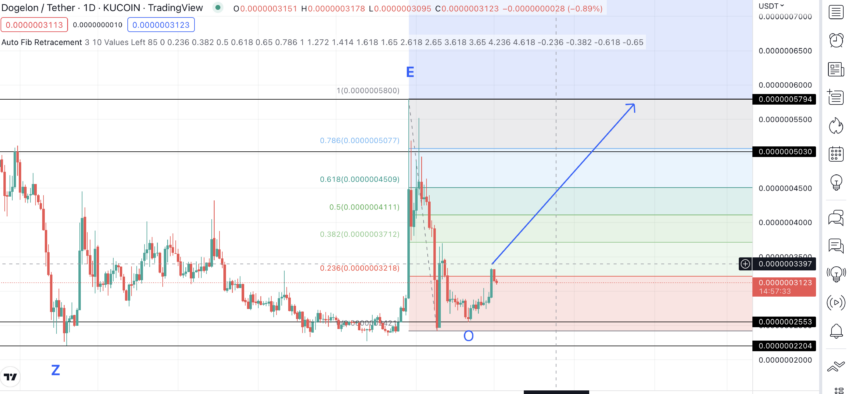 Placing the Fib extension indicator on the weekly chart shows some key levels for ELON. Provided it breaches $0.0000005795 in 2023, we could see it move towards the 261.80% Fibonacci level of $0.0000007804 by 2024-2025. That is a 34.60% growth from 2023.
However, if the xELON-specific staking use case shows up by then, we can expect the price of ELON to go up to $0.0000009917. That is an almost 27% growth from 2023.
Projected ROI from current levels: 216.50%
Dogelon Mars (ELON) price prediction in 2030
If ELON can cross $0.0000009917 by 2025, the next hurdle would be $0.0000012850. If we consider the progress as linear and consider average price growth, we can expect a 31% gain in 2026–2027 compared to 2025.
Therefore, the high level for 2026–2027 could be $0.0000012991. This level will breach the existing lower-high formations on the weekly chart and could kickstart a bull run till 2030. The projected price in that case for 2030 could be near the all-time high formation of $0.0000026649.
Note that this takes one bear cycle into account, where yearly gains wouldn't be more than 5% to 10%.
Projected ROI from current levels: 762.90%
Dogelon Mars (ELON) long-term price prediction
Here is a table to show what a long-term price prediction model for Dogelon Mars could yield.
| | | |
| --- | --- | --- |
| Year | Maximum Price of ELON | Minimum price of ELON |
| 2023 | $0.0000005795 | $0.0000003218 |
| 2024 | $0.0000007804 | $0.0000004054 |
| 2025 | $0.0000009917 | $0.0000005108 |
| 2025 | $0.0000012991 | $0.0000006436 |
| 2026 | $0.0000017018 | $0.0000008109 |
| 2027 | $0.0000022293 | $0.0000010217 |
| 2028 | $0.0000024522 | $0.0000011034 |
| 2029 | $0.0000025748 | $0.0000011254 |
| 2030 | $0.0000027035 | $0.0000011348 |
| 2031 | $0.0000035415 | $0.0000014298 |
| 2032 | $0.0000046393 | $0.0000018015 |
| 2033 | $0.0000060775 | $0.0000022699 |
| 2034 | $0.0000066853 | $0.0000023834 |
| 2035 | $0.0000087577 | $0.0000030031 |
Dogelon price prediction table
The price predictions take a minimum yearly growth of 7% into account. However, price predictions might change in long bear cycles and with sentimental moves like Elon Musk making announcements.
How accurate is the Dogelon Mars price prediction?
The Dogelon Mars price prediction is fairly sustainable and realistic. However, the accuracy will depend on market volatility going into 2023 and beyond. Keeping track of all meme coins and tokens in the space is also advisable. In most cases, a rally at one counter leads to a surge in another.
Frequently asked questions
Will Dogelon Mars ever be worth anything?
Is there a future for Dogelon Mars?
What will Dogelon Mars be worth in 2023?
What will Dogelon Mars be worth in 2030?
How high can Dogelon Mars go?
What will Dogelon Mars be worth in 2024?
Disclaimer
In line with the Trust Project guidelines, the educational content on this website is offered in good faith and for general information purposes only. BeInCrypto prioritizes providing high-quality information, taking the time to research and create informative content for readers. While partners may reward the company with commissions for placements in articles, these commissions do not influence the unbiased, honest, and helpful content creation process. Any action taken by the reader based on this information is strictly at their own risk.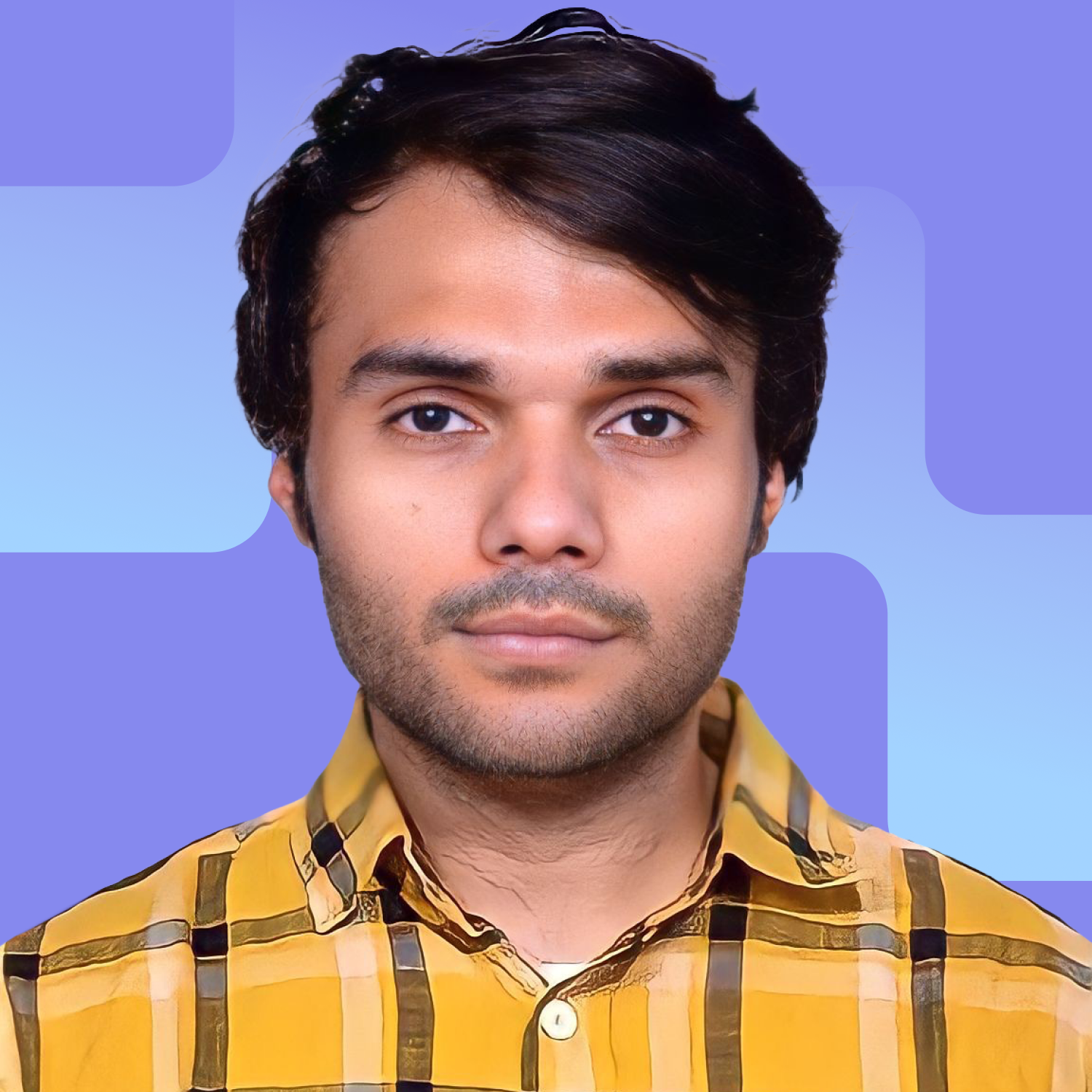 Ananda Banerjee is a technical copy/content writer specializing in web3, crypto, Blockchain, AI, and SaaS — in a career spanning over 12 years. After completing his M.Tech in...
Ananda Banerjee is a technical copy/content writer specializing in web3, crypto, Blockchain, AI, and SaaS — in a career spanning over 12 years. After completing his M.Tech in...
READ FULL BIO
Sponsored Sponsored