As a crypto investor looking at DigiByte (DGB), you may have some questions. Is DGB a good investment option? Despite a 95% drop from its all-time high price, is DigiByte still popular? This extensive DigiByte price prediction piece aims to answer these questions. But before we move forward, here's some background on DGB.
DigiByte is related to Bitcoin. Actually, it is a fork of Litecoin, which has the same codebase as Bitcoin. It is proof-of-work, making it one of the more decentralized crypto platforms around. It propels the concept of crypto as a currency and offers support for asset creation using DApps and smart contracts. And it dates back to 2014, with Jared Tate — the DigiMan — as the founder. DigiByte is fast (40x faster than Bitcoin), highly secure, and hasn't had a funding round, making it truly decentralized.
#BonusHunter | Best bonuses you can get with DGB🔥
DigiByte price prediction using fundamental analysis
The DigiByte blockchain has a rich history and an algorithmic approach to network security, mining, and privacy solutions. All these make it completely decentralized — an important virtue in the current crypto market.
Here are some additional insights about Digibyte:
It has five algorithms that improve security compared to Bitcoin's one algorithm.
Each block surfaces within 15 seconds.
No investors as there was no initial funding round. DigiByte only has ecosystem contributors.
It plans to achieve a transaction speed of 280000 TPS by 2035. This makes it all the more important to keep an eye on the DGB price prediction for 2035.
The mining difficulty adjustment is in real-time, which makes it more decentralized.
DigiByte has several use cases: hosting protocols, secure ID, asset creation, and more.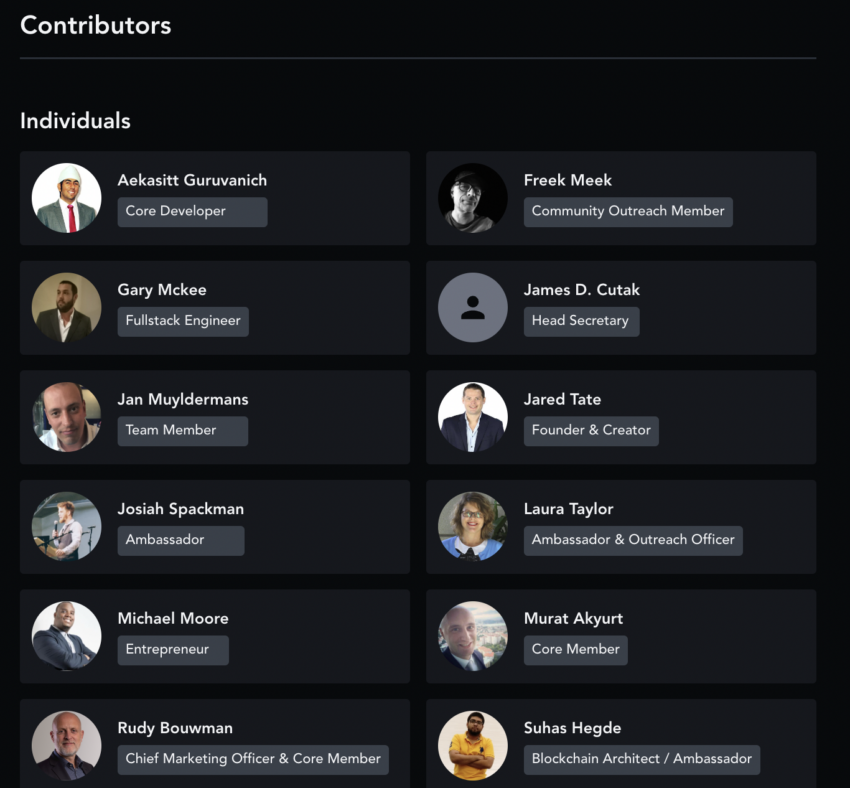 As a PoW chain with several perks over some of the established names, DigiByte's price forecast should hold true for some time.
DigiByte tokenomics and the way forward
DGB has a fixed supply of 21 billion coins. At present, 76% of the total supply is in existence. The lack of funding rounds keeps the tokenomics simple for DGB, as none of the coins were used to raise funds. However, 105 million pre-mined DGB were moved to the reserves for development.
At present, DGB has an annual issuance rate of 5.57%, which decreases each year — making DGB disinflationary. By 2035, all DGB coins are expected to be mined, making the scarcity motivation kick in.
Here is the supply curve with the substrate as the pre-mine allocation. Note that all the other coins are related to the mining rewards.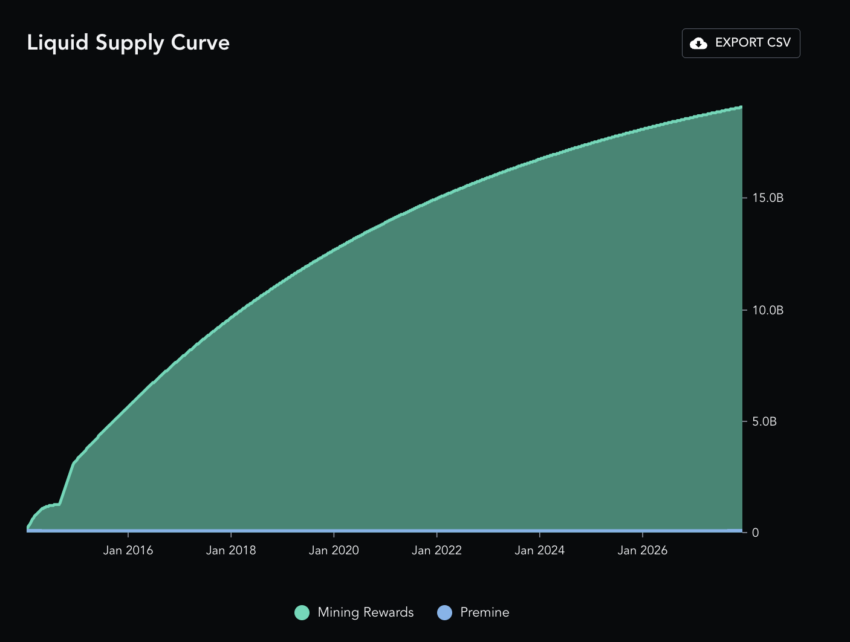 This chart shows how DGB's annual inflation rate (line in blue) has been relatively flat over its entire trading-specific course. However, that might also mean fewer miners at DGB's corner for now.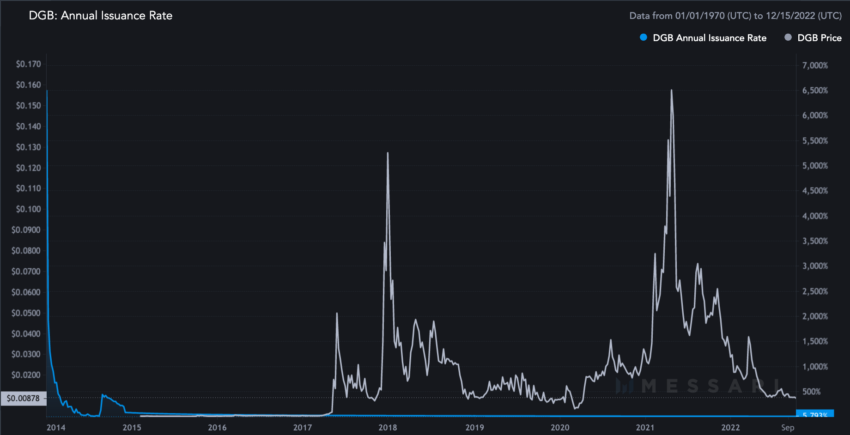 The clean and uncomplicated tokenomics might work well for DGB prices, especially when the inflation rate drops to zero post-2035.
DigiByte on-chain metrics and the price forecast
If we plot the growth in active addresses for DigiByte (DGB), it's clear that over the past 180 days, there's been a steady rise in DGB holders. The price of DGB has also responded positively to this.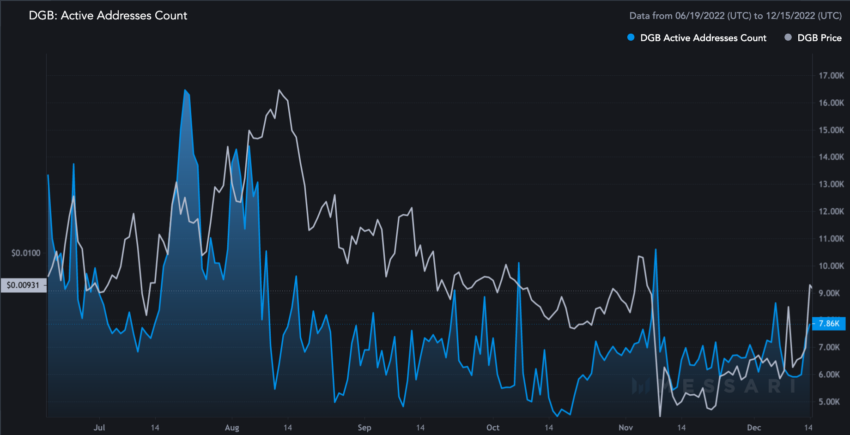 DigiByte (DGB) prices and social growth
Let's consider DGB's Twitter exposure:
As seen, DGB has a large Twitter community comprising almost 239K followers.
Here is a chart that shows a drop in the number of Twitter followers over the past 90 days. However, the prices have increased, showing a short-term negative correlation.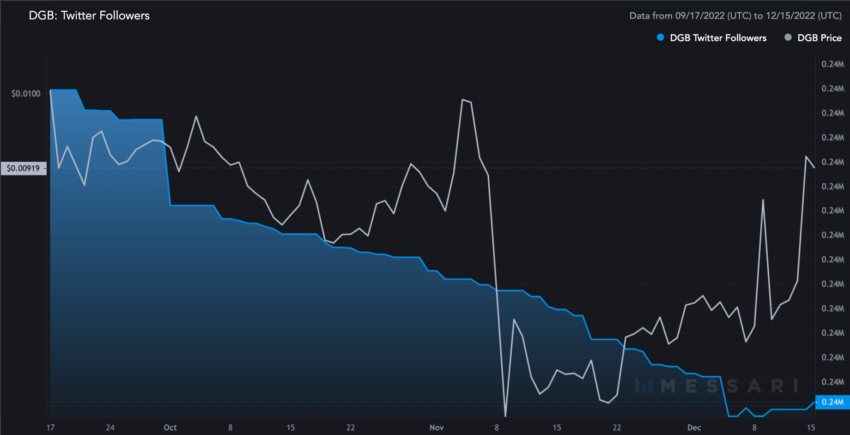 A clear spike in DigiByte's social volume can be seen from mid-October to November onwards. This, followed by the increasing number of wallet addresses, hints at better adoption.

DigiByte price prediction using technical analysis
Before we move any further, let us take a look at the price chart of DGB. Note we are using Binance's DGB-USDT market, courtesy of the massive volume it stands for. Plus, we have the weekly chart open to help you look at the price of DGB on a larger scale.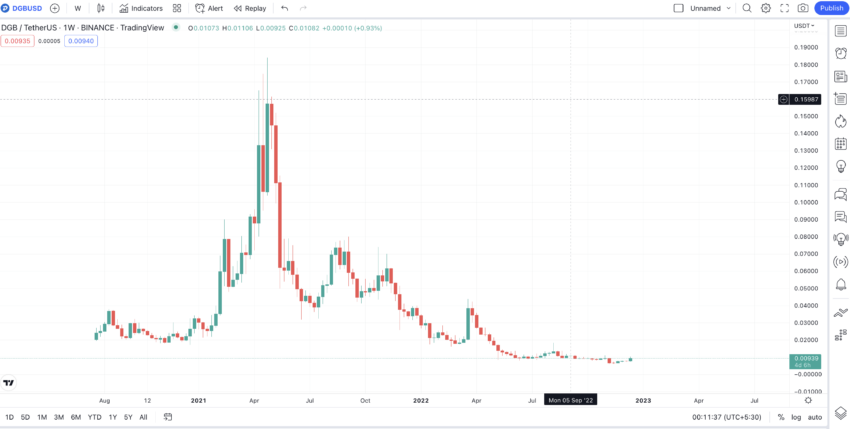 Also, here are the insights we could gather from the weekly chart:
The price of DGB peaked on May 1, 2021, reaching $0.1825.
Roughly around the same time — May 3, 2021 — DGB reached a crypto market capitalization of $2.25 billion, its highest.
The highest market capitalization day was followed by $143.17 million in trading volume.
Trading volume for DGB has dropped since. As of Dec. 17, 2022, it is at $44.58 million. This hints at a build-up of positive sentiments at the counter.
Over the past three months, DGB could only reach a high of $0.0106.
The chart forms a standard higher high pattern followed by a swing high, with each side of the foldback having two discernible peaks and the highest point in the middle.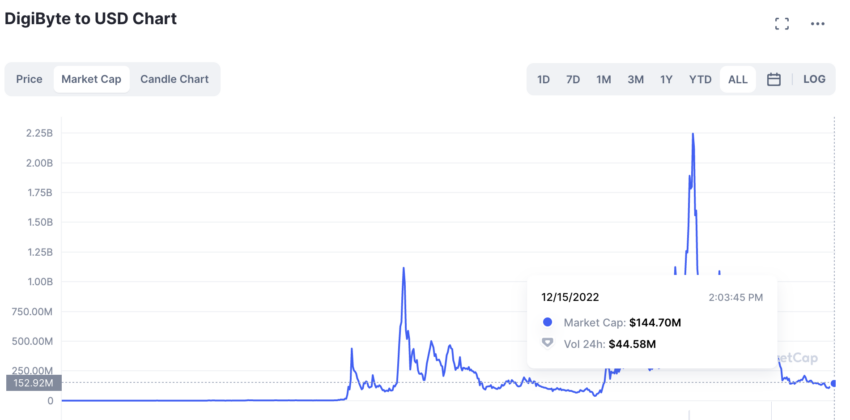 Pattern identification and distance between the peaks
Outlook: Bullish
Now, let us mark the points as A, B, C, B1, and A1. This marking scheme will help us prepare a more concrete DGB price forecast. Do note we have ignored the smaller peaks for the sake of symmetry.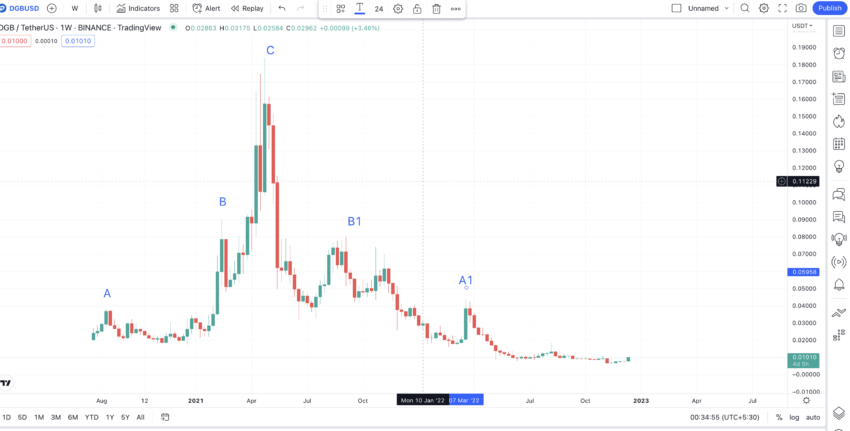 Once we have marked the points, let us find the distance and price difference between the highs.
A to B = 189 days and a 140.02% change; B to C = 70 days and a 103.74% change; B1 to C = 133 days and a 130.66% change; A1 to B1 = 196 days and an 85.46% change
If DGB follows the same pattern, involving two higher highs before a peak, the average of the first peak to the second comes out to be:
A to B and A1 to B1: 192.5 or 193 days and 112.74%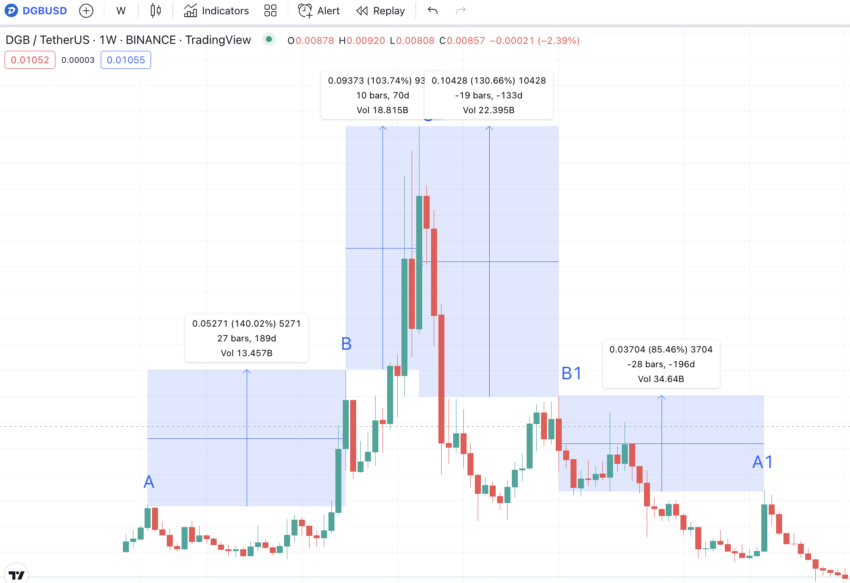 If we locate the next high of the next pattern — A2 — we can plot where the next high might turn up.
Locating the next point
Outlook: Bullish
If we keep looking rightwards at A1, we might notice a small peak. This might be A2, considering peaks can get smaller in the bear market.
If we locate the first high of the next pattern as A2, the next high could be in 193 days and at an increment of 112.74%. Let us draw the DGB price forecast line for the same:
The next high comes out at almost $0.038, close to Feb. 17, 2023.

DigiByte (DGB) price prediction 2023
Outlook: Bullish
As mentioned above, DGB's price is expected to hit $0.038 (B2) by mid-February 2023. Not let's locate the low.
For that, we will now mark the lows between two highs. Let us mark them as X, Y, Z, and O.

Here is the data with which we can trace the path from A to X, B to Y, C to Z, B1 to Z, and A to O.
A to X = 133 days and a -53.90% change; B to Y = 7 days and a -46.99% change; C to Z = 56 days and a -82.83% change; B1 to Z = 56 days and a -82.83% change; A1 to O = 14 days and a -63.30% change.
Calculations
So if we take the average of the deets from A to X and then A1 to O, we get:
73 days and 58.60%.
If we draw the forecast line from A2, the low comes to be at 0.00737 or X1. See that it took 91 days to reach that low, which is an expected variance in the bear market. The low formation, as per our projection and calculation, is a success, as revealed by the path.
Now we can use the same calculation to find the Y1, the low from level B2, which was at $0.038.
To find the Y1, the average of B to Y and B1 to Z needs to be calculated:
This comes in 42 days from B2 and at a deficit of 53.54%. Drawing the line, we get find the low at $0.01765 by early April 2023.
Here is the projected path: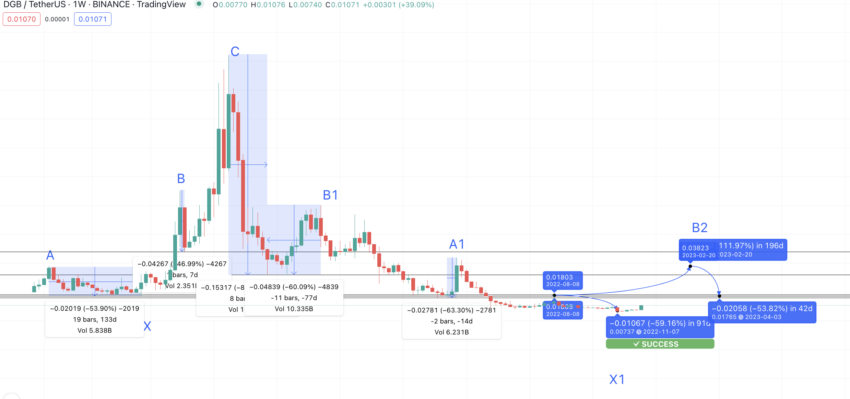 The DigiByte price prediction for 2023 returns a high of $0.038 as the maximum. However, the minimum price could go as low as $0.01765.
Projected ROI from the current level: 300%
Short-term DGB price forecast: is it in line with our 2023 predictions?
Outlook: Very Bullish
The daily chart for DGB shows a bullish descending triangle pattern in play. Descending triangles are mostly bearish. However, if there is a trend change in play or trend reversal, the upper trendline — in the case of DGB — gets breached.
The circle shows the same.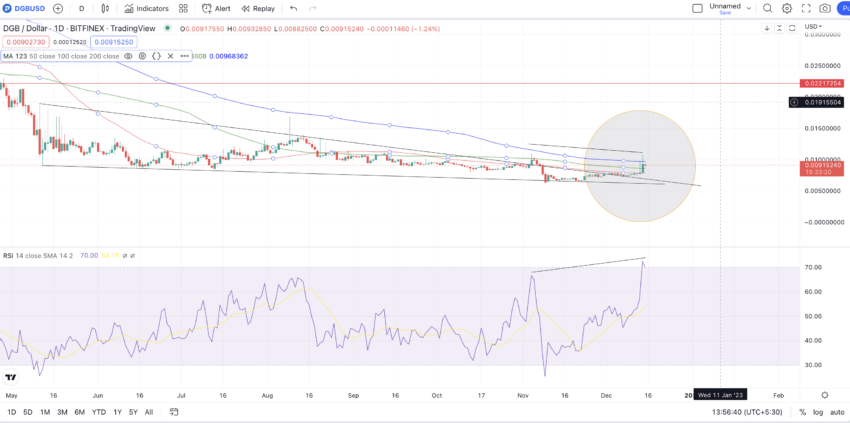 The lines on the price chart and also the RSI (momentum) chart indicate a clear bullish divergence. This might signify a trend shift.
The moving averages (50, 100, and 200) give final confirmation of a rally. If the 50-day and 100-day moving averages (red and green) cross above the higher one, we can expect a rally at DGB. This might take it to the projected high of 2023.
The short-term price prediction is in line with the DGB price forecast in 2023.
DigiByte (DGB) price prediction 2025
Outlook: Moderately bullish
To find the next high, we can take the average of B to C and B1 to C (data from the pattern identification section).
This comes out as 102 days and at a 117.20% peak. That might show up in 2023. However, due to slow market conditions, it is advisable to put it somewhere in 2024 — preferably early 2024.
Therefore, the C1 level for the price of DGB could show up at $0.083.
Also, keeping the 2023 low in mind, the 2024 low could be at $0.038, which is the expected price of DGB as per our calculations. If the next low is higher or equal to the previous high, the price of DigiByte may grow significantly, as a bullish trend will emerge.
Keeping the same pathway intact and extrapolating to 2025, we need to use the Fib indicator placed on the last high — that is, C1.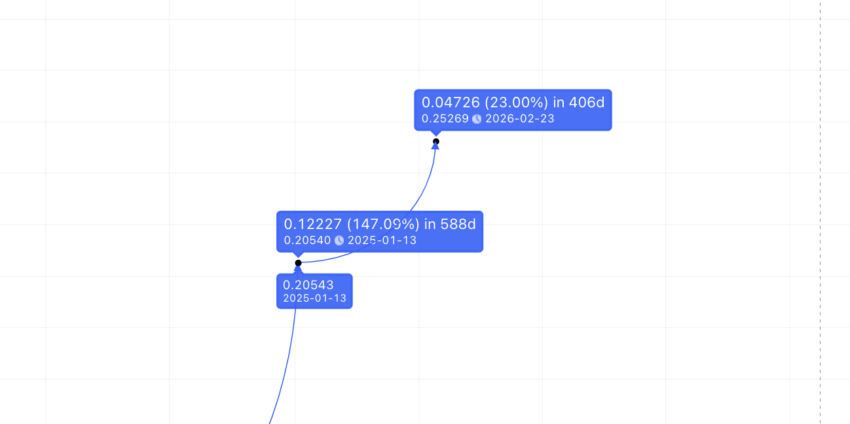 By C1, the future price of DGB would have crossed above several other highs, like A1 and B1. However, if we look at the bigger pattern, the immediate short-term goal for DGB post-2025 would be to breach level B. This is the only high lower than DGB's all-time high point of $0.1825.
If DGB crosses $0.0908 in 2024 or early 2025, the DigiByte price prediction 2025 model puts the highest price at $0.205. That would count as the new all-time high for DigiByte (DGB).
Projected ROI from the current level: 2051%
DigiByte (DGB) price prediction 2030
Outlook: Bullish (But $10 might not be possible)
To extend the forward path for DigiByte, we can use the Fib indicator on the last 2025 high of $0.205.
This shows us the DigiByte price prediction for 2026. If the same path is followed, it surfaces at close to $0.252. The low for that year could coincide with the low Fib retracement level of $0.204. However, that would depend on the market conditions at that time.
Now, if we use the Fib indicator on the 2026 point, the same extends to a minimum of $0.384 by 2028. Also, keeping DGB's tepid yet sustained price growth into consideration, the Fib levels, for the same slope, put the DigiByte price prediction for 2030 at around $0.528.
Here is the path for 2030: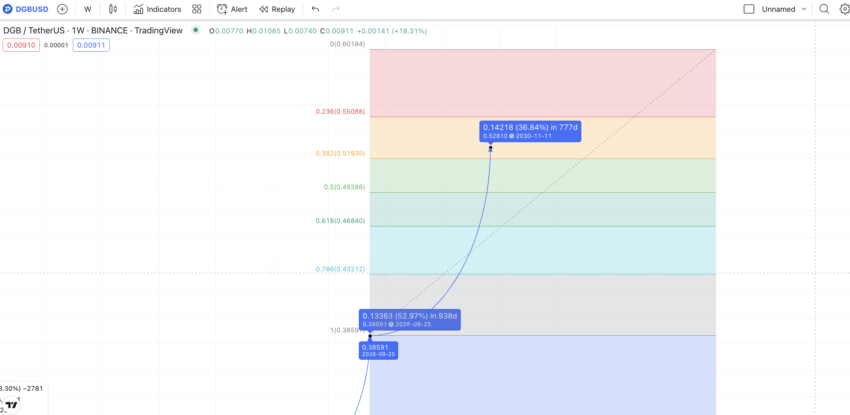 Projected ROI from the current level: 5511%
DigiByte (DGB's) long-term price prediction (up to 2035): can DigiByte reach $10 by 2035?
If you are looking to gauge the price of DGB up till 2035, here is a table that might help. We have gathered this data following a detailed technical analysis across the mentioned timeframes.
| | | |
| --- | --- | --- |
| Year | | Maximum price of DGB | | Minimum price of DGB |
| 2023 | $0.038 | $0.01765 |
| 2024 | $0.083 | $0.038 |
| 2025 | $0.205 | $0.112 |
| 2026 | $0.252 | $0.204 |
| 2027 | $0.315 | $0.224 |
| 2028 | $0.384 | $$0.276 |
| 2029 | $0.460 | $0.285 |
| 2030 | $0.528 | $0.38 |
| 2031 | $0.684 | $0.42 |
| 2032 | $1.02 | $0.51 |
| 2033 | $1.287 | $0.79 |
| 2034 | $1.60 | $1.15 |
| 2035 | $2.41 | $1.49 |
The DGB price forecast on display isn't linear. It takes DigiByte's fundamental and on-chain metrics growth into account. You might see some stagnancy in growth over the years. This may stem from changing public opinion about PoW crypto. If DGB can reach 280000 TPS by 2035, we may see the expected price levels change over the next few years.
For now, a DigiByte price prediction for 2040 is beyond the scope of this discussion. However, a $10 level might not be out of the question.
How accurate is the DigiByte price prediction model?
This DigiByte price prediction model uses extensive calculations and technical analysis. We have also covered short-term trends and assessed whether the 2023 DGB price prediction could actually hold. Hence, the prepared DigiByte price prediction model is practical. It might also be accurate if DGB follows a similar growth path as of the time of writing.
If you are eyeing DGB for the long term, know that, like most digital assets, DigiByte will go through bear and bull cycles. Therefore, it is sometimes best to focus on the average future price of DGB rather than the maximum/minimum levels.
Frequently asked questions
Will DigiByte ever reach $1?
As per our price prediction model, DigiByte (DGB) can cross the anticipated $1 mark by 2032. For that, the active addresses and trading activity across exchanges and pairs should continue with an upward swing. Do note that both bear and bull markets and general crypto volatility can impact the accuracy of price projections.
Is DigiByte coin a good investment?
DigiByte coin or DGB seems like a good investment option considering its proof-of-work ecosystem, high transaction speed, and focus on security. Plus, our BeinCrypto DGB price prediction puts it's value at over $1 in the next ten years.
Is DigiByte a good investment 2023?
While the long-term view on DigiByte looks bullish, it still looks decent for a 2023 investment option. The reason is the upward short-term trend, attributed to positive momentum. Plus, DGB's tokenomics involve the reduced issuance and a growing number of active addresses holding DGB. This makes DGB desirable in the short term or in 2023.
What is DGB all time high?
DGB reached its all-time high price of $0.1825 on May 1, 2021. Since then, it has been on a downward trajectory. At present, DGB is trading at a 90% discount to its all-time high. This is mostly due to bearish market conditions.
No, DigiByte is not a stablecoin. Instead, it is a standard PoW crypto, like Bitcoin. DGB (the blockchain) has an algorithmic approach to network security, mining, and privacy solutions. All these make the blockchain and its native coin completely decentralized — an important virtue in the current crypto market.


Disclaimer
All the information contained on our website is published in good faith and for general information purposes only. Any action the reader takes upon the information found on our website is strictly at their own risk.
At Learn, our priority is to provide high quality information. We take our time to identify, research and create educative content that is useful to our readers.
To maintain this standard and to continue creating awesome content, our partners might reward us with a commission for placements in our articles. However, these commissions don't affect our processes for creating unbiased, honest and helpful content.