Concordium is a blockchain project that has its sights set on the future. More precisely, the team behind the project aims with their creation to solve various issues that are plaguing blockchain ecosystems or that are set to become significant issues.
Concordium is a layer 1 blockchain. It functions using a proof-of-stake mechanism and is permissionless and decentralized. And most significantly, it includes an ID at the protocol level. This is meant to offer additional security. These aspects also help it easily comply with present and future regulations within the crypto ecosystem.
Is Concordium a project that should be of interest to crypto developers as well as regular users? Should Concordium's native coin, CCD, be on your radar? In our extensive guide, we will look to answer these questions for you and give you a better insight into what the future of blockchain tech may just have in store.
What is Concordium?
While cryptocurrencies, NFTs, or the metaverse are aspects that have caught the public's imagination, it is the potential of blockchain technology that is the most exciting. Its almost endless number of use cases, and benefits over conservative network models, make it an area in which every business should consider investing.
And they most likely will. This is what Concordium believes. Currently, the company is gearing up for the future. With this in mind, Concordium's layer 1 blockchain aims to solve important issues. Some of these are already causing headaches for people in the cryptospace. Others are yet to appear. However, they are to be reckoned with sooner rather than later.
In a nutshell, Concordium is a blockchain architecture with built-in permissionless, privacy-focused, decentralized features. It is a network on which regular crypto developers can build in a scalable, safe way. It is also mindful of current crypto regulations and anticipates the ones that are likely to be in effect soon.
What is a layer 1 blockchain?
A layer 1 blockchain provides a set of rules that can make the network truly scalable. This set of solutions features in the base level. This includes older blockchain networks such as Bitcoin, Ethereum, and Litecoin, as well as modern iterations such as Concordium.
Consensus protocol and sharding are two of the proposed layer 1 answers to various blockchain issues. They both have the goal of making the network more efficient. However, they achieve this in different ways.
Layer 1 vs. layer 2 solutions
Layer 1 solutions imply that the blockchain architecture needs nothing on top of it. On the other hand, layer 2 solutions represent a third-party integration that functions alongside a layer 1 blockchain, technically improving its capabilities. The layers themselves represent the architecture of the blockchain that handles transaction confirmations.
Today's crypto ecosystem requires these solutions. Simply put, the high volume of transactions and growing sophistication of the crypto users' needs makes it impossible for blockchain networks to operate under the old conditions. This is why projects such as Concordium look to resolve these issues and offer solutions for the challenges that may lie ahead.
A brief history of Concordium
Lars Christensen is responsible for launching Concordium back in 2018. Christensen is co-founder of Saxo Bank, the Danish investment bank that specializes in online trading.
From the on-set, the team behind Concordium stated the project's goal was to make it easy for current and future businesses to easily integrate the potential of blockchain technology. It places a strong emphasis on being compliant with regulations.
Christensen considered it important to partner with leading figures in the crypto and financial sectors to ensure that the project could remain fatefully represent the developer's original vision.
This meant getting professors from the Aarhus University and ETH Zurich to work on Concordium's whitepaper. It also meant setting up Concordium Blockchain Research Center Aarhus (COBRA). The goal of the organization is to work diligently on the technical aspects related to the identity management protocol as well as the consensus algorithm.
Concordium entered on mainnet, becoming accessible to the public in 2021. Dubbed Alpha Centauri by the team, the release includes the 2-layer consensus protocol. The project is now focused on developing tools that will enable businesses of all types to connect with the blockchain and harness its potential.
Adapting to the growing list of crypto regulations
Regulation of cryptocurrencies is a long time in the making. Yes, the pioneering phase of blockchain tech included fewer of these. Certainly, the freedom provided by this technology is an important aspect to consider. However, some type of regulation is vital to remember that in integrating within the mainstream financial system and ensuring fraud protection.
In Mar. 2022, the United States released the Executive Order on Ensuring Responsible Development of Digital Assets. This can prove a turning point. And, at the very least, it is a sign of how the tide is turning.
Concordium's founder Lars Christensen has always claimed that the company's goal is to make blockchain-tech potential available to all businesses and make their efforts fully compliant with regulations.
The Concordium blockchain's design makes it regulatory compliant. This means that it can integrate easily within a current business system where knowledge of a user's identity is a requirement. Transactions on the network always come accompanied by encrypted ID stamps that function alongside the smart contract compatibility of the network.
However, this brings up another important point, that of privacy. It is one aspect on which Concordium focuses, delivering a permissionless, decentralized, and privacy-oriented blockchain.
Helping authorities fight against money laundering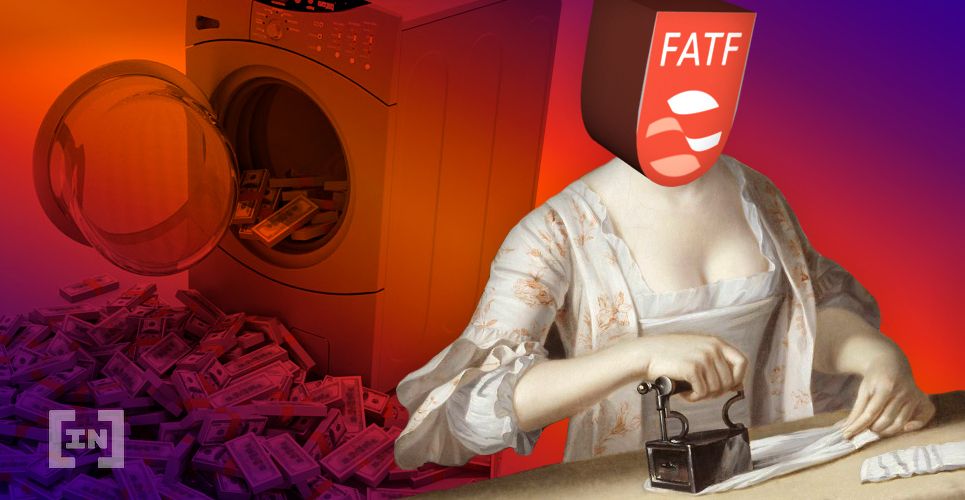 Cryptocurrency's rapid adoption has meant that regulation remains a problem. The crypto space isn't heavily regulated, unlike traditional banks. This was a characteristic that was lauded by cryptocurrency enthusiasts. It is, however, also a trait beginning to be reconsidered even by the most ardent users of crypto.
For one thing, cryptocurrency is volatile and susceptible to manipulation.
Hacking is also a common problem in the cryptocurrency industry. Hacking can cause financial loss to cryptocurrency traders and investors. The government cannot protect investors' assets due to a lack of regulation. Users are left on their own to try and recover their investments. This rarely happens. And, let's face it, it also serves to drive down the general public's belief in blockchain technology altogether.
While the birth process was slow and, at times, painful, governments and institutions are making efforts to regulate the cryptocurrency market. The EU has proposed to implement a series of recommendations by the Financial Action Task Force (FATF). These recommendations are intended to reduce the risk that money laundering can be done through the transfer of crypto assets. The United States is working on passing regulations in this sector as well.
Although many industry stakeholders have pointed out the downsides of legislation, there are some obvious positives as well. Regulation could promote trust among institutional investors and mainstream adoption. This can and will drive more businesses to consider integrating blockchain-based services into their work.
ID verification process
Concordium wishes to use its built-in ID and PoS mechanism to address these desires for greater regulation. The company aims its services primarily at businesses that will, no doubt, need to consider the implications of regulations.
The blockchain's business model is focused on transparency and stability with low transaction fees. This helps encourage a long-term, sustainable business model. Finally, transaction costs are based on the fluctuation of real-life fiat currencies. These are some of the aspects that Concordium embraces in a bid to ensure that the company stays up-to-date on the regulatory conditions that will be a vital factor in blockchain technology's evolution.
Concordium's benefits over market competitors
Yes, of course, Concordium is not the first blockchain to be endorsed on a global scale. Besides this, there are other projects that have had the time to acquire popularity, as well as technical know-how. So, just what is Concordium doing differently from competitors such as Ethereum?
Simply put, Concordium has identified the main issues that are plaguing these networks. The project has invested heavily in its technical research division. The goal is to find suitable solutions.
Many important companies are already convinced of these strategies and have partnered with Concordium. Some of the notable names on the lists of collaborators include Ikea, Saxo Bank, Mastercard, Volvo, and others.
Blockchain scalability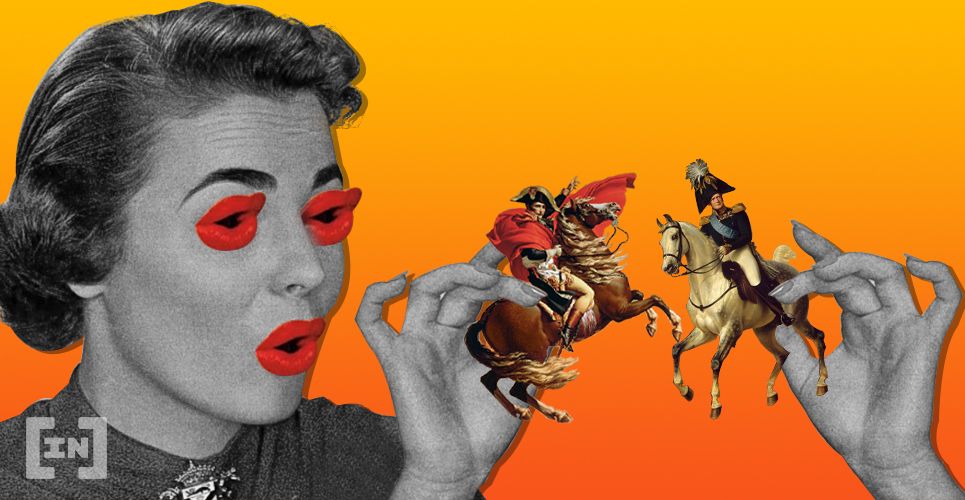 One of the issues most often discussed when it comes to older blockchains is scalability. The success of crypto can prove its undoing, however. The number of transactions and the speed of processing must grow to prevent that. In Concordium's Vega phase, sharding technology will be introduced. This will allow the system to process numerous transactions at the same time.
There are other types of issues, which frequent users of Bitcoin and Ethereum will likely complain. For example, the time required to confirm transactions is often very long. The Concordium network has an average of 12 seconds required for transaction confirmation.
Furthermore, crypto mining, the backbone of most blockchains, has been criticized for its effects on the environment. Running a node on Concordium uses the energy required to power an electric car. This is far less than the majority of other platforms using the PoW consensus mechanism.
Security audit
The Concordium blockchain prides itself on the slow, meticulous development of its technical innovations. For this purpose, the company's official website boasts that the project has been thoroughly audited by external agents.
Kudelski Security Research carried out the first auditing session in Jun. 2021. It is noted that Concordium is built to be a user-friendly platform and a business-oriented solution. The research conducted also supported the claim that this blockchain is the first ready to meet regulatory requirements while operating smart contracts.
Kudelski, along with the Concordium, carried out a number of threat modeling tests. The report noted that the blockchain's three layers, the Network Layer, Consensus Layer, and Identity Layer, work together to create a truly scalable solution. Although certain threats were detected, they were not the type that led to loss of funds. Ultimately, the report said that Concordium is safe to use.
A second auditing session took place in May 2021. The company NowSecure was commissioned to perform an assessment of Concordium's mobile application, which functions both on the iOS and Android platforms.
NowSecure shared its findings, in which it confirmed that the apps were safe and ready to be made available to the public. Furthermore, the tests failed to find any significant vulnerabilities that could put the users at risk.
Concordium's focus on privacy issues
The Concordium project presents itself as one that has been created not just as a recipe for the present, but rather as a solution for the future of the economy. This, naturally, involves a good deal of foresight and analysis. The team behind the blockchain has identified adherence to crypto regulations, as well as being capable of offering true privacy to its users, as the main aspects on which it needs to work.
This is why Concordium offers an innovative layer 1 blockchain with ID features built into its protocol. This means that while transactions carried out on the network carry an ID stamp, this is entirely encrypted. Before each transaction on the network, each account receives an ID. This is, however, checked by a third-party identity verifier.
Concordium also uses zero-knowledge-proofs (ZKP). This allows the verifiers to perform their tasks without storing information on-chain. This means that the users' private information is never actually stored on the blockchain. Still, Concordium says that users suspected of fraudulent activities can have these rights revoked, and information can be shared with law enforcement.
The CCD coin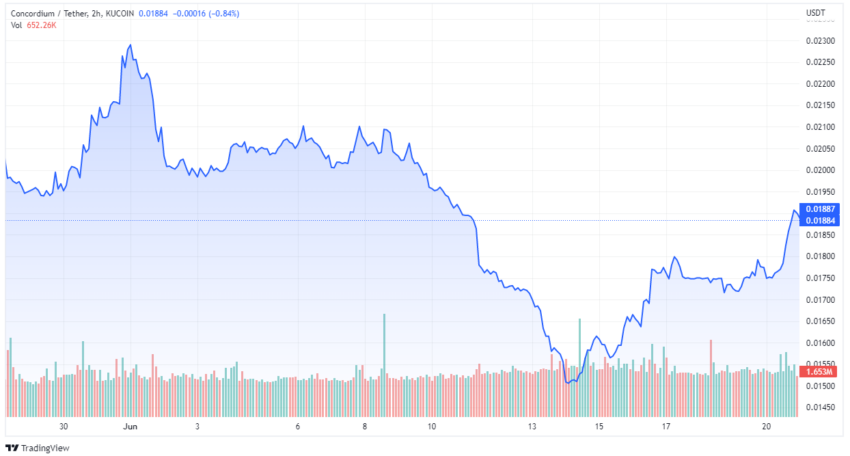 CCD is Concordium's native cryptocurrency. It serves primarily to pay transaction fees on the blockchain. Validator nodes have a vital role in transaction processing and network security. They are rewarded using the CCD coin. The coin's value is provided in advance. It is known in terms of fiat (Euro), making its fluctuation less unpredictable.
The validator nodes are divided into bakers and finalizers. The bakers are able to take part in the governance process. To be able to do this, they must stake part of the CCD that they earn. When staking the coins, they are helping to "bake" blocks and secure the network.
The governance process is an integral part of the Concordium company's promise of decentralization. The blockchain ecosystem is particularly welcoming to DeFi applications, with the CCD coin used as collateral and settlement medium.
The CCD can be safely stored on the Concordium mobile and desktop wallets. The mobile software is available for both iOS and Android operating systems.
CCD tokenomics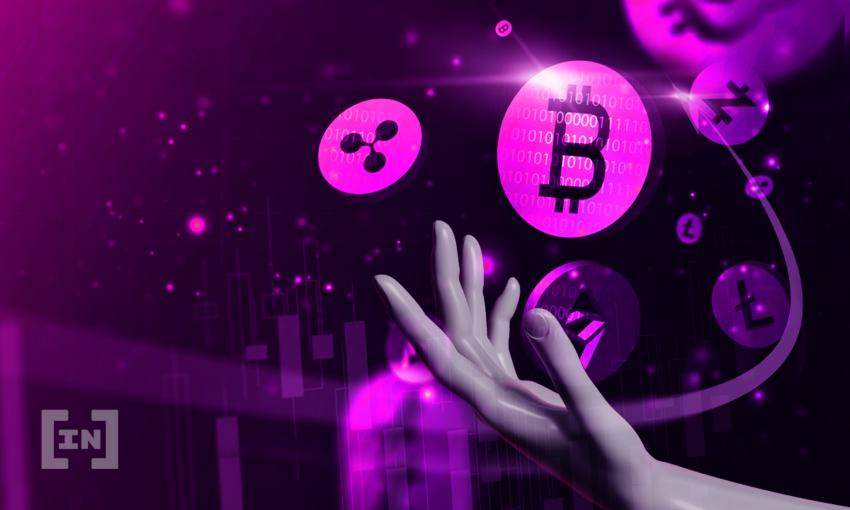 As we mentioned earlier, CCD has a vital role in the way Concordium ecosystem functions. Its primary role is to provide an incentive for the participants that contribute to the development of the network.
To build on the basic principle of scarcity, CCD is also issued in a fixed amount. The total supply of the CCD coin is 10,000,000,000. The Genesis block was established in Jun. 2021. The market cap at the time of writing sits at around $151,000,000. 
CCD is minted using a pre-defined and fully transparent rate. Those who run validator nodes on the network are divided into bakers and finalizers. It is the bakers that receive CCD through both transaction fees and through minting itself.
The distribution of the newly minted CCD coins happens according to a clear algorithm: 
85% is distributed towards the Banking Reward Account
10% goes towards the Concordium Foundation
5% is paid to the Finalization Reward Account.
The majority of the gas fees (90%) comes when a transaction is finalized. It is distributed into the GAS account. The fees themselves are determined by the complexity of the transaction. Ultimately, the gas fees serve as rewards for the bakers.
CCD is available in a number of high-profile crypto exchanges and OTC trading desks. Some of the places where CCD can be bought include Bitfinex, Amdax, AscendEx, and KuCoin.
Rewards and staking
Users who have more than 14,000 CCD can "bake" by taking part in the chain consensus. For this, they get CCD rewards. Running a node involves creating a mobile account, creating a set of baker keys, and registering them with the account.
The bakers that stake more than 0.1% of the entire circulating supply of coins can take part in the block finalization process.
How does the governance process work?
The governance process is vital in the Concordium ecosystem. First of all, it is a representation of the principles of decentralization and fair representation. This process uses CCD coins.
Concordium has set up a Governance Committee. It decides on several important uses affecting the ecosystem. Some of these issues include the growth rate of CCD, the payout percentages, or system updates.
Currently, the governance itself is handled by The Concordium Foundation, a Swiss-based non-profit organization set up by blockchain developers. However, the plan is to expand the governing committee. Progressively, new members will be added to the committee based on the decision of the CCD shareholders. Ultimately, in just over eight years' time, the committee will include exclusively appointed representatives added in by the coin holders.
Is Concordium the blockchain of the future?
Cryptocurrencies, NFTs, or the metaverse are all terms that have gained mass acceptance in the past couple of years. All of these, however, are practical uses of blockchain technology. The ways in which this technology can be utilized, however, are endless.
Concordium estimates that more and more businesses and individuals will wish to integrate their activity within a blockchain network. They are not the only ones who share this opinion. Many analysts have compared our present times to the Dot-com, the period just before the internet became ubiquitous.
Because of all of these aspects, Concordium has its sights set on the future. Its blockchain is focused on creating a framework that is compliant with regulators. Privacy, decentralization, as well as the smooth functioning of the network are other aspects that define the Concordium network.
Join BeInCrypto's Telegram group to know more about Concordium and other similar projects.
Frequently asked questions
Where can I buy Concordium (CCD)?
CCD is the native cryptocurrency of Concordium. It can be traded on a number of platforms such as Bitfinex, Amdax, AscendEx, and KuCoin.
What is Concordium blockchain?
Concordium is a decentralized layer 1 blockchain focused on ID-verified transactions, user privacy, as well as quick and affordable transactions. Concordium's architecture makes sure that all applications created on the network are compliant with crypto regulations.
Disclaimer
All the information contained on our website is published in good faith and for general information purposes only. Any action the reader takes upon the information found on our website is strictly at their own risk. At Learn, our priority is to provide high quality information. We take our time to identify, research and create educative content that is useful to our readers. To maintain this standard and to continue creating awesome content, our partners might reward us with a commission for placements in our articles. However, these commissions don't affect our processes for creating unbiased, honest and helpful content.