Decentralized applications (DApps) have provided a means by which DeFi users can interact with smart contracts on a blockchain. This revolutionary system forms the backbone of what we see today in play-to-earn games, blockchain-based voting, yield farming and staking protocols, and NFTs. However, developers with traditional programming skills often have difficulty with blockchain infrastructure. Cartesi offers a solution, providing DeFi users with operating systems they are already familiar with.
Discover what makes this one of the most sought-out DApp programming environments, why it's important, and how to invest in its native token CTSI.
BeInCrypto Trading Community in Telegram: read reviews on the best crypto projects, get the hottest news on crypto, read technical analysis on coins & get answers to all your questions from PRO traders & experts!
What is Cartesi?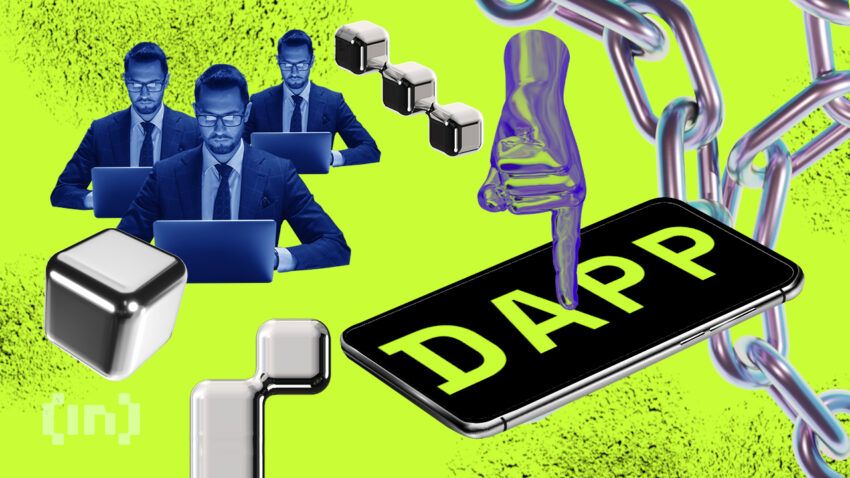 Cartesi is a layer-2 scaling solution for decentralized networks that facilitates DApp development using familiar programming software. While Ethereum is the main network that runs these DApps, most of the smart contracts use the Solidity programming language. However, not all developers are familiar with this, so creating DApps on a blockchain requires additional training and learning.
Cartesi improves blockchain scalability by offering a Linux-based virtual machine, making it more accessible to developers. Essentially, the scaling solution acts as the bridge between traditional software environments — such as Linux — and the blockchain. The result is a new operating system that allows for faster programming and, thus, faster web3 expansion.
Team & funding
Erick de Moura is both the CEO and co-founder of the Cartesi project. In the past, he has worked as a software designer for WiNGs Telecom, a software developer at Arizona Bay, and an engineer for WebRadar. Alongside Moura, computer graphics professor Diego Nehab also serves as the co-founder and CTO. Other prominent team members include CSO Augusto Teixeira and COO Colin Steil.
Note that the project has received investment from names including Bigbang Angels, Taiwan Startup Stadium, ICONIUM, SOSV, and Artesian VC.
History
Founded in 2018, Cartesi was originally intended as a trustless artificial intelligence marketplace before evolving into a blockchain operating system. Inspired by a goal to increase DApp network adoption, COO Teixeira persuaded one of IOTA's co-founders to invest in the project's development.
Soon after, 100 million CTSI tokens were sold in 2020, and plans to eventually further decentralize the project's governance are underway. Currently, the founding members have a majority stake in decision-making.
How does Cartesi work?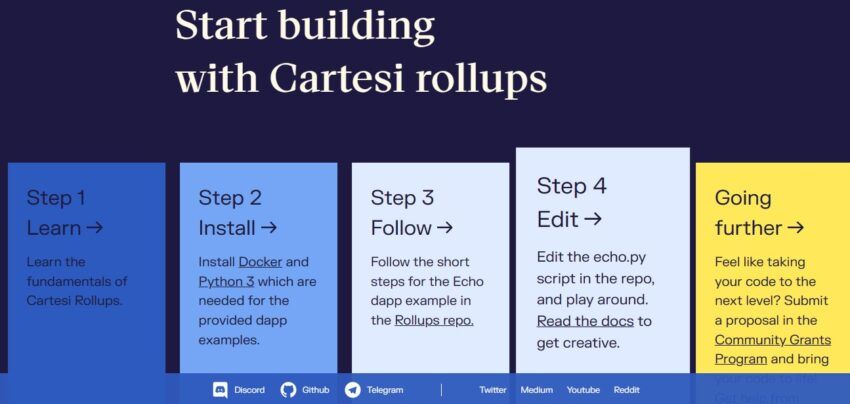 Cartesi provides a Linux virtual programming environment, optimistic rollups, and side chains to the DApp ecosystem. These blockchain scalability solutions enable the system to operate smart contracts on Linux OS resources. Consequently, this allows developers to perform intensive off-chain computations that are not traditionally available on blockchains. Moreover, the platform utilizes a combination of both on-chain and off-chain components for its functioning:
Cartesi Machine: The Cartesi Virtual Machine is the base infrastructure that is based on Linux. The machine enables Cartesi nodes to facilitate the off-chain computations. This process allows for unlimited data to be processed while the Cartesi Machine takes care of all the DApp logic.
Cartesi Optimistic Rollups: The optimistic rollups are a layer-2 system that allows for off-chain smart contract computations. As a result, higher scalability is achieved. It is also capable of bridging tokens between layer-1 and layer-2.
Noether Side Chain: The Noether side chain is used for data storage and memory off the main blockchain. Over time, it deletes data that is not being used, which helps reduce gas fees and increases storage management.
Descartes Rollups: Descartes SDK also enables off-chain computations, and the DApp participants are the ones who verify instead of full nodes that are common on traditional blockchains. This eliminates transaction fees.
Below is an illustration of how the nodes operate in consensus and epoch intervals.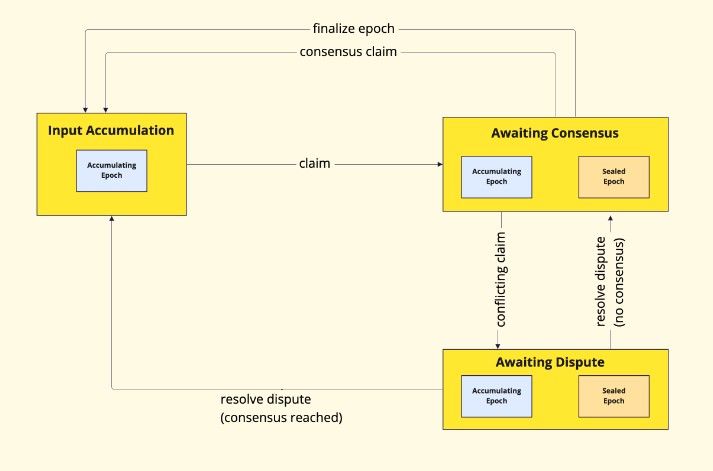 Cartesi features
Although Cartesi may have provided the first blockchain OS that runs on familiar programming software, it's not the first to offer optimistic rollup solutions. Yet, the project still manages to set itself apart from other similar platforms.
For one, its application-specific roll-up solution gives more power to individual validators. Below are some of the main features that set Cartesi apart from others.
High scalability – Cartesi's Descartes software development kit has enabled the platform to perform immense computational scalability without compromising decentralization. This is done by implementing off-chain rollups.
Mainstream programmability – Programmers can code DApps and smart contracts using mainstream software sources on a Linux VM. Moreover, Cartesi is the only solution of its kind that is fully verifiable.
Portability – Due to Cartesi's off-chain node functionality, it is not limited to just one blockchain; Cartesi can run on most major chains, including Binance Smart Chain (BSC), Ethereum, and Matic.
Privacy – Those who wish to conceal their DApp data can do so with the privacy that Cartesi offers.
CTSI token
The Cartesi (CTSI) token is the native utility token that powers Cartesi's sidechain infrastructure. The token is also used to pay transaction fees and to verify blocks. CTSI can even be used as a form of payment for some shops via the project's trusted partners. In addition, Cartesi's grant program gives governance power to the token, providing stakers with voting power.
The current live price data of CTSI is $0.2001, with a total market capitalization of $144.6 million. The circulating supply is 723.3 million CTSI, with both a total and max supply of 1 billion.
Tokenomics
Token distribution was as follows:
Pre-sale allocation: 6.7 million (25% unlocked every four months)
Binance launchpad sale: 100 million
Private sale: 50 million (12-month cliff with 11.1% unlocking every quarter)
Seed sale: 20 million (12-month cliff with 14.3% unlocking quarterly)
Staking
CTSI holders can stake their tokens and earn rewards for just participating in the network. Below is Cartesi's pool performance list, in which investors can view how many users total are included in the pool, their rewards, how much is staked, and additional information.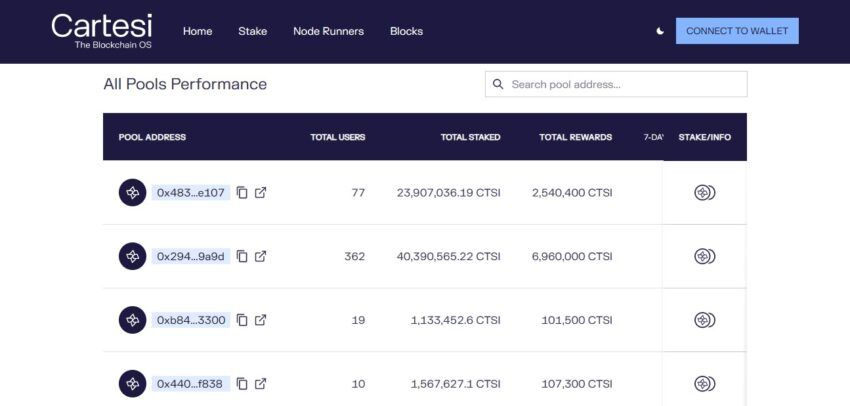 Cartesi wallet
The Cartesi infrastructure requires transactions to be sent to the main chain in order to execute layer-1 activities. The wallet inside the Cartesi Compute Node allows this to take place. However, users should not get this wallet mixed up with the main wallet. Users will be prompted to create this particular wallet during the node installation procedure.
The future for Cartesi
Cartesi's vision paid off for those involved in the DeFi space. They have essentially created the necessary bridge between the old traditional blockchain infrastructure with a newer system that is more accessible to a wider range of players. With the added layer of its roll-up feature, Cartesi successfully facilitates some of the ever-expanding requirements of blockchain users — interoperability, streamlining scalability, and reduced transaction fees.
This new developer-friendly approach to decentralized finance still has a way to go. In fact, the Cartesi team plans to implement HTTP API documentation and testing, which will incentivize validators to use a Cartesi validator node and more auditing before Mainnet deployment. So, we are still yet to see the full effects of the project.
Frequently asked questions
What does Cartesi crypto do?
Why is Cartesi important?
What are Descartes Rollups?
What is the CTSI token used for?
Disclaimer
In line with the Trust Project guidelines, the educational content on this website is offered in good faith and for general information purposes only. BeInCrypto prioritizes providing high-quality information, taking the time to research and create informative content for readers. While partners may reward the company with commissions for placements in articles, these commissions do not influence the unbiased, honest, and helpful content creation process. Any action taken by the reader based on this information is strictly at their own risk.