The Binance Coin or BNB is supposed to be many things — utility token, staking token, governance token, and a means to push forth cross-chain compatibility. Plus, it is the fourth-ranked crypto globally or third if we exclude Tether — a stablecoin. In this BNB price prediction, we explore everything associated with the price of Binance Coin — from market sentiments to technical analysis and fundamentals.
Want to get BNB price prediction weekly? Join BeInCrypto Trading Community on Telegram: read BNB price prediction and technical analysis on the coin, ask and get answers to all your questions from PRO traders!
BNB price prediction and the role of fundamentals
Binance began life as a cryptocurrency exchange in 2017, led by Changpeng Zhao. Over time, the leading CEX introduced a host of offerings, including the Binance Chains and Binance Academy.
The Binance Coin (BNB) was initially an ERC-20 token but eventually migrated to the Binance Chain as a BEP-2 token. Here are some of the fundamental utilities that make BNB good long-term crypto.
With BNB, you experience discounted trading fees while on Binance.
BNB makes it easier for projects to participate in Binance Launchpad-powered IEOs.
BNB works well with the Binance DEX relevant to the Binance Chain and the governance model relevant to the Binance Smart Chain.
You can stake BNB on the Binance Smart Chain.
BNB helps further the vision of dual-chain tokens, establishing smoother interoperability between the Binance Chain and the Binance Smart Chain.
The Binance Coin helps smooth out token listings on Binance, working as a means to incentivize new launches.
It helps with liquidity farming, works with Binance marketplace NFTs, and can even be used to top-up your Binance Card — which works more like a debit card.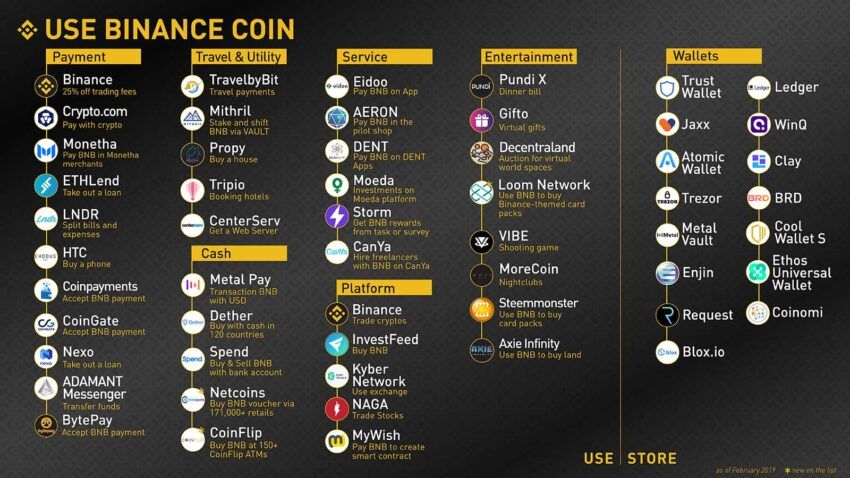 And the use cases keep growing. BNB trades on most crypto exchanges, apart from Binance.
Each of these use cases adds more weight to the Binance platform and the Binance Coin, inciting optimism about the long-term price of BNB.
The DeFi presence of the Binance Coin
Another reason why the crypto market seems optimistic about BNB is the placement of BSC as the second (currently third) biggest DeFi chain in terms of unlocked TVL. Notice how Pool 2 and even Borrowed coins push the BSC TVL to $7.15 billion — or 22.04 million BNB coins.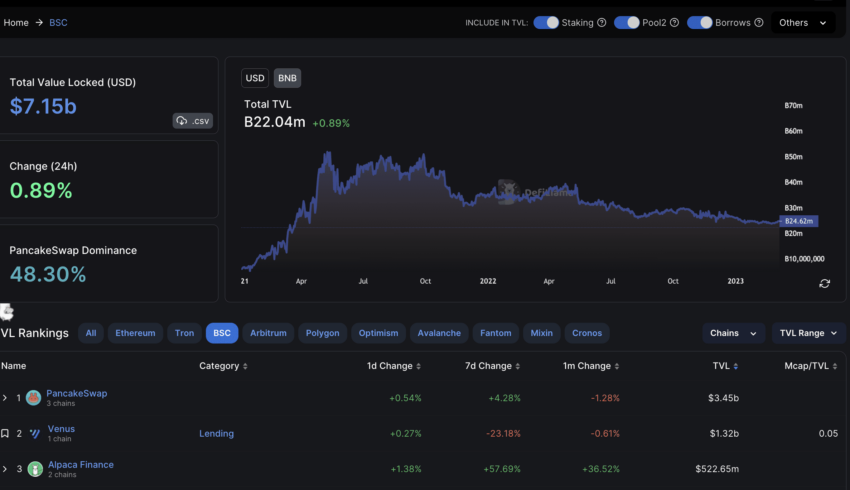 BSC is second only to Ethereum when it comes to the biggest DeFi chains. And for BSC, PancakeSwap is the most dominant DeFi protocol, accounting for almost 49% of the network value.
Binance Coin price prediction and the tokenomics
Before we dive into technical analysis, it is appropriate to take a closer look at the tokenomics of the Binance Coin.
Here are the key things to take note of:
The maximum supply of BNB is capped at 200 million.
Yet, a quarterly burn mechanism is in play to make the token economics model deflationary over time.
The last quarterly burn was reported on Jan. 17, 2023. This was the 22nd token-burning incident, with almost $575 million worth of BNB removed from existence.

Coming to the initial distribution, 50% or 100 million BNB went to the retail investors, whereas 40% and 10% went to the founders and angel investors, respectively. Also, as of now, over 168 million coins are in circulation. Plus, the 50% coin allocation focusing on investors enhances the Binance platform's transparency.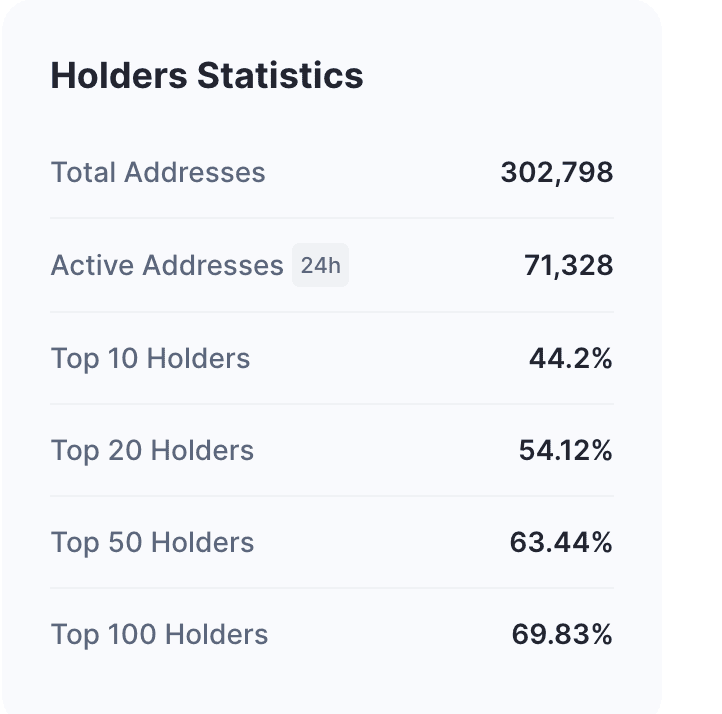 Also, the top holder stats indicate that the top 100 BNB holders control less than 70% of the supply. This furthers the transparency.
BNB price prediction and key metrics
As an investor, price volatility is the first metric you should look at. The 4-week volatility chart suggests that the price of BNB usually moves higher every time the volatility line makes a significant bottom.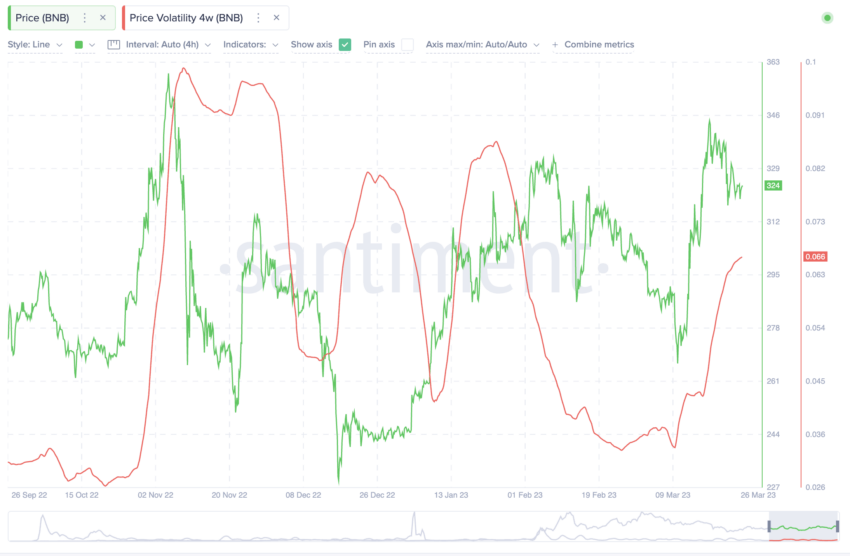 At present, the line seems to be on its way up, taking the price higher along with it. Keeping the historical data in play, a downward-sloping line can push the prices down for a brief period before getting them up-trending all over again. Fingers crossed!
The relationship between the market cap and trading volume is notable. Both metrics have surged since March 10, 2023. An increase in trading volume is good for the price of BNB as it increases liquidity.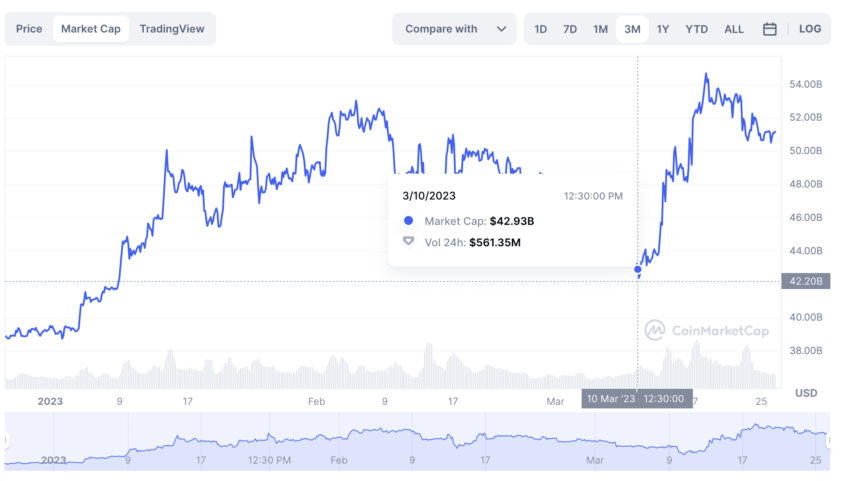 The number of active addresses has remained steady over the past few months. However, this metric grew towards the end of February, with a price rise following.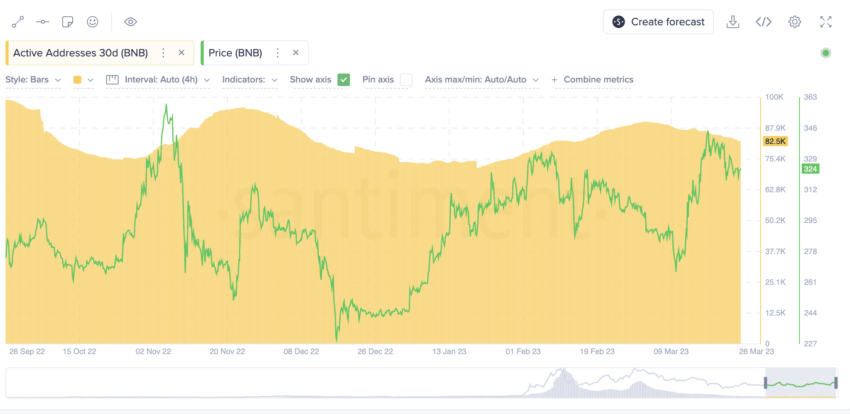 Overall, the metrics do hint at price action optimism in the short-to-mid-term.
BNB price prediction and technical analysis
Our BNB technical analysis from March 16, 2023, shows the $360 level clearly marked as an important resistance. As of now, BNB is trading at $324.50, still far from the important resistance level.
Let us consider another short-term technical analysis to see if things have changed for the price of BNB.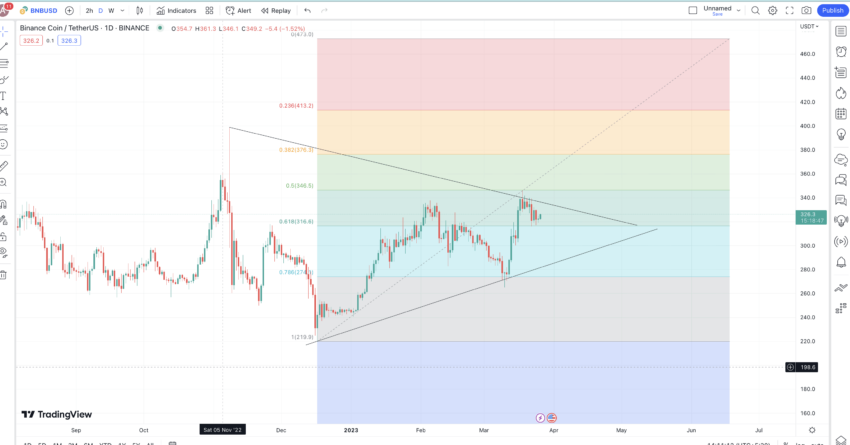 Firstly, the price of BNB is currently trading inside the pennant pattern, closer to the upper trendline. The first level to breach would be $346.50 before it can head toward the $360 mark. However, the path might not be without its share of obstacles.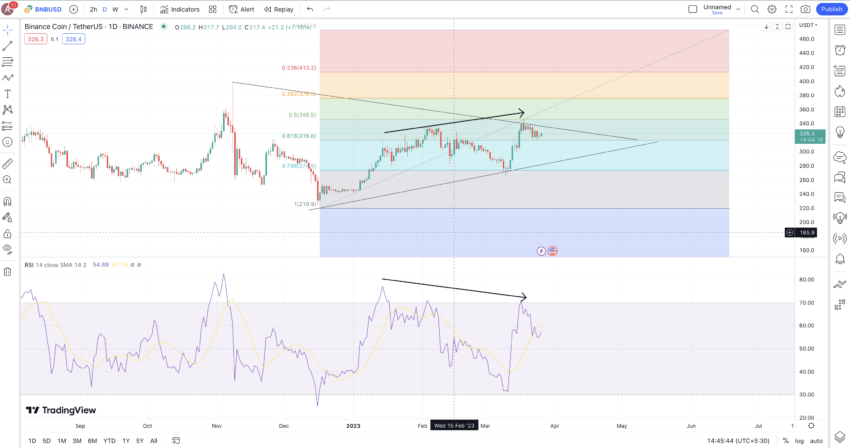 Notice how BNB is trading in the wake of some bearish RSI divergence. This might lead to some near-term correction, with $316.6 and $274 being the key support levels.
Now let us circle back to the weekly chart for pattern identification.
Pattern identification
Notice how BNB makes multiple higher high patterns, denoted by A and B. The corresponding lows are marked N and M, respectively. As of now, we might assume that another A-N-B-M pattern is in existence, with only A2 and N2 levels being formed.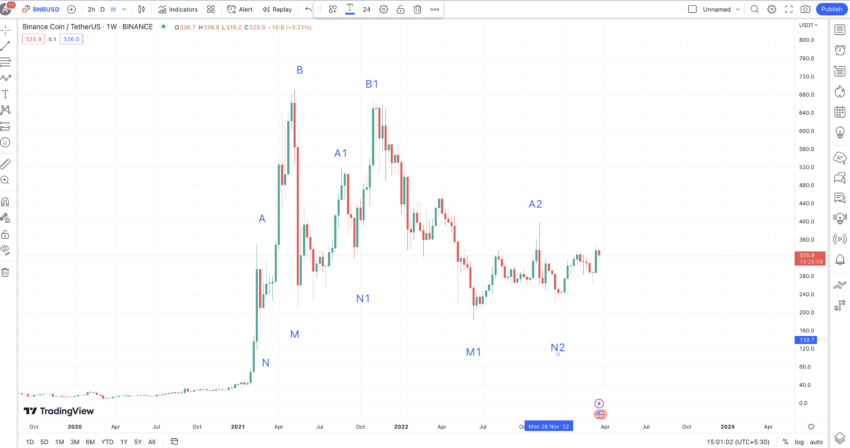 The next high could be B2, which might again lead to another low of M2 in the weeks or days to come. Now let us locate the price changes between the intra- and inter-pattern points to get a tentative value of the maximum prices and minimum prices of BNB in the long term.
Price changes
We shall now prepare three tables for three paths, helping you find the key average price percentage values for every low-to-high and every high-to-low transition.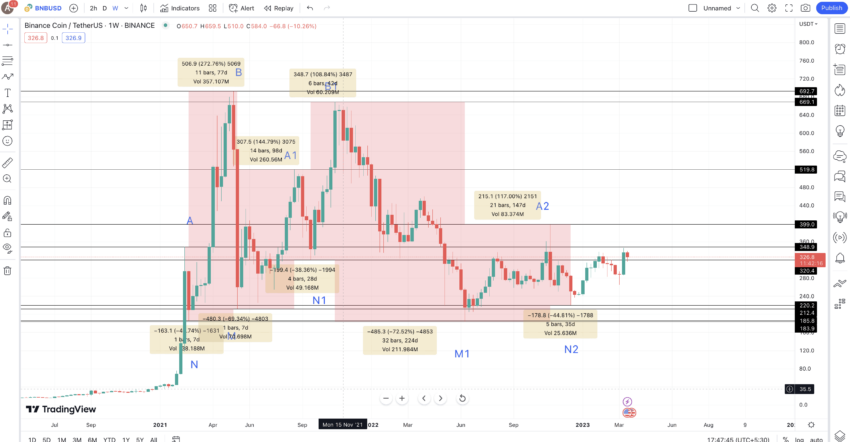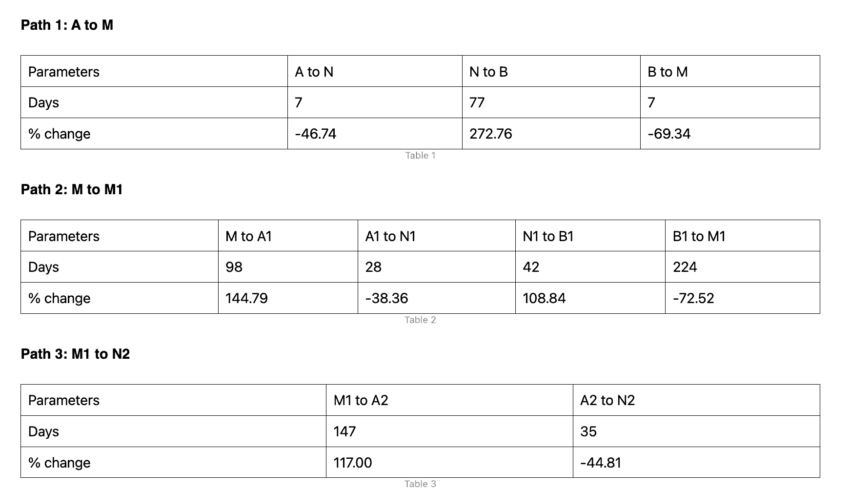 Using the tables above, we can locate the following values:
Low-to-High average using non-negative column values: 160.84% (might happen anywhere between 42 and 147 days)
High-to-Low average using negative column values: 55.35% (might happen anywhere between 7 and 224 days)
We shall now use the values mentioned above to plot the expected trading price of BNB, mid and long-term.
Binance Coin (BNB) price prediction 2023
Outlook: Moderately bullish
We have N2 as the last low on the BNB price chart. We can now use the low-to-high average percentage hike of 160.84% to plot the next high or B2.
This projection puts the BNB price prediction high for 2023 at $573.80 in 147 days (from the tables above). Of course, the timeline and even the projected growth can vary depending on the market sentiment surrounding BNB and the broader health of the crypto market.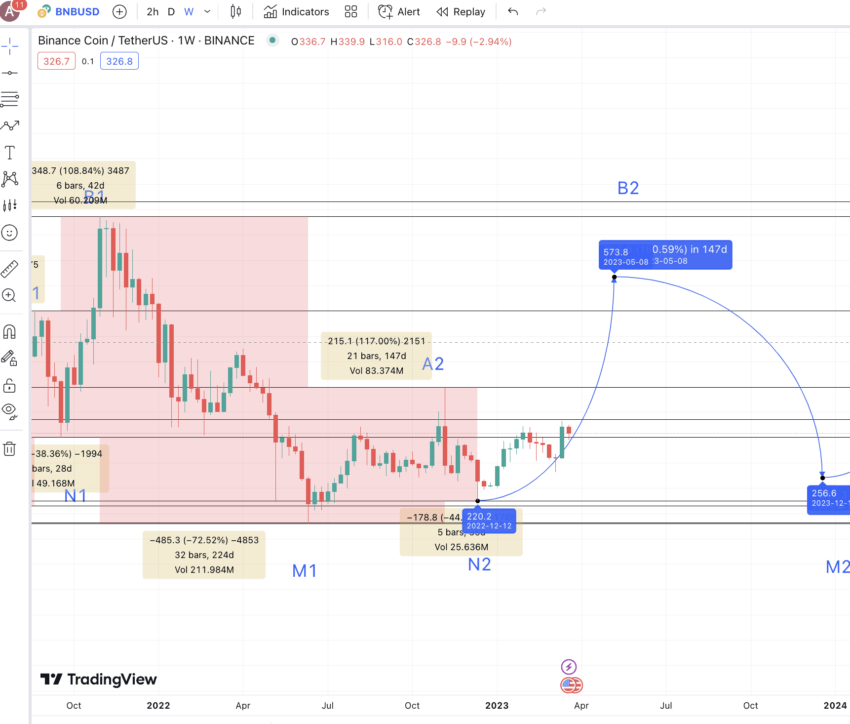 The next low, or M2, could surface at a drop of 55.35% — from the calculations above. And the maximum timeframe established for the drop is 224 days. Keeping these values in mind, the BNB price prediction for 2023 could drop as low as $256.60. We can mark this level as M2.
Projected ROI from the current level: 76%
Binance Coin (BNB) price prediction 2025
Outlook: Bullish
From M2, the low in 2023, we can expect the next high or A3 to surface at $668.10. This aligns with a price hike of 160.84% — per the calculations from earlier. We expect this level to surface by mid-2024. The next low, or N2, could be at a dip of almost 55.35%. This puts the BNB price prediction low for 2024 at $298.30. We can see this level happening towards the end of 2024, marked N3.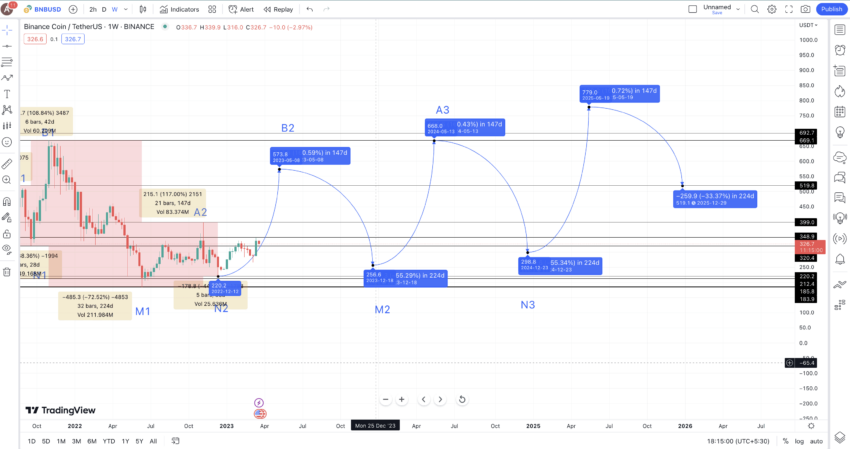 From N3, the next high, or B3, could again surface at the peak of 160.84% (from earlier). This puts the BNB price for 2025 at $779. The next low could drop as low as $347.20, keeping the 55.35% dip in mind. However, by 2025, we can expect the crypto market to be in a bullish phase, and therefore, the low can surface at a support level of 519.80 — coinciding with A1 from the earlier patterns.
Projected ROI from the current level: 138%
Binance Coin (BNB) price prediction 2030
Outlook: Bullish
The last formed low — in 2025 — might surface at $519.80. From this level, we can expect the new high or A4 to form at $1352.20. This kind of up move is possible considering the plethora of use cases presented by BNB.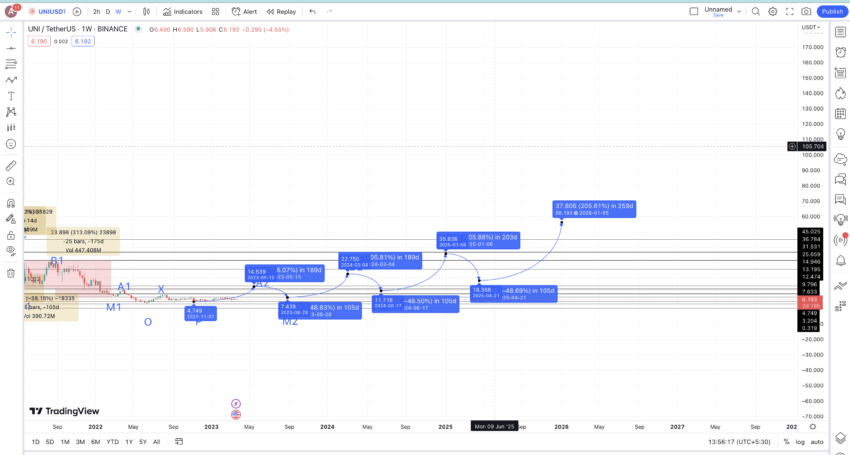 With 2025 low and 2026 high in sight, on extrapolation and on following the same growth trajectory as before, the rough trading price of BNB in 2030 can go as high as $11012.90.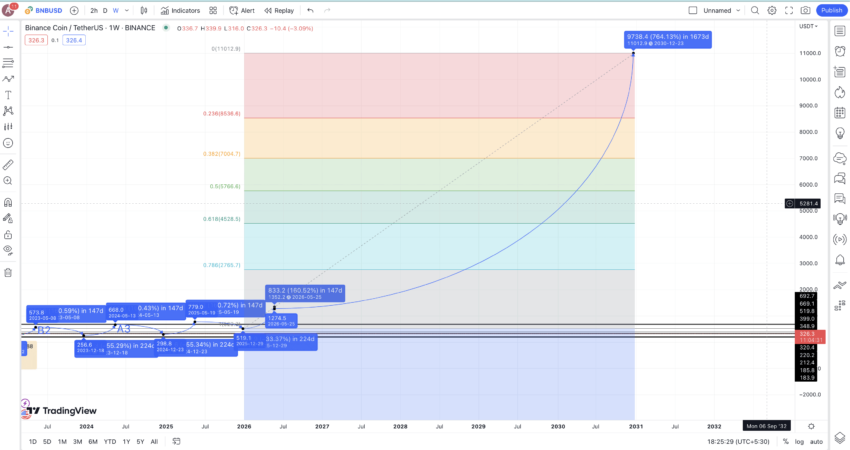 Projected ROI from the current level: 3271%
Binance Coin (BNB) long-term price prediction (up to 2035)
Outlook: Very bullish
Now that we have the maximum and minimum prices of BNB till 2030, we can extrapolate the calculations and projections to create a price prediction model through 2035.
| | | |
| --- | --- | --- |
| Year | | Maximum price of BNB | | Minimum price of BNB |
| 2023 | $573.80 | $256.60 |
| 2024 | $668.10 | $298.30 |
| 2025 | $779 | $519.80 |
| 2026 | $1352.20 | $838.36 |
| 2027 | $2231.13 | $1383.30 |
| 2028 | $3904.47 | $2420.77 |
| 2029 | $8785.07 | $5446.74 |
| 2030 | $11012.90 | $6827.99 |
| 2031 | $16519.35 | $12885.09 |
| 2032 | $24779.02 | $19327.63 |
| 2033 | $29734.83 | $23193.16 |
| 2034 | $37168.53 | $28991.45 |
| 2035 | $44602.24 | $34789.74 |
Is the BNB price prediction model accurate enough?
While this BNB price prediction model correctly captures every aspect of its existence, Binance — being a popular centralized cryptocurrency exchange — might also impact the growth of its native token — BNB. Yet, this BNB price forecast even accounts for the market sentiment that might have some impact on the prices. Overall, with a focus on fundamentals and technical analysis, this BNB price prediction is arguably the most accurate and holistic one around.
Frequently asked questions
What will BNB price be by 2025?
What is the future price of BNB in 2030?
What is BNB's highest price?
Is BNB a smart investment?
Disclaimer
In line with the Trust Project guidelines, the educational content on this website is offered in good faith and for general information purposes only. BeInCrypto prioritizes providing high-quality information, taking the time to research and create informative content for readers. While partners may reward the company with commissions for placements in articles, these commissions do not influence the unbiased, honest, and helpful content creation process. Any action taken by the reader based on this information is strictly at their own risk.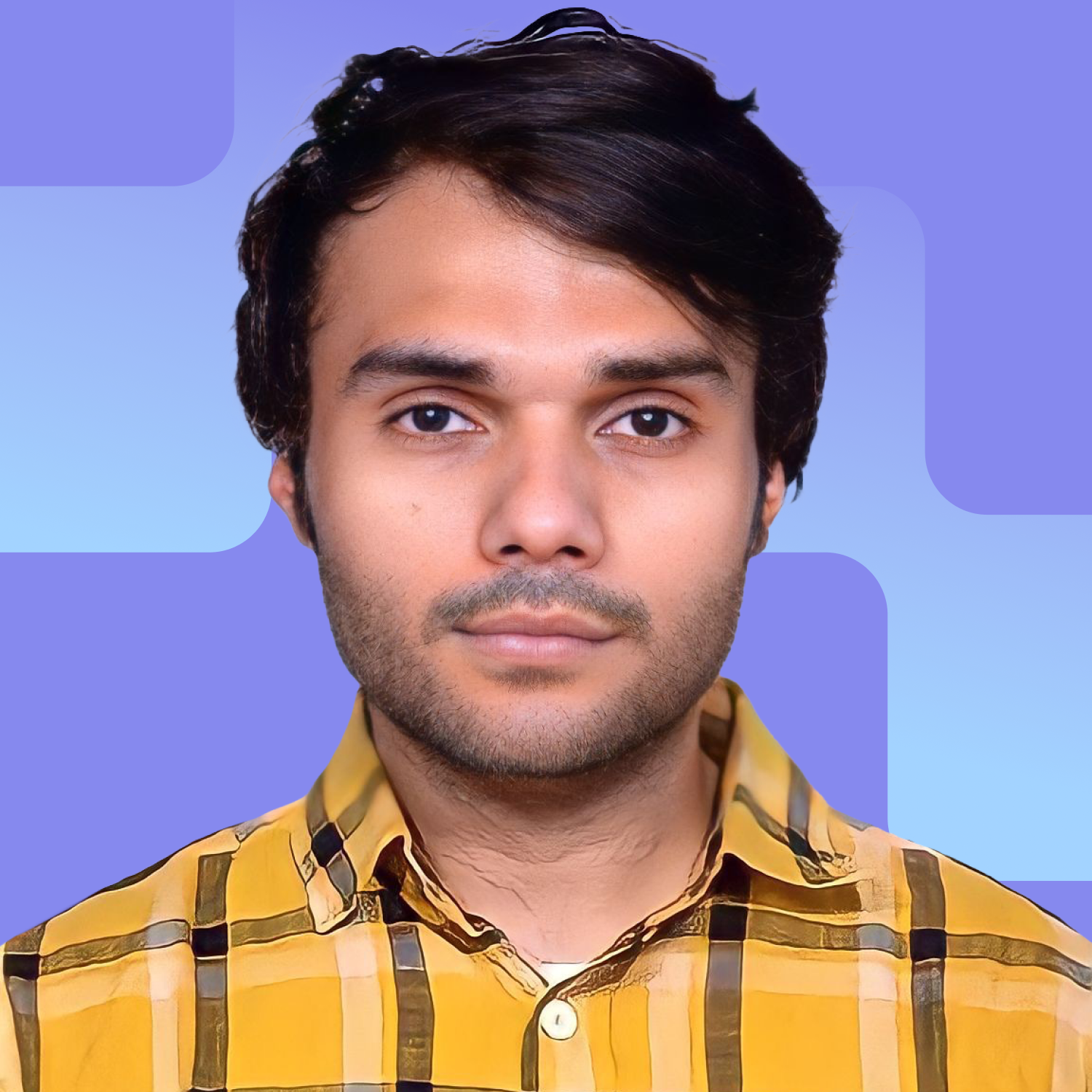 Ananda Banerjee is a technical copy/content writer specializing in web3, crypto, Blockchain, AI, and SaaS — in a career spanning over 12 years. After completing his M.Tech in...
Ananda Banerjee is a technical copy/content writer specializing in web3, crypto, Blockchain, AI, and SaaS — in a career spanning over 12 years. After completing his M.Tech in...
READ FULL BIO
Sponsored Sponsored