Crypto mining doesn't have to cost an arm and a leg to get going. Plug your computer into the best cloud mining data centers and share their processing power to onboard the bitcoin train. This article curates the best cloud mining services available to crypto users.
And if you're still interested in cloud mining services by the end of this article, then head on over to  our Telegram community! Join BeInCrypto Trading Community on Telegram where you can: discuss crypto topics, enjoy a basic trading course, and ask pro traders technical analysis questions.
What is cloud mining?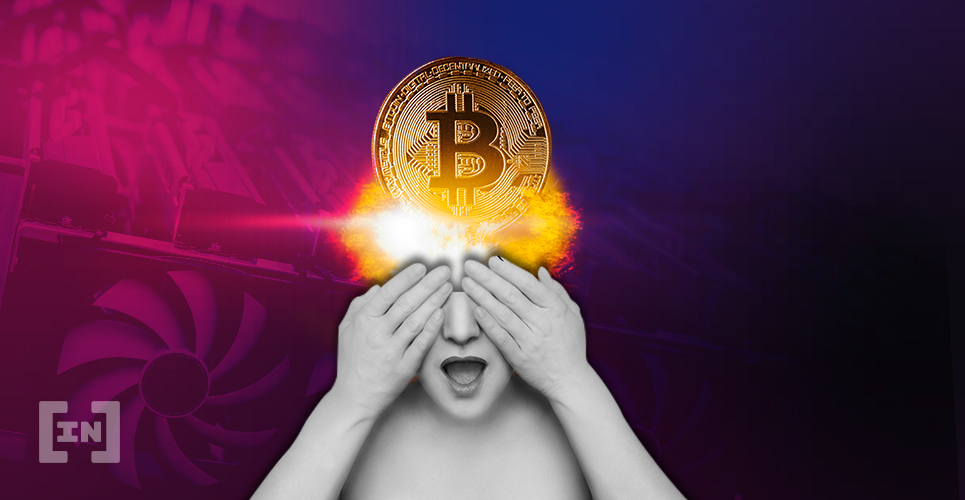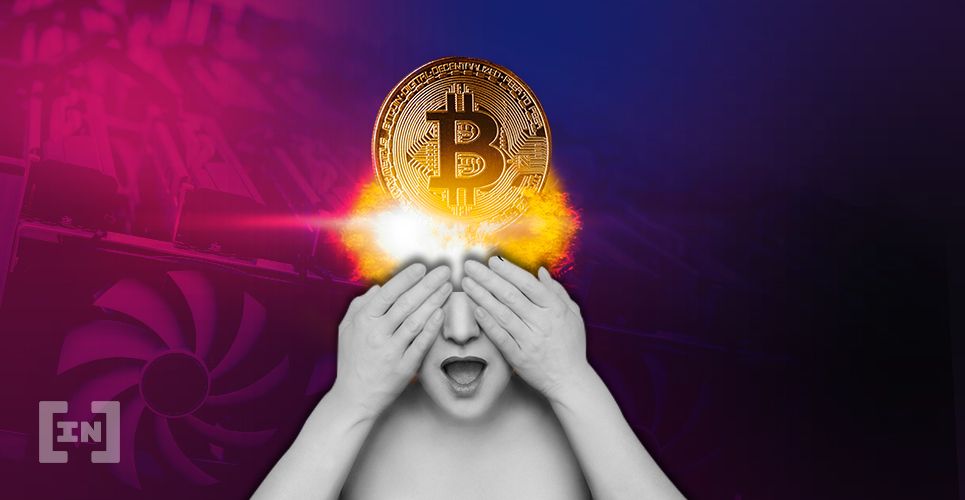 Following China's banning of crypto activities, including mining, bitcoin mining has shifted towards the United States, with Kazakhstan and Russia also popular hubs.
As the world's largest cryptocurrency, bitcoin holds the highest number of miners as well. This results in stiff competition, rendering individual mining with your own CPUs or GPUs far less profitable than it was before.
Under pressure from both governments and more streamlined miners, an alternative solution comes into play — cloud mining. The best cloud mining services allow users to mine cryptocurrencies without having to own the necessary hardware. More importantly, it allows them to participate in mining regardless of how much or how little they can contribute.
If you are averse to risk or heavy initial investments, cloud mining provides a superior crypto engagement than trading cryptocurrencies, as there is little risk of experiencing great loss.
Is cloud mining profitable?
An evolution of mining pools, cloud mining means that you rent a data center's hash power. Given that this emerging crypto mining niche is riddled with bad actors, choosing the right one is key. With that in mind, cutting out the initial investment for buying a mining rig makes it profitable alone.
Likewise, one could free up time needed for navigating through technical hurdles of mining. Cloud mining eliminates that too. Most importantly, those who live in regions of the world with high electricity costs can finally partake in crypto mining with a simple cloud account.
Best cloud mining services
We cannot stress enough how important it is to only work with reputable cloud mining companies. If you are interested in a specific firm, do your research and background check, as the number of scams in the crypto industry is sky-high, and it is all too easy to lose your money.
Luckily, there are still plenty of real, reputable mining firms, such as: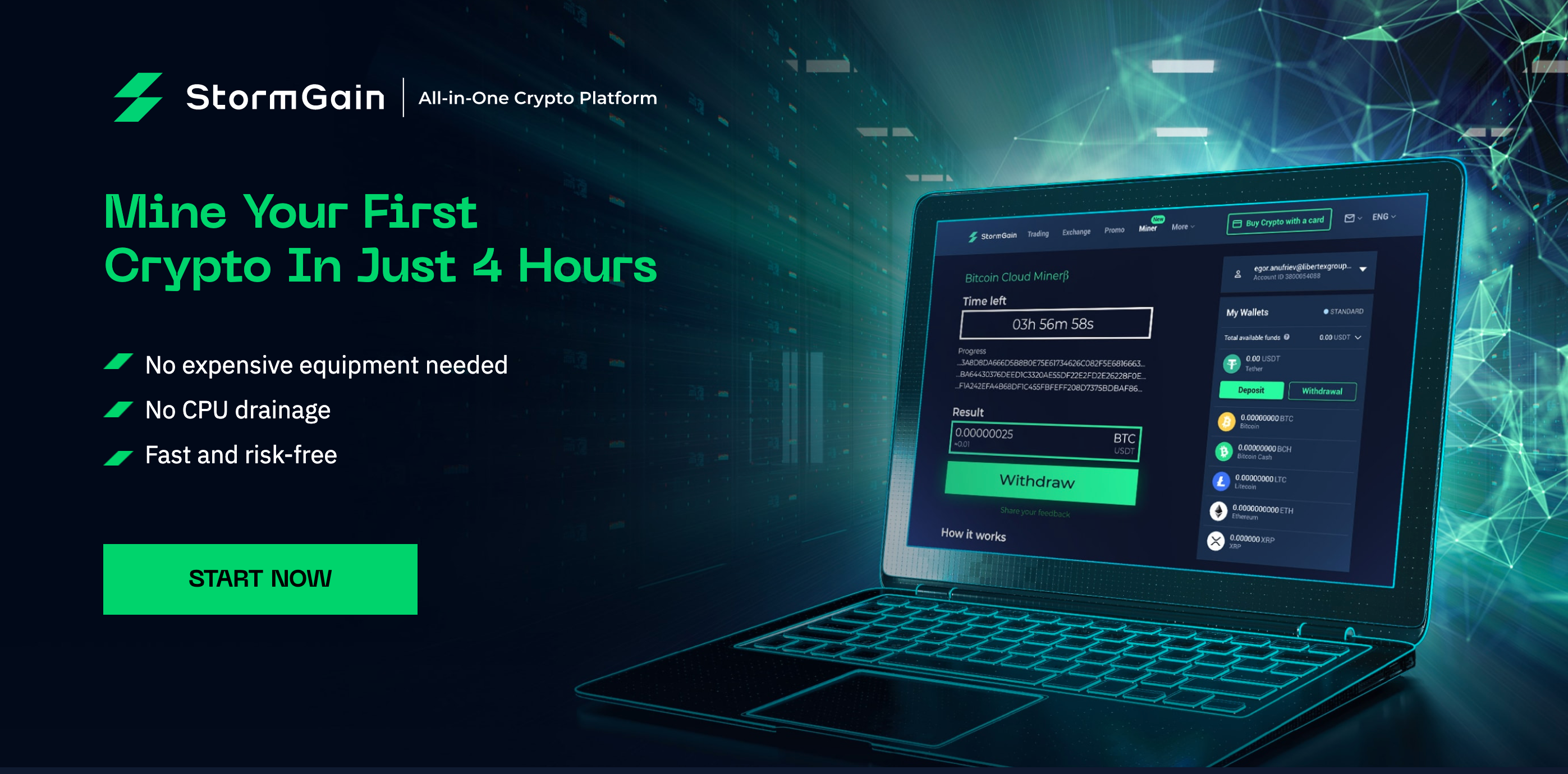 StormGain cloud mining performs all operations of BTC mining hardware without using the battery of your mobile or computer. Mining speed ​​is limited by the number of users participating in the mining process at any time.
Every 30–40 minutes, mining rewards are distributed equally.
You can withdraw your rewards after reaching a threshold of 10 USDT in BTC.
StormGain's has a smart anti-fraud engine that may temporarily block or limit payment.
Mining rewards will land on your USDT trading account, which can be used as you wish on the StormGain exchange.
Pros of StormGain:
A credible service for cloud mining
Use reliable equipment
It has an anti-fraud engine
It offers good customer service
Stable payments
Cons of StormGain:
It can only mine BTC
It is difficult to calculate the amount you get when withdrawing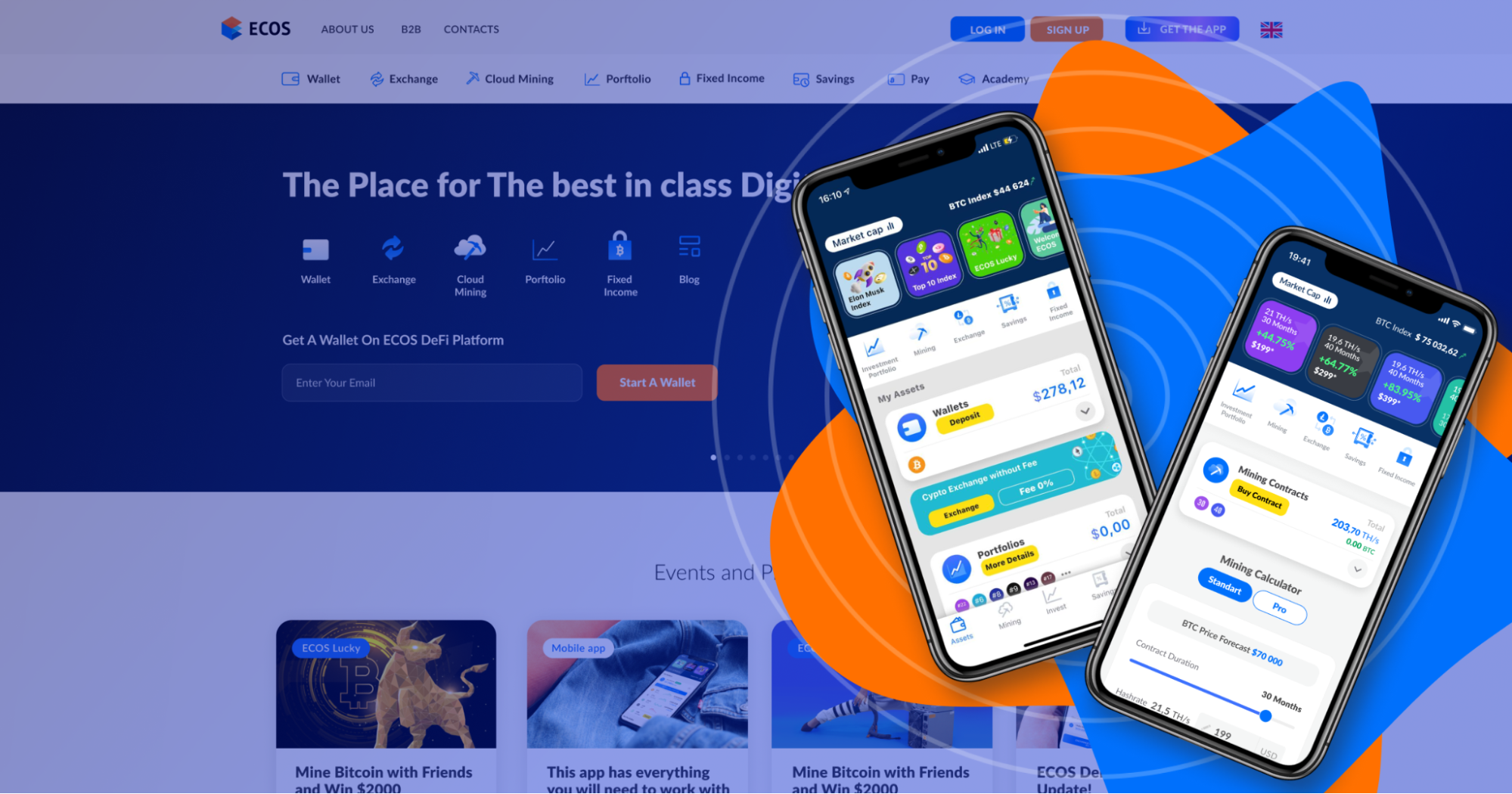 ECOS is one of the best cloud mining providers out in the industry. It was established in 2017 in the Free Economic Zone. It is the first cloud mining provider that is operating with legal status. ECOS has more than 90,000 users from all over the world.
Features:
The minimum price for a mining contract is $150
Convenient calculator on the website for choosing a mining contract (has standard and pro versions)
Detailed transaction history
ECOS has a convenient mobile app. It is available in App Store and Google Play
Get a free mining contract for 1 month after registration
Pros of ECOS:
Daily payments
Very low minimum withdrawal from 0.001 BTC
Wide range of contracts
Cons of ECOS:
ECOS is a full-fledged investment platform. It includes not only cloud mining but also wallet, exchange, investing portfolios, and savings. Read more about the company in our review.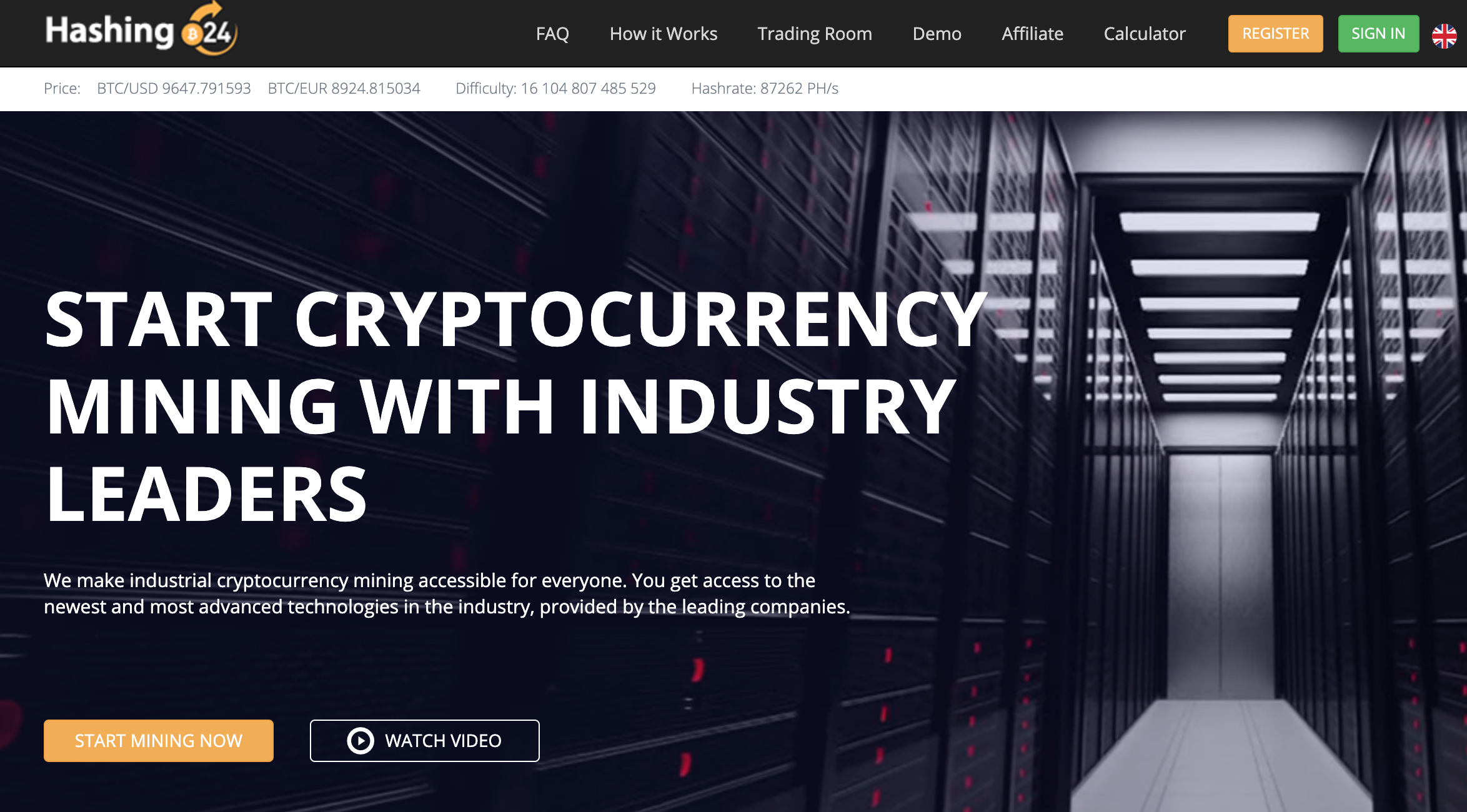 Hashing24 is a service that operates from offices around the world, including Ukraine, the UK, and even Thailand. Meanwhile, its mining devices are located in Iceland and Georgia.
The service features on our list of the best cloud mining services for its close ties to chip-making and blockchain firm, BitFury. In fact, this is where the majority of its hashing power comes from, giving the mining platform a constant supply of hashing power to sell.
Bitcoin is the only supported coin.
Hashing24 offers lifetime mining contracts for a one-time-pay.
Expensive but reliable and competent.
Solid customer support.
Clean, user-friendly interface and a straightforward registration process.
Pros of Hashing24:
Very simple to use
Payouts are based on the hashrate
Excellent uptime
Offers a demo to test the product before committing
It can act as a Bitcoin wallet account
Quick withdrawals
You can withdraw at any time
Cons of Hashing24:
It's hard to calculate the amount you get when withdrawing
No short-term contracts
It only has one algorithm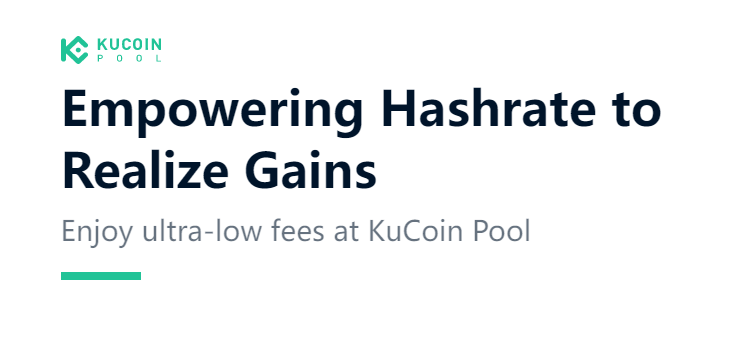 KuCoin is a world renown cryptocurrency exchange that debuted in September 2017. Currently, it offers lending, staking, P2P trading, futures and spot trading. The global exchange is known for its easy-to-use platform. In addition, KuCoin is extremely diverse, in the products it offers and the populations that it serves. KuCoin is available in over 200 hundred countries, and supports more than 600 cryptocurrencies.
KuCoin Pool, its mining service, is a high-performance mining pool that supports assets such as Bitcoin (BTC) and Bitcoin Cash (BCH). It is a relatively new service, aiming to become one of the largest mining pools contributing to multiple blockchains. Some of the features that Kucoin pool leverages are:
Merged mining and FPPS settlement guarantees mining income
Accurate Hashrate Data
One-on-One Customer Service
Pros of KuCoin
No fees for revenue from mining
Trusted platform
KuCoin is not a regulated exchange under any financial regulatory agency
Cons of Kucoin
Can not withdraw fiat
US users have limited features
Can only mine BTC and BCH
Nicehash miners can decide on how much hash they wish to purchase, and they get to set the terms. This can include the amount, the length of time during which they will need the hash power, and how much they are willing to pay. Then, the sellers get to decide whether the conditions are acceptable and if they are interested in making a deal.
The entire economy of this specific marketplace is Bitcoin-powered, regardless of which cryptocurrency you wish to mine. It all gets converted into BTC.
NiceHash itself doesn't have any mining hardware.
They connect the buyer and the seller to make things happen.
The company has servers on all continents.
Pros of Nicehash:
Simple to use
Pays out in BTC
The mining software is excellent
Has super-fast Lightning Network node
It can sometimes pay higher than the mining rate
Cons of Nicehash:
Fees are higher than at other pools
Payout rate is slow
Not the most friendly when it comes to smaller coins
Comparison Table
Name

Price

Supported Coins

Fraud Risk

Payout Period

Mobile App

StormGain

Free

BTC

Low

Every 30-40 minutes

Yes

ECOS

$150 minimum

BTC

Low

Daily

Yes

Hashing24

0.00192480 BTC /12 months

0.00288721 BTC /18 months

0.00384961 BTC /24 months

BTC

Low

Daily

No

Kucoin

2%

BTC and BCH

Low

Daily

Yes

Nicehash

2% — Big mining farms are entitled to a progressive fee structure,

The mining fee can decrease from 2% down to 0.5% depending on contributed hashrate

Bitcoin, Ethereum, Beam, Raven, and other Cryptocurrencies

Low

Every 4 hours

Yes
Cloud mining continues to flourish in 2022
By just viewing these best cloud mining services, it gives you a pretty good idea of how it works and what to expect. While all of them are legitimate and profitable, StormGain's approach to cloud mining seems to be the most streamlined. And when you are done, you can seamlessly use the platforms' own wallet and exchange.
If you find other cloud mining services, make sure to vet them thoroughly, including not solely relying on user reviews, as those too could be faked. If you play your cards right and choose the right combination of contracts, you can start seeing profits in only a few months.
Disclaimer: All the information in this article is published for general information purpose only. Any action you take upon the information you find on this website is strictly at your own risk. We encourage you to do your own research and take extra care to protect yourself from scammers.
Disclaimer
All the information contained on our website is published in good faith and for general information purposes only. Any action the reader takes upon the information found on our website is strictly at their own risk.
At Learn, our priority is to provide high quality information. We take our time to identify, research and create educative content that is useful to our readers.
To maintain this standard and to continue creating awesome content, our partners might reward us with a commission for placements in our articles. However, these commissions don't affect our processes for creating unbiased, honest and helpful content.