Yes, you guessed right. Apes are behind ApeCoin — the decentralized project envisioned as part of the famed BAYC and MAYC (Bored/Mutant Ape Yacht Club) ecosystem. But what about the native token APE — a crypto that's currently trading at an 88.24% discount to its all-time high? Is APE a good investment at current price levels and even long-term? This ApeCoin price prediction piece uses data-backed validations, fundamentals, and technical analysis to find out.
ApeCoin, powered by the utility token APE, is primarily a content-creation and NFT-specific token. The ApeCoin DAO is a governing body aiming to further the vision of the Ape ecosystem — taking it beyond NFTs. Yet, in the short term, the success of APE as an investment option will depend on how the Ape ecosystem's NFT collections fare. So let's dive in and see what all the future could look like for short-term and long-term APE holders.
ApeCoin price prediction and fundamental analysis
The Ape ecosystem is more than just the NFTs. It hosts several play-to-earn games — including Benji Bananas. The ecosystem is loaded with gaming and interactive possibilities. ApeCoin DAO is the community behind the ecosystem. Owning APE tokens allows participants access to DAO.
This gives APE holders an edge with governance, buying services and products, and even owning in-game assets. As ApeCoin DAO is more like the decision-maker relevant to the Ape ecosystem, the native ERC-20 tokens look popular on the surface. ApeCoin is built on Ethereum, making APE an ERC-20-compliant token.
Here is ApeCoin's official Twitter handle:
Other developments
But that's not everything there is about ApeCoin. Here are some additional insights to gauge APE tokens fundamentally:
Unlike some of the more established cryptocurrencies, ApeCoin was launched in 2022 in a bearish crypto market.
The project has ended up partnering with the likes of Animoca Brands to further its expansion vision.
Holding APE tokens allows users to contribute towards the growth of the ecosystem.
Holding APEs offers access to the exclusive areas of the ecosystem.
APE staking was launched on Dec. 5, 2022, attaching another use case with ApeCoin. On the very day of launch, the staking contract saw tokens worth $30 million flow in. The price of APE has been in an uptrend since, up almost 14%, month-on-month.
Other ApeCoin use cases include incentivization and spending unification — making the token more like an open currency.
The average price of APE in any year is directly related to ecosystem developments. The Ape Foundation and ApeCoin DAO are poised to grow in the future, especially once the bearish market fizzles out.
ApeCoin price forecast and tokenomics
The ERC-20 token APE has a realistic and investor-friendly tokenomics model. Firstly, the issuance is fixed — 1 billion tokens, to be exact. Secondly, the initial supply distribution saw 15% of the total issuance moving to Bored Ape Yacht Club and Mutant Ape Yacht Club holders.
Founders are set to receive 8% of the supply, whereas 14% will eventually go to the standard investors or the launch contributors. This form of supply distribution accounts for 37%. The remaining 63% is allocated to the DAO treasury, Yuga Labs, and other development requirements.
This is one way of looking at the distribution. Read on for another version of the same:
If you look at more specific distribution figures, 62% is the total supply of the ecosystem fund. These tokens are unlocked at launch and meant for NFT holders and the treasury. The remaining 16% goes to Yuga Labs and charity but with a 12-month initial vesting period and then a timed release spanning across 36 months.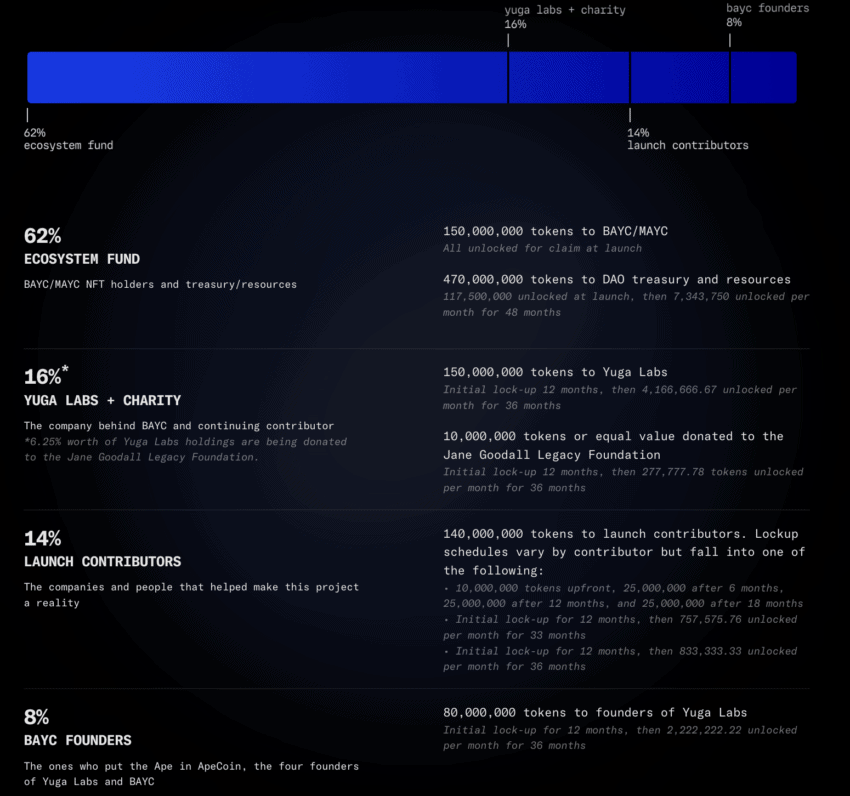 14% is allocated to the investors, as discussed previously. However, these tokens also come with specific vesting periods, going as high as 36 months. And finally, 8% is meant for the founders of BAYC as a token of respect. This form of distribution also comes with a 36-month vesting period.
Multiple vesting periods are meant to safeguard the price of APE from market volatility.
As of today, Jan. 10, 2023, APE tokens have a circulating supply of 36.12%.
APE price forecast and key metrics
Since its launch, ApeCoin's volatility looks to have dropped. The prices have also nosedived since the highs made in March 2022. But, the decreasing volatility might be good news for the short-term future price of APE.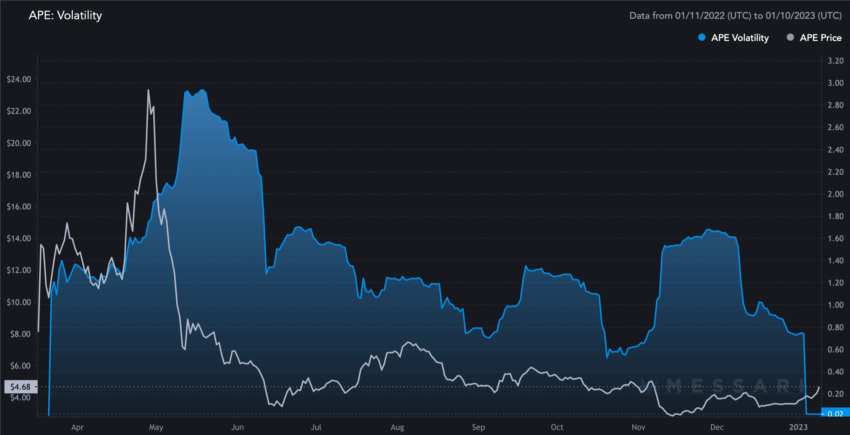 If you look at the active address count, the increase in the number of wallets holding APE since July is evident. This shows optimism and might kickstart the next leg of the rally at ApeCoin's counter.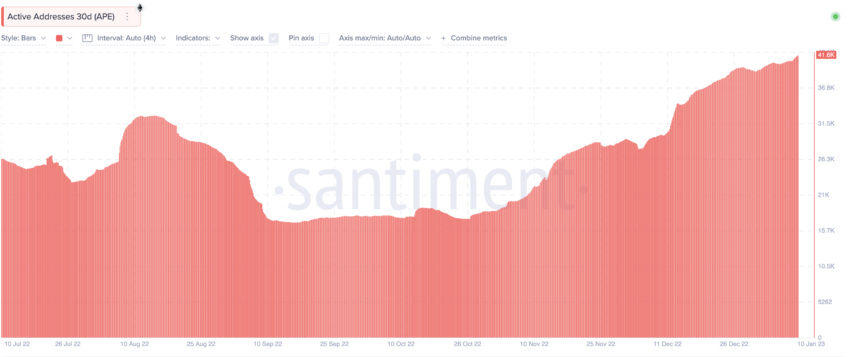 BAYC and MAYC are popular NFT projects with huge social followings. Any form of an increase in social activity seemingly has a positive impact on prices.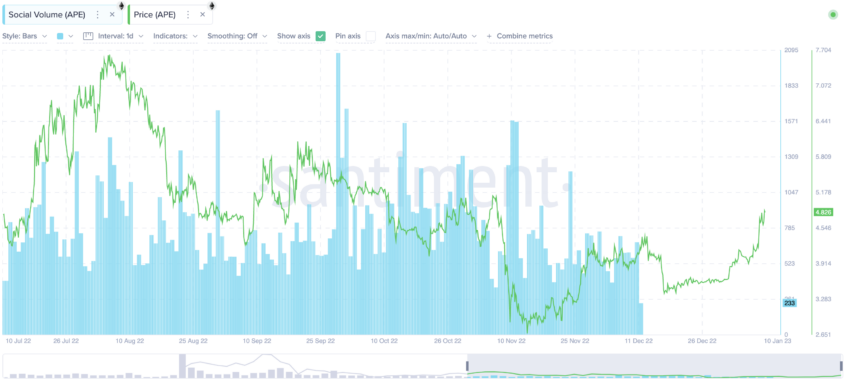 As of early December 2022, even steady social volume pushed the prices higher. And with staking being launched recently, social chatter and prices could continue to push higher for some time.
APE price prediction and technical analysis
We have discussed the fundamentals, tokenomics, and a handful of on-chain metrics. Now, it's time to shift focus to technical analysis. This will help us locate a pattern — important for a relatable and data-backed future price forecast.
Notice that we chose to use the daily chart instead of the weekly one. This is because APE is a newly launched token. There isn't enough historical data with which to study weekly charts regarding market capitalization and trading volume.
Here is the raw daily chart for your reference: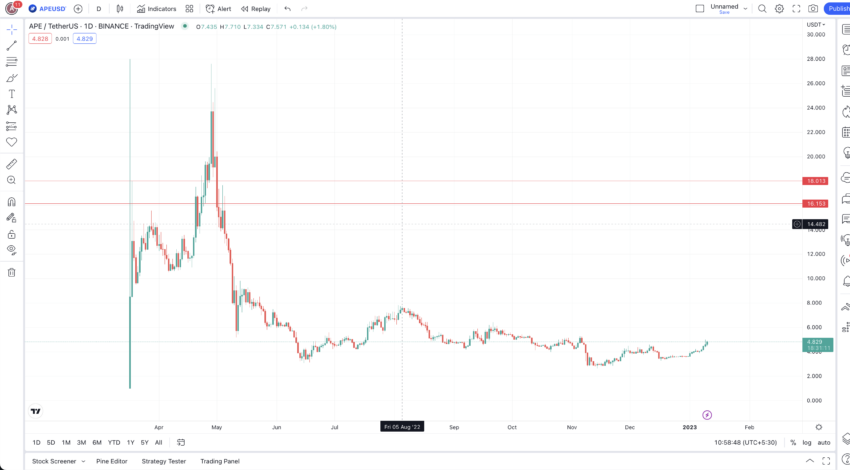 There is a clear long-term trend with APE making a high, trying to breach that high with another high but failing. Then, making multiple lower highs since the first lower high.
However, the recent monthly rally at APE's counter seems to be trying hard to defeat the lower-high pattern. This might be optimistic for the future price of APE. The encircled region shows a new higher high possibility.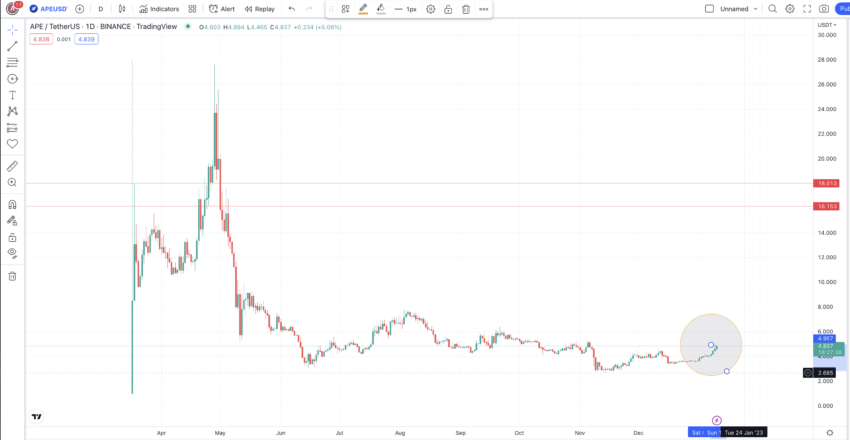 Note: We have only marked the most distinguishable highs and not everything in between.
Price changes
Now we have the pattern visible, we can mark all the highs and lows to calculate the next leg of movement for ApeCoin.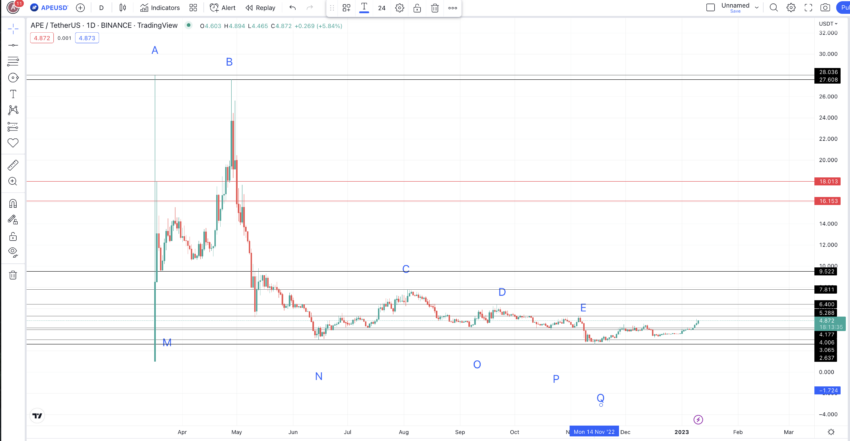 Here is the marked chart with all the key points identified. Do note that these levels can also act as key support and resistance lines when the future price of APE is concerned. It is now time to trace the path from A to Q, including all the highs and lows.
Path 1: Low-to-High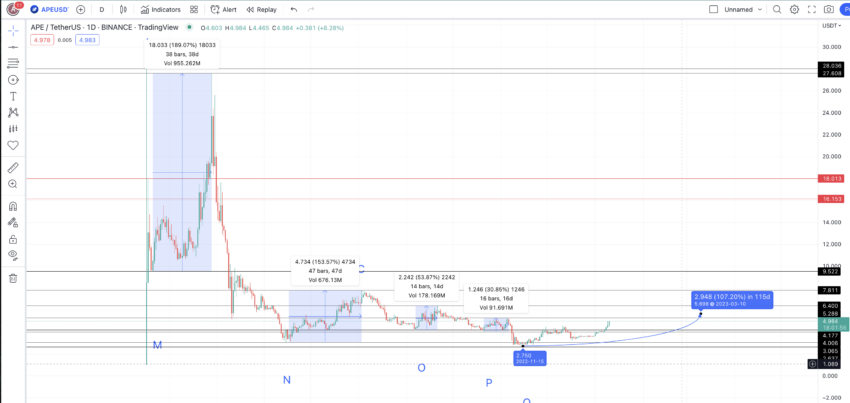 Table 1
The average distance and price change from a low to a high comes to be: 29 days (maximum is 47 days) and 106.84%. The distance might vary as there isn't a lot of historical data for APE. Plus, the crypto market is relatively weak at present. The total distance from M to E is 115 days, which can also be where the next high appears.
Therefore, if the last low is marked Q, the probable high could surface at $5.698 around March 2023.
Path 2: High-to-Low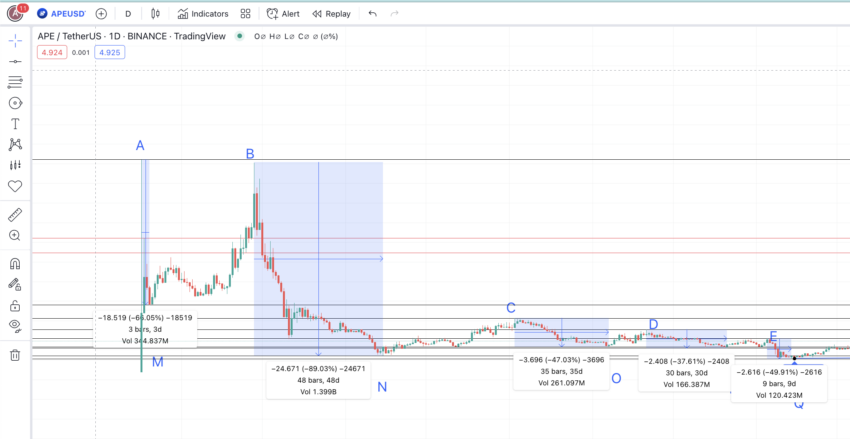 Table 2
The average distance and price change from a high to a low comes to 25 days (maximum between 47 days and 124 days) and- 57.92%.
We will use the datasets from the tables above to prepare the ApeCoin price forecast for 2023.
ApeCoin (APE) price prediction 2023
Outlook: Moderately bullish
According to the data tables, if we mark the next high after E as F, the level might surface at $5.698. Do note that F is still lower than E, meaning that APE, even in March 2023, might not form a higher high pattern. The drop from F could surface at a low of 57.92% in 124 days.

Considering that the market conditions will improve by mid-2023, we can expect the drop to be restricted to $4.20 — which coincides with the support level of $4.177. This is the point where the downtrend seen on the ApeCoin price chart (marked by lower lows) might be defeated.
Hence, the ApeCoin price prediction model 2023 calculations suggest a high of $5.698 and a low of $4.20.
Projected ROI from the current level: 18.46%
Short-term price prediction for APE
The short-term daily chart of APE shows the token breaking out of the ascending triangle pattern. However, the relief rally might still go the distance. This is because the 50-day moving average (green line) is closing in on the 100-day moving average (blue line). If the green line crosses above the blue line, we can see the rally extending further.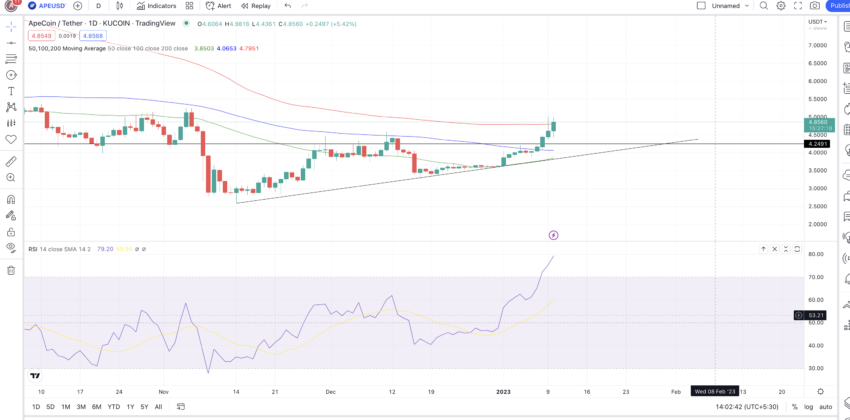 Also, the strong support of the 200-day moving average has been breached by the APE token. Yes, the RSI is in the overbought zone; therefore, some range-bound consolidation might surface. We might see a week of tepid price movements before any attempts by APE to speed things up again.
However, data from the on-chain analytics platform Lookonchain suggests that quick selling pressure might soon build at APE's counter. One staker withdrew over 450K tokens and deposited the same to Binance. The average receiving price is less than $4, and selling might therefore be profitable. Therefore, if you are only invested in APE for short-term gains, this might be a development to keep an eye on. Here is the tweet thread for your reference:
ApeCoin (APE) price prediction 2025
Outlook: Bullish
Now that we have the 2023 low at $4.20, we can extrapolate the path till 2024. Using the low-to-high average of 106.84%, we can plot the ApeCoin price prediction path for 2024. The price can therefore go as high as $8.688.
The distance, however, can be as high as 230 days — M to E is 115 days, and E to F is 115 days — depending on the state of the crypto market and the previous growth path of ApeCoin.

In 2024, the low can surface in 124 days and at $5.242. Notice that this level doesn't align with the average percentage drop and is in sync with the smallest drop percentage, per the data in table 2. The drop from high to low in 2024 might account for -39.67%.
From the lows in 2024, we can plot another forecast line using the low-to-high average of 106.84%. The levels surface at $10.85 and can show up in early 2025. This can be the maximum ApeCoin price prediction for 2025.
The minimum ApeCoin price prediction for 2025, using the table-specific data, can hit the strong support level of $6.40. This translates to an acceptable drop of almost 40.96% —in line with the lowest drop value from table 2.

Projected ROI from the current level: 125.57%
ApeCoin (APE) price prediction 2030
Outlook: Moderately bullish
The price of APE can drop to $6.40 by 2025. However, if the average growth percentage of 106.84% is followed, the rise by early 2026 can put the APE high for 2026 at $13.256.

If you carefully look at the APE price predictions for 2023, 2024, 2025, and 2026, the formation of higher highs is evident. Now we have the 2026 high and 2025 low at our disposal, we can extrapolate the path till 2030 using the Fibonacci levels.
If the same growth path from 2023 to 2026 is followed, the ApeCoin price prediction 2030 model can return a high of $50.854.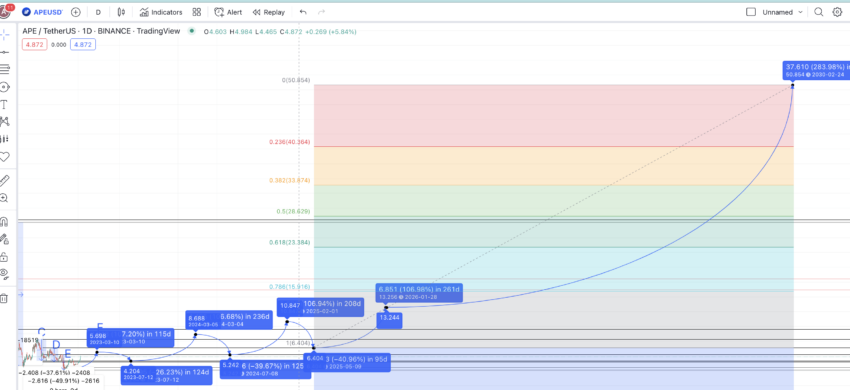 The price prediction low for 2030 might surface at $39.40. This previous all-time high of APE surfaced last on March 17, 2022. Also, for APE to form a new all-time high in 2030, ApeCoin must breach the previous all-time high of $39.40 by 2029.
Projected ROI from the current level: 957%
ApeCoin (APE's) long-term price prediction (up to 2035)
Outlook: Bullish
The maximum price of APE, as per the ApeCoin price prediction 2030 model, should rest at $50.854. However, if you plan on holding APE deep into 2035, the below table can help us form longer-term price predictions.
| | | |
| --- | --- | --- |
| Year | | Maximum price of APE | | Minimum price of APE |
| 2023 | $5.698 | $4.20 |
| 2024 | $8.688 | $5.242 |
| 2025 | $10.85 | $6.40 |
| 2026 | $13.256 | $8.22 |
| 2027 | $17.23 | $10.68 |
| 2028 | $25.84 | $20.15 |
| 2029 | $40.052 | $24.83 |
| 2030 | $50.854 | $31.52 |
| 2031 | $63.56 | $49.57 |
| 2032 | $95.35 | $74.37 |
| 2033 | $114.42 | $88.24 |
| 2034 | $148.74 | $92.21 |
| 2035 | $185.93 | $145.02 |
The average annual price will depend on the market cap, trading volume, and network growth. Also, it will be necessary to keep an eye on the popular NFT collection (s) relevant to the ecosystem.
Is the APE price prediction model accurate?
This APE price prediction model is heavy on datasets, especially regarding the technical analysis. Further, this price prediction piece captures and considers the fundamental essence of the project. We also discuss on-chain metrics and tokenomics, which look investor friendly for now. Therefore this model keeps APE projections and ROIs attainable. Of course, the crypto market is volatile, and the future success and integration of web3 is something to keep a close eye on.
Frequently asked questions
How high can ApeCoin go?
Our ApeCoin price prediction model puts the highest foreseeable price of ApeCoin at over $100 by 2035. However, for APE tokens to cross $100, the previous all-time high or maximum price of $39.40 should be breached by 2029. Only if ApeCoin can cross $50 by the end of 2030 can we expect it to go as high as $100 by 2033. However, if you are looking for a short-term level, APE might go as high as $5.70 in 2023.
What will ApeCoin be worth in 2030?
Our ApeCoin price prediction model puts the maximum price of APE at $50.85 by 2030. This level, if attained, will become the next all-time high price to breach. But then, the previous all-time high of $39.40 is expected to act as a strong resistance. Crossing this level by 2029 will only be possible if the NFT volumes pick up and the BAYC/MAYC craze is sustained.
Is ApeCoin a good investment?
ApeCoin seems like a good investment, especially after the launch of the staking functionality. Plus, the likes of BAYC NFTs are considered blue chip and have decent upside potential. This type of outlook can be beneficial for the future price of ApeCoin. However, our ApeCoin price prediction model suggests that a long-term investing outlook might be the smartest option.
Can ApeCoin reach $100?
If you go by our ApeCoin price prediction model, you can expect the future price of APE, especially in 2035, to move above the $100 mark. However, for ApeCoin to reach $100 or more, it must first cross its existing all-time high level of $39.40 by 2029, at max.
Does ApeCoin have a future?
The ApeCoin ecosystem likely does have a future as we expect the sales of bluechip NFT collections to increase over time. Also, with APE tokens giving access to the APE governance model, the relevance of owning APE tokens might increase over time.
Is ApeCoin on Ethereum?
Yes, ApeCoin is an Ethereum-specific project with its native token APE being ERC-20 compliant. This makes sense as the popular NFT collection —BAYC — is Ethereum-based and is a part of the ApeCoin ecosystem. Being built on Ethereum gives Apecoin and every related NFT collection huge community exposure.
Disclaimer
In line with the Trust Project guidelines, the educational content on this website is offered in good faith and for general information purposes only. BeInCrypto prioritizes providing high-quality information, taking the time to research and create informative content for readers. While partners may reward the company with commissions for placements in articles, these commissions do not influence the unbiased, honest, and helpful content creation process. Any action taken by the reader based on this information is strictly at their own risk.