In legislative terms, the crypto world is still in flux. And as the dust settles from the FTX collapse, MEPs (Members of the European Parliament) are wondering exactly how to deal with this wild west of finance and technology.
There is an element of political drama in the mix. On December 9, Eva Kaili, the EU Parliament's so-called "Queen of Cryptocurrency," was arrested for corruption charges that have rocked the 27-member bloc. Police raids seized phones, computers, and cash worth €600,000 from Kaili and three others, who have since been charged with corruption. Prosecutors suspect Kaili of taking illicit funds for lobbying on behalf of Qatar, the recent host of the football World Cup.
Several hundred thousand euros were found in a suitcase at a Brussels hotel and €150,000 at Kaili's apartment. The police searched 19 residences, and Kaili's father was among those arrested. Her family's assets in Greece have since been frozen.
Kaili has dismissed the corruption allegations, saying she is innocent and "has nothing to do with bribery from Qatar."
Whilst her arrest has captivated politicos and EU watchers, it also presents another uncomfortable association with the crypto industry. Following the collapse of Terraform Labs and FTX, the average spectator can be forgiven for thinking the industry is full of crooks. Eva Kaili's arrest only adds to that ugly picture.
It does not help that she was one of the industry's most reliable advocates.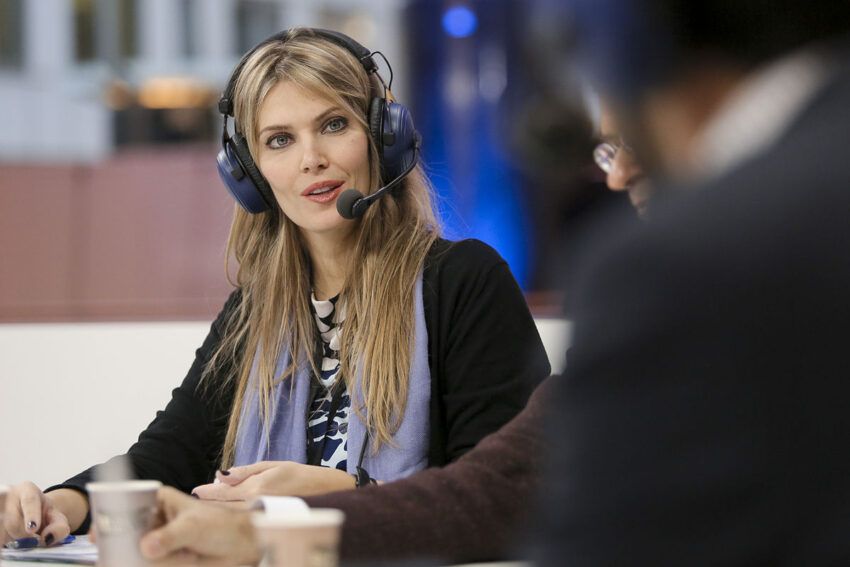 2023 Will Be A Crucial Year For EU Crypto
Kaili was also one of the few crypto advocates on the political Left. She was also a senior member of the Parliament, serving as one of fourteen vice presidents from January 2022 until she was arrested and charged with corruption in December 2022. The former TV presenter Kaili was also considered one of the more glamorous legislators on the continent. Tabloid newspapers have referred to her as one of the bloc's sexiest politicians.
"She was a cheerleader, but already rather isolated on the left-hand side of the political spectrum," Dutch socialist Paul Tang told POLITICO. "The next cheerleader must be squeaky clean if there is a lesson from this to be learned."
Next year will also be crucial for crypto businesses, lobbyists, and advocates. The Markets in Crypto Assets (MICA) regulation harmonizes rules for crypto assets across the bloc, setting a common standard. During the 12-18 month adaptation period for MICA, the regulation will take full effect at the end of 2024 at the earliest. However, the French financial regulator has already requested tighter rules.
On January 9, Marie-Anne Barbat Layani, the chair of the country's Financial Markets Authority (AMF), wants to mandate licenses for registered crypto companies. "The AMF, like the parliament, calls for an accelerated move to a regime of obligatory licensing for non-registered providers" of crypto services, Barbat-Layani told an event.
France is unlikely to be the last to demand similar regulations in the bloc. Calls are likely to grow from within the European Parliament for similar formalization.
Other MEPs Have A Lot To Say About Crypto
One of the MEPs with the loudest voice in the crypto industry is center-left Dutch MEP Paul Tang. He has fiercely advocated for tighter scrutiny of unhosted (or non-custodial) wallets. In his view, the identity of unhosted wallet owners needed verification to avoid money falling into criminal hands.
Tang has also pointed to coordinated "smurfing" as a risk. Smurfing is the practice of dividing a large sum of money into multiple smaller transactions to avoid regulatory scrutiny.
In a Twitter thread in March of last year, he said:
"These are important tools to fight money laundering/terrorist financing. Some crypto-lobbyists won't like the extra work. But being a part of our society comes with obligations. Banks already fight criminal money. Crypto-bro's should set up to the plate and do so too."
However, last July, Tang, and colleagues failed to get unhosted wallets included in money laundering checks. He told CoinDesk at the time that "We cannot just focus on the regulated sector while keeping the backdoor open to large anonymous crypto flows." Over the course of 2022, Tang was often the target of vitriolic abuse from crypto community members due to his campaigning.
Balance Consumer Protection And Innovation, Say MEPs
One MEP with an arguably more balanced perspective is Lidia Periera, a Portuguese MEP who also hails from the center-right. Pereira, who is 31, has previously highlighted crypto's young user base as a reason to take the industry seriously. Her view is that the EU should balance consumer safeguards and maximizing opportunities. She told the video series Tech A Look: "On the one hand, we have to provide for investor protection. On the other hand, we have a huge potential to harness innovation in the European market."
We can't just be "on one side of the barricade," she said.
Dr. Stefan Berger is another candidate to be the lead crypto voice in the parliament. Like Pereira, his views are both moderate and pro-crypto. The German MEP generally favors a balance between clear and fair regulation with promoting innovation. He has previously written in a blog about the need for a euro CBDC and for the EU to be a crypto-friendly environment.
"A digital euro would complement cash, not replace it," he said. "Europe must set standards instead of following those of others, and a digital euro would be the proof of progress and integration in Europe. Meanwhile, monetary authorities are called upon to rebuild trust in the financial system."
Disclaimer
Following the Trust Project guidelines, this feature article presents opinions and perspectives from industry experts or individuals. BeInCrypto is dedicated to transparent reporting, but the views expressed in this article do not necessarily reflect those of BeInCrypto or its staff. Readers should verify information independently and consult with a professional before making decisions based on this content.