2018 has proven to be an eventful year for investors — not only for those in the cryptocurrency industry but also those active in the traditional stock markets.
Popular tech companies have beaten records in 2018, with Apple becoming the first company to reach a $1 trillion valuation — while Facebook, Amazon, Alphabet and Netflix have reached all-time highs during the months of June and July.
The Loss of Twelve Zeroes
Similar to the cryptocurrency market at the beginning of 2018, all time highs for leading tech companies were followed by a downhill trend. This week, FAANG stocks have reached a point where they have lost over $1 trillion in valuation from their all time high just five months ago. In the process, the stocks have lost 27 percent of their total value to trigger experts calling this an official bear market.
Tech heavyweights dip into bear markethttps://t.co/diG9Y0TfRL

— CNBC-TV18 (@CNBCTV18News) December 10, 2018
Putting the established companies and the cryptocurrency industry side by side, the $1 trillion in value lost by tech companies dwarfs the total market capitalization of the cryptocurrency industry — which, at its peak in January, reached $835 billion. This shows how early the industry is in its market adoption cycle. At the same time, the cryptocurrency market has lost over 87 percent of its value within a year — erasing all of its gains from the Dec 2017 bull rally. This shows how much more volatile the digital asset markets are in comparison to traditional stocks. To illustrate this, the total cryptocurrency market capitalization had already lost 27 percent of its value in January alone.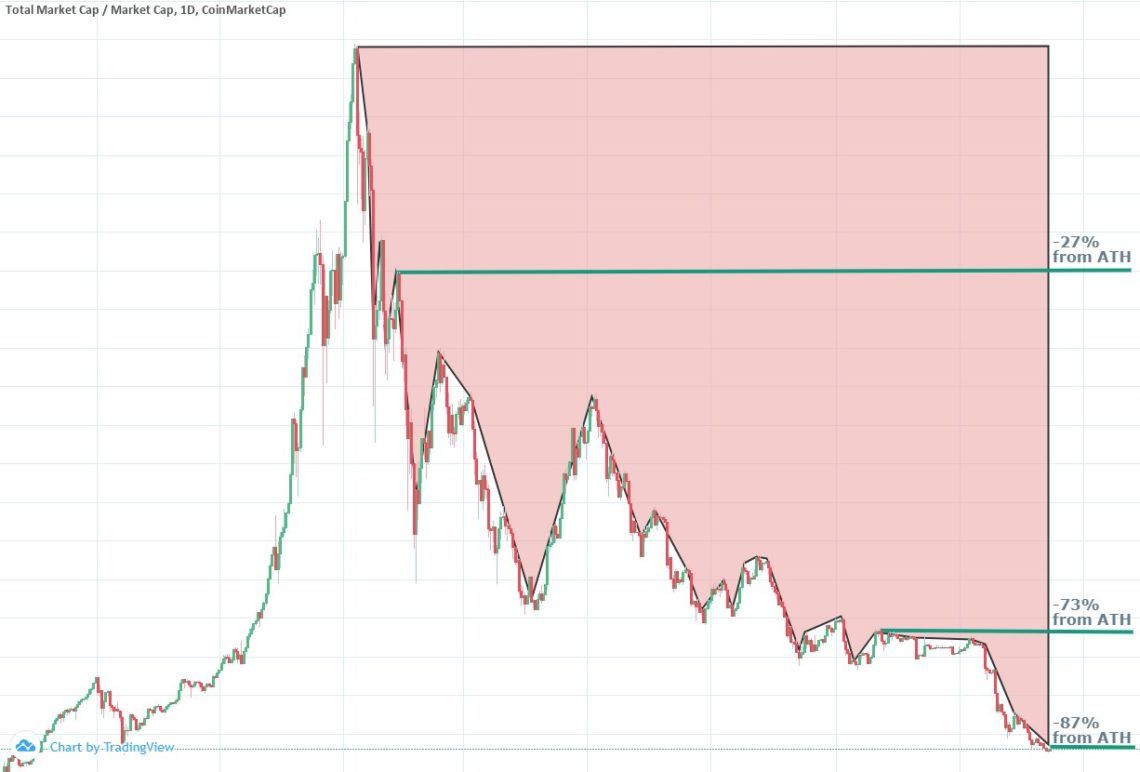 Overvaluation and Under-Delivery
Overvaluation
and below-par delivery on expectations have been the main factors for the bear market. Facebook has been overwhelmed by negative headlines with data hacks and data sharing to enable public opinion manipulation. Google has been suspected of implementing questionable policies on the Chinese market. Apple has been showing disappointing results with their latest products, while Amazon has scored a less than
stellar
outlook for Q4 in 2018. On the other side, cryptocurrencies have seen a huge investment inflow during 2017 via initial coin offerings (
ICO
). The rush for the next big thing has led to a great deal of capital misallocation. After reaching peak capitalization in January, the market has started to come down to earth — with some projects not only reaching yearly lows but also all-time lows. The correction in valuation has continued to be exacerbated by poor delivery from development teams. While Bitcoin remains the lynchpin of the crypto industry, other projects that have been in and out of the top five digital assets have shown underwhelming results. Ethereum has had a torrid year, with development on updates being consistently delayed. EOS has had
mixed results
after launching their platform, with
dApp activity
staying relatively low and rising concerns around their consensus mechanism. Bitcoin Cash has gone through another fork process, only to see its value further decimated. As for Stellar and XRP, users started to understand the difference between decentralized networks and distributed ledgers.
Looming Recession
Taking into consideration market developments during the second half of 2018, it becomes clear that the decline is not limited to the cryptocurrency industry. The tech industry has been feeling the downward pressure of a bear market across the board. Even popular indices like the Dow Jones and S&P 500 haven't been immune to declining prices.
#NYSE #FAANG+ #NASDAQ $SPX $SPLRTC c/o D.Henning 12/15 #tech #technology pic.twitter.com/VWQL2R4nSh

— Greg5thTrad (@Greg5thTrad) December 15, 2018
An obvious assumption in this case is that there is
a recession just around the corner
. If a global recession wave starts, then the high debt ceiling and flawed monetary policies of central banks will be once again brought into question. As such, the more interesting question is: how will cryptocurrencies fare? Bitcoin was started in the wake of the last financial crisis. Consequently, it was the flawed global financial system that ignited the cyberpunk move and the creation of digital currencies. Bitcoin has already gone through multiple market cycles of its own, but we haven't seen how Bitcoin stands its ground during a full-blown market recession.
Will the market take its toll on Bitcoin and cryptocurrencies as well? Or will another recession diminish the trust in the current financial system and spur more people to switch to digital assets? What do you think? 
---
Image courtesy of Trading View and Twitter.
Disclaimer
All the information contained on our website is published in good faith and for general information purposes only. Any action the reader takes upon the information found on our website is strictly at their own risk.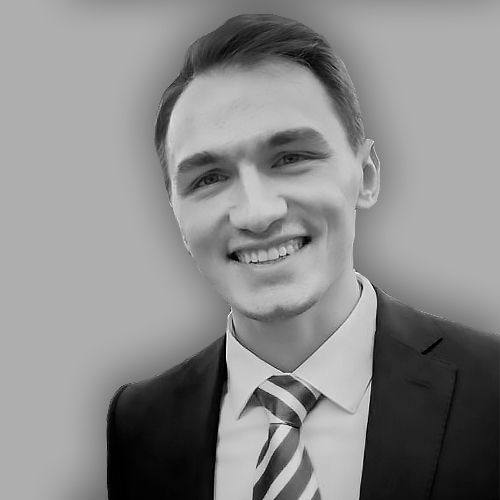 After finishing his studies in International Business Administration at the Frankfurt School of Finance & Management, Christian started working at a real estate development...
After finishing his studies in International Business Administration at the Frankfurt School of Finance & Management, Christian started working at a real estate development...
READ FULL BIO
Sponsored Sponsored