A cryptocurrency synonymous with the early days of the cryptocurrency industry, Dogecoin has witnessed a remarkable rise to prominence since its launch in late 2013.
The cryptocurrency is based around the Shiba Inu meme, which was popularized in 2013, taking the internet by storm. Dogecoin was created by a two-man team comprised of Jackson Palmer and Billy Markus, and was designed to be as open and accessible as possible, using the Shiba Inu meme as a base to help it spread.
Although the cryptocurrency is somewhat comedic in its origins, what it has developed into can hardly be considered a joke. As it stands, Dogecoin sits as the 29th largest cryptocurrency by market capitalization—having achieved a market cap of almost $300 million.
Beyond this, at one point, Dogecoin had a market cap of over $2 billion, showing that it has grown to become far more than just a meme coin and is still regularly used by tens of thousands of devoted Dogecoin users worldwide. Though DOGE is now a popular cryptocurrency, hints of its meme status still live on, with even Tesla founder Elon Musk commenting on the coin:
Looks like you're the CEO now @elonmusk, DM us where to email the access codes 😀 pic.twitter.com/xaftsRZ8MA

— Dogecoin (@dogecoin) April 2, 2019
After climbing to its all-time highest value of over $0.0185 back in January 2018, Dogecoin began to experience a significant drop in the subject months. Nonetheless, Dogecoin remains a cryptocurrency with considerable appeal and is unlikely to disappear anytime soon. With that in mind, let's take a look at the current state of things and look ahead to the future of Dogecoin.
Regular Price Predictions of Dogecoin (DOGE)
Dogecoin hasn't had a good run as of late, with the cryptocurrency losing more than a third of its value since July. DOGE appears to be forming a descending wedge, repeatedly reaching lower highs and higher lows, with the price looking set to consolidate around the $0.0021 price point sometime in October 2019.
Barring two significant bull runs between March and April, and May and July 2019, DOGE has been in somewhat of a downtrend for most of this year. At its current price of $0.00238, the cryptocurrency has lost more than 40% since its $0.004 peak this year. But, DOGE is still up compared to the start of the year.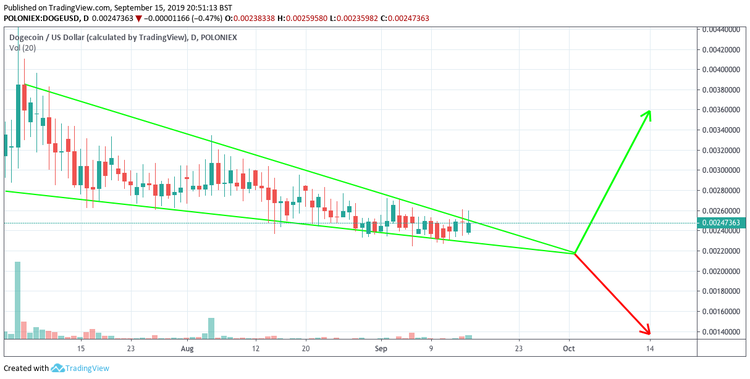 Once the current descending wedge consolidates, DOGE will have the opportunity to either break up or break down. Based on the gradually diminishing trade volume, it appears that a bearish break is currently the more likely scenario, which could see DOGE fall to under $0.0014 relatively quickly. However, if DOGE manages to break up with enough momentum, it could recover its Q3 losses, climbing back to above $0.0036.
Dogecoin Fundamental Analysis
Since its launch in 2013, Dogecoin has developed into what can only be described as an unexpected success story. Despite arising as a result of an internet meme, Dogecoin has gone on to become a successful digital asset in its own right and remains one of the most widely used cryptocurrencies of all time.
The cryptocurrency is secured by a decentralized network of miners that use the proof-of-work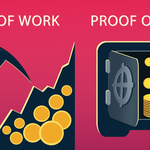 Proof of work and proof of stake are both ways of achieving trustless and distributed consensus on the blockchain. Many... More (POW) consensus algorithm to ensure that transactions are quickly confirmed and free of manipulation. Although this hash rate is lower than its all-time highest value of around 450TH/s, it is currently sitting at a respectable 282TH/s—highest than it was during the 2017 bull run.
Much Use Case
As a cryptocurrency, Dogecoin is widely regarded as one of the cheapest and fastest around. Currently, most transactions are confirmed within about 1 minute, while transaction fees are extremely low, typically costing just a fraction of a cent.
This has made Dogecoin a speedy and low-cost alternative to other digital assets and is the cryptocurrency of choice for those looking to move their portfolio around on the cheap. Throughout 2013 and 2014, Dogecoin also became one of the most popular digital assets for online gamblers and casino game players, with its extremely low unit value that allowed players to wager fractions of a cent.
Beyond its popularity with online cryptocurrency casinos, Dogecoin also finds utility as a medium of exchange—being accepted by dozens of merchants worldwide. However, due to its volatility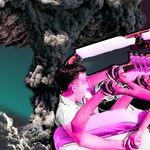 We can describe volatility as how much the value of an asset changes over a given time. A volatility index... More, it is becoming less commonly used as a permanent medium of exchange and is instead temporarily used to slash transaction fees.
Such Numbers
Initially, the Dogecoin network was limited at a maximum supply of 100 billion DOGE. However, this was later adjusted to an infinite supply. Currently, the Dogecoin block reward is set at 10,000 newly minted DOGE, with each block mined approximately every minute. Because of this, there is around 14.4 million DOGE added to the circulating supply every day.
As of writing, Dogecoin has a circulating supply of over 121 billion DOGE.
Although ensuring infinite supply has its benefits—namely ensuring the mining reward remains lucrative—it can cause problems if the rate of adoption doesn't match or exceed the rate of emission. This appears to be the case for Dogecoin, which has seen its circulating supply swell while the value of DOGE has largely diminished.
Many Competitors
Although Dogecoin is one of the most popular lightweight cryptocurrencies, it is certainly not the only one. In fact, since major cryptocurrencies like Bitcoin (BTC) and Ethereum (ETH) have frequently experienced extraordinary spikes in their average transaction fee, numerous low-cost altcoins have risen up as alternatives.
Chief-among these is Litecoin—one of the first altcoins and arguably the most popular low-fee cryptocurrency. Released back in 2011, Litecoin allows users to move value around on the cheap, with the average transaction fee coming in at around 2 cents. However, this has spiked to drastically higher fees in the past.
| | | |
| --- | --- | --- |
| DOGE | LTC | XLM |
| <1 cent | <3 cents | 0.0001 XLM (practically 0) |
However, although Dogecoin slightly edges out LTC in terms of the average transaction fee, it is eclipsed by some other low fee altcoins, including Stellar (XLM). With an average transaction fee of just 0.0001 XLM, Stellar transactions are all but free. Similarly, there are also numerous truly zero-fee transaction cryptocurrencies, including Nano, NEO, and IOTA.
Overall, though Dogecoin is not the absolute cheapest cryptocurrency to transact with, transaction fees are low enough to be almost negligible—so it almost doesn't matter.
Conclusion
Like most cryptocurrencies, Dogecoin has demonstrated the potential to both explode in value and crash suddenly—wiping out much of its value. However, over longer timeframes, DOGE tends to display a bearish trend, frequently closing each year at a lower value than it started.
From a fundamental perspective, the cryptocurrency doesn't have the strongest use case and also has a relatively large number of competitors, which could see it lose further ground in the coming years. However, with the entire cryptocurrency market bullish over longer timeframes, DOGE might experience the offshoot of this, recovering some of its lost value.
As a cryptocurrency that still has its roots tied deeply with the Shiba Inu meme, it could go out of fashion just as quick as it came in. That said, some memes are remarkably long-lived and go on to develop into more than just a meme, as Dogecoin appears to have already accomplished.
Do you think Dogecoin will need to change to remain relevant in the years to come? Do you believe it has outlived its usefulness? Let us know your thoughts in the comments below!
---
Disclaimer: This article is not meant to be used as personal investment advice, nor is it information from a qualified investment advisor. Cryptocurrency is a notoriously risky investment, and it is possible to lose everything. Please conduct your own research and investigation prior to investing in cryptocurrency.
---
Do you want to BeInCrypto? Join our Telegram Trading Community for exclusive trading signals, educational content, discussions and project reviews! Images courtesy of Shutterstock, Trading View and Twitter.