The website and social media channels of the cryptocurrency exchange Coinroom went offline recently — the community suspects that it's an exit scam.
Poland-based cryptocurrency exchange Coinroom has seemingly ceased to exist. The operator of the trading platform has allegedly run away with users' funds and its official website has gone dark, local media outlet Money.pl reports.
Coinroom, the Story So Far
The story goes back to the beginning of April when the cryptocurrency exchange notified customers via email that their contracts would be terminated. The exchange required customers to withdraw funds within 24 hours. Those who failed to meet the deadline were notified to contact Coinroom's administration to arrange the withdrawal of their stored funds on an individual basis.
The notice was first posted on Twitter by @Teloscoin to warn users: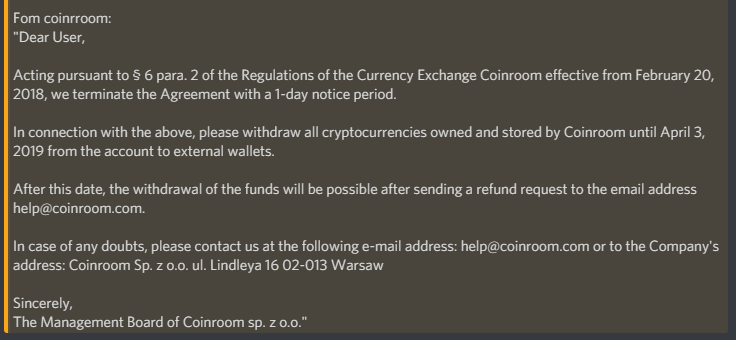 While the terms and conditions of contract termination looked strange, they were written into user agreements signed by customers upon opening an account.
The Plot Thickens
According to social media reports, many users were not able to retrieve their assets even after they applied for withdrawal within the allotted 24-hour timeframe — others received only a partial refund. The Polish crypto forums and communities are buzzing from Coinroom customers that got burned and did not receive any refunds.
The exchange then went offline completely. It's customer support services have stopped answering requests, social media accounts are now deleted or disabled, and the website returns a host connection error. Moreover, the head of the company, Tomas Zbigniew Wiewióra, has reportedly disappeared and cannot be contacted. Users of the trading platform believe that the exchange and its CEO have performed a classic exit scam.
While the exact amounts stolen from Coinroom's users and the number of victims remains unconfirmed, Money.pl believes that there may be thousands who have lost amounts from PLN 300 ($79) to PLN 60,000 (about $15,660). Some are already coordinating civil and criminal suits against the exchange.
Investigations Ensue
Money.pl carried out its own private investigations and learned that funds were partially transferred from the exchange's accounts long before its customers received notifications about contract termination. It also found traces of Wiewiora in Estonia, where he has already allegedly opened a new company. However, it is not yet clear, whether he has officially moved to Estonia or just secured a legal address for his new enterprise.
This new evidence might mean that Coinroom was operating on the basis to defraud users from the beginning.
The prosecutor's office in Poland confirmed that they initiated an investigation based on the application filed by the Polish Financial Supervisory Authority (KNF). The financial regulator claims that the company was engaged in the illegal provision of payment services.
Apart from that, authorities have been reaching out to victims in order to more clearly define the cumulative damage, according to a representative of the local prosecutor's office.
Do you think that Coinroom has pulled an exit scam?  Let us know your thoughts in the comments below.
---
Images courtesy of Shutterstock, Twitter.
As a trusted news outlet in the blockchain and cryptocurrency industry, BeInCrypto always strives for the highest journalistic standards and adheres to a strict set of editorial policies. BeInCrypto is an independent website with authors and management that may personally invest in cryptocurrencies or blockchain startups.